Maybe you've heard something about HD Radio, and the promise of better sound and more listening options from local stations. Sounds pretty cool, right? But what does that mean for us listeners? It's been a while since I checked out HD Radio, so I decided it was time for a little road trip. But first, let's discuss the basics.
What is HD Radio?
HD Radio technology allows broadcasters to transmit a high-quality digital signal that piggybacks traditional AM and FM frequencies. For listeners who have a car stereo with a built-in HD Radio tuner, the benefits are:
No subscription fees (as in free!!)

No smartphone needed (so no data used)

No more static, pops, crackles or fades

FM radio that sounds almost as good as a CD

AM radio that sounds as good as traditional FM

Displayed information, including station ID info, song and artist titles, weather, traffic, and emergency alerts

Increased listening options with station multicasting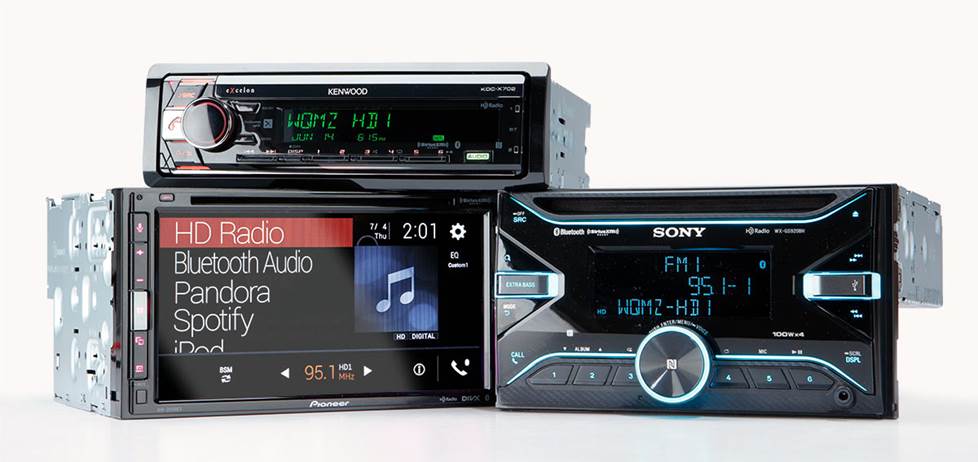 We carry car stereos with built-in HD Radio tuners from several stereo makers.
No more static, pops, crackles, fades...and no monthly payments
The digital signal is less vulnerable to reception problems. The radio tuner's digital processors eliminate the static, pops, hisses, and fades caused by interference. You hear only clear, clean, and rich sound. Should you lose the digital signal for some reason (obstructing terrain, nearing the edge of the broadcast area, etc.), HD Radio technology defaults back to analog mode, similar to the way non-HD Radio receivers switch from stereo to mono mode when receiving a weak signal. And like analog radio, HD Radio is subscription-free.
FM radio with near CD-quality sound
Digital technology allows a radio station to transmit more information in the same radio wave. Primarily, this means higher quality sound. So much more so that FM transmissions can sound nearly as good as CDs, and definitely much better than the hollow sounds of old analog FM. How much better the music sounds will depend on your local stations and your radio gear.
AM radio that sounds as good as FM Stereo
AM radio uses smaller sections of bandwidth than FM. There is not enough bandwidth for HD Radio to give AM stations the same CD-quality signal as FM stations. But there is enough room to give AM stations clarity equivalent to current analog FM stereo radio. This boost in sound quality makes AM radio a viable alternative to FM, which means more options for listeners.
A difference that you can really hear
I asked our social media guru, Alexis, if she'd like to take a drive and give our local HD Radio stations a listen – and grab a tasty drive-in burger. So we searched for available HD Radio stations in town, plugged them into my radio's presets, and headed out of town.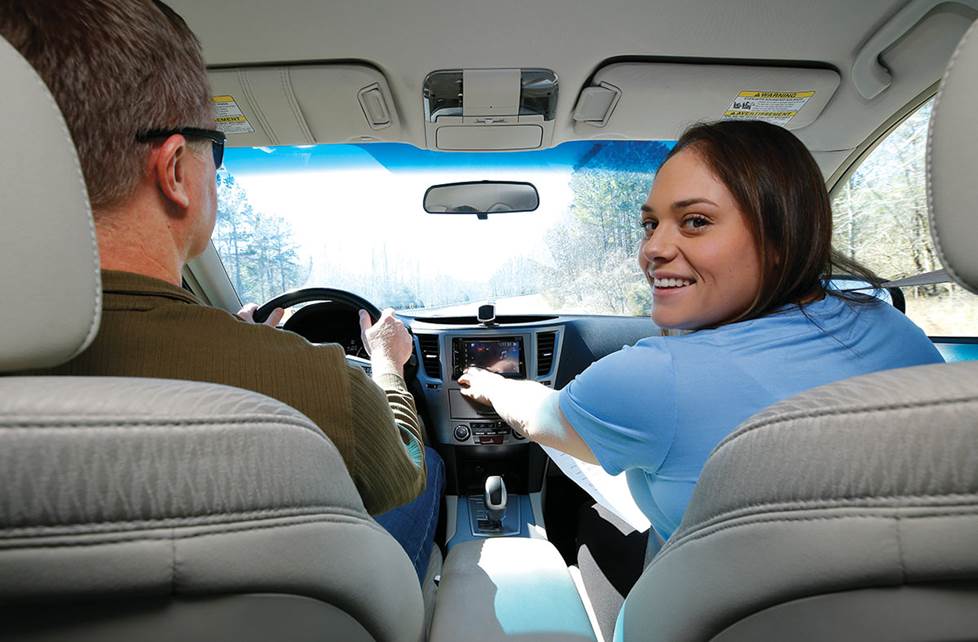 I definitely noticed a drastic improvement in sound as we listened to some of the local stations in HD. HD stations don't suffer from audio compression like streaming and satellite radio can. This was the first time Alexis had experienced HD Radio. She also noted the impressive sound difference; HD Radio stations had fuller sound with better bass.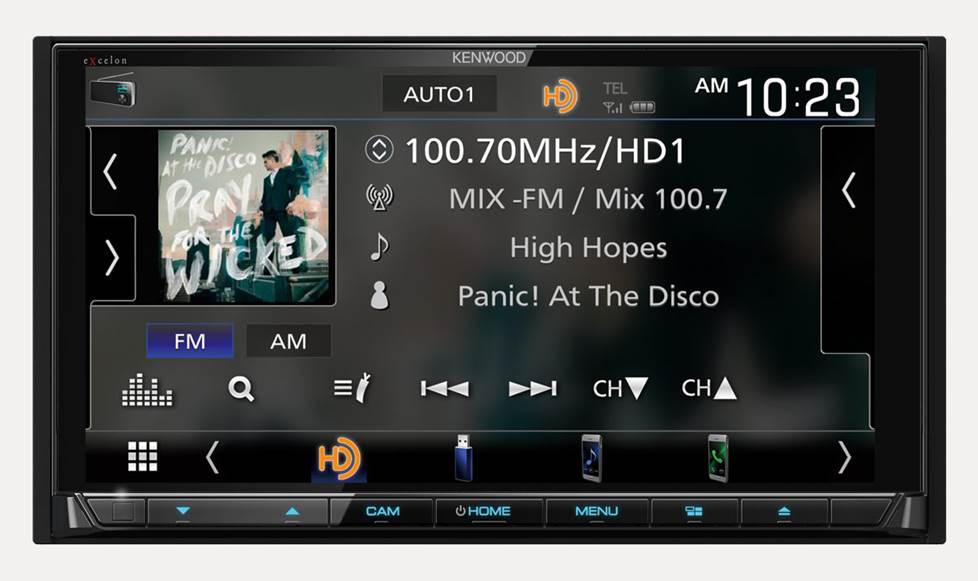 HD Radio provides a lot more onscreen info than conventional radio does.
Transmission of additional information
Another benefit of digital radio is the radio station's ability to transmit additional information along with the music signal. With compatible receivers, you can view album art, logos, and more, when provided by the station. Stations can also include local and regional information, such as weather updates, emergency alerts, or even traffic jams, and road construction. Traffic data is delivered up to 10 times faster than other broadcast methods.
Multicasting
In addition to duplicating their analog programming with an HD Radio broadcast, stations can subdivide the digital portion of their signal into "sub channels." This allows a station to "multicast" — that is, broadcast two or more programs simultaneously. Listeners might have a choice of, say, a sports game or music. These additional channels can only be received on an HD Radio tuner. But just as cable TV allowed specialized networks to flourish, multicasting provides the potential for stations to offer more niche programming — ultimately giving the listener a greater variety of formats to choose from.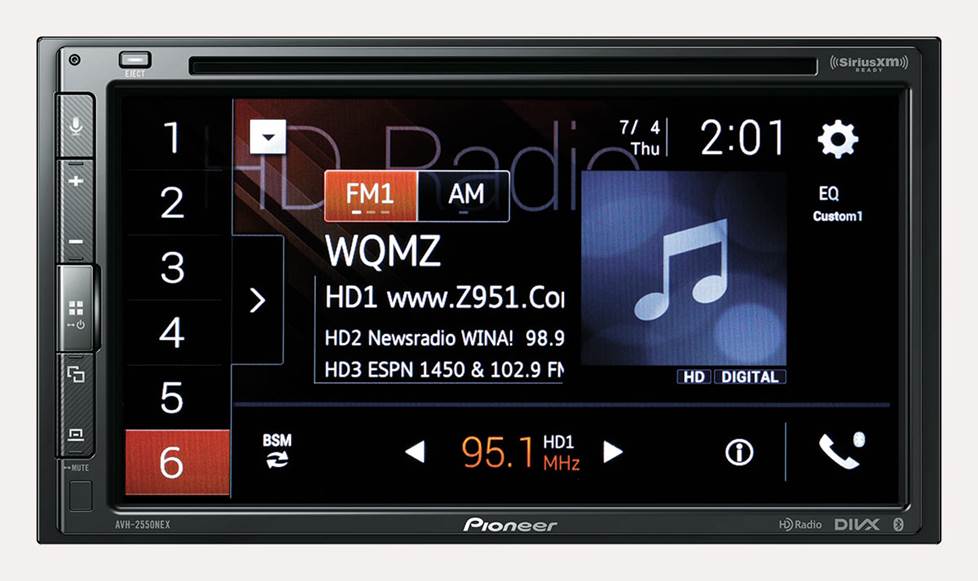 This radio station offers its listeners three different channels of programming
Alexis and I dove into the different sub channels — alternative content that some of our local stations offer. Alexis tapped the display to tune into several of the sub channels that one station, WVTU 89.3, broadcasts to check in on the news in between songs.
HD Radio technology works a lot like traditional analog radio
The radio station sends out the analog and digital radio signals, along with a third signal for text data.

The digital signal is compressed before being transmitted.

The three-layered signal is transmitted from the radio station's upgraded digital transmitter.

Multipath interference, caused by the signal reflecting off of buildings, is ignored by the digital radio, which is able to discern the true signal and ignore interference.

Your radio receives the signal and, depending on your equipment, you hear either the digital or analog feed.
What we experienced
The type of hilly terrain in our part of central Virginia can pose challenges for radio, but Alexis and I kept our signal far beyond the city limits. Alexis watched the display to see when we lost the HD signal, which happened just a few miles before we lost a station completely.

With our course plotted, we headed down the highway to test HD Radio... and chomp on some yummy food.
When an HD signal dropped out (they don't travel quite as far as analog), there was no static; the radio kicked back to the analog signal and kept playing — which we could see happen on my radio's display.
What HD Radio technology is not
HD Radio technology is not a subscription service, like satellite radio is. It is the same free, over-the-air broadcast radio that we've always known. Only better. You just need a stereo that includes a built-in HD Radio tuner to enjoy it.
HD Radio is also not the same as satellite or Internet radio. Rather, it's an improvement to terrestrial AM and FM radio. Satellite and Internet radio, on the other hand, are alternatives to broadcast radio, in the same way that cable and satellite TV are alternatives to over-the-air television. Even if you do have satellite or Internet radio, there are often times when you want to listen to your local station — and that's where HD Radio could be handy.
Find the HD Radio sound in your town
You can go to hdradio.com to see the stations in your area that are on-the-air with HD Radio, as well as those stations that have licensed the technology and will eventually be broadcasting with it. More radio stations are investing in the upgrade. They want to keep up with the enhanced sound quality of digital radio (and please their sponsors). And whether we upgrade right away or wait until our next vehicle has a built-in HD Radio receiver, we, as listeners, win.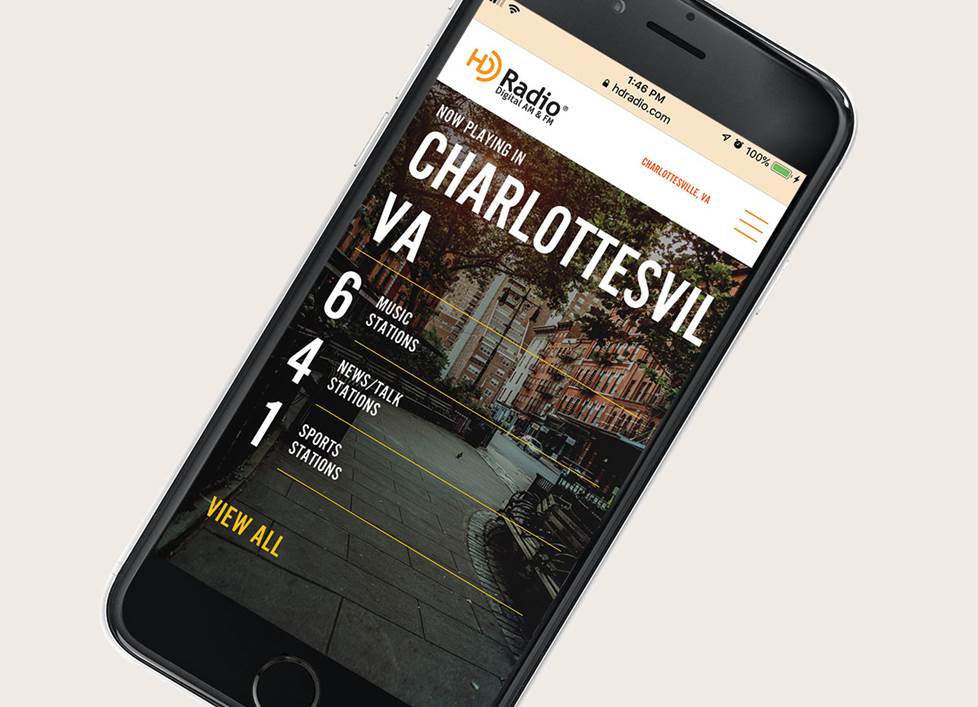 It had been a while, but I enjoyed hearing HD Radio stations once again. It was also cool hearing Alexis's reactions to it, since she hadn't heard it before. And yes, the burgers and ice cream at the Colleen Drive-In (a hidden gem in Arrington, Virginia) were super tasty.
Hear it for yourself
HD Radio receivers are being offered as optional factory equipment in an increasing number of new automobiles, but if you're shopping for a new car stereo, look for one that includes an HD Radio tuner. And remember, our Advisors can help you select the right radio for your ride. You can reach them by phone or chat online.