Car stereo installation gear made easy
Crutchfield explains what works
Car stereo — times change
Why is car stereo installation gear more expensive than it used to be? Car audio systems were once pretty simple. A radio mounted in the dash, a few speakers, and that was it. But in modern cars, the audio system is tied into other electronics in the car. And the controls for the stereo system may be combined with other controls on the dash. This can make the task of installing a new car stereo more challenging than it used to be.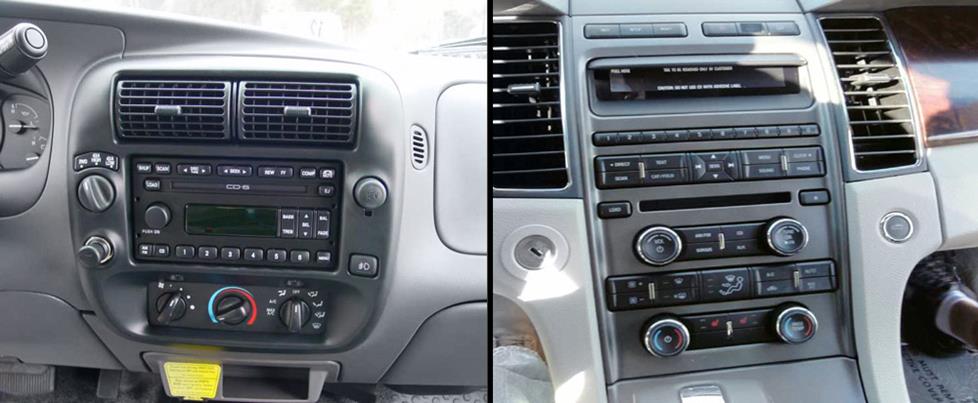 The pictures above are a great example. The older car (on the left) has a radio that's clearly delineated from the other dash controls. Making a new stereo fit requires only simple mods. But in the newer car (on the right), the stereo isn't distinct from the other controls on the dashboard. Installing a new stereo will mean replacing that entire center dash to create an opening for the new stereo. Plus, the existing stereo connects to steering wheel controls, warning chimes, road-side assistance features, and more.
Installing a stereo in a newer car
To install a stereo in the newer car you'll need:
A vehicle-specific mounting kit that creates an opening for a new stereo while matching the factory design and style
Special wiring adapters to let you integrate a new stereo into the vehicle's electronics and retain as many factory functions as possible

That's why new installation gear is so much more expensive than it used to be. The typical installation gear for a newer car (on the right) is more complicated than what's needed for many older vehicles. There's even an LCD display on the mounting kit to replicate the original climate controls.
On the other hand, the installation gear for older cars (shown on the left) features a simple adapter kit and very basic wiring harness. That's why there's a big difference in the price of these accessories — almost $200 in this case.
So yes, this stuff costs more for today's cars than it did for yesterday's vehicles. Check out our article about the differences in wiring adapters to learn more.
Advantages of an aftermarket stereo: more features...
Costly installation gear doesn't mean you should give up on the advantages offered by new aftermarket car stereos. Even inexpensive aftermarket stereos like the one pictured below offer impressive features. You'll find sophisticated equalizers and sound-shaping controls, Bluetooth® connectivity, USB and auxiliary inputs, smartphone controls, and more.

Car stereos like this Pioneer model can be a great upgrade from your stock system.
...and better sound
And here's another advantage. Aftermarket car stereos almost always provide a lot more power to your audio system. Unless you have an expensive premium sound system in your car, a new car stereo will sound better. Replace your factory stereo and you'll hear a difference in the clarity, volume, and punch of your music. And even if your factory system has an amplifier, bypassing it (if possible) will usually result in better sound when you install a new stereo. But it often also means more work during the installation.
Crutchfield's OutfitMyCar tool shows you which car stereos will fit into your car. Plus it'll let you know which kits, wiring connectors and adapters you'll need to make it happen. And if your car has options like steering wheel controls, rear seat entertainment, or OnStar, it'll tell you what adapters you need to keep them working, too.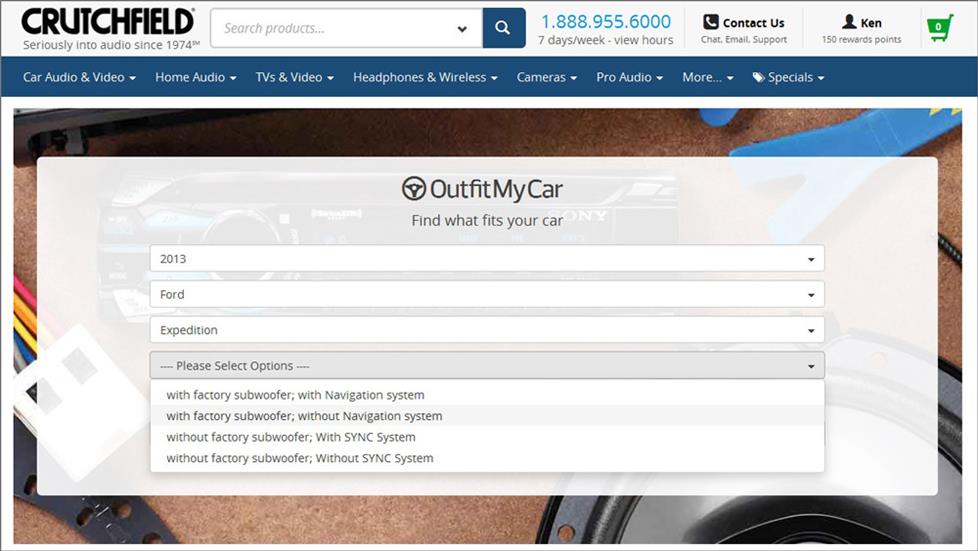 Only at Crutchfield — our Vehicle Research Team
Crutchfield doesn't use third-party sources to create OutfitMyCar. Our own Vehicle Research Team takes detailed measurements of every car we database, plus they take notes on how to remove the factory stereo. With this info, we can tell you which stereos work with your car. And we're convinced that no other car audio company puts the time and emphasis into making sure you'll have complete confidence that what you buy from us will fit and work in your car.
Our exclusive MasterSheets™
Additionally, our notes let us create our Crutchfield MasterSheets™ — vehicle-specific, step–by-step instructions that show you how to do the job. Once again, that's an advantage you won't find anywhere else in the industry.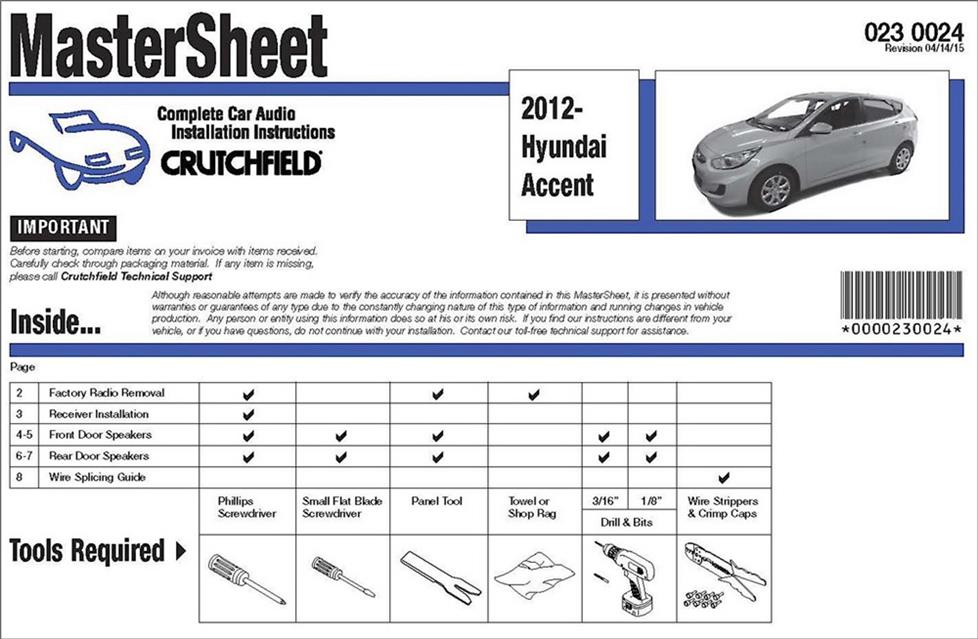 OutfitMyCar lists the kits, factory wiring connectors, and other adapters you'll need for your stereo. Depending on your car, a kit may be a simple adapter that allows a smaller radio to fit into a larger dash opening. Or a kit may replace part of the dash, with climate controls and other features reproduced.
Factory wiring adapters make car stereo installation much easier. Without them you'll have to splice into the car's existing wiring, not simple even with older cars, and nearly impossible (or even dangerous) given the integrated electronics of newer models. Attach the new wiring adapter to the new stereo's wiring harness and you can plug right into the car's existing connectors. Check out our car stereo wiring video for a look at how easy it is, especially when you use Posi-Products connectors.
Depending on your vehicle, OutfitMyCar will also recommend other gear. These could include adapters for keeping your steering wheel audio controls, roadside assistance features like OnStar, factory Bluetooth, rear seat audio controls, and more.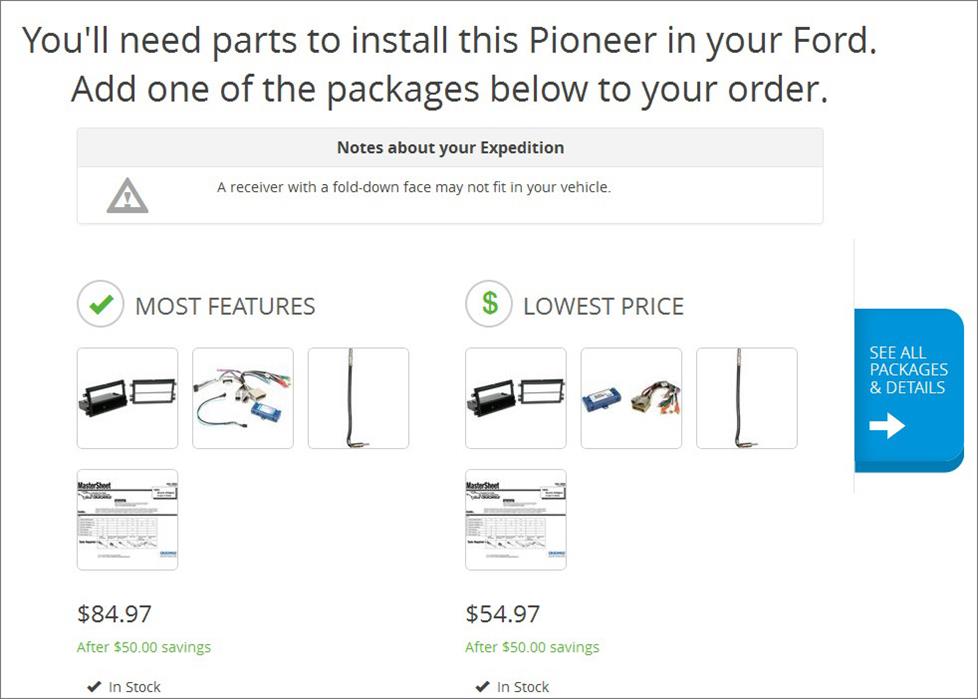 We're ready to help
Our service goes beyond our online tools and Crutchfield MasterSheets. If you have any questions about your car or the gear you want to install in it, you can chat with us or give us a call. Our highly trained Sales Advisors are available seven days a week.