Nothing gets you closer to your music than good headphones. That's crucial when you're recording. So what kind of headphones should hobbyist or pro musicians get? I'll help point you in the right direction.
Wait, can't I just use my everyday headphones?
That depends. If you're talking about those earbuds that came with your phone…uh, no.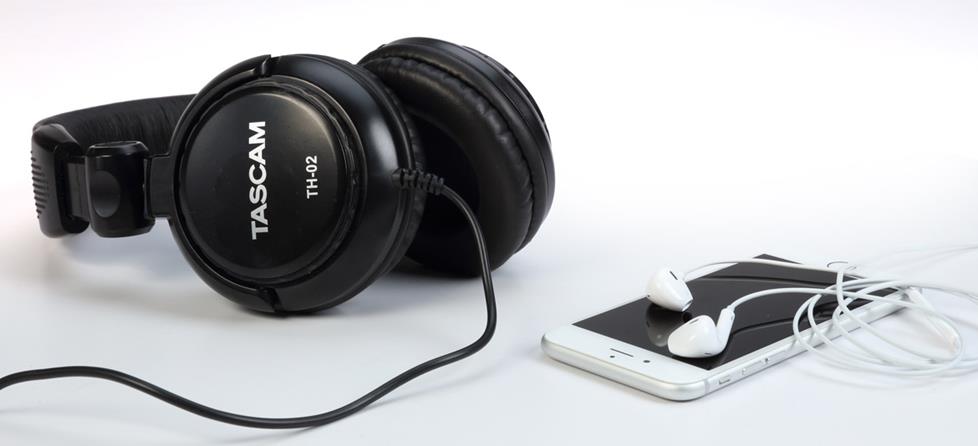 For recording music, those earbuds that came with your phone can't compete with a good pair of studio headphones.
So what's different about pro headphones for recording?
Pro or studio headphones are designed for accuracy. Consumer headphones are often designed to accentuate certain frequencies, like bass or treble. Pro headphones have flat frequency response, so you can hear your recordings as they really sound.
However, there is a use for those earbuds in the production process. Lots of professional producers want to hear how their mixes sound through Apple earbuds. After all, that's how lots of people will hear their music once it's been released.
What should I look for when shopping for recording headphones?
First, you need to decide if you want open- or closed-back headphones. Most pro headphones are closed-back. That means the earcups are sealed, so noise doesn't leak in or out. You don't want the backing track in your headphones to leak into your microphone while recording vocals.
If you're performing with others, you want to be able to concentrate on your performance. Closed-back headphones limit the amount of sound from other instruments in the studio, so you just hear what's in your headphone monitor mix.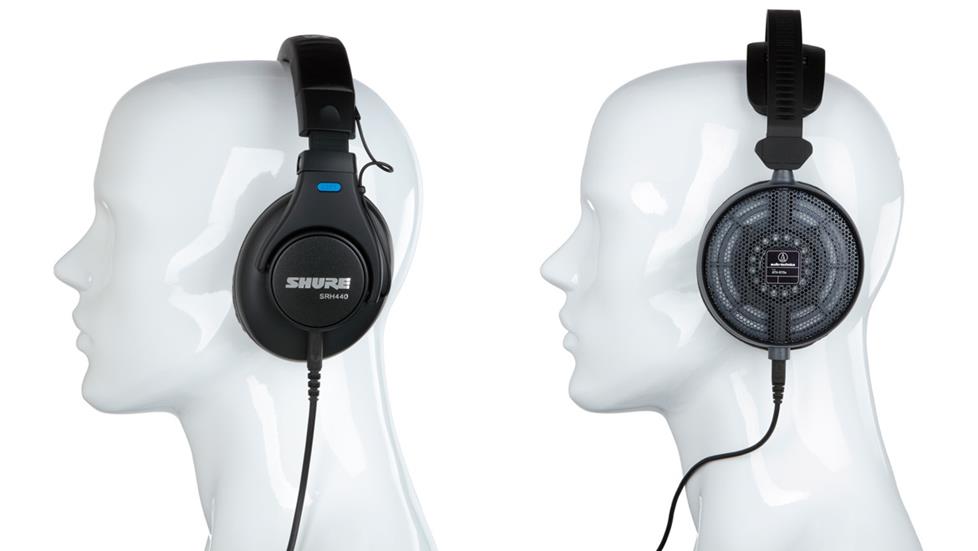 Closed-back headphones (left) are sealed to prevent sound from leaking in or out, while open-back headphones allow airflow for more natural sound.
So why would I use open-back headphones?
Open-back headphones allow air to flow through the earcups, which creates a more spacious, open sound. They can help you locate particular instruments in the mix, and they often sound more natural and accurate. A good pair of open-back headphones can be great for mixing and mastering.
What about fit?
Most studio headphones are either over-ear or on-ear models.
What's the difference?
Over-ear headphones have earcups that fit completely over and around your ears. On-ears have earpads that rest against your ears.
Which should I get?
That all depends on your preference. On-ears are usually a little more compact. Over-ears often block out more sound and are more comfortable, which is important if you plan to wear them for hours on end.
What about in-ear models?
There are in-ear headphones designed for studio use. For musicians who want to bring their own headphones to sessions, they're a good compact option.
PRO TIP
If you're going to be recording more than one musician at a time, you'll need more than one pair of headphones. Don't assume everyone is going to show up with their own.
Do I need to think about the plug?
Yes you do! Most consumer headphones these days are made to plug into a smartphone. So they have a 1/8" miniplug connection. But you're probably going to plug pro headphones into your audio interface. That's going to require a ¼" plug.

If your headphones have a miniplug connector, get a full-size adapter to connect to pro gear.
Be sure whatever you buy is going to work with your equipment. You can always get an adapter. And while you're at it, make sure you've got enough cable length. There are extenders if you need a longer cord.
So what do you recommend?
If you're setting up a small home studio, I'd recommend starting out with one or two pairs of quality closed-back headphones. My go-to pick is the Audio-Technica ATH-M50x. They're super comfortable, form a good closed seal, and offer sound that's as good as anything you'll find in their price range.
Do I need a headphone amplifier?
If you're working solo in a small basement studio, then no. Your interface will have a decent headphone amp built-in.
What about when I've got four musicians recording at the same time?
Then you're going to need a headphone distribution amp.
Need more help? Call us
Our pro audio advisors can help you pick out headphones or any other gear you need to set up a studio in your home. Lots of them are working musicians, so they have experience with the gear. Give them a call at 1-800-555-9369.