Jon H's 2001 Ford f-150 SuperCrew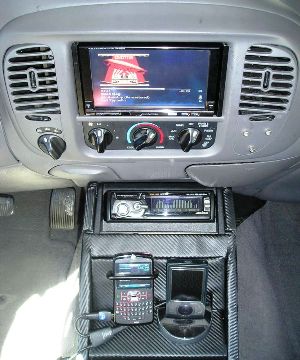 Items installed:
Alpine IVA-W205 In-dash DVD/CD receiver
Alpine HDA-5460 Alpine in-dash hard disk drive player
Alpine PXA-H701 Controller for PXA-H701 sound processor
Alpine MRP-F250 4-channel car amplifier
Alpine CHA-S634 6-disc Ai-NET CD/MP3 Changer
Pioneer TS-A6882R A-Series 6"x8" 4-way car speakers (x4)
Kenwood KSC-SW1 Powered Subwoofer under rear seat
Alpine PMD-B200 Portable car navigation system with Bluetooth?
XM Direct Connects the XM Direct universal XM tuner to a compatible Alpine in-dash receiver
Zune 30 with dock, A\V connected to aux input on IVA-W205
Pyle 7" LCD screen mounted to front passenger side sun visor
Insignia Portable DVD player w/ dual 7" LCD screens mounted to head rests
Dual Optima Redtop Batterys: #1 for standard vehicle use, #2 solely for Audio system
3 relayed & fused electrical switches to control power to Headunit & HDA-5460, Amp and Powered Sub, and video screens, portable DVD player and Zune dock
Temporary self-fabricated console box to house audio processor unit, video distribution amp, external DVD player, HDA-5460 and Zune dock.
PYLE View Series PLV2 - video distribution amplifier
Installation Description
After removing the stock parts (head unit and speakers), I modified the dash and door speaker areas slightly to allow the install of the new head unit and speakers. I then routed 14 gauge speaker wire to each of the 4 door locations from the drivers side rear seat accessory compartment where the new amp was to be installed. Next, I removed all the seats (front and rear), and the floor carpet to run patch cables from the sound processor to amp and powered sub. Next, I ran all the power cables from the front amp power switch to both the amp and powered sub, keeping their route from front to rear at least 2.5 feet from the patch cables. I then used adhesive-back aluminum tape to affix their route and eliminate vibration or movement after installation. Before I replaced the carpet & reinstalled the seats, I installed 3/4" rubberized foam matting to help with sound and temperature insulation (not the perfect choice, but a economical alternative to more expensive sound insulation). After all the cable and wire routing were completed, the fun began. I installed the amp and CD changer behind the rear seats in the accessory compartments. The powered subwoofer was installed under the rear seat, attached upside down and firing downward to the bottom center of the rear seat (can't even see it). The XM and Blackbird antennas were placed on the rear of the cab with the wires routed through the brake light area then above the headliner and down the front passenger side pillar to the dash. A floor console was built to house the sound processor, video distribution amp, external/portable DVD player, Zune dock, and HDA-5460.
Q&A Section
Why did you decide to upgrade your A/V system?
I do long road trips for work and family vacations. AV is a must on 20+ hour trips.
What's the first thing you show people about your installation?
The head unit and its navigation & phone capability, but the sound comes immediately afterward.
Why did you choose these products?
Entertainment and usefulness.
What was the most difficult part of the installation?
Installing the dual battery system and sound processor floor console box.
What plans, if any, do you have for future upgrades?
Dynamat to the doors.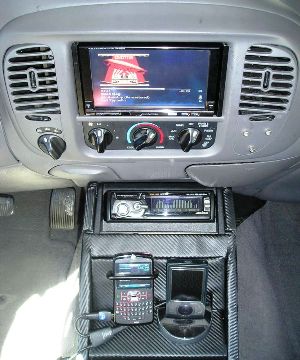 IVA-W205 with console containing the HDA-5460, Zune30 dock and phone holder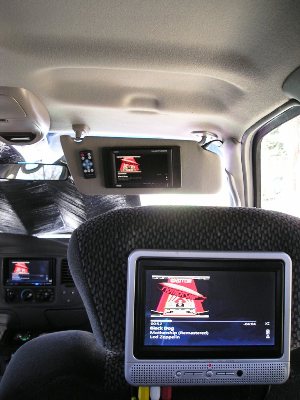 1 of two Insignia LCD Screens on headrest with a Pyle 7" video screen mounted to sunvisor for front passenger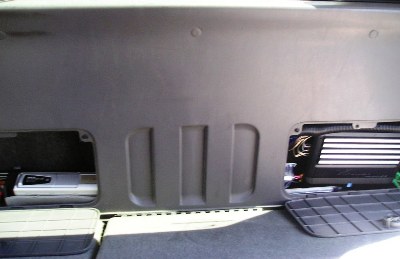 CHA-S634 and MRP-F250 installed behind rear seat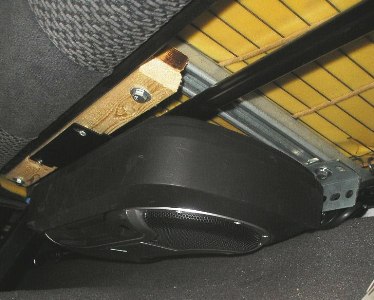 Powered Sub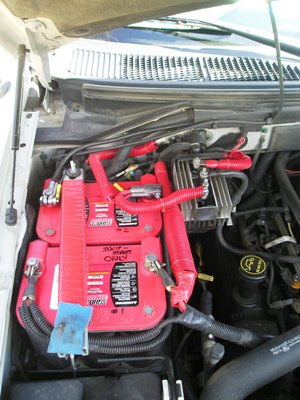 Dual Optima RedTop Batteries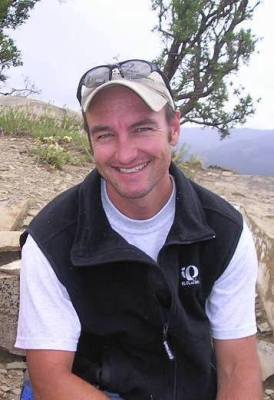 Me