Kristopher R's 1999 Ford Ranger
Items installed:
Alpine CDA-9886 with Imprint
JL Audio 2AWG MetaWire
Tsunami Capacitor 20 Farad Competition Series
Stinger Patch Cables, Rockford Fosgate 3ft Patch Cable, Monster 16AWG Speaker Wire
JL Audio Battery Terminals
JL Audio 500/1 Slash Series Amplifier
JL Audio 300/2 Slash Series Amplifier
JL Audio 300/4 Slash Series Amplifier
JL Audio C2 570x Speakers (5x7) 2Way
JL Audio C5 570csi Components (5x7)
JL Audio XR525csi Components (5.25 round)
Kickpanel Pods by Q-Logic
Alternator 130AMPS
Polk Audio DB1212 (DVC) (2OHMS)
Installation Description
Well at first i had some infinity kappas all around with a kenwood amplifier and a polk mono amplifier for the subwoofer. I didnt care for how it sounded, it was too bright for my liking and i've always had an eye for the C5's by JL Audio. i tried them out and realized this was what i needed. since i didnt have the money i chose C2's, the front set blew so i upgraded to C5's. the installation for the kickpanels wasn't too bad except i still have trouble with the parking brake which crutchfield told me to bend 1.5".
the battery and alternator died after i installed the subwoofer so i upgraded there with the BIG3 install as well. I upgraded from a 2farad tsunami cap to a 20 farad to be safe. the polk sub amp was too small and i liked JL so i switched that out too. everyday i try to come up with new ways with just the equipment i have to make it sound better for example re wiring the front speakers and the kickpanels to have a different wattage and play around with settings on my alpine HU.
Q&A Section
Why did you decide to upgrade your A/V system?
the stock system wasn't enough clarity for me and every piece of equipment i got just was't enough, i had to get more so i kept trading out and upgrading.
What's the first thing you show people about your installation?
My amplifiers-with all the wires and the chrome capacitor and the chrome 500/1 i think it just really amazes people that i have it and that i installed it.
Why did you choose these products?
well at first i was a big alpine man-i didnt know anything about name brands-but the day i got to test listen to some JL's i fell in love with them and just started switching everything out from there.
What was the most difficult part of the installation?
the most difficult part i would say was routing the wires. with a extended cab 2 door its very limited on space-2nd i would say the front speakers
What plans, if any, do you have for future upgrades?
i plan to switch out my Polk subwoofer with 2 JL 8W3's which apparently is JL's specialty but ive never heard different subs only differnt speakers so i dont know how much different a sub can be besides size.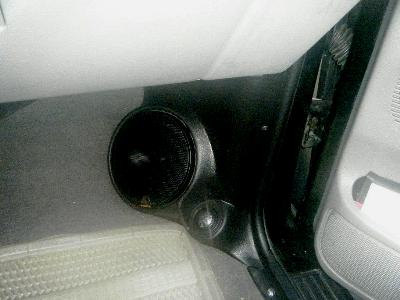 kickpanels with JL XR525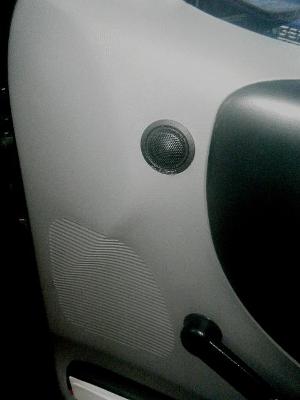 JL C5 Components with Custom Tweeter Location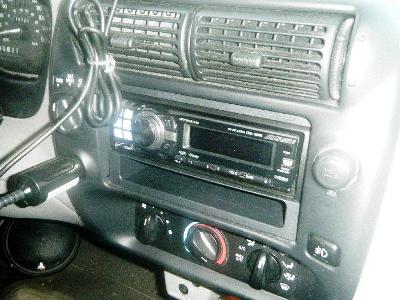 Alpine CDA9886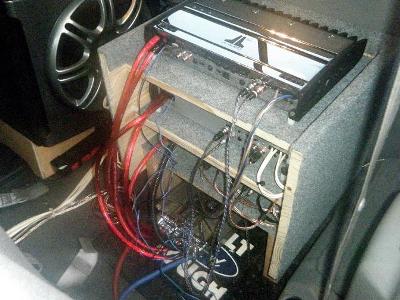 all my amps and the capacitor-subwoofer in backround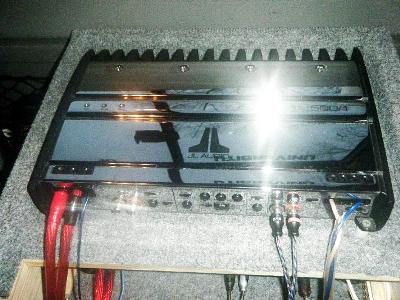 really proud of my chrome 500/1 never seen another one.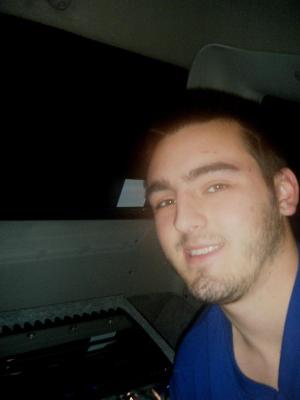 Me with my amps