Jim Blair's 2001 Mitsubishi Eclipse Spyder
Items installed:
Under the Hood

3-liter Mitsubushi V6 motor
Polished intake manifold
Chrome dress-up accessory kit
Nitrous Express 75-shot Stage I Wet Kit
Injen cold air intake system
Thermal Cat back exhaust system
Polished upper radiator pipe
StreetGlow Chrome Loomz
StreetGlow neon

Wheels and Tires

Enkei Zeus 18" x 8.5" rims
Nitto 555's 235/40/18 tires

Suspension

B&G 1.75" lowering springs
Chrome front strut tower brace

Exterior

Shinestreet full 8-piece body kit
Shinestreet two-stage wing
Dove white paint with silver pearl coat
Aluminum gas cap
StreetGlow under-car neon kit

Brakes

Stainless Steel Brakes Corp
Front: 13-inch big brake upgrade with 2-piston calipers
Rear: 12-inch big brake upgrade with 2-piston calipers

Interior

Black leather
Carbon-fiber dash kit
MOMO brushed aluminum shift knob
Brushed aluminum pedals
Custom nitrous control panel
Autometer silver-face gauges
HP Racing steering wheel (custom carbon-fiber inserts)
StreetGlow neon

Audio & Video

Custom-built stereo trunk with blue neon lights
in-dash multimedia center
Alpine V-12 amplifier (5-channel)
Alpine ZR1 10" dual voice coil subwoofer
Alpine digital EQ
5" monitor in each headrest
Sony PlayStation 2
StreetGlow neon
Jim Blair, from York, PA, has always been a car nut. His dad, a MOPAR muscle-car enthusiast, taught him the ins and outs of car customization. So, it was no surprise that in 1998, Jim found himself a 1996 Honda Civic EX, and started getting seriously involved with the sport compact car scene. "Once I found that car...I was hooked," he says.
Since then, he's moved on to a pristine 2001 Mitsubishi Eclipse Spyder convertible coupe. "From designing the layout, to building it and wiring it," says Jim, "I do 80% of the [customization] work myself. The only thing I had help with was getting the body kit sprayed by...a local body shop!" He receives plenty of sponsorship, especially from Fox Marketing (which can be found at www.foxmarketing.net) and StreetGlow. He promotes his sponsors by showing off his car at various events, including the famous Hot Import Nights.
When you look under the hood, you'll see an engine that's designed for both improved performance and dazzling good looks. Thanks to modifications such as his thermal cat back exhaust system, cold-air intake, and Nitrous Express wet kit, Jim's been able to add 110-125 horsepower to a motor that's already built for high performance! He's also tricked it out with polished manifolds and radiator pipes, and a StreetGlow Chrome Loomz dress-up kit (not to mention the neon accenting he's got going on).
The exterior of his Eclipse is breathtaking, with its shimmering, silver-pearl-coated, dove-white paint scheme, Shinestreet body kit and rear wing, and gorgeous 18-inch rims (behind which you can see his Stainless Steel Brake Corp. slotted rotors and two-piston calipers). Jim also has the car outfitted with Altezza-style tail lights, and a StreetGlow neon undercar kit.
Of course, the interior really makes people step back and say "whoa." In the dash, he's got an Alpine CVA-1005 receiver, with built-in monitor, plus five-inch monitors in each of the front-seat headrests. He's also got chrome floorboards, a MOMO shift knob, an HP Racing steering wheel with carbon-fiber inserts, and a set of custom-housed Autometer silver-face gauges.
In the trunk he's mounted an Alpine V-12 amplifier, which drives an Alpine ZR1 10-inch dual voice coil sub, custom-mounted in the trunk sidewall. His Nitrous Express tank is also mounted back here (above the amp), as is an essential piece of gear: his Sony PlayStation. All of this is lit up beautifully with blue StreetGlow neon accents.
Jim's enthusiasm for the "Tuner" scene is definitely infectious. When asked if he as any advice for people just getting into it, he replies, "be patient with your tuner projects, save up lots of money [laughs out loud], enjoy your fellow competitors, and be 100% safe about it!"
Thanks, Jim, for sharing a glimpse of your Eclipse with us, and we'll be sure to look for you at upcoming car shows!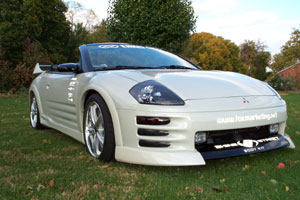 Jim's gorgeous 2001 Mitusbishi Eclipse, which he drives around town nearly every day, prominently displays the names of his many sponsors.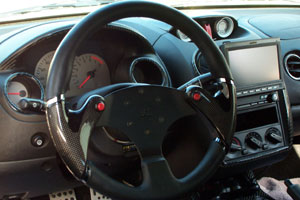 A peek at the Eclipse's interior, with its custom-made steering wheel, silver-face gauges, and in-dash Alpine receiver with monitor.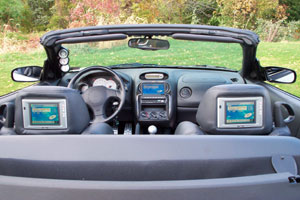 Headrest-mounted 5-inch monitors mean nonstop entertainment for any backseat passengers Jim might have.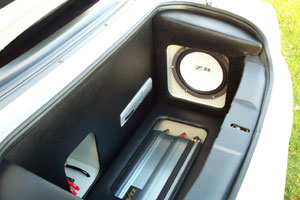 An Alpine V-12 amp and ZR1 sub ensure that Jim gets enough thump out of his audio system.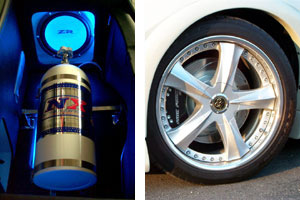 Left: StreetGlow neon accents cast a cool glow over the Nitrous Express canister in Jim's trunk.
Right: Enkei Zeus wheels and Stainless Steel Brake Corp. brake rotors help Jim cruise from show to show in style.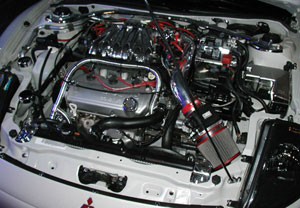 Under the hood, Jim's loaded the Eclipse with plenty of performance-enhancing equipment and lots of eye-catching polished chrome.