Gerald Brown's 1999 Ford Explorer
Items installed:
I have added the Kenwood Mp922 but I'm currently switching it to the Kenwood DDX7015.
In the front doors I have two Polk Audio 6x8 and in the rear doors I have four Polk 6x8.
Up front I also have a Clarion equalizer along with an in-dash DVD player.
For the visual, I have one 15.4" Farenheit flip down and two 10.5" swivels of the same brand. Also, I have a 6.5" Faranheit visor up front with the built-in light and mirror.
For the back I have two 2.4-farad caps, one 3000D Kole Audio amp, one 1000 watt Kole Audio amp, and three, soon to be four, 15" Solobaric Kicker L7's.
Installation Description
Basically, I have done all the installation myself, except for building my box, which my friend had to help me with. Other than that it was all me. One of the hardest things for me was running the 0-gauge wire and trying to make room for all those wires up front, since I have four TVs, the radio, the eq, and the DVD player. I have to admit it was a mess but I got it done. Well, now I'm stuck here in Kuwait, so I decided to make some upgrades. Since I had some extra money, my dad got it painted for me and sent it to the interior shop. I like it, and I hope you do also.
Q&A Section
Why did you decide to upgrade your A/V system?
Well I'm from L.A. and I was tired of not standing out from the rest!
What's the first thing you show people about your installation?
My TVs, 'cause that was so hard to install by myself.
Why did you choose these products?
I was on a budget, so I couldn't be too picky, but what can I say, I wanted it done.
What was the most difficult part of the installation?
Again, I would have to say the three flip-down TVs.
What plans, if any, do you have for future upgrades?
I plan on getting one more 15" sub to make four and upgrading my head unit to the DDX7015.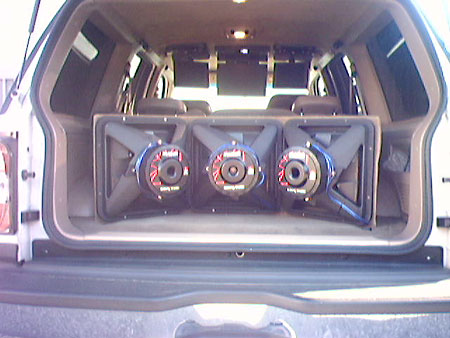 This is the shot of the the three TVs down, along with the three 15s.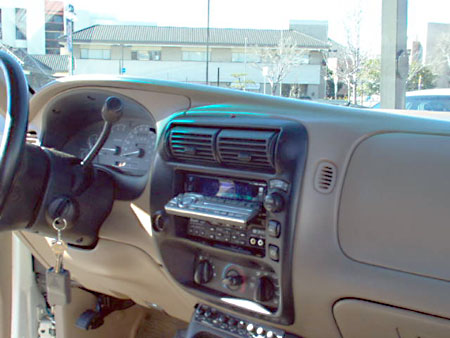 The headunit with my custom-fitted EQ.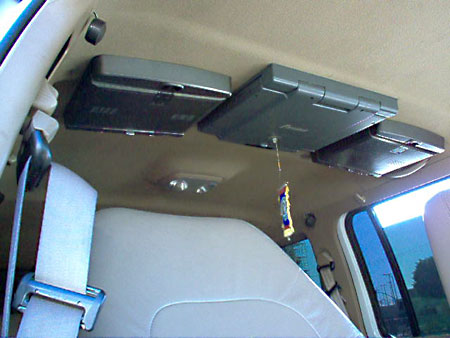 The TVs fold up for a clean look.

This is the new paint job.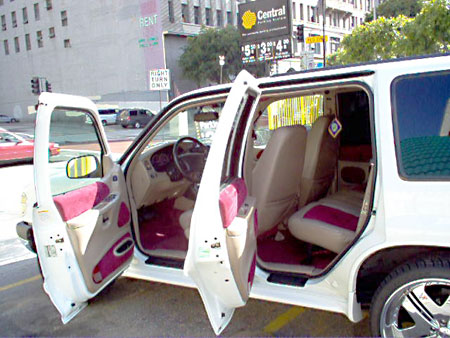 Here is a picture of my new interior.