Paul Coffey's 2002 Chevrolet Avalanche 2500
Items installed:
Installation Description
I was told by so many people that a double din radio would not fit in my 2002 Avalanche. I decided to prove everyone wrong and just make it fit. I did a lot of Dremel work on this project. The heater controls had to be shifted down 1/2" and remounted. This entailed removing 1/2" of plastic housing below the heater unit as well as the entire factory radio housing. Once the housing was removed, the rear radio bracket had to be cut and bent straight. Once that was done, I used a 1/2" spacer (8" wide and 3-3/4" deep)between the climate control unit and the new Kenwood DDX7015. This allowed the headunit to rest on the spacer and line up into position. The key to this whole installation was using the dash bezel from a 2003 or newer Chevy Avalanche as it has a double din radio opening. With a little push here and pull there the head unit finally lined up perfectly and the bezel snapped into place. The only area where the 2003 bezel needed to be adjusted was to shave about 1/4" in between the flip up cigarette lighter panel and the ash tray. Once that plastic was removed, it looked factory.
Q&A Section
Why did you decide to upgrade your A/V system?
I wanted touchscreen DVD and the ability to add navigation later.
What's the first thing you show people about your installation?
They ask how I did it so I remove the bezel and show them.
Why did you choose these products?
I like Polk Audio and wanted the system to have all the same components less the head unit.
What was the most difficult part of the installation?
The customizing of the radio housing.
What plans, if any, do you have for future upgrades?
Adding navigation and possibly Blaupunkt Saucer 12" Subs to the Midgate.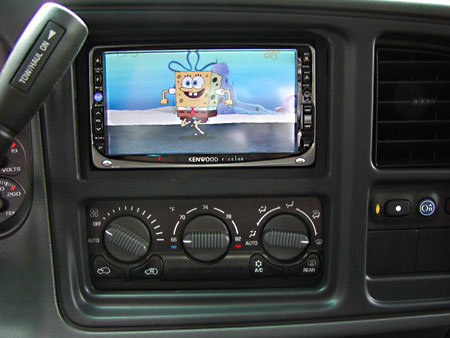 The dash was modified to accept the Kenwood DDX7015.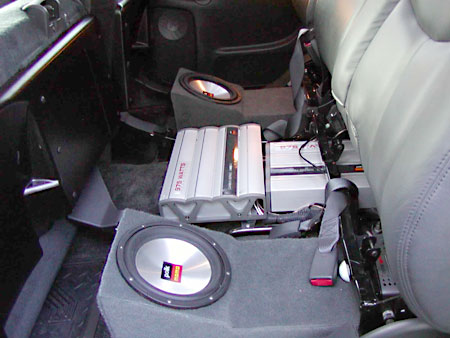 The Polk amps and subs are tucked out of the way.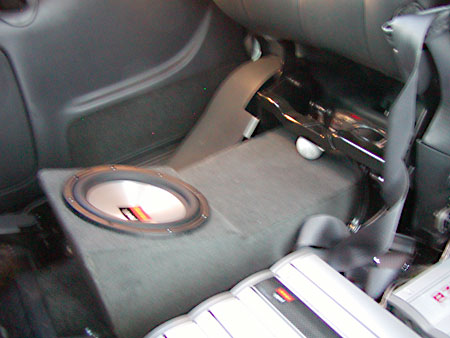 The custom sub enclosures make the most use of available space.