Items installed:
Dual fold down receiver
Dual amp high performance wiring kit from crutchfield.com
Kenwood capaciter
Kenwood crossover
Kumho lo pro street tires
Apex electronic boost controller and turbo timer
Custom made billet aluminum cold/ram air cowel inducted intake all custom made
Custom made twin turbo manifold from revolutions performance
FAZE air fuel/ boost/ oil press/ engine temp/ tach/ speedo/ and ampers gagues
Front and rear end stab bars
MSD ignition kit
Optima yellow top battery
Pioneer 3 1/2" tweeters
Pioneer 6x9 front and rear internals
Replaced stock cams with custom made performance cams made by revolutions performance
SUPERCHIP brand ecm
Self made custom dash
TWIN stage 3 turbos and 50lb computer controlloed nos kit
True dual exhaust with flowmaster mufflers
x2 12" kenwood subwoofers
18" rally crome rims
2000 watt kenwood performance series amp
800 watt kenwood comp series amp for internal components
Installation Description
It started with the rims and tires, and moved to the engine, and is now in interior and stereo. I got the bug when someone told me that this would be an awesome sleeper car. So I slapped on a custom made set of turbo headers for a 4 cylinder, installed the squires turbos and other associated equipment, at the same time I put on the NOS kit and accoutramal. On the inside I gutted the car pulled all new wiring for internal components, and dual amp wiring kit. Put in my deck and subs and all new internal components.
Q&A Section
Why did you decide to upgrade your A/V system?
I never leave anything stock
What's the first thing you show people about your installation?
My deck and dash
Why did you choose these products?
good quality and durability
What was the most difficult part of the installation?
making all of the custom parts i needed
What plans, if any, do you have for future upgrades?
body kit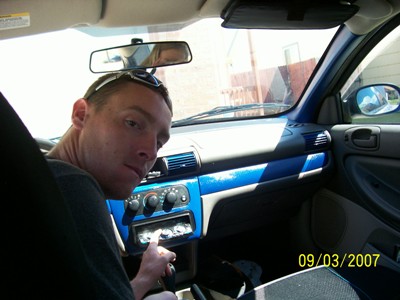 me and my lil car