Dan Crawford's 1999 Chevy S10
Items installed:
Kenwood eXcelon Z919 CD/MP3 receiver with CD changer controls
Infinity Reference Series 3012cf 3-1/2" speakers — dash
Infinity Reference Series 552i 5-1/4" speakers — doors
Kenwood KFC-W2002 8" subwoofer
Two Pioneer GM-X312 amplifiers (35 watts RMS x 2)
Kenwood KAC-718 mono subwoofer amplifier (120 watts RMS x 1)
StreetWires power cable, speaker wire, distribution block, grounding block
Rockford Fosgate Reflex patch cables
Lightning Audio 1/4-farad Lightning Cap
As most regular cab truck owners are painfully aware, it's tough to get big bass and still have room to put your seats all the way back. Fed up with second-rate sound, Dan Crawford determined that he would fit a first-class sound system in his 1999 Chevy S10 — and still have plenty of leg room.
Dan took careful measurements of the available room and constructed an elaborate amp rack/sub box that houses three amplifiers, all power distribution, a capacitor, and an 8" sub enclosure. He constructed the rack/box from 1/2" MDF (medium density fiberboard), and left it open on the front and top for easy access. An L-shaped lid (with Plexiglass windows) latches on to seal the entire assembly. All wiring runs through the back of the cabinet for an exceptionally clean installation. At the bottom of the rack, the Kenwood KFC-W2002 8" subwoofer pumps out strong bass from its sealed enclosure (0.6 cubic feet), driven by 120 watts RMS from the Kenwood KAC-718 mono subwoofer amp.
Dan installed Infinity Reference 3012cf 3-1/2" speakers in the dash and 552i 5-1/4" speakers in the doors, each set powered by a Pioneer GM-X312 amplifier (35 watts RMS x 2). StreetWires 4-gauge power cable runs from the battery (under the seats and carpet) to the power distribution block in the amp rack. The 1/4-farad Lightning Cap keeps rock-solid power going to the Kenwood sub amp.
Dan raves about his Kenwood eXcelon Z919 CD/MP3 receiver, which will play CD-Rs (and CD-RWs) burned with MP3 files downloaded from his computer. (The MP3 compression allows him to fit up to ten hours of music onto one disc.) This exceptional receiver also has built-in low- and high-pass crossover capability (System E's+) and extensive equalization control (KEX's 6 user-defined presets), eliminating the need for any space-hogging outboard gear.
Truck owners, check out the photos of this sharp Chevy. Dan Crawford has written the book on squeezing a big sound out of a small space. Exceptional work, Dan.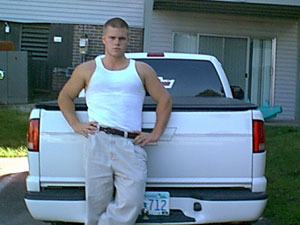 Dan Crawford and his 1999 Chevrolet S10 regular cab truck.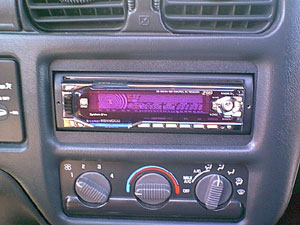 The Kenwood eXcelon Z919 takes on the job of CD receiver, equalizer, and crossover in this system — and it plays MP3-encoded discs with ease!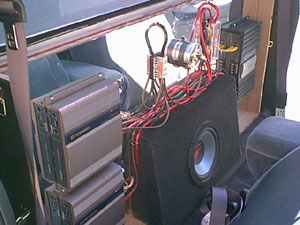 In this photo of the uncovered rack, you can see the two Pioneer amps, Kenwood sub amp, Lightning Cap, and subwoofer enclosure all contained within a remarkably small space. The backing sheet of acrylic mirror lends a nice touch.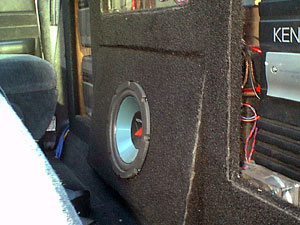 Here's a view of the Kenwood KFC-W2002 woofer in the covered rack. Amps are visible through the Plexiglass windows.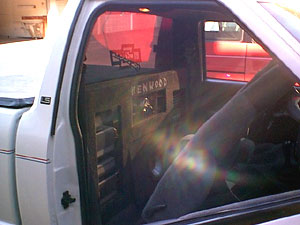 So much equipment, so little space! With the seats tilted forward, you get a clear view of the entire assembly in the back of the cab.