Timothy Graf's 1994 GMC Suburban
Items installed:
T VIEW T560HR COLOR MONTIOR MOUNTED IN THE CUSTOM CONSOLE IN THE FRONT
LEGACY LDVD50 DVD PLAYER MOUNTED IN THE CONSOLE
STARVISON TFT-LCD 8 INCH FLIPDOWN MONITOR MOUNTED ON THE CEILING
BOSTON ACOUSTIC RALLY SERIES 10'S MOUNTED IN A CUSTON BUILT BOX IN THE REAR
STINGER COOLING FANS TOO COOL THE AMPS IN THE BOX
STINGER WIRING AND DISTRIBUTION BOXES
BOSTON ACOUSTIC RCG1X CROSSOVERS MOUNTED IN THE REAR SPEAKER BOX
APC CLEAR TAIL LIGHTS
APC CLEAR HEAD LIGHTS AND PARKING LIGHTS
CHROME HEADER PANEL AND GRILL
REVERSE GLOW FLAME GAUGES
Installation Description
The Clarion DXZ825 was the first to be installed along with the cd changer a few years ago when I first purchaced the truck. I later added the Sirius satellite radio with SIR CL1 tuner. I have since added the the Pioneer tweeters to the front pilar and the Pioneer 4x6's to the dash. The Boston components were put in the rear doors and rear pilar, as well as the Kicker 4x10's in the rear deck. The most recent addition was the custom box in the rear that was built by me and a few good friends. That is used to house the Boston Rally Series 10's and two Kenwood amps. We also built the console for the front that has the 5.6 LCD screen, DVD player and the cd changer. At that time we also put in the 8 inch flip down LCD for the rear.
Q&A Section
Why did you decide to upgrade your A/V system?

The stock stereo sounded terrible even though I give the car manufacturers credit for trying.

What's the first thing you show people about your installation?

Either the box in the back or the console in the front.

Why did you choose these products?

I have always had good products from Clarion so I stick with them.

What was the most difficult part of the installation?

Wiring the console and the rear box.

What plans, if any, do you have for future upgrades?

I just purchased a Crime Guard alarm.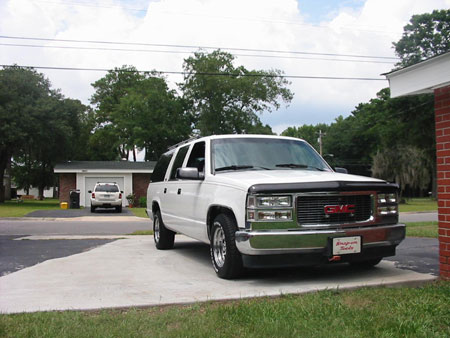 Timothy Graf's 1994 GMC Suburban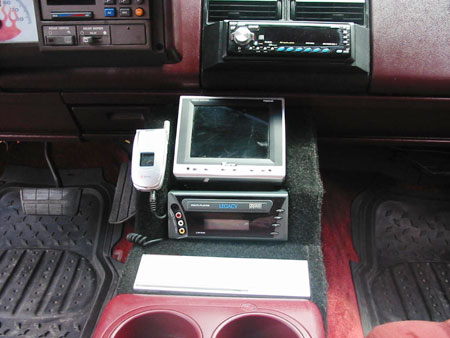 Every entertainment option is right at Timothy's finger tips.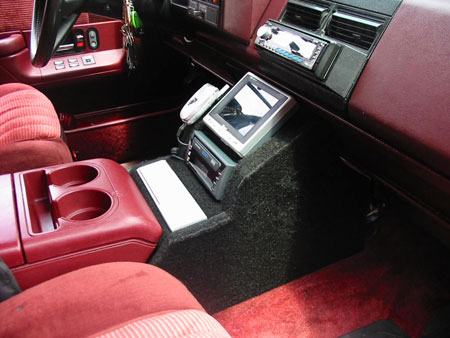 The custom console box fits nicely below the dash.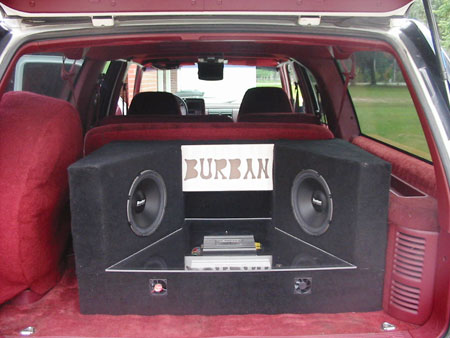 The custom box in the rear houses the amps and subs.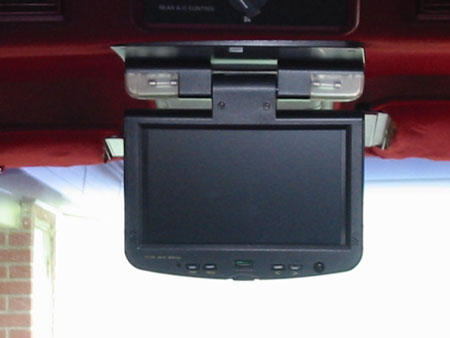 An 8-inch flip down screen entertains passengers.