John Hedges' 1996 Pontiac Grand Prix
Items installed:
Homemade Ported Box (HUGE BOX)
Eclipse 6x9's
MA Audio HK598 4 Ch Amplifier Fan Cooled 1600 W HK-598
High Performance, Oxygen Free, Complete 2 Gauge Amp Wiring Kit
Rockford Fosgate P152S 5.25" Component Speakers Tweeters
Absolute HYC40 40 Farad Stiffening Capacitor
3.8-liter Super Charged V6
More to Come...
Installation Description
To much to describe...
Q&A Section
Why did you decide to upgrade your A/V system?
I did it because I went to an auto show and saw many cars that were just slammin' and I knew when I turned 16 my car was going to be just like that...I'm 16 now and and have been working for a year... I've paid for all of the equipment in my car with my own money, and finally five months into having my license I have got it all set up right... I really would like to get a better setup in my trunk to make it look a lot cleaner other than just a box... but for now it will do : )
What's the first thing you show people about your installation?
Probably my wiring, no no... haha I go straight to popping my trunk and showing everyone the setup back there...
Why did you choose these products?
Well I bought the subs used, but for a great price! Everything else was new, and really I had no experience in choosing. It was more along the lines of online review that got me into the stuff I bought...
What was the most difficult part of the installation?
I'm not gonna lie but the hardest part about all of this was I bought a used amp to start and it worked fine for a little bit then I noticed there was a short in it... So that cause a lot of problems, but finally I raised about $400 and got my new amp!
What plans, if any, do you have for future upgrades?
I would love to get some sort of lights in my trunk to add to the blue LED's on the amp. I think it would spice it up a bit, but over all I'm happy with my sound quality and performance of my car.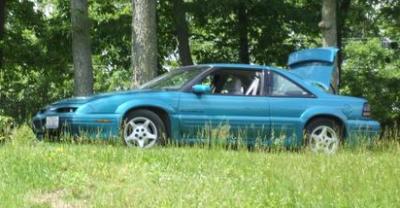 Ah first day driving