Items installed:
JVC KD-SX940 CD receiver
Profile California Series 400sx amplifier (100 watts RMS x 2, 300 x1)
JBL Loud and Clear LC-S1200w 12" subwoofer
2 sets of Blaupunkt PCxg652 2-way 6-1/2" speakers — doors, side panels
StreetWires Amplifier Kit
Dynamat Premium
Steve Huskey picked the JVC KD-SX940 CD receiver to control the system in his red 1985 Nissan 300zx. The rotary control makes it easy to make changes on the go, and the BBE processing does a great job of pumping up the low frequencies and enhancing overall clarity. The front panel auxiliary input allows quick connection of a portable cassette, MiniDisc, or MP3 player.
He installed Blaupunkt PCxg652 6-1/2" speakers in the doors and rear side panels. These efficient 2-ways get every ounce of performance out of the JVC receiver's muscular internal amplifier (16 watts RMS/ 40 watts peak x 4). Check out the heavy duty grilles on the rear side panels!
The bass is powered by a Profile California Series 400sx amplifier, pumping out 300 watts RMS in mono (single channel) operation. The Profile is mounted on the side of a hand-made enclosure housing a single JBL Loud and Clear 12" woofer. Steve reports that originally he bought the inexpensive JBL as a temporary replacement but the speaker's performance has made a believer out of him.
A StreetWires Amp Kit takes care of all power and signal connections. In order to eliminate the creaks and rattles from his 15-year old vehicle, Steve installed Dynamat Premium vibration-damping material in the doors, floors, and firewall. The Dynamat also acts as an acoustic barrier, lowering road noise and increasing the efficiency and clarity of the sound system.
Steve has done a beautiful job restoring this classic Z. Let this simple yet powerful sound system be an inspiration to all you sports car owners out there!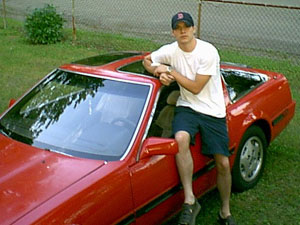 Red Sox fan Steve Huskey with his classic red 1985 Nissan 300zx.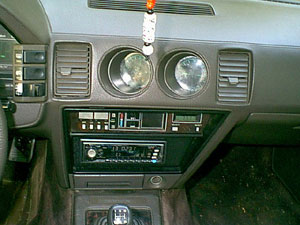 The JVC KD-SX940 CD receiver looks right at home in the Nissan dash.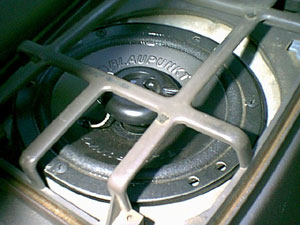 These cool-looking grilles guard the Blaupunkt speakers against anything short of thermonuclear war.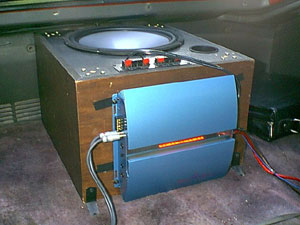 The Profile amp/JBL speaker combo kicks out some righteous bass.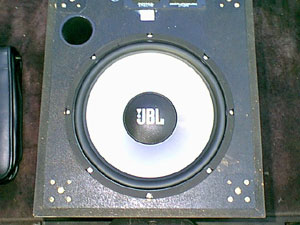 The JBL Loud and Clear 12" sub has earned a permanent spot on the roster.