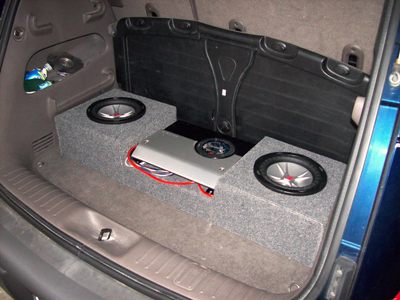 Items installed:
Installation Description
This was the first time I had truly installed any car audio system so I did a ton of online research to find the best way to install subs using websites that were specifically tailored to PT Cruisers and using Crutchfield Advisor to learn about amps and different types of subs. Then I measured and made a box that was large enough for the subs but still allowed me to use the rear shelf, after failing at making ones small enough for under the seats. Then I did some research and found that you can run the power cable through the same grommet as the hood release cable and then I ran the wires and installed the grounding cable to a factory ground that I found while researching online. After doing that I ran wires from my rear speakers to the area where the speaker level inputs on the amp would be. Then I proceeded to cut the lengths of cables I needed and strip all the ends. I then proceeded to connect my subs using a wiring diagram I found on Crutchfield's website. I finally finished making all the connections and gave it a test run before screwing everything down and replacing all of the interior panels and thankfully it worked.
Q&A Section
Why did you decide to upgrade your A/V system?
This is my second attempt in adding some more bass to my PT Cruiser after I added the 5x7 Infinity's because they didn't cut it in the bass market. Initially when I came up with the idea to add subs it was just a prospect and I thought I would end up spending $400 but after looking at Crutchfield, which I had stumbled upon months ago, the price didn't seem out of hand and it thought it would be fun to make the box myself and install everything myself.
What's the first thing you show people about your installation?
I show them the box that I made and covered.
Why did you choose these products?
I chose the Kicker 8" because i did want a ridiculous amount of bass and they were by one get one free. I Chose the Sony amp because it didnt require me to run a turn on lead or use a line output converter.
What was the most difficult part of the installation?
The most difficult part was making a box that wasnt too big, would look semi stock and allow me to use the shelf.
What plans, if any, do you have for future upgrades?
Maybe new speakers if i blow any of the the stock front ones.