Kevin Mendoza's 1997 Mitsubishi Eclipse GS
Items installed:
Dual cd player
Two Crunch 1000w amps on top of speaker box
Two 12 inch 1000w Audiobahn subs aw120t in trunk
Two 5 1/4 inch Kicker midranges in back side panels
Installation Description
Everything was custom set up by my dad and myself. It took a week to cut and hide all the wires and fine tune the sound and looks. Cars aren't just made to run!!!
Q&A Section
Why did you decide to upgrade your A/V system?
I don't like stock systems, I want to be in the music.
What's the first thing you show people about your installation?
My speaker box and amp switch.
Why did you choose these products?
I love the Audiobahn Flame series but I don't have a box big enough to show them off yet. Everything else was conveniently priced at the time I had cash.
What was the most difficult part of the installation?
Running the wires!
What plans, if any, do you have for future upgrades?
Upgrade the speakers to 6 1/2's.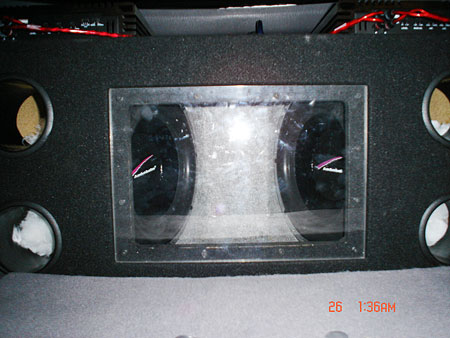 The Audiobahn subs in a bandpass box.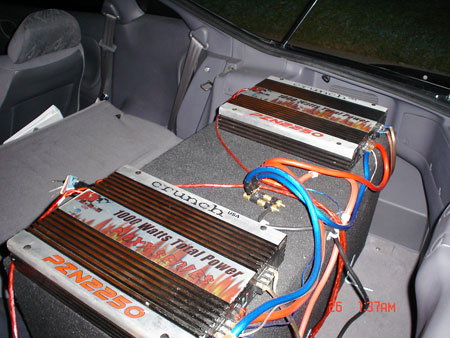 The Crunch amps keep the subs thumping.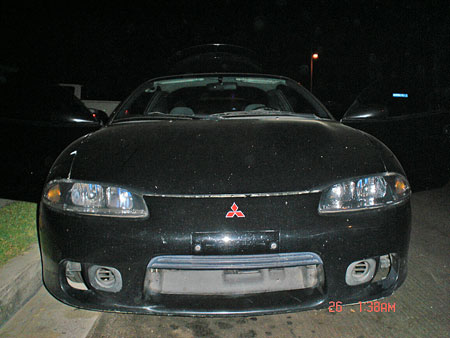 A head-on shot of the Eclipse's grille.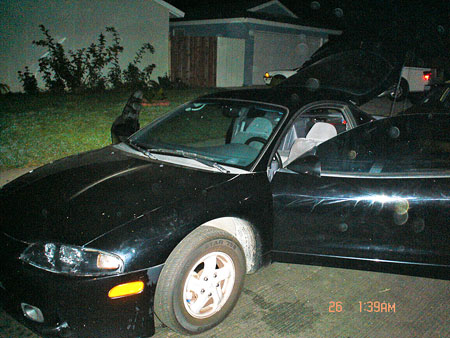 The Eclipse, wide open.