Gray Nail's 2004 Dodge 1500 4x4 Quad cab
Items installed:
JL Audio 500/1 monoblock sub Amp
JL Audio 300/4 four channel full range Amp
JL Audio 6W0 Subwoofers
JL Audio XR 100-CT (25mm) Component Tweeters
JL Audio 10W3v2 dual voice coil 4-ohm Subs
MAGNAFORM DRQC20 (Dodge Quad cab) 1.5 cubic ft. sealed enclosure
Monster 4 gauge power wire and distribution block
Monster XLN Pro Interconnects
Monster XP CI speakerwire
Installation Description
The JL500/1 located under the driver's seat delivers 500 watts RMS @ 4 ohms of clean power to (2) 10" JL(dvc)subs wired in series in a Magnaform enclosure under the rear seats. The JL300/4 powers (2) JL 6W0s located in the front doors. I had to trim (2) Scosche 6x9 speaker brackets and cover them with Dynamat Extreme so the 6" woofers would fit in the factory location. The JL300/4, using built-in cross-overs, also powers a set of JL's flagship component tweeters mounted just below the A-pillers on each door for great stereo imaging. The factory-installed Infinity amplifier powers the factory coaxials in the dash as well as the aftermarket Infinity Kappa coaxials located in the rear doors which also have Dynamat. There is Monster Cable throughout commanded by a Clarion ProAudio AM/FM/CD/MP3/WMA head unit with SIRIUS Satellite radio. I installed all the equipment in my Dodge while it was parked in my driveway.
Q&A Section
Why did you decide to upgrade your A/V system?
Even a premium factory stereo system can't meet my audiophile demands.
What's the first thing you show people about your installation?
The subwoofer enclosure matches my truck so well it looks like it's factory.
Why did you choose these products?
I wanted quality, high-powered sound and easy installation of equipment that didn't take up needed space.
What was the most difficult part of the installation?
Wiring the speakers in the front doors and getting them to fit properly was the most difficult part.
What plans, if any, do you have for future upgrades?
I'm considering an iPod with an adapter that I can integrate through my head unit.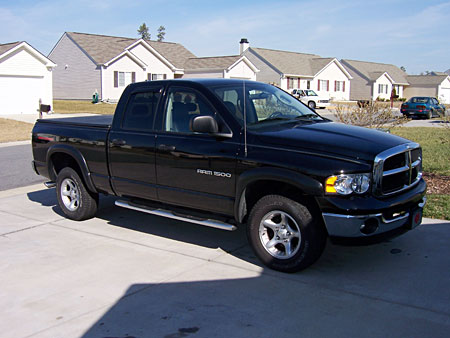 A big truck calls for a big sound system.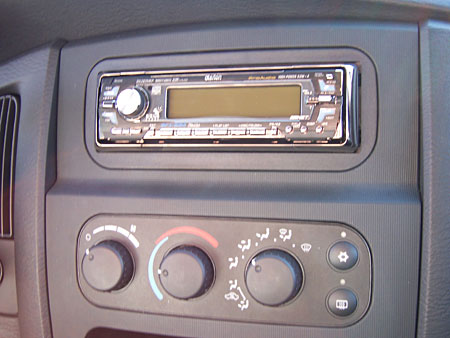 The Clarion stereo is built for the best possible sound.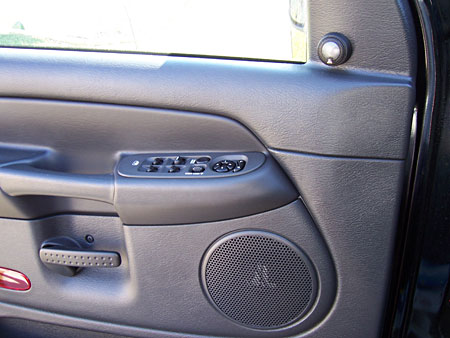 The JL tweeters and mids provide crisp, precise sound.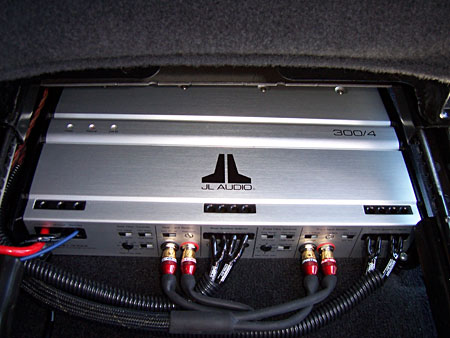 Power for the door speakers comes from a JL300/4 amplifier.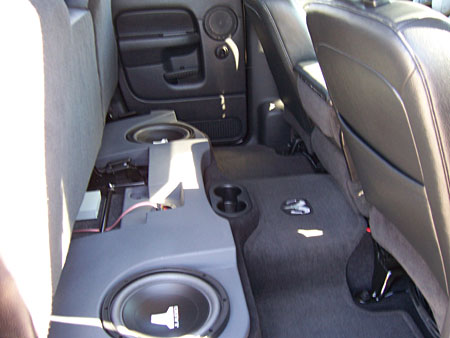 Two JL subs provide more than enough bass to fill up the cab of this Dodge.