Long Nguyen's 1998 Pontiac Grand Prix
Items installed:
Orion 8" 4-ohm Subwoofer
Alpine NVE-N852A Navigation System
Mobile TV 5" Monitor
Sun View 4" Monitor
Sony Playstation 2 with wireless controllers
Pulley Boys 3.4" Supercharger Pulley
Next Level Strut Tower Braces
Hypertech PowerStat 180 Degree Thermostat
Casper's Electronics Adjustable Fuel Pressure Regulator
SLP Loud Mouth Cat-Back Exhaust System
Lotek A-Pillar 2 Gauge Mount
Auto Meter Cobalt Air Fuel Ratio Gauge
Auto Meter Cobalt Boost Gauge
Reflective Front/Rear Pontiac Lettering Kits
Installation Description
I had a decent system with a JVC Kameleon, Pioneer amp, Orion sub, TV tuner, and 2 screens (4" and 5", front and rear). But the A/V setup was too messy for my passengers and the stock speakers overwhelmed you with mid-range above a certain volume level. So, I ditched everything but the 2 screens and sub.
The head unit was installed using Crutchfield's free receiver installation kit. Speakers went into the factory locations. Both changers and the navigation system were stacked in the trunk. The amp was mounted in the trunk, but the sub is removable in case I need more space. Various hideaway units were crammed into every last nook and cranny. The inverter was hidden in the center console. The Playstation 2 is mounted under the glove box. Two Street Glow tubes light up the trunk, and 3 tubes illuminate the floor in front of the rear seats and front passenger seat. Finally, the Pioneer screens are installed using the quick-release headrest mounts included with them. I did the whole install myself with only one phone call to Crutchfield to help me find the speed sensor wire for the navigation system (I'm not a car stereo installer).
Now I have my clean sound and all of the multimedia options I want at my fingertips. The head unit can select from radio, in-dash CD, CD/MP3 changer, CD/DVD changer, PS2, navigation, TV tuner, or another A/V input (usually a second game console). Both headrest screens can independently select from CD/DVD changer, PS2, TV tuner, or second game console. The 4" and 5" screens in the front and rear center are linked and usually are dedicated to navigation info, although they can output any video source the head unit can.
My perfomance mods boost car's power to compensate for passengers, luggage, and equipment.
Q&A Section
Why did you decide to upgrade your A/V system?
I wanted to build the ultimate entertainment system for my annual road trip to E3 and ski trips. The goal was good sound, maximum multimedia, and maximum usable cargo space for my road trip car. I can fit 4 people and all of our luggage for my L.A. trips, or I can fit 4 people and all of our ski/snowboard equipment without the use of a ski rack or any kind of carrier. Everything fits inside the car.
What's the first thing you show people about your installation?
5 screens - in a Grand Prix!!! Either that or the fact that I have a million A/V sources in the car.
Why did you choose these products?
I love Alpine's quality and system expansion abilities, and the Pioneer screens allow an average Joe to have headrest screens.
What was the most difficult part of the installation?
Figuring out where to run all of the cables and hide the equipment, plus how to route the A/V signals among components. Pulling 3 all-nighters to finish before my road trip was tough, too.
What plans, if any, do you have for future upgrades?
Integrating the Pioneer screens into the headrests and hiding the cables, replacing the front 4" screen with an Alpine 5.8", and getting an Alpine sub and woofer box.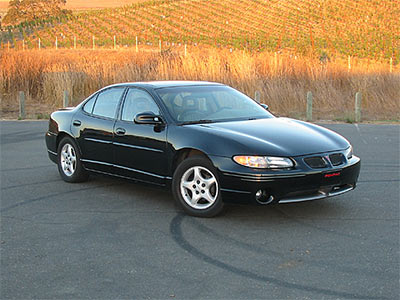 Long's Grand Prix looks as good as it sounds.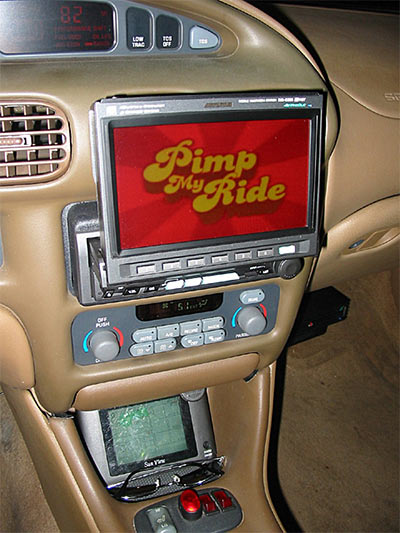 The Alpine head unit gives passengers a lot of entertainment options.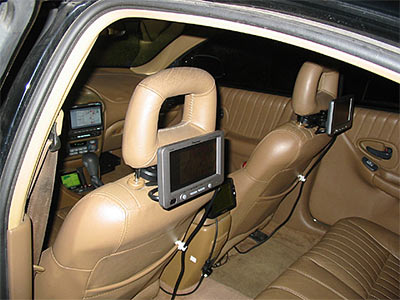 You'll never get bored in the back seat of this Pontiac!