Items installed:
Panasonic CQ-DF88 in-dash receiver
one pair 6"x9" Pioneer speakers
two pairs 6"x8" Pioneer speakers (factory location)
one pair Pioneer tweeters (in the kick panel)
three 10" JBL Power Series subwoofers
15" Cerwin-Vega subwoofer
Rockford Fosgate Punch Power 1100a2 amp
external neon lighting
Varad LED-scanner alarm decoy
Crime Guard 745i2 security system
Jason prefers the Panasonic CQ-DF88 as his in-dash CD receiver, with its special Day-and-Night faceplate (shown at bottom right) providing a complement to the Thunderbird's external neon system.
The CQ-DF88 is packed with three sets of preamp outputs for flexible system expansion, as well as a built-in high-performance 22-watt RMS 4-channel amp chip. Jason currently drives all the full-range speakers with the built-in amp, although he's planning an eventual upgrade to component amplifiers for even more clarity and volume.
The external neon system consists of two four-foot tubes beneath the front and rear bumpers, two six foot tubes under the left and right sides of the car, and one 15" blue tube under the passenger-side dash. The custom-installed fog light toggle switch just above the in-dash receiver turns the neon on and off.
In the trunk Jason has three 10" JBL subwoofers crossed over at 120 Hz, and his 15" Cerwin-Vega sub is crossed over at 60 Hz to handle the bottom end. A Rockford Fosgate Punch Power 1100a2 amp delivers the necessary wattage.
Jason works in technical support here at Crutchfield, and he did all the installation work on his T-Bird himself.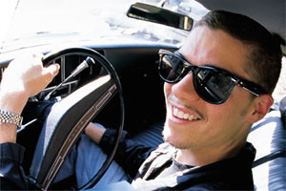 Crutchfield's own Jason Thacker.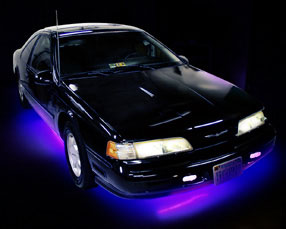 The sun goes down, the lights come up: Jason's neon-lit T-Bird.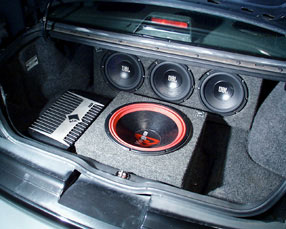 Jason's bass generators, expertly installed in the T-Bird's trunk by Jason himself.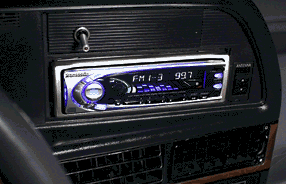 The CQ-DF88's Day-and-Night faceplate perfectly complements the T-Bird's glowing aesthetics.