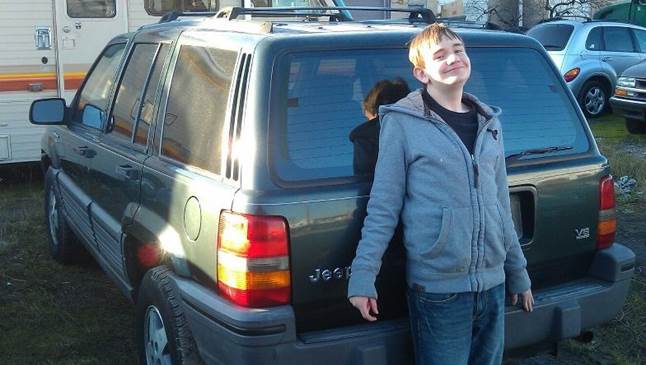 Items installed:
A used Jeep with a not-so-grand stereo
Vincent's 1994 Jeep Grand Cherokee gave him a great way to move his stuff around, but it didn't initially offer him much in the stereo department — just a stock AM/FM radio with a cassette deck. And not even a working cassette deck at that — it was broken when he acquired the vehicle. He was looking for some options, so he checked out Crutchfield.
Time to upgrade, part 1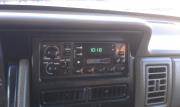 Vincent's "old, ugly" factory radio
Vincent decided to upgrade his receiver with a deck that offered him a few more bells and whistles, including MP3 playback from disc, an auxiliary input, and a detachable faceplate. The Sony CDX-GT360MP CD receiver offered him those, as well as SiriusXM satellite radio compatibility, although Vincent said he wasn't planning on adding the service. He also wanted more ways to fine-tune his sound, which were lacking from the stock stereo's standard bass/treble/fader/balance combo. The Sony's built-in equalizer and low-pass filters made it all the more appealing.
He also went with the receiver because "Sony is a well-respected name, and they make excellent quality products."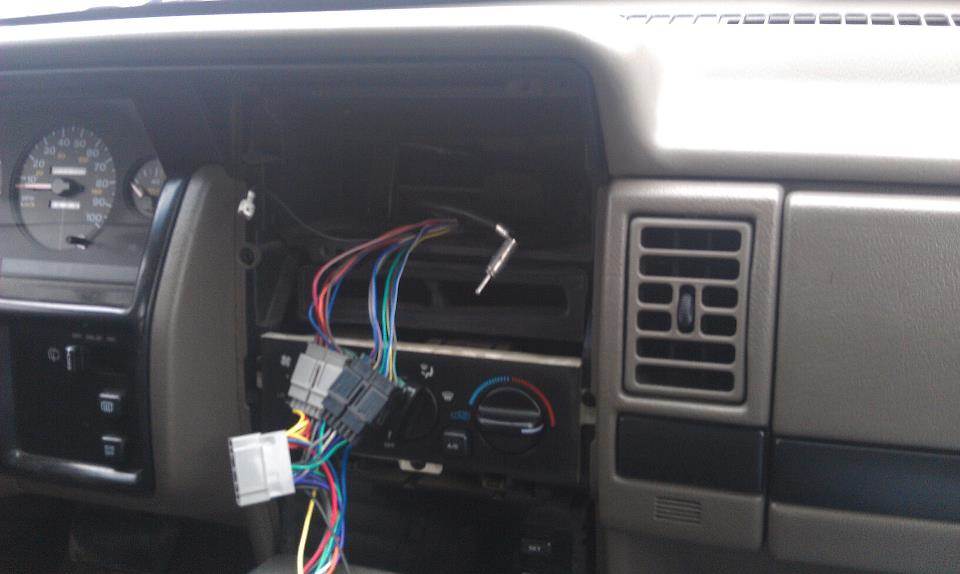 Readying the wiring harness to add the new Sony receiver
Adding the receiver
Vincent's receiver showed up and he tackled the installation, aided by Crutchfield's MasterSheet™ instructions showing him the way step by step. After he got through adding his new receiver, he was hoping to enjoy his music anew with better sound, but he soon made a painful discovery: two of the Jeep's four factory 6-3/4" door speakers were blown.
Time to upgrade, part 2
Vincent picked up some new speakers, this time going for two pairs of Pioneer TS-G1644R 6-1/2" 2-way speakers that are designed to also fit in 6-3/4" openings. He explained, "I was on a budget," and these speakers presented an excellent value proposition.
Adding the speakers
With his new speakers in hand, Vincent went back to work: "I didn't purchase speaker brackets or wiring harnesses, as I just cut off the factory wiring harnesses and spliced the factory wires to the Pioneer speakers.The wiring was a little bit hard to figure out at first, as was removing my the door panels. However, I eventually figured it out and got it wired up."
Enjoying the fruits of his do-it-yourself labor
Vincent's happy with his new sound system. The removable faceplate on his Sony receiver provides an extra layer of security, and it even beeps to remind him to remove it when he exits the Jeep. Using the receiver's auxiliary input, he can now enjoy songs on his Apple iPod touch®. And he's really into the receiver's RDS (Radio Data System) feature: "The RDS is cool because it tells me the title and artist of a song playing on the radio, or text off of an MP3-formatted CD."
And for the future? "I plan to take my receiver with me when I buy a new vehicle."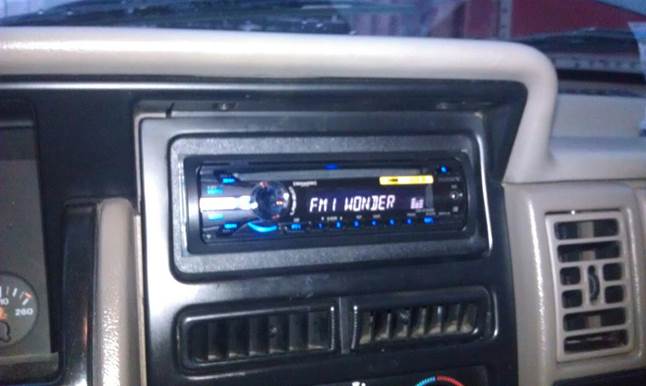 Vincent's newly installed Sony CDX-GT360MP CD receiver

Vehicles in the Custom Car Showroom are submitted by customers and fans, and edited by Crutchfield writing staff. You can find more of these articles on the Showroom main page.