Chris Walker's Acura Legend
Items installed:
Clarion ProAudio VR X8271 in-dash receiver with flip-out 5" LCD TV display
Rockford Fosgate Symmetry EPX2 signal processor
Infinity Kappa 60.1cs component system
Kappa 692.1I 6"x9" speakers
Kappa 10.1t 3/4" tweeters
Rockford Punch 600a4 and 800a4 amps
three Rockford Fosgate Punch 12" Dual Voice Coil subwoofers
Clarion VDH9300 video cassette player (VCP)
Clarion ProAudio CD C635 6-disc CD changer
StreetWire interconnects, power cable, and speaker wire
Dynamat
Crime Guard 745i2 alarm
StreetGlow neon tubing
Chris Caracofe, a Crutchfield First Class Installer, helped Chris Walker outfit his Acura with an extensive mobile audio/video system.
The centerpiece is the Clarion ProAudio VR X8271, featuring a top-notch tuner, three sets of preamp outputs, CD changer controls, and a flip-out 5" LCD TV display. The Crutchfield kit preserves the factory appearance.
The two-piece Rockford Fosgate Symmetry EPX2 preamp/crossover/equalizer manages sound quality. The control panel is mounted in the center console, while the processor (with optional 14-band equalizer) is installed in the trunk.
Chris Walker put Infinity's Kappa 60.lcs component system — 6-1/2" woofers and 1" tweeters — in the front doors. The Kappa 692.1I 6"x9"s and 10.1t 3/4" tweeters sit in the rear deck.
The Rockford Punch 600a4 amp drives the front and rear speakers, while the 800a4 powers the three 12" Rockford Punch DVC subs. The four-channel 800a4 is bridged to two, with three voice coils wired in parallel to each channel. They're all installed in the trunk.
Chris Caracofe mounted the subs to 3/4" plywood baffleboard, then placed them in a molded fiberglass enclosure he designed specifically for Chris W.'s Acura. Chris C. attached to the baffleboard a sheet of Dynamat he cut in the shape of the Rockford Fosgate logo, so that it was clearly visible when the carpet was added.
For video entertainment, Chris installed the Clarion VDH9300 VCP vertically in the back armrest well, then connected it to the audio/video inputs on the receiver. A Nintendo 64 is hooked up to the VCP's auxiliary inputs for even more fun!
The system is rounded out by the trunk-mounted ProAudio CD C635 6-disc changer, accented with StreetGlow neon, and protected by the Crime Guard 745i2 alarm.
Chris C. also modified the factory steering wheel audio controls to interface with the receiver's remote control system. Chris W. can turn his system on, switch sources, and control volume without taking his hands off the wheel.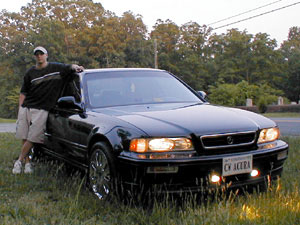 Chris Walker with his customized Acura Legend.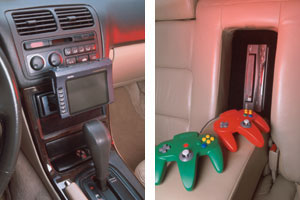 Chris's Acura includes an LCD color monitor, a Clarion VCP, and even a Nintendo 64!



Chris's center console-mounted interface controls the Symmetry EPX2 signal processor from the driver's seat.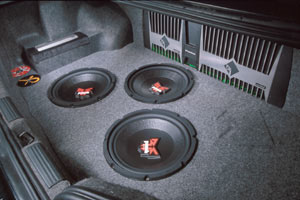 Crutchfield's own Chris Caracofe designed this installation with concert-hall sound in mind, using an array of Rockford Fosgate amps and subs.