My dad always had nice hi-fi components, but he was a receiver guy. The first time I saw and heard a separate amp and preamp system was in college, and I can still remember how cool the simple black face and single on/off switch of the amp looked. And how great it sounded.
That system commanded your attention. It helped that the setup included a pair of Klipsch floor-standing speakers. But the sound from that amplifier/preamp setup — immediate, expansive, and substantial — hands-down beat the refined but somewhat loose sound of my dad's old Sansui receiver.
Turns out there are good reasons why separates sound better than a receiver.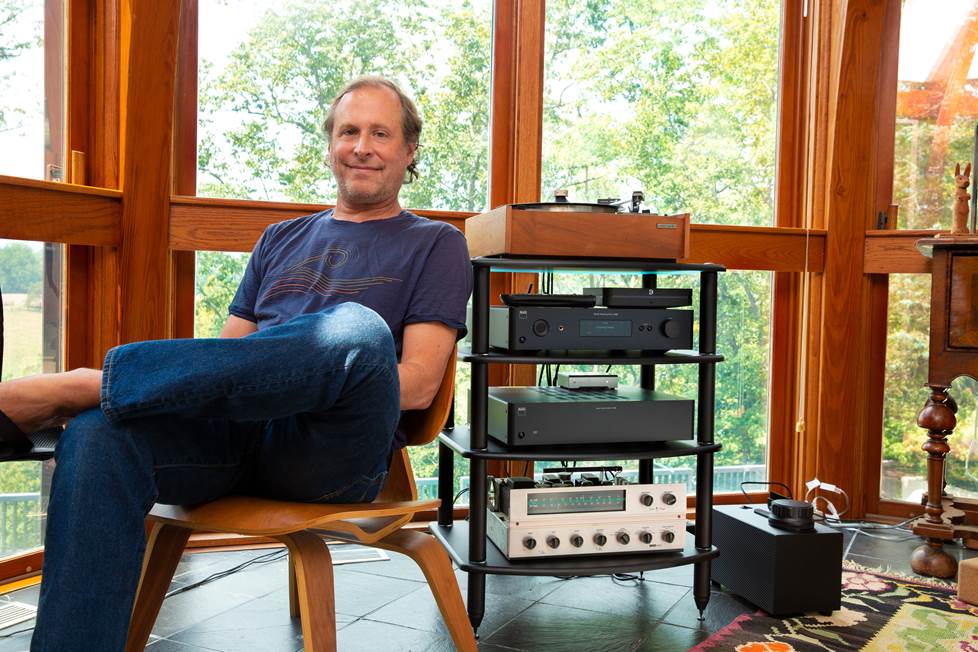 If you want full, articulate, and nuanced audio with flexible streaming capability, the NAD C 268 stereo amplifier and C 658 preamp I'm currently running at home produce beautiful music together.
Why buy a separate power amplifier and preamp?
Noise. That's the number one reason separates have an edge on receivers or integrated amps.
Think about what a receiver has to do. In addition to providing power to the speakers, a receiver typically accepts and selects several inputs, and has a built-in AM/FM radio tuner. Most also include a phono input. There's a lot going on under the hood.
In separates, product designers don't have to cram so many parts into one box, so they can lay out shorter signal paths. Sensitive low-voltage preamp circuits don't sit cheek-to-cheek with the high-voltage amplifier parts. And the amp and preamp don't have to share the same power supply.
So you get less noise and more horsepower with separates. And typically their build quality is a notch above what you'd see in a receiver.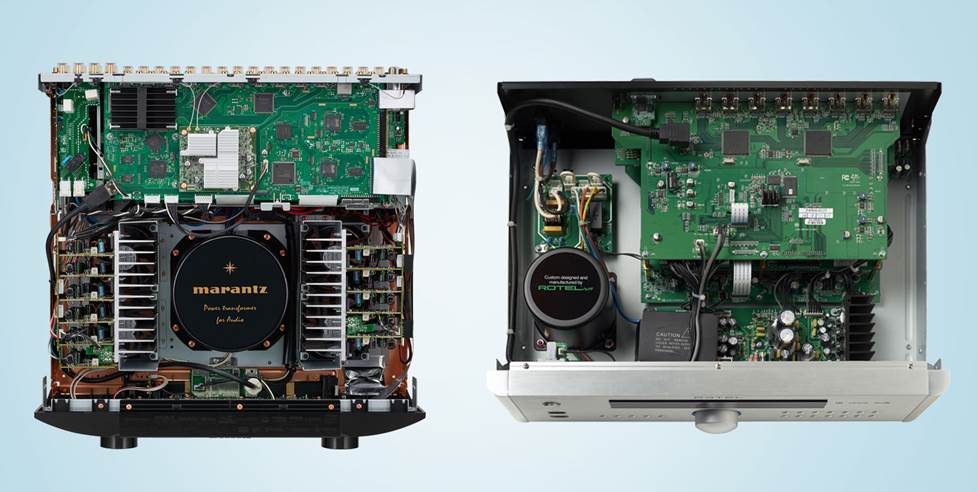 In these two multi-channel home theater components you can see the less crowded layout of the preamp/processor on the right, compared to the busier insides of the AV receiver on the left.
Don't get me wrong — a good receiver or integrated amp is the best solution for many people and situations. You have fewer wired connections, and central control for everything. Check out our stereo and home theater receivers buying guides, plus our top integrated amp picks to help you decide.
But in a hypothetical apples-to-apples comparison, if you modified any given receiver or integrated amp by putting the power and preamp sections into separate chassis, your sound would improve.
Are separates for you?
There are a lot of reasons you might want to get into separates. Maybe, like me, you saw and heard a great-sounding system, which left you feeling meh about the way your receiver sounds. Or maybe you're not getting the heft and detail you'd like out of your home theater system.
Whatever your reasons, you can't help it. You're a critical listener. You like paying attention to detail in your audio. You don't even need a reason beyond that. Or maybe you're just trying to power a set of stereo speakers in another room.
A great amp can be almost forever, but preamps change with the times. For example, these days it's fairly common for preamps to have onboard wireless network streamers. Ten years ago, not so much.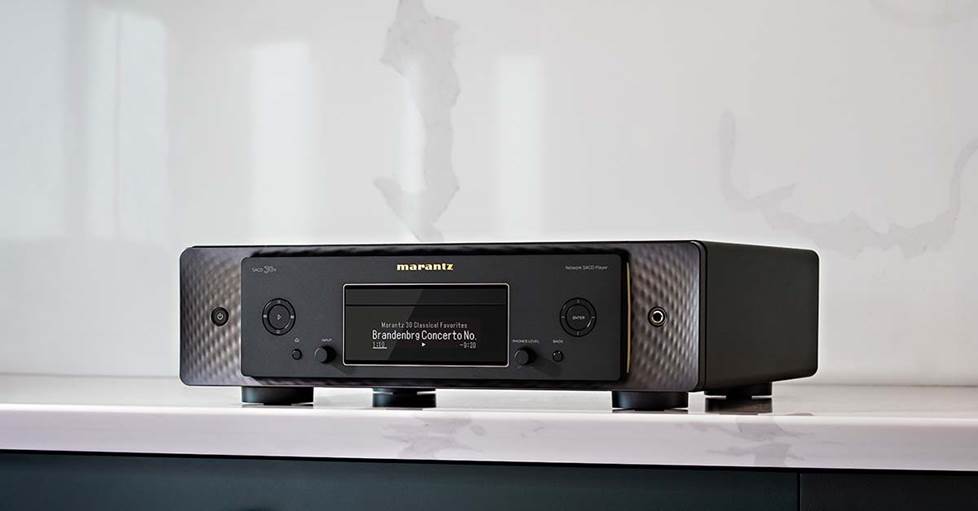 The Marantz SACD 30n is a preamp for digital sources, a network player, an SACD/CD player, and a high-performance DAC in one low-profile chassis.
Separates take up more space, and need more wire connections. A good rack and some mindful cable management can help keep your system from looking like a rat's nest.
Integrated amplifier vs separates
If you're wanting to upgrade your stereo receiver but the move to separates seems overwhelming, you should consider an integrated amp. It's a power amp and preamp in one box — another way to look at it is as a receiver without a tuner.
Integrated amps generally — but not always — have better internal construction and use more robust power supplies than receivers.
At my house, I have two stereo systems, one powered by an integrated, the other by a separate amplifier and preamp. The separates sound better, but the integrated fits into a space that's too tight for any more components. And it sounds great.
Using separates for stereo music
I like to listen critically to music. Not all the time, but enough that I've got a space where the speakers are carefully placed to fire toward a sweet spot on a couch. I'm listening carefully to a lot of different things — the artist, the recording, the amplifier, the speakers. This is where stereo separates can really feed the audiophile in you.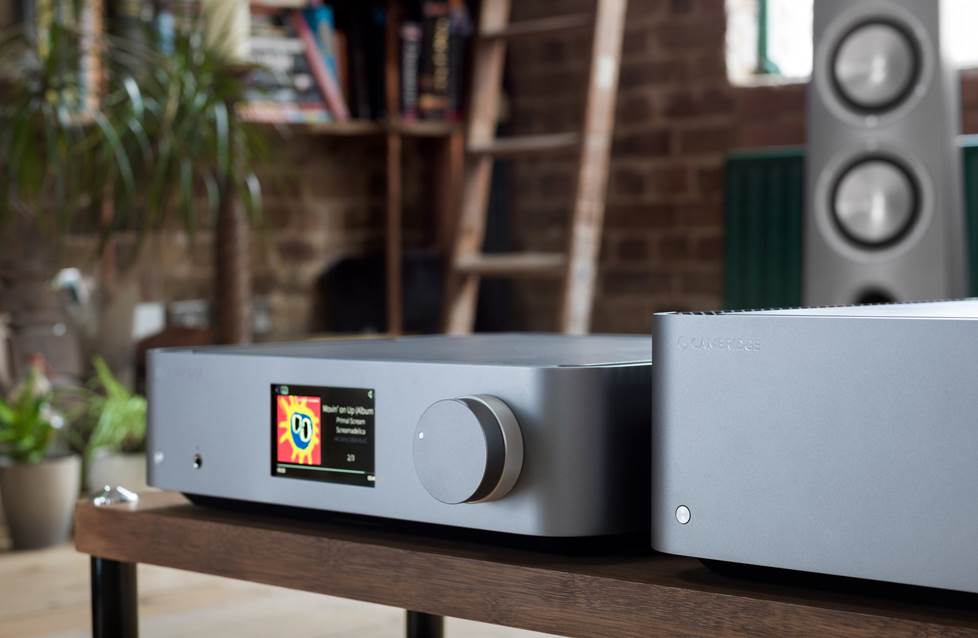 A power couple like Cambridge Audio's high-performance Edge NQ preamp and Edge W amplifier will give you detailed, authoritative audio.
A separate stereo preamplifier and stereo amplifier can be a great way to get your feet wet. A nice stereo preamp can deliver degrees of rich, articulate detail that you might never have noticed from your receiver.
Crutchfield senior editor and longtime professional musician Charlie's ears are attuned to differences in sound.
"I used a Peachtree NOVA150 integrated amp until I got the McIntosh C47 preamp a few months ago," he says. "I ran the McIntosh directly into the Peachtree's amp section, and the difference was astounding. CDs in particular sounded way, way better going through the McIntosh."
McIntosh's MC152 amplifier would be a natural match for Charlie's C47 preamp or the newer C49, and I could see it as a natural evolution for his system. Not just for its accurate and distortion-free power (and iconic blue stereo power meters!) The MC152 would give him even greater speaker flexibility, as discussed in the video below.
Consider your sources
Choosing a stereo preamp with all the right connections for your gear is important. Do you want to connect a turntable, CD player, or cassette deck? And even though a lot of preamps have onboard network streaming capabilities and digital-to-analog converters, you might still want to connect a separate network streamer and/or DAC.
If your stereo preamp doesn't include a phono preamp, you'll need a separate phono preamp to connect a turntable. Many stereo preamps include built-in phono preamps with limited adjustment capabilities. A lot of people — myself included — prefer to use a dedicated outboard phono preamp for more flexibility.
You can even connect an outboard digital radio tuner to one of the stereo inputs on a stereo preamp. I need my radio, so that's what I do.
It's not always a question of quantity, though. And while quality gets very subjective in higher end equipment, that's really what you're striving for, isn't it?
Multi-channel preamps for home theater
If you're ready to invest in a top-notch surround sound system, an AV separates system with a great home theater preamplifier/processor at its center can give you accurate, cinema-like sound with crisp dialogue, immersive effects, and earth-moving rumble you can feel. And if you use the same system to listen to music, your stereo sources will also sound great.
Like their home theater receiver counterparts, AV pre/pros can decode Dolby and DTS surround sound formats, including "object-based" formats like Dolby Atmos or DTS:X, which place sound effects in space around you with lifelike accuracy. They also process 4K video and have onboard room calibration that tailors the sound from your speakers to your exact space. They even let you stream high-res music.
Most home theater preamp/processors offer balanced XLR connections. XLR cables can handle long cable runs, and they reject noise that can mar your listening experience.
Home theater preamp/processors are designed for top audio performance. They're made with high-quality components and feature connections you won't find on most home theater receivers. Another benefit to choosing a separates system over a receiver is that pre/pros offer greater flexibility and more configurations for setting up your surround sound system.
And with the right amplifier (or amplifiers) you can ensure all your speakers get the power they need to sound their best.
You could set up a crazy cool home theater system using a 15-channel pre/pro like Anthem's AVM 90. This premium surround sound processor supports up to six surround speakers, six height speakers, and four subwoofers, allowing up to a 9.4.6 Atmos speaker configuration — not too many AV receivers can do that.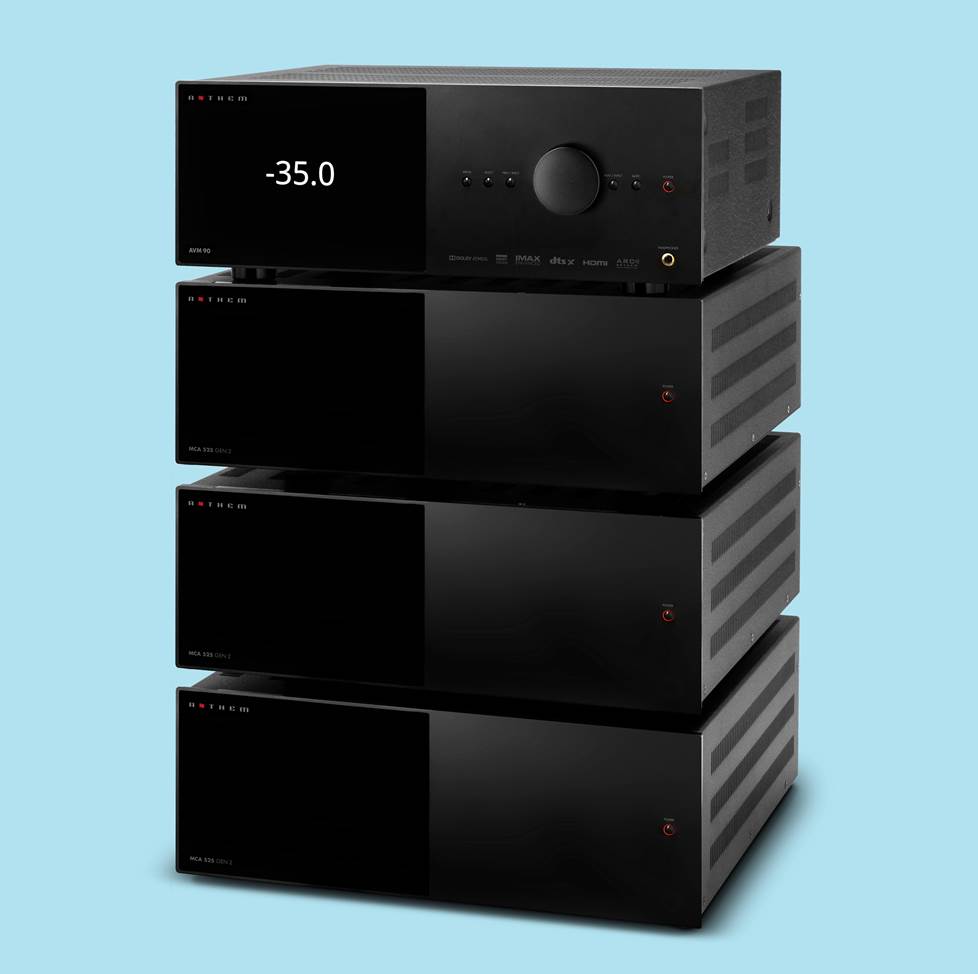 Anthem's AVM 90 preamp/processor is a home theater lover's dream, shown here stacked with three of their MCA Gen 2 amplifiers.
Listening to stereo music through a home theater separates system
Crutchfield senior copywriter Kramer uses a Marantz AV8805A preamp with an MM8077 power amp in his home theater. He loves the authority and detail he gets from his 5.1.2 surround system for movies and TV.
He also uses it for stereo listening, with app- and remote-controlled options built right into his preamp. "It sounds fantastic," he says.
"My current favorite way is to listen to music in multi-channel stereo mode, and turn down the center channel speaker," Kramer says. "But you can also listen in two-channel stereo mode through just the front left and right speakers."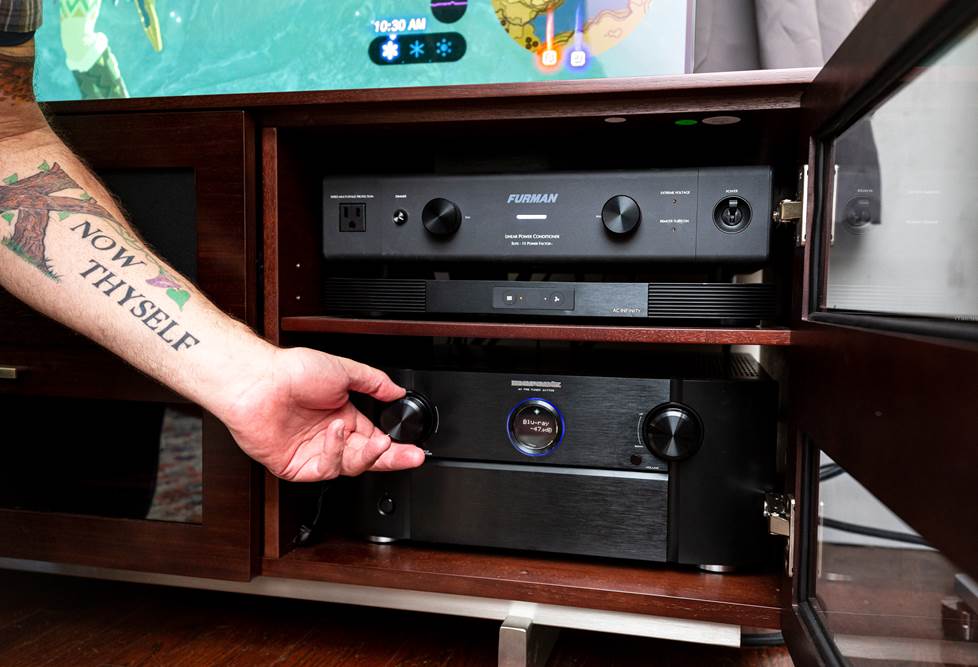 With with 13.2-channel processing, Dolby Atmos, Apple AirPlay 2, Bluetooth, and HEOS Built-in, Marantz's AV8805A preamp gives you bountiful input options and beautiful, clear sound.
Choosing an amplifier to power your system
Two-channel stereo amplifiers are most common. The NAD C 268 I'm currently running will power two speakers at 80 watts. Two or more NAD C 268s can be used in mono "bridged" mode, where each amp powers a single speaker at 300 watts — which happens to be the maximum power handling for many 8-ohm floor-standing speakers.
There's even a high-end category of one-channel amplifiers called monoblocks, where you use one each to power your front left and right speakers.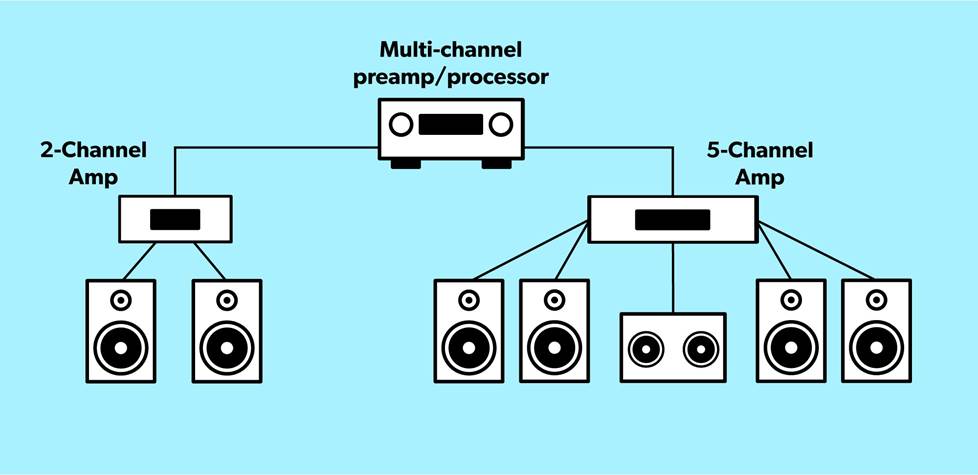 You can use two or more separate amps to power different speakers in a surround sound system, each amplifying signals coming from one multi-channel preamp.
You can use a single multi-channel amplifier or multiple amplifiers to power your home theater surround sound system. You might try a more powerful and better amplifier for your more demanding front speakers and a less powerful multi-channel or multiple stereo amplifiers to power your center and surround speakers.
Output wattage can be important, but doesn't tell the whole story. That's why some 40-watt amplifiers are much, much more expensive than some boasting 200 watts or more. I've heard a 1-watt two-channel amp that sounded great, and one of my favorites is the amplifier section in my old Harman Kardon Stereo Recital receiver that puts out only 15 watts per channel. If you can audition an amp in person, it's best to trust your ears.
Do you have to stick with the same brand?
A matched preamplifier/amplifier pair looks great, but there is absolutely no reason you should ever feel like you're breaking the rules to mix and match.
In fact, that's part of the function and fun of experimenting with separates. As I mentioned before, a great amp can be almost forever. Preamplifiers more often change with the times.
Matching amplifiers with speakers
Speakers can accept a range of wattages and it's best to go for the high end of that range. And then there's impedance — most home speakers are eight ohms and it's easy to match those by looking at power handling. But if you have six- or four-ohm speakers, you need to be sure the amp is compatible.
Using separates in a multi-room music system
Many AV preamp/processors have multi-room audio outputs that let you play music in different rooms, or even outdoors. To take advantage of these, you'll need to add amplification to each zone where you want to hear music. The easiest way is to use a separate stereo amp to power each individual zone.
A multi-channel, multi-zone amp gives you a lot of flexibility for powering speakers throughout your home. See our article on powering a multi-room music system for examples of different multi-zone configurations.
If you're planning on setting up more than three audio zones, it's a good idea to talk to an experienced system designer. And if you're setting up a multi-zone system for a business, our commercial design team can help.

This Niles multi-zone amplifier has multiple sets of inputs and outputs, so signal can be passed along to additional amplifiers in other locations.
Accessories to round out your system
You'll need a strong supporting cast to help your system achieve greatness. Take a look the following:
Need help designing your system?
Setting up your ideal home system might require a little help from a knowledgeable pro. Get in touch with us today, and we'll help you get started.
Better yet, free lifetime tech support is included with your Crutchfield purchase.