What are satellite radio car kits?
The gear you need to enjoy satellite radio while you drive
If you'd like to use your Dock & Play satellite radio in the car, you'll need to make sure you have a compatible car kit. Many Dock & Play radio packages include a car kit with the satellite tuner. The accessories in these kits let you power the radio and play the sound over your car stereo. You'll generally find the following gear in a car kit:
A cradle: Also called a docking station, the cradle is where the Dock & Play actually sits. You just have to mount the cradle in a convenient spot on your dash or center console. All power and signal connections are made here.
A DC power adapter: The power adapter plugs into the cradle at one end, and into your vehicle's 12-volt outlet (aka cigaratte lighter) with the other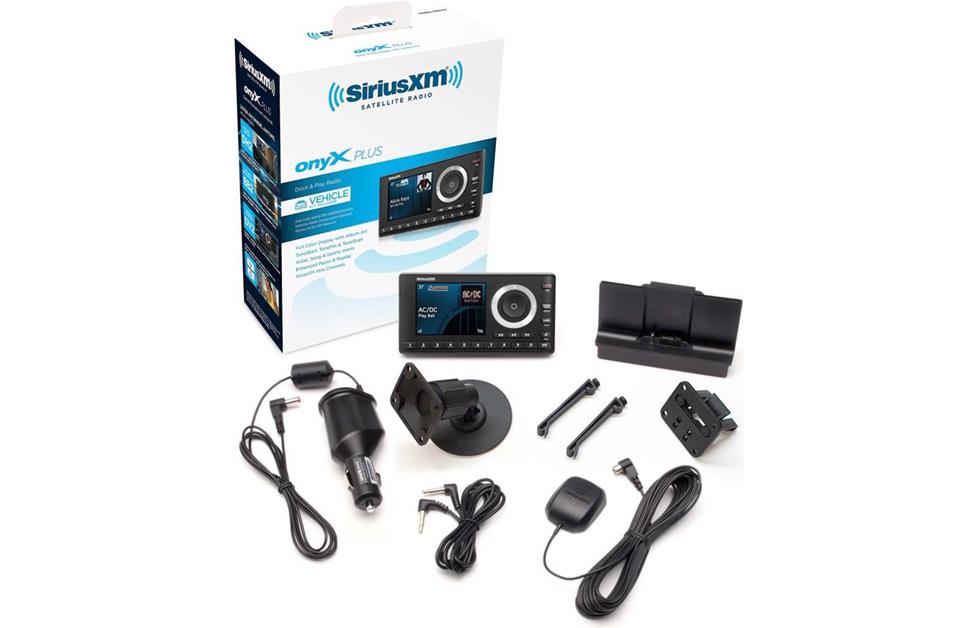 Kits include the accessories you need to use your Dock & Play satellite radio in your vehicle.
Where should I mount the cradle?
On the dash or on the windshield are the two most popular mounting spots, but mounting the cradle for your Dock & Play in a convenient spot that works for you is essential. You want to make sure you can reach and see it easily, and that it doesn't interfere with any of your vehicle's controls (like the climate controls, for example). There are a variety of vehicle mounts and device holders available, including:
The included mounting bracket: All car cradles come with a mounting bracket with an adhesive pad; you just find where you want to mount it and stick it there.
A windshield mount: Some Dock & Play kits come with brackets that let you mount the radio on the windshield (as long as it doesn't obstruct your view). A specialized few will slide onto your sun visor like a garage-door opener.
Universal mounts: If none of the above methods will work for you, consider a universal mount. These versatile mounts can be attached to spots on or near your center console. They're great for cars, of course, but you can also use them on bikes, boats, ATVs, motorcycles, gold carts, and more.
To learn more about getting SiriusXM in your car, check out our article, What do I need to get satellite radio?