hat's a turntable cartridge, you may ask? It's a humble but hardworking part of your record player. Specifically, it's the part at the end of your turntable's tonearm that contains the stylus — which most of us casually refer to as a "needle" or "pickup" — that reads the record's grooves and produces sound.
A look inside a moving magnet phono cartridge. Movement of the stylus in a record groove causes the magnets to move between the pole pieces of the coils, inducing a voltage that can be amplified.
The groove of a record is read by a stylus, which is attached to a cantilever as seen above. As the cantilever moves up and down in response to the groove, it moves either a wire coil, or a magnet.
In a moving magnet cartridge the magnets are attached to the cantilever, and move inside a stationary coil of wire, and that induces a voltage which must be amplified to reproduce the music recorded on a vinyl disc.
In a moving coil cartridge, a lightweight wire coil is attached to the cantilever, and the magnets remain stationary. This design reduces overall mass, and lets the cantilever move more easily, which reveals more detail. The tradeoff has traditionally been lower output voltage, and there are some low-output moving coil cartridges — like the Goldring Ethos — that require an outboard phono preamp with selectable or variable cartridge loading in order to create exceptional sound.
The initial signal produced by the cartridge is very precise, but also very weak. That's why your turntable needs to feed into a phono preamplifier to get to a level your system can work with to make music come out of your speakers. The phono preamp can be built into the 'table, built into a receiver, or housed in a separate component. To learn more, read our phono preamp buying guide.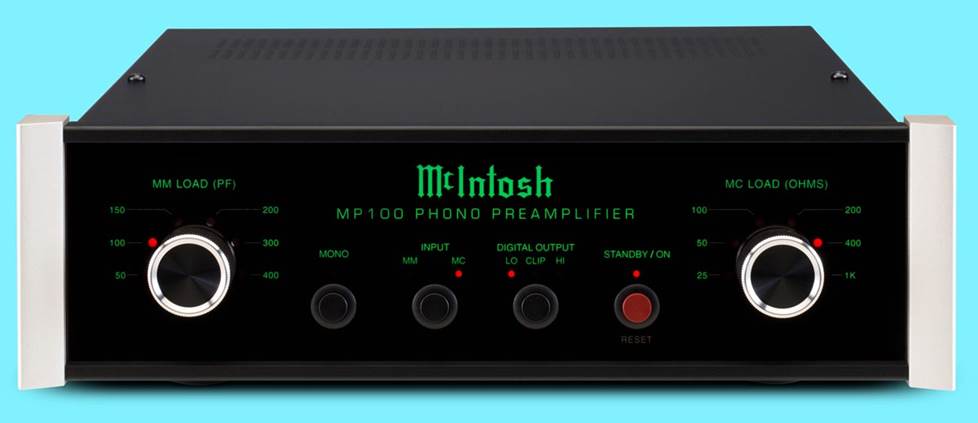 Many audiophiles choose a high-end preamp like the McIntosh MP100, which lets a user make detailed adjustments to match the cartridge they've chosen.
An outboard preamp does add a piece of gear to your cabinet, but if you're using a top-notch cartridge of either design, this level of detailed control helps you get the most out of your investment.
How to choose a cartridge
When you buy a turntable, it will usually ship with a pre-installed cartridge. If the stylus gets damaged, or you get the audiophile bug and want to hear more detail from your recordings, the cartridge can be upgraded. This video offers some handy tips and tricks for replacing a cartridge.
Replacing a cartridge takes a little planning and a steady hand, but if you have the DIY spirit, we'll show you what to look for when you select a new cartridge.
Stylus construction
There are two common types of stylus. The more cost-effective option, which is used in entry-level cartridges, is a bonded stylus (example: Sumiko Oyster). A steel shank forms the base of the needle, with a diamond chip attached to it. This adds mass to the cartridge, so it's not ideal for high performance.
The bonded stylus on the left is a chip of diamond attached to a steel shank. The nude stylus on the right is made entirely of diamond.
Your listening experience can be improved if you opt for a nude stylus, where a shaped diamond is attached directly to the cantilever. It costs a bit more, but it's a superior way to transfer the kinetic energy that creates the signal. The Audio-Technica VM530EN is a budget-friendly example.
Stylus shape
If you've ever seen an old Victrola, you'll notice the stylus looks more or less like a nail — it's fairly large and blunt. The stylus inside a modern cartridge is shaped to better interact with the grooves in a record. The more shaping is done, the higher the fidelity you can expect.

A conical stylus is the most common shape, because it's easy and inexpensive to produce. It's slightly rounded at the end, so it can read most of the information contained in a record groove, but may miss some of the more nuanced details. You may also see it called a spherical stylus.
An elliptical stylus is a step-up from conical, due to the sharper angle of its tip. It can read a groove more accurately, so it offers more detail and less distortion. The Audio-Technica VM520EB offers a value-priced upgrade to an elliptical stylus, which helps make it one of our top sellers.
A line contact stylus is shaped to optimize high-frequency response and minimize abrasion. Its strength can be its weakness as well — if your records are already worn, a line contact stylus can amplify surface noise. This design was pioneered by JVC engineer Norio Shibata in 1972, so you'll see it listed as a Shibata stylus on some cartridges, like the Audio-Technica VM760SLC.
Several high-end cartridges use a MicroLine™ stylus design, which closely mimics the shape of the cutting head used to create record pressings at the factory. As a result, it reads information other styli simply can't, which produces very detailed, accurate sound.
Now, audiophiles are always chasing perfection, and engineers have come up with some very inventive, but less common design variations that we won't go into here. But the information above should help you understand some basic differences when you're comparing one cartridge to another.

The Sumiko Blue Point No.2 moving coil phono cartridge has less moving mass, which allows the stylus to track record grooves more accurately.
Using a headshell
You may notice that some turntables have the factory-installed cartridge attached to a lightweight headshell that can be removed by loosening a nut on the tonearm. Vinyl enthusiasts who like to change cartridges often will buy multiple headshells with different cartridges for easy, convenient swapping. If your record collection contains some 78s, some mono recordings, and some standard recordings, for instance, multiple headshells can be a real time-saver.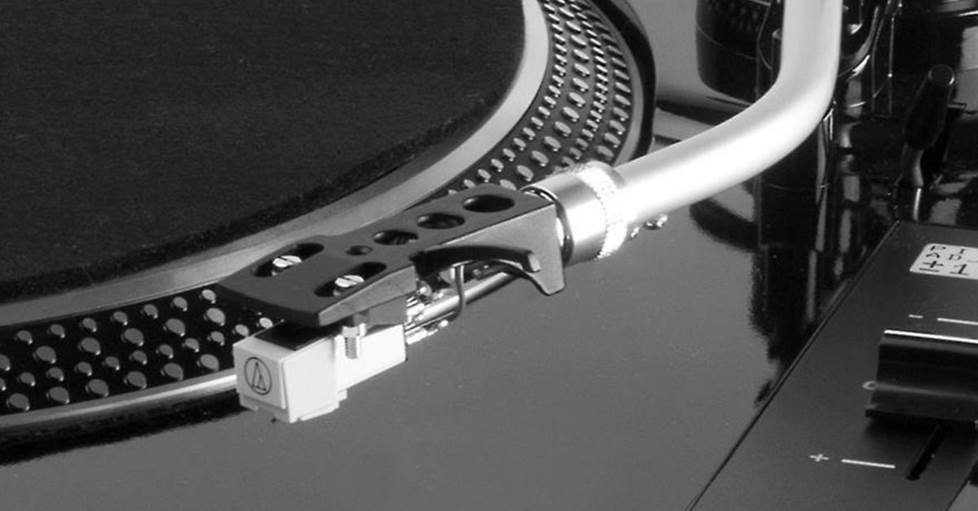 We sell some universal headshells for mounting your own cartridges, and some cartridges pre-mounted on headshells as well.
Important specs
For a novice, reading cartridge specs can feel like you've stumbled into an advanced physics class. Let's demystify some of the common specs you'll see when shopping for a new cartridge.
frequency response: starts from a baseline of 20-20,000 Hz, with higher-end cartridges extending lower and higher to allow more detail to come through.
stereo separation: a higher number (measured in decibels or dB) means more definition between the instruments on the left and right side of the original recording microphone. If you're a purist with a few mono records, the Audio-Technica VM610MONO cartridge is purpose-built for listening to them in their original form.
load impedance: This is a tweaky spec that even engineers have trouble explaining. Suffice to say that industry standard is 47k ohms. There's no better or worse number for this spec, but some specialized cartridges may show a different impedance — also called cartridge loading — and you'll need an external preamp with variable loading (like the one pictured below) to get the best out of those types.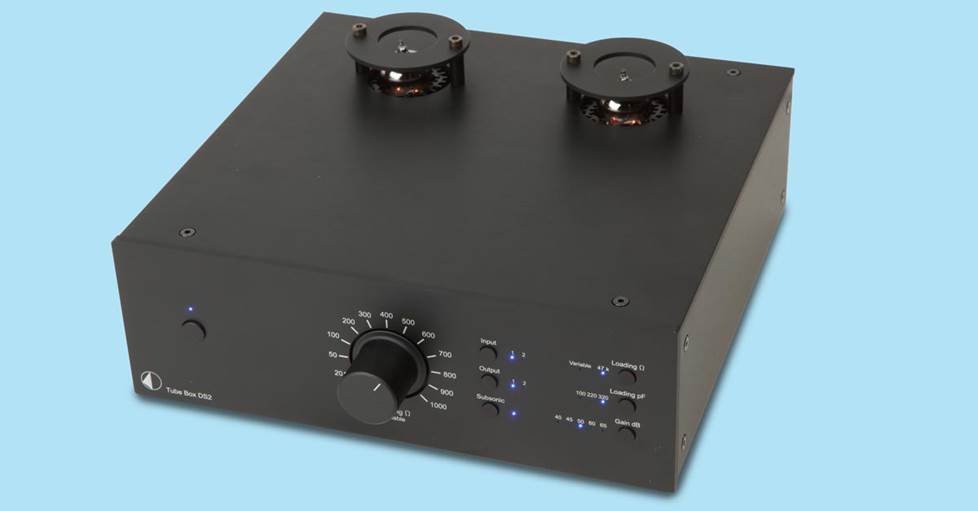 An adjustable preamp like the Pro-Ject Tube Box DS2 can help you amplify the output from a variety of cartridges.
tracking grams: the manufacturer's recommendation for where to set the turntable's counterweight. One of our experts explains how to dial in tracking force in this video.
We offer a couple of essential tools — the Pro-Ject Align it S cartridge alignment tool and the Pro-Ject Measure it E stylus force gauge — to help you install your cartridge properly, so it can track record grooves well, and reduce wear and tear on the stylus and your records.
A note about 78 rpm records
Modern 78 rpm records are pressed with standard-width "microgroove" technology, so they can be played with just about any cartridge. Collectors who own older original pressings will need to use a specialized needle like the Audio-Technica VM670SP. Its needle is 3 mil* in diameter, whereas a standard stylus is typically less than 1 mil.
*mil=1/1000th of an inch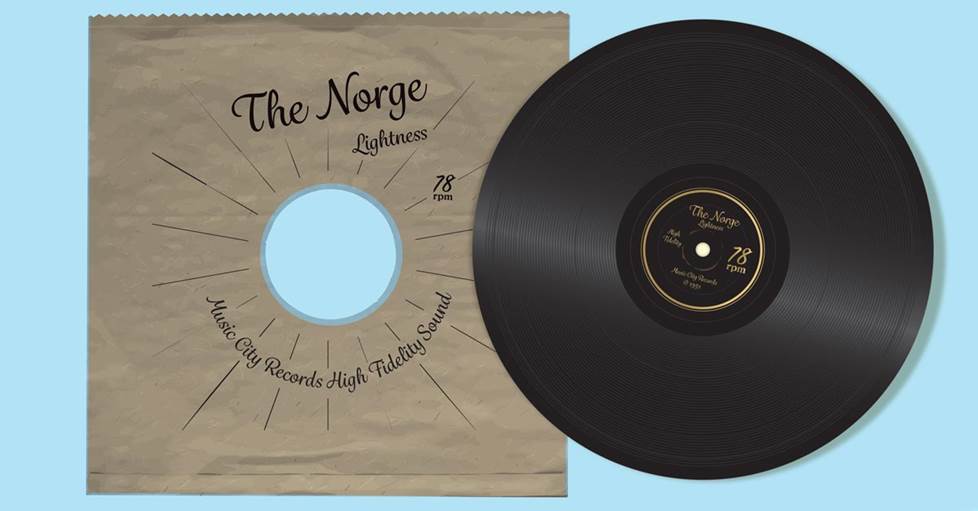 Need a little help choosing?
You may want some one-on-one guidance while shopping for home stereo gear. And if that's the case, you're in luck.
One of our expert Advisors can talk to you about what gear you have, and help you zero in on the right cartridge for your setup. They're knowledgeable, friendly, and they love music as much as you do. Contact us today.
And don't hesitate to call us if you hit a snag during the install process. Free lifetime tech support is included with every Crutchfield purchase.