Yamaha Virtual CINEMA FRONT
When rear speakers are out of the picture, can simulated surround sound save the day?
Heads up!
Welcome to this article from the Crutchfield archives. Have fun reading it, but be aware that the information may be outdated and links may be broken.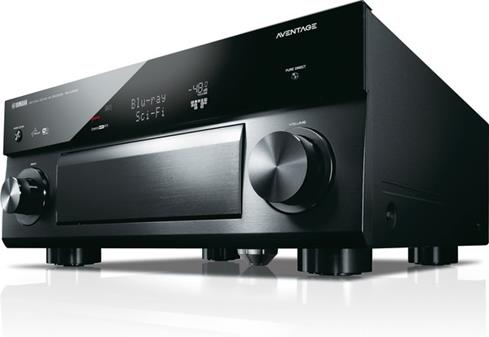 Available space often dictates our home theater setup. While surround speakers placed around and behind the listening area offer the best surround sound experience, it's not always practical.
What if you want immersive movie sound, but running wires to the back of your room just doesn't make sense?
Yamaha has you covered. In their latest line of home theater receivers, they've included Virtual CINEMA FRONT surround processing. This Yamaha exclusive technology creates "virtual speakers' in the back of the room, simulating surround sound even when all your speakers are placed up front.
Why not just choose a soundbar with virtual surround, such as Yamaha's Digital Sound Projector?
It's true that some soundbars do a decent job of simulating surround sound, and they're not bad for listening to music. But even the best soundbars can't compete with a full array of high-quality speakers driven by a high-powered receiver. Maybe a full surround setup isn't feasible now, but you could have space for a 5.1 system in the future.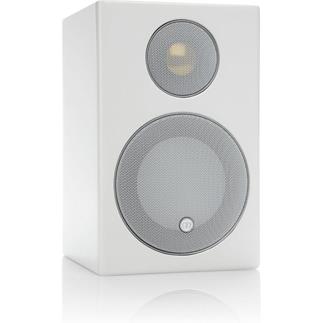 A pair of surround speakers, like the Monitor Audio Radius 90s, placed to the far left and right, helped simulate surround effects.
But does Virtual CINEMA FRONT really work?
To answer that questions, we set up the Yamaha AVENTAGE RX-840 and six Monitor Audio speakers — two Silver 6 tower speakers, a center channel, and a Silver W12 subwoofer. We used two of the smaller Radius 90s as "surround" speakers, but placed all five speakers and the sub in the front of the room.
We watched a clip from The Hobbit: The Desolation of Smaug where a massive dragon confronted a tiny Hobbit, who had intruded his underground lair. The surround sound feature's advantages were strikingly apparent when "on."
Crutchfield Editor Jim Richardson noticed that the dragon's voice boomed from the front, while its echo seemed to come from behind us — as if we were in the cave with the characters. When the serpentine monster coiled around the shivering protagonist, a loud bustling noise engulfed us. It felt like we were smack in the middle of the fantasy world.
With the Virtual CINEMA FRONT feature turned off, we still had the same level of volume and effects still had "ommph." But as Jim said, "the illusion that you're part of the scene doesn't work."
So what's the conclusion?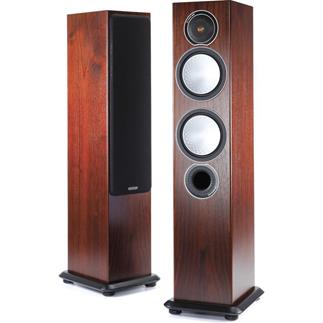 With tower speakers, the movie and music listening experience was outstanding.
All in all, while not as engaging as surround speakers properly placed behind you, the front-stage setup was a good solution. If you've recently downsized your home, but still have speakers from a 5.1 setup, Virtual CINEMA FRONT is a great way to maximize them. Conversely, if you live in an apartment, but plan to move to a bigger home eventually, this feature would justify investing in quality separate-channel speakers now.
Jim also pointed out how much better music sounds from the Silver 6 floor- standing speakers, driven by over 100 watts, than from the smaller drivers and restrained power of a sound bar. "No contest," he said.
How do you set it up?
Place all five speakers and the sub in the front of the room. Surround speakers are placed on both the right and left side. You can try them between the center channel and front speakers, or to the far right and left — whichever works best for your setup and gives you the optimal results.
After the speakers are wired to the Yamaha receiver, use the built-in YPAO automatic speaker calibration to optimize the surround experience for your particular room and listening position.