About the Klipsch Heritage La Scala AL5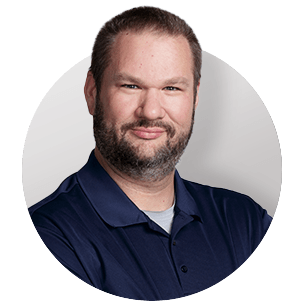 Wall-to-wall sound from Klipsch
I have the privilege of researching a great number of different speakers each year. And increasingly, I've seen a trend toward minimalistic, space-saving designs. Klipsch has boldly headed in the opposite direction with the La Scala AL5 — and has been since 1963, when the first iteration of this beautiful floor-standing speaker make its debut.
Wall-to-wall sound from Klipsch
I have the privilege of researching a great number of different speakers each year. And increasingly, I've seen a trend toward minimalistic, space-saving designs. Klipsch has boldly headed in the opposite direction with the La Scala AL5 — and has been since 1963, when the first iteration of this beautiful floor-standing speaker make its debut.
The La Scala AL5 is one of Klipsch's largest speakers, second only in stature to the mighty Klipschorn. The latest version of this iconic speaker sports a newly designed Tractrix® horn-loaded tweeter, along with gorgeous bookmatched, real-wood veneer finishes.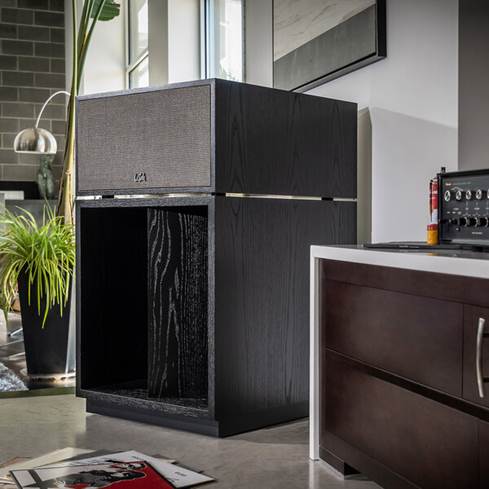 The handmade La Scala AL5 offers beautiful sound and striking looks (shown in satin black ash).
Three way horn-loaded design
The La Scala AL5 is fully horn-loaded, meaning that its 1" tweeter, 2" midrange, and 15" woofer all use Klipsch's famous horn-shaped cabinet openings.
This design allows for exceptional sensitivity, low distortion, flat frequency response, and broad, well-controlled dispersion. This translates to unequaled power, detail, and dynamics — the hallmarks of the classic Klipsch sound.
The AL5's high sensitivity also makes it a great choice for low- and medium-powered tube amps.
Proudly made in the USA
The La Scala AL5 is designed and hand-built in Hope, Arkansas. It's available in several attractive book-matched wood veneer finishes, which provide a "mirror" image of each other.
That's because each pair of La Scala AL5 is sourced from the same piece of timber, with the speakers precisely arranged to provide an aesthetically pleasing mirror image at the splice.
Bi-amp or bi-wire for the best performance
Each speaker comes equipped with two pairs of speaker inputs for bi-amping or bi-wiring. Since they don't include any speaker wire, consider reading our article on choosing and installing speaker wire to find the best option for your system.
A reminder about size and weight
The La Scala AL5 comes in two separate cabinets — one for the tweeter and midrange, and a separate enclosure for the bass driver. Premium materials make the fully assembled speaker quite heavy. Each La Scala AL5 weighs in at a whopping 201 pounds, so you may want to have a friend (or two) on-site to help you unbox and position them.
READ LESS
Product highlights:
matched pair of floor-standing speakers
designed and hand-built in Hope, Arkansas
three-way, fully horn-loaded design
separate upper and lower cabinets
1" polyimide-diaphragm compression driver tweeter with Tractrix horn
2" phenolic-diaphragm horn-loaded compression driver midrange
15" fiber-composite cone woofer with folded horn
frequency response: 51-20,000 Hz (±4dB)
power handling: 100 watts RMS (400 watts peak)
sensitivity: 105 dB
impedance: 8 ohms compatible
book-matched real wood veneer finish

veneer leaves for the left and right speakers are crafted from the same piece of timber
they're precisely arranged to provide an aesthetically pleasing "mirror" image at the splice

removable cloth grille
dual sets of speaker binding posts allow bi-amping or bi-wiring
24-1/4"W x 40"H x 25-5/16"D (each)
weight: 201 lbs. (each)
warranty: 10 years
Customer reviews for Klipsch Heritage La Scala AL5
Loading...
Loading reviews...
Average review:
5.0 out of 5 stars
Thanks for submitting your review
Most reviews are processed and published within 5 business days. You will receive a confirmation email once your review has been published.
Customer photos
This review was collected as part of a promotion
More details on the Klipsch Heritage La Scala AL5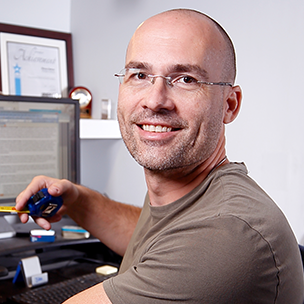 Researched by Crutchfield's

Stacey B.
Product Research
Features
La Scala AL5: The original La Scala was developed as a more portable Klipschorn to serve as a public address speaker for the 1963 gubernatorial campaign of Winthrop Rockefeller. Like the Klipschorn, it displays extremely high sensitivity and is a fully horn-loaded, three-way speaker featuring a shorter, two-fold bass horn that can operate independently of listening room corners. As a result, the La Scala's only sonic compromise as compared to the Klipschorn is a slightly higher bass cutoff.
3-Way Design: The Klipsch La Scala AL5 consists of two speaker cabinets. There is a top loudspeaker cabinet which consists of a newly-designed, highly-efficient Tractrix horn tweeter with an extremely high 109 dB sensitivity, plus a horn-loaded 2" phenolic diaphragm compression midrange driver for powerful highs and mid frequencies. The Klipsch 90° X 40° Tractrix horn's high-frequency performance creates a mammoth sound, bringing the most subtle nuances to the forefront of your listening experience. The bottom loudspeaker cabinet houses a 15" fiber-composite woofer with a folded horn for smooth bass response. The top cabinet gets placed on top of the bottom cabinet.
Book-Matched Wood Veneers: Klipsch only uses book-matched wood veneers for the Heritage series. Each pair of La Scala AL5 loudspeakers is grain-matched using wood veneer panels that come from the same timber. The veneer leaves are kept in order as they are delicately sliced from the timber and precisely arranged to provide a mirror image at the splice joint - like turning the pages of a book. This gives each speaker a more aesthetically appealing and consistent appearance that is treasured more than any other cut of wood veneer. Each cabinet is carefully matched so that each speaker in the pair is practically indistinguishable from the other. The speakers move seamlessly together through the factory. Each finished product is inspected and labeled with sequential serial numbers, ensuring that each pair of speakers leave the factory as a meticulously crafted set.
Dual Binding Posts: The speaker has two sets of binding posts connected by jumpers. Using the dual binding posts, you can bi-amp or bi-wire the speakers (make sure to remove the jumpers in this scenario). The binding post terminals will accept banana plugs (single only), pin-connectors, spade-connectors, and bare wire (up to 10AWG). The binding posts are located on the back of the top speaker cabinet. There is a wire that feeds down internally from the top speaker cabinet to the bottom speaker cabinet.
Bi-Wiring: Bi-wiring can provide noticeable improvements in the overall transparency of your loudspeakers. Run separate speaker wires to the low & high frequency drivers from a single amplifier (the upper set of binding posts are for the high frequency drivers; the lower set of binding posts are for the low frequency drivers).
Bi-Amping: Bi-amping allows you to use separate amplifiers for the high & low frequency sections of your loudspeaker for greater dynamic range & lower distortion. We recommend that your separate amplifiers have identical gain to preserve the speaker's voicing balance.
Note: If you decide to bi-wire or bi-amp, you must remove the jumpers between the terminal posts (failure to do this could result in damage to your amplifier and loudspeakers).
Placement Options: The Klipsch La Scala AL5 features a self-contained, front-firing, folded bass horn to permit placement out of the corner if required. However, because this model has less bass extension than the Klipschorn, the low frequency acoustic reinforcement of corner placement is optimal. The La Scala AL5 also offers full flexibility with regard to the amount of toe-in for the desired stereo image. Deep bass performance may also be augmented with a high performance Klipsch subwoofer (sold separately).
Place in the corners of a common wall 13' to 17' apart and position them equidistant from the wall behind the speakers.
Angle speakers toward the listener and even with or forward of any adjacent obstructions.
Placing them near a corner or wall provides the greatest amount of bass while moving the speakers away from room boundaries reduces bass.
Asymmetrical placement of a pair of speakers from adjacent side walls can smooth room-induced bass unevenness.
Note: Experiment with the above guidelines to suit your taste and to compensate for your room's acoustic characteristics.
Heritage Series (Made in the USA): The Klipsch Heritage Series is built and handmade in the USA at Klipsch's manufacturing facility in Hope Arkansas. They are meticulously handcrafted and assembled using the finest quality materials, even down to the highest-grade adhesives and fasteners (no detail goes unnoticed). Each Heritage Series loudspeaker utilizes Klipsch proprietary horn-loaded technology to bring a live music listening experience into the home. All Heritage Series loudspeakers are available in a variety high-quality wood veneers. Klipsch Heritage loudspeakers are built to rock the house and stand the test of time. This is a speaker that will be handed down for generations to come.
4 Principles of Klipsch Sound: Paul W. Klipsch believed four principles to be the foundation for great sound. They continue to drive the design of every new Klipsch speaker, today and tomorrow.
High Efficiency & Low Distortion: Klipsch horn technology is highly efficient, providing more accurate sound with less power and less distortion - resulting in louder, cleaner audio. Klipsch's Law: Efficiency is inversely proportional to distortion.
Controlled Directivity: Klipsch horn technology accurately directs sound to the proper locations, which, in turn, creates a more lifelike soundstage without wasting acoustic energy where sound is not needed or desired.
Wide Dynamic Range: The softest sounds are reproduced with remarkable clarity and the loudest sounds are delivered without harshness or distortion - with the greatest possible range between the softest and loudest sounds.
Flat Frequency Response: Audio is delivered without frequency bias - no unnatural highs, mids or lows - reproducing recorded sound as accurately as possible without colorization.
Loading...
Loading accessories...
2 questions already asked
Q
I'm looking for speakers that can be placed against the 10'? side of a 10' x 22'? room. Would this space be too small for these speakers?
jason Dec 28, 2021
A
if you are a realistic and well funded person, this speaker is the best for any room. you must consider placement if static. i have a set in my garage. if you want a sound that can not be produced with the ease, stereophonic angels just shined down on your head. dont what if and be disappointed or question your choice. any of the Klipsch heritage line is a solid and lifelong product. i suggest familiarizing yourself with the possibility of perfection and hearing that voice in your head, (it's the stereo gods speaking). i have found that my wellbeing and over-all health has been firing on all 8 cylinders. that being said, i hear a trigger needing to be pulled by you before you must wait for another year to "hear". if you buy them based on this rambling and are not satisfied , i have a truck and cash. live from AR, D.R. Long
daniel Dec 28, 2021
Loading...
Loading articles...