How do I add Bluetooth® to my car?
Three ways to get Bluetooth streaming and calling in your vehicle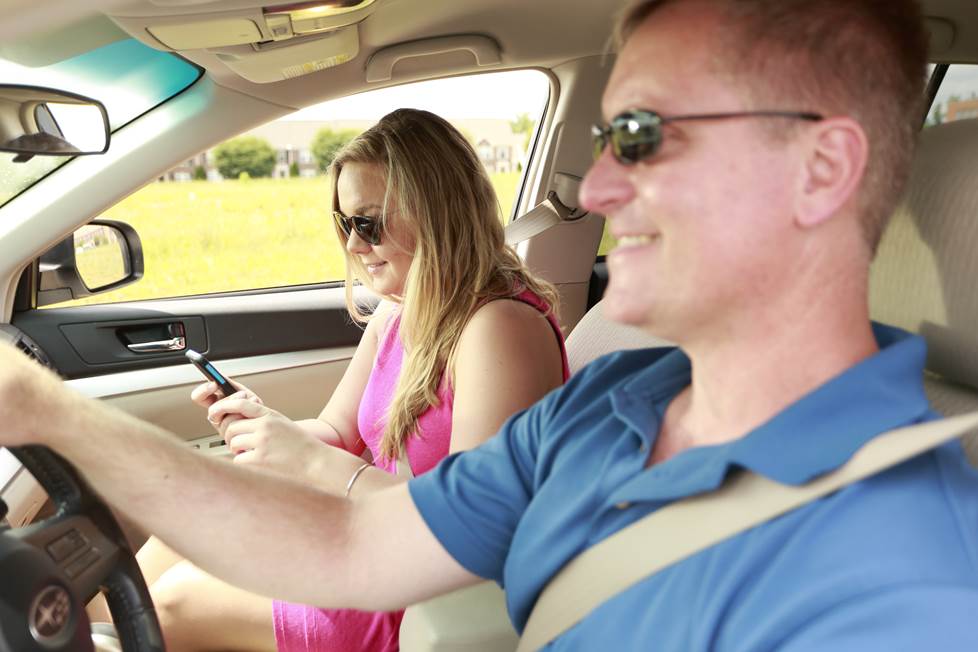 Bluetooth technology lets two devices communicate wirelessly with each other. It's most commonly seen in the form of hands-free ear pieces for cell phones and in wireless speaker systems.
Add Bluetooth to your car
By integrating this wireless functionality into your car stereo, you can hear callers' voices over your car speakers, see incoming call information on your stereo's display, and possibly stream audio from your device to your stereo. Some universal Bluetooth adapters require no interaction with your car stereo. Most importantly, you can keep your eyes on the road and hands on the wheel while talking to callers.
Many Bluetooth devices also make it possible to stream music from a Bluetooth capable smartphone, tablet, or other device to your car stereo.
There are three ways to use your Bluetooth device in your vehicle:
a universal Bluetooth car kit that works in any vehicle
a vehicle-specific Bluetooth car adapter that connects to the factory radio
a new car stereo with built-in Bluetooth capability
Option 1: Universal Bluetooth car kits
Universal Bluetooth car kits work in just about any vehicle. Some are simple, stand-alone devices with a small speaker and microphone that clip to your sun visor or mount on the dash and don't interface with the car stereo at all. These are nice because you can move them from one vehicle to another. The downside is that their use is pretty much limited to hands-free calling.
Other universal Bluetooth adapters for the car are wired to the stereo so that the music mutes when calls come in, and the calls play over your car's speakers instead of a tiny stand-alone speaker. Some of these kits also handle music streaming. The downside is that you have to remove the car stereo and connect a few wires in order to install the kit. It's a little more effort, but the result is worth it.
Option 2: Vehicle-specific Bluetooth car stereo adapters
A vehicle-specific Bluetooth adapter is an interface that adds Bluetooth to your car's factory stereo.
Installation typically involves removing the factory radio, connecting the cable to the vehicle wiring and the radio, and then installing a microphone for hands-free calling. Caller info shows up on the factory stereo's display and you answer and place calls using the stereo's controls. An included microphone clips onto your sun visor or mounts somewhere on the dash, and you hear callers over your car stereo speakers.
This is a good option when you want to keep the factory radio. Although it involves some installation work, you end up with a Bluetooth system that's fully integrated into your car stereo for hands-free phoning. Many of these systems can handle music streaming, too.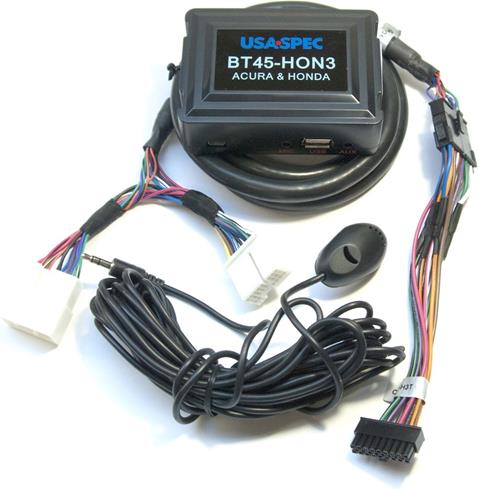 USA Spec created this Bluetooth integration package to work in select Honda and Acura vehicles.
Option 3: Aftermarket stereos with built-in Bluetooth capability
The final option for adding Bluetooth to your car is to install a new car stereo that includes Bluetooth or offers an adapter to include it. Depending on the stereo you select, you can control many of your smartphone functions and music streaming from your stereo. When you select a radio with built-in Bluetooth, you don't have to deal with installing a separate hideaway adapter box.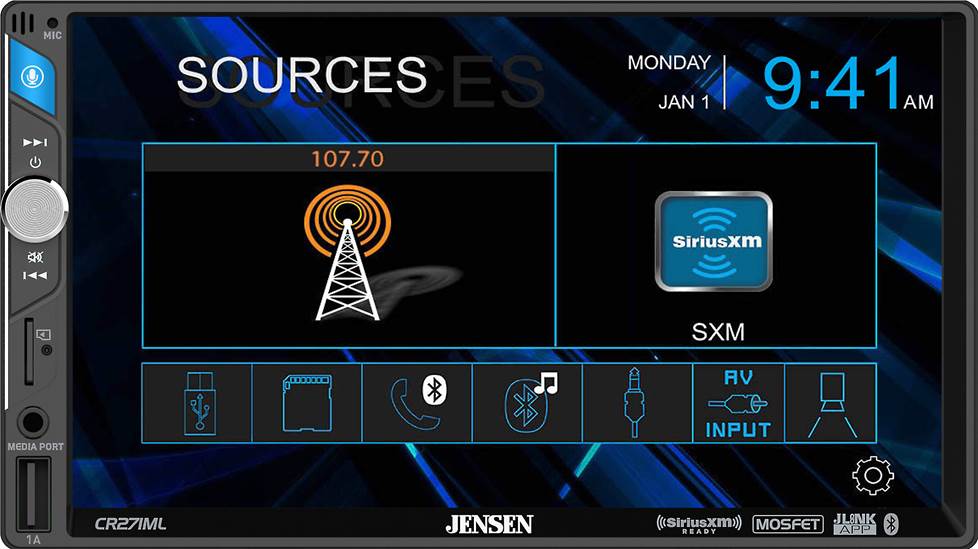 The Jensen CR271ML digital multimedia receiver features built-in Bluetooth for hands-free calling and music streaming.
Because of Bluetooth's popularity, it can be found in many new stereos. That means you won't have to buy the most expensive stereo to get one with this wireless technology. So, if you're buying a new car stereo anyway, keep an eye out for stereos with built-in Bluetooth capability.

Easy as 1, 2, or 3
Adding Bluetooth technology to your car can be easy. At the very least, Bluetooth makes it easier, safer, and — in a growing number of states — legal, to use the phone when you're in the car. As the applications for Bluetooth technology expand, it'll become even more useful in the car as well.
If you have any questions about the best way to get a wireless connection between your phone and car stereo, contact us via phone or chat. Our advisors will be happy to help you find the solution that will work best for you.