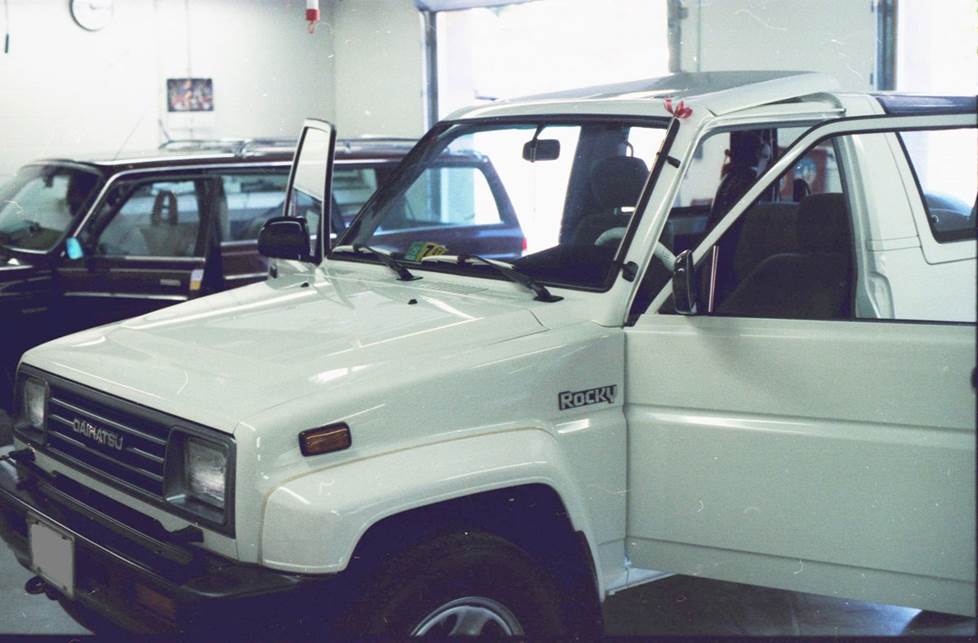 In brief: This Crutchfield Research Garage article gives you an overview of your Rocky's stock stereo system and your aftermarket upgrade options. We'll tell you all about:
Then, use our vehicle selector to find the gear that will fit your Rocky
Overview of the Daihatsu Rocky
Compared to today's massive "sport utes", the Rocky looks like an ATV with fenders. Small both inside and out, this "cute ute" is probably not the best choice for a cross-country drive, but if you're driving across the countryside, this narrow-body/wide-track SUV is a very handy tool to have.
Even when new, the Rocky was about as sophisticated as a child raised by wolves, and the intervening years have made it seem cruder than it actually is. The upside is that the Rocky is a simple, rugged, compact off-roader that's perfect for rough, rutted trails. The downside is….well, c'mon, you knew you weren't buying a miniature Escalade, right?
The Rocky is really good at the things it's good at, which is plenty good enough. Music is a good thing, too, so why not do what you can to upgrade your Rocky's stereo system?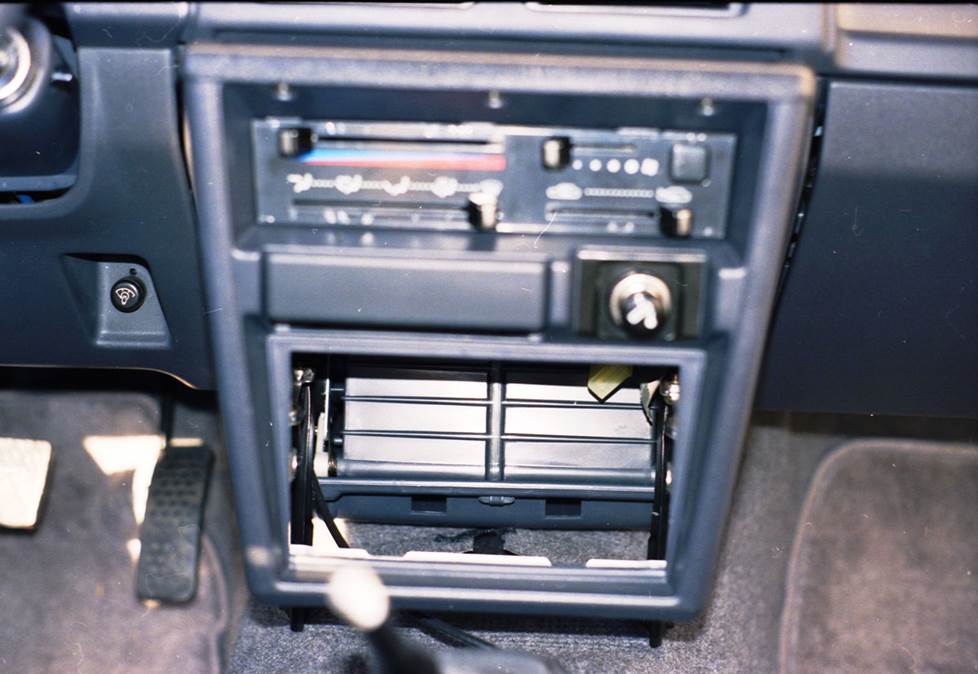 Not all Rockys (this one, for example) came with radios. You can still install an aftermarket receiver, though. (Crutchfield Research Photo)
The factory stereo system
The Rocky's factory system is about as basic as it gets. The receiver (if present, there was a delete option) is a single-DIN (2" tall) model and the front speakers are 4" models in the lower sides of the dash – like a Jeep.
There are no door speakers, but some Rockys do have rear side panel speakers. If yours doesn't, there are cutouts, but you'll have to do the cutting yourself and run speaker wiring to the location.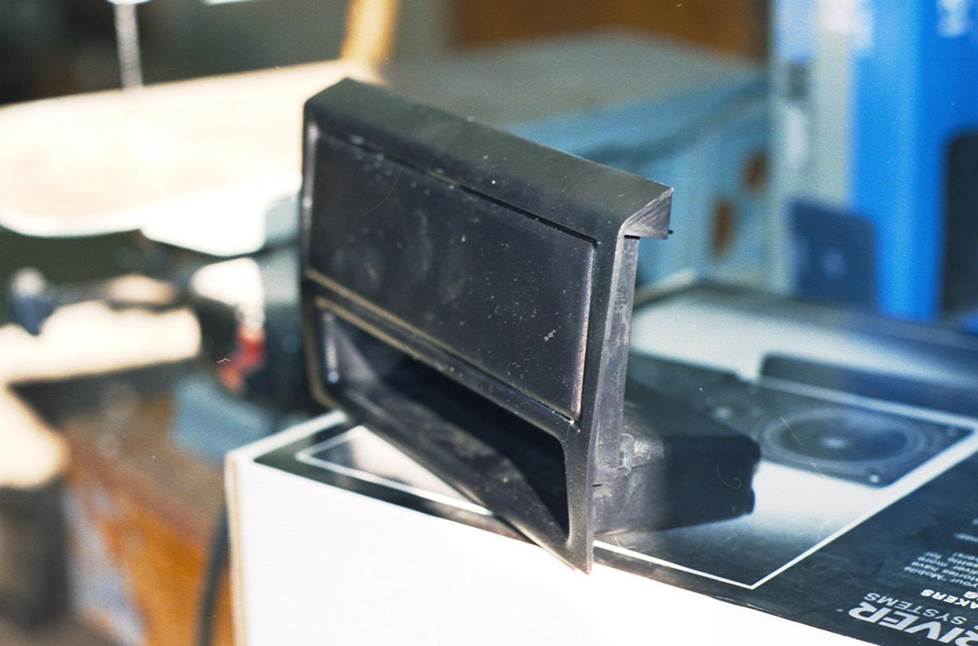 You'll need to remove the plastic plate from this trim piece to install a new receiver (Crutchfield Research Photo)
Removing your factory radio
If there's a radio in the lower center of the dash, it's pretty easy to remove. If there isn't, you'll just need to remove the plastic plate. It's pretty thin plastic, so just score it, remove it, and file down the DIN-sized opening. The factory radio/pocket trim panel is scored for a 7-1/4" W x 2-1/8" H opening. The sub-dash opening measures 7-1/8" W x 4-1/8"H.
Stock receiver or none, there's wiring in the cavity, so you can connect the harness that's included at a discount with your Crutchfield stereo purchase. Speaking of which, a digital media receiver is a great choice for the Rocky because it gives you maximum functionality from a single-DIN space. Who needs discs when you can control your playlist from your phone?
If you need to replace the antenna, it's located on the driver's side A-pillar, so it's definitely easy to get to.
Tools needed: Panel tool, Phillips screwdriver
Shop for car stereos that fit your Daihatsu Rocky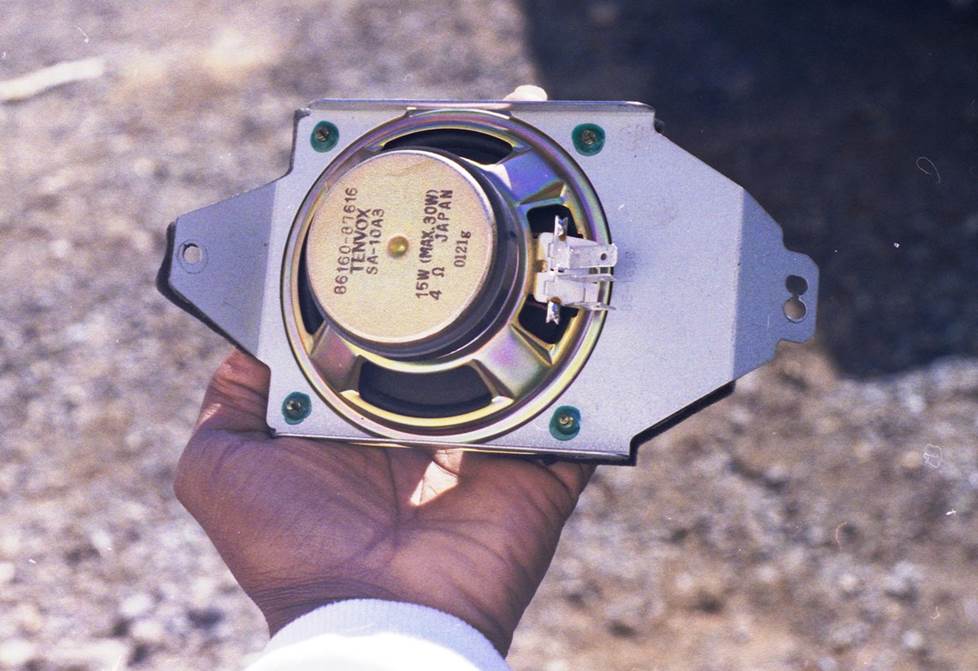 The 4" dash speakers are easy to reach and replace, so this is an excellent DIY project (Crutchfield Research Photo)
Replacing the factory speakers
The Rocky's speaker situation is, um, interesting. But if you're creative, you can improve the sound quality.
Dash speakers
The 4" dash speakers are pretty easy to deal with, but there are some differences between the two sides. One similarity is that these are very shallow cavities, so you'll need an adapter or spacer to install aftermarket speakers. To see the speakers that fit (including the highly recommended marine speakers), enter your vehicle info into our Outfit My Car took and let our database show you your options.
On the passenger side, you'll start by extracting two screws from the bottom edge of the glove box. Next, open the glove box and remove four screws from the top of the box – two on the right and two more on the left.
Detailed stereo and speaker removal instructions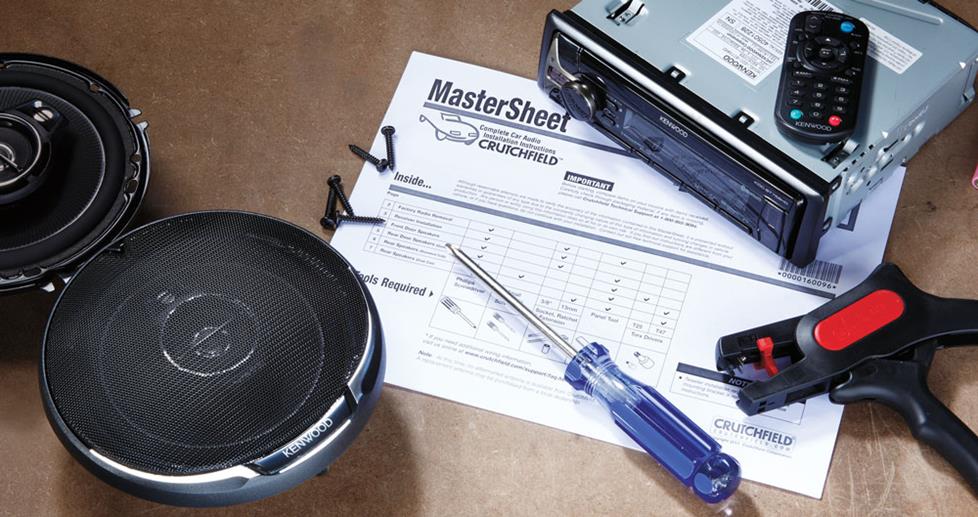 With step-by-step disassembly instructions and plenty of up-close, detailed photos, our exclusive
Crutchfield MasterSheet
™ takes the guesswork out of removing the factory stereo and speakers. It's free with your Crutchfield order, or you can purchase one separately for just $9.99.
Remove two bolts from the bottom of the speaker trim section, then extract the single bolt from the outside edge of the dash. Flex the dash corner slightly up and out towards you to access the two screws securing the speaker bracket to the dash. Remove the screws and the speaker, then get ready to install your new, vastly more powerful, aftermarket speaker.
Over on the driver's side, you'll remove one screw from the outside edge of the dash, then remove two bolts from the bottom of the speaker section. Next, extract two screws from the tabs securing the bottom of the dash belly trim. Remove two screws from the hood release well and two more from the dash dimmer knob well, then drop the belly trim down.
From here, just remove a single screw from the right side of the speaker grille, then pull out the corner of the dash the same way you did on the passenger's side.
Tools needed: Panel tool, Phillips screwdriver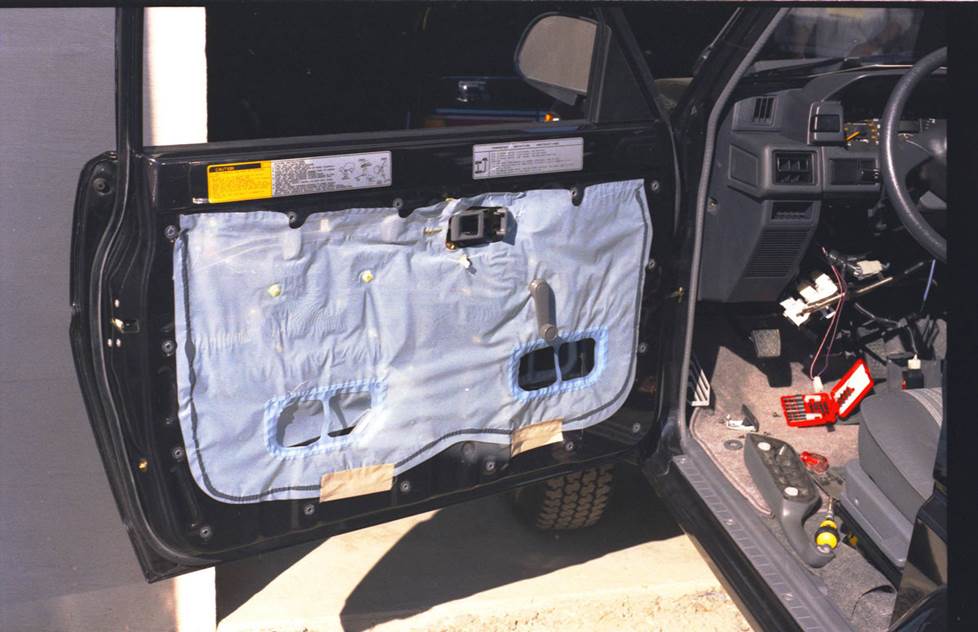 The Rocky's front doors really aren't designed for speakers, so installing anything here will involve a lot of custom work (Crutchfield Research Photo)
Door speakers
If you really want to install door speakers, look for the shallowest speakers you can find and get out some tools. Theoretically speaking, you can install 5", 5-1/4", or 6-1/2" speakers here, but you'll need to remove the door panels and cut out some openings in the door panels. Those panels are pretty flimsy, so be careful when you remove them and definitely be careful when you're cutting holes in them.
Or you can take the doors off and go for a drive on the beach. Your call!
Tools needed: Panel tool, Phillips screwdriver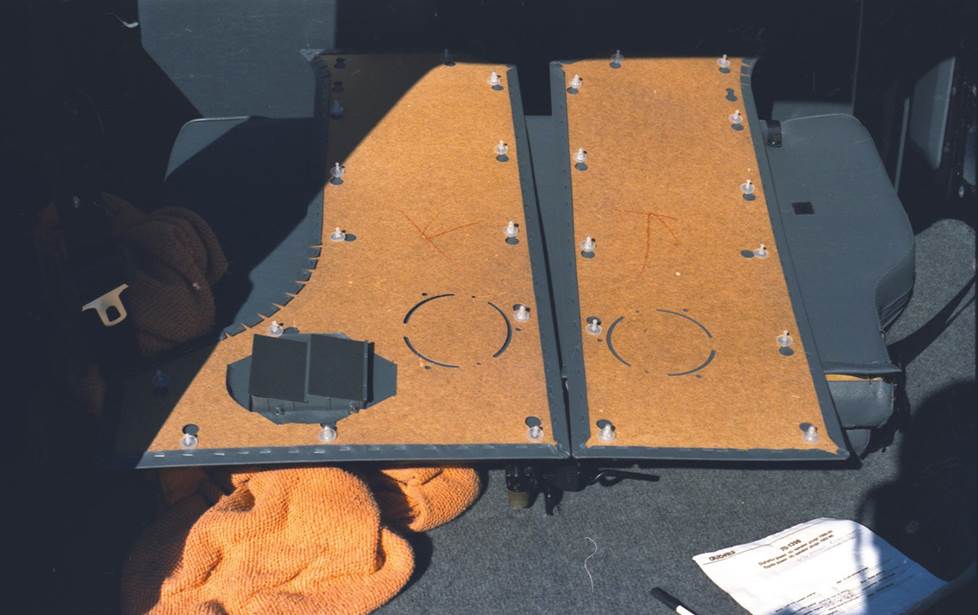 The side panels are pretty easy to remove, and the speaker cut-outs are right there on the inside (Crutchfield Research Photo)
Rear side panel speakers
If your Rocky has rear side panel speakers, you can replace them with 5-1/4", 6-1/2", or 6"x 9" aftermarket models. The panels are secured with push-in fasteners, and while they're not hard to remove, you should work carefully, because old, sunbaked plastic can be tricky.
Whichever size you choose, there will be some panel cutting and speaker reinforcement involved. These are not the thickest panels you'll ever find, so the reinforcement bit isn't a suggestion, it's essentially a requirement.
All things considered, we recommend marine-rated speakers if you're going to go to the trouble of doing this.
Tools needed: Panel tool, Phillips screwdriver
Shop for speakers that fit your Daihatsu Rocky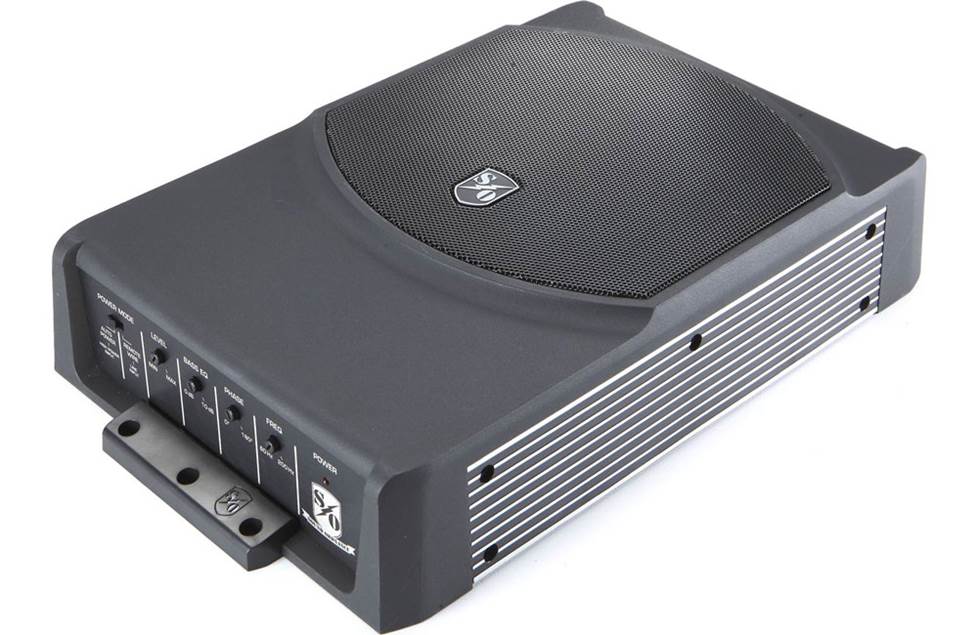 A powered sub like this Sound Ordnance B-8PTD can boost your sound even more
More bass in your Rocky
There's not a ton of extra space in the Rocky's rear cargo area, but if you really dig bass, there's room for a decent-sized subwoofer enclosure. If you'd like to have room for anything else, a more compact powered subwoofer would be a better idea. If all-weather capability matters, you can choose a smaller enclosure and install a marine-rated sub.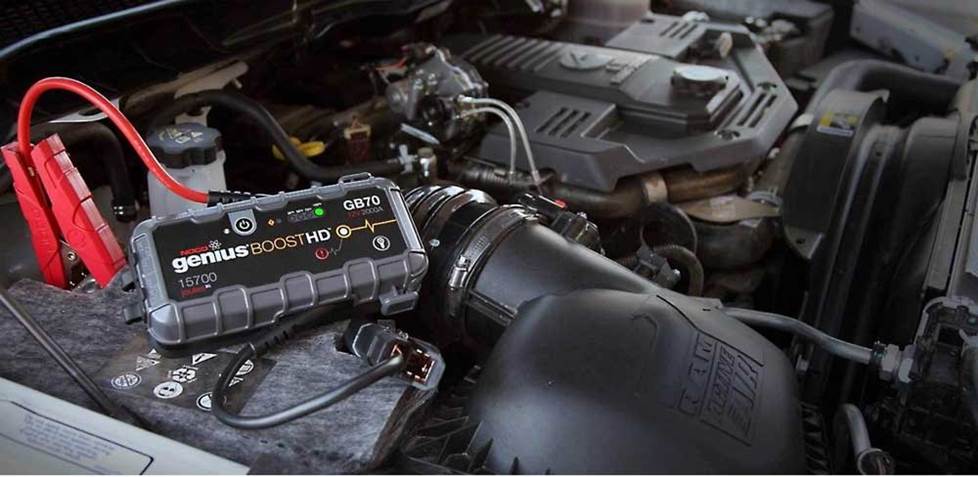 The NOCO GB70 lithium-ion power pack delivers 2000 amps, so it'll jump start the battery in almost any vehicle. It also features a USB port for charging your mobile devices.
Other options for your Rocky
Here are some other great ideas for the Rocky. If you've added some cool stuff of your own, let us know in the comments section below.
Navigation
Your Rocky's dash simply isn't going to hold a big-screen navigation receiver, so a portable GPS is the way to go with this vehicle. Another bonus? You can slip it into your pocket and take it with you when you get wherever you're going. With a charged-up portable GPS to guide you, you'll be able to preserve your phone's charge for more important things.
Speaking of charges, if you're off in the woods, it's smart to have a power pack on board to jump-start your battery or charge your devices.
Add an amp
A new marine amplifier will help you get the most out of your new speakers. You'll get cleaner power (and a lot more of it), which will result in much, much better sound.
Security
Installing a security system in your Rocky isn't easy (security systems rarely are), but it's definitely a good idea, especially if you have the soft-top model. Our Crutchfield Advisors can help figure out what you need to get the job done, but we usually recommend taking your old Rocky and your new security gear to a professional installer.
Let's get started!
Ready to shop? Use our vehicle selector to find the gear that will fit your car or truck. If you have questions, give us a shout via phone or chat.