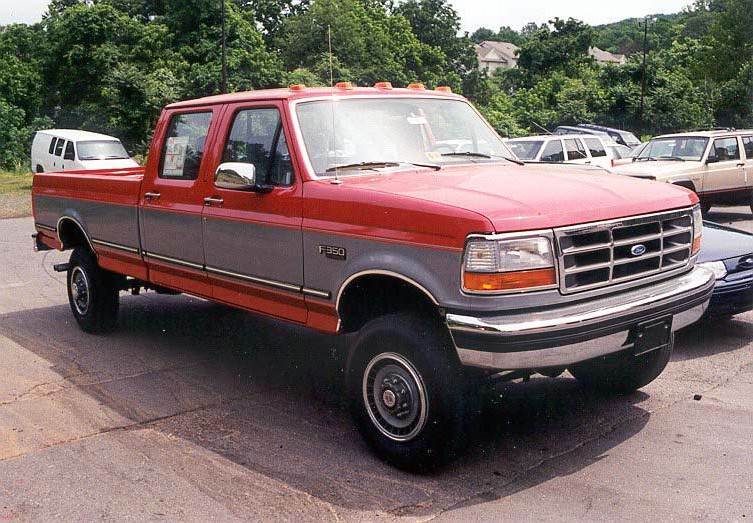 In brief: This Crutchfield Research Garage article gives you an overview of your truck's stock stereo system and your aftermarket upgrade options. We'll tell you all about:
Then, use our vehicle selector to find the gear that will fit your truck.
Overview of the Ford F-Series and Bronco
Nobody ever thought of these trucks as "future classics" when they were new, but all these years later, here we are. The ninth-gen F-150 and its brawny SUV cousin, the Bronco, are classic old-school trucks, with a basic design that dates back to the late seventies and tons of (now, anyway) retro appeal.
The F-150 restored Ford to the top of the best-selling truck list, while the Bronco, in addition to all its other good qualities, gained fame for a certain low-speed car chase that people of a certain age will never forget. Either way, if you can find a clean example that hasn't been attacked by the tin worm, you have a truck that's well worth preserving and improving.
Heck, even if your F-150 or Bronco is best described as "just an old truck," that's just as good. These big Fords are easy to work on, spare parts aren't hard to find, and with proper maintenance, your great-grandkids will be able to watch America's tricentennial celebration from your truck's tailgate.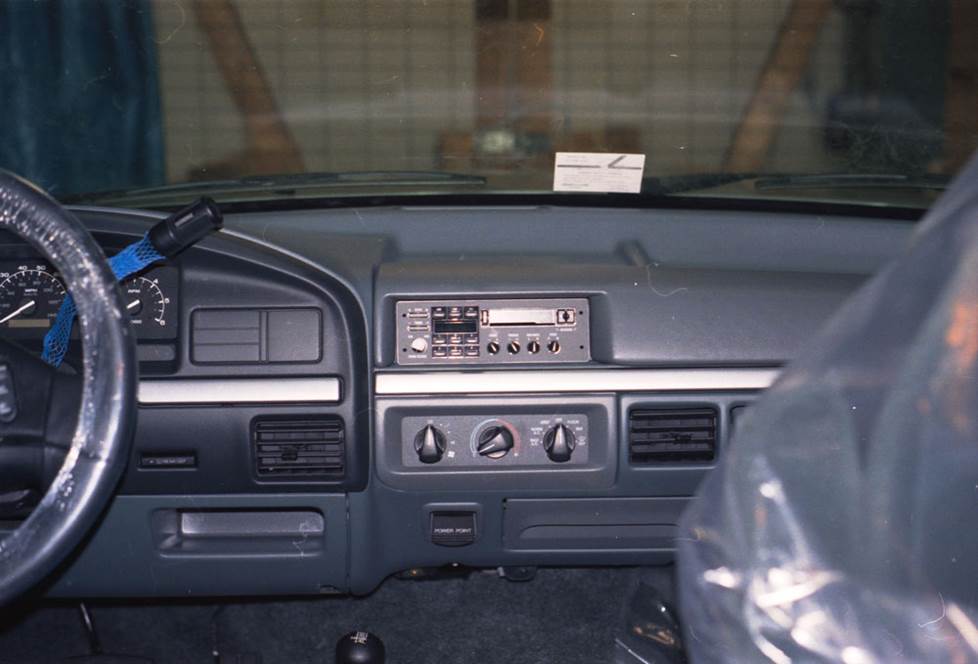 The factory radios are the same, whether you have an F-150 pickup or a Bronco. (Crutchfield Research Photo)
The factory stereo system
Ford's stock receiver selection ranged from an AM/FM radio to a cassette deck to a top-shelf AM/FM/CD unit with its own amp. A wide variety of single-DIN (2" tall) or double-DIN (4" tall) aftermarket receivers will fit neatly into the dash opening, including some with flip-up LCD screens. You'll need the appropriate dash kit, and we'll include it (and the right wiring harness) at a nice discount with your Crutchfield stereo purchase.
That amp, which is located above the gas pedal, might be a factor in your stereo installation. When you install a new stereo, you can either bypass it (for better sound fidelity) or retain it (which is a simpler installation). To bypass it, you'll need to run wiring from the dash to the amp.
Then again, assuming the thing works at all, it's a couple decades old. If you're going to the trouble of replacing your speakers, you'll probably want to remove this amp from the equation altogether. Pretty much any aftermarket stereo can out-perform it at this point.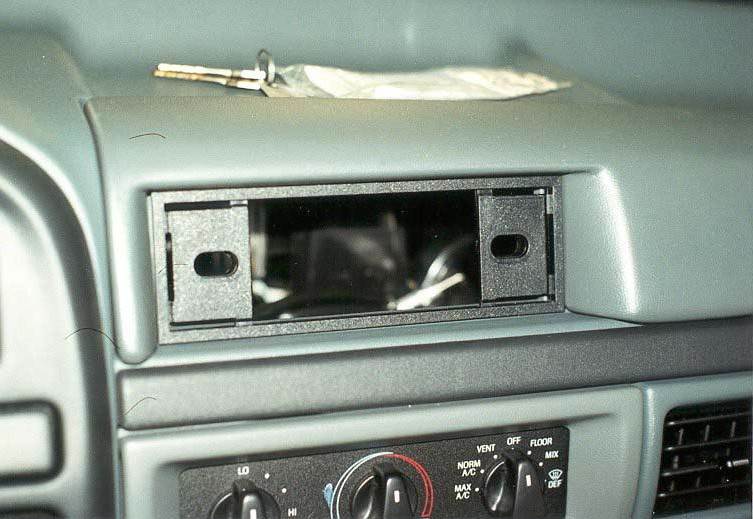 This mounting bracket is included at a nice discount with your Crutchfield order. (Crutchfield Research Photo)
Removing your Ford's factory radio
Before you do anything else, set the truck's parking brake and disconnect the negative battery cable to prevent any electrical short. Nobody likes getting shocked or run over by their own truck.
With that out of the way, you're ready to remove the old receiver using the DIN tools included with your Crutchfield stereo order. Slide the tools into holes in the receiver until you hear a click from each one. That means they're all the way in there. Push the tools slightly outward, pull the receiver out of the dash, then disconnect the harness.
Detailed stereo and speaker removal instructions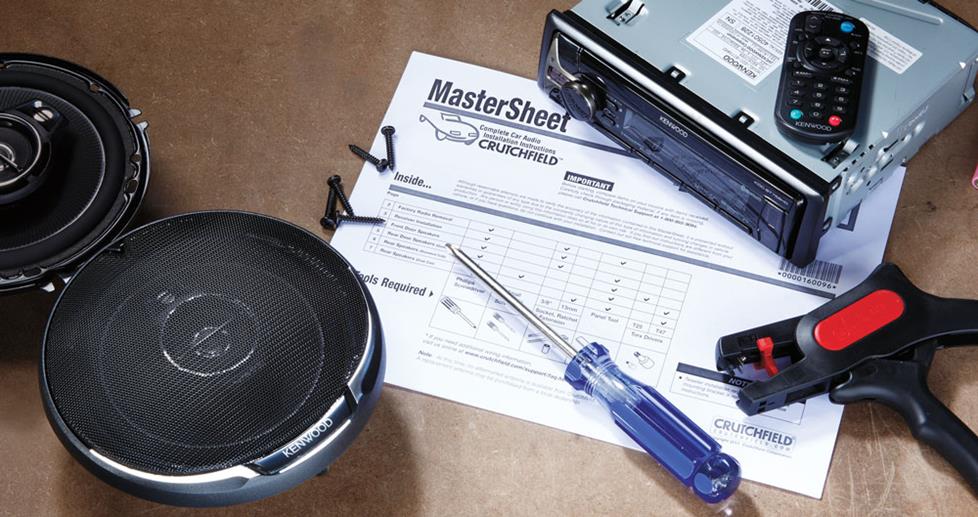 With step-by-step disassembly instructions and plenty of up-close, detailed photos, our exclusive
Crutchfield MasterSheet
™ takes the guesswork out of removing the factory stereo and speakers. It's free with your Crutchfield order, or you can purchase one separately for just $9.99.
Installing the new receiver isn't much harder. Between the kit/harness instructions and the free Crutchfield MasterSheet included with your stereo or speaker purchase, you'll have all the info you need to do the job yourself.
Notes:
If you're bypassing the amp, follow the instructions supplied with the bypass harness.
If your truck wasn't equipped with a factory antenna, you'll need to install one to enjoy AM/FM radio on your new receiver. Instructions for that can be found in your MasterSheet.
Tools needed: DIN tools, flat-blade screwdriver
Read our Car Stereo Buying Guide for shopping tips and advice.
Shop for car stereos that fit your Ford Bronco
You'll need to remove the door panels to replace the front door speakers. (Crutchfield Research Photo)
Removing your Ford's factory speakers
These trucks have speakers in the front doors, rear cab pillars (pickups) and rear side panels (Bronco).
Removing your front door speakers
Replacing the front door speakers involves removing the door panels. Again, not the toughest gig in the world, but you'll be prying on plastic panels old enough to tell tales of the "good old days," so work patiently and carefully.
There are some variations between the left and right doors, not to mention some pretty significant differences in how you approach trucks with roll-down windows and their high-falootin' power window-equipped cousins. None of this stuff is really hard to deal with, and it's all covered in your MasterSheet.
Most of these trucks will take 6-1/2", 5-1/4", or special 6-1/2" speakers with a 4-hole mounting pattern. In some cases, you'll need to drill new mounting holes, but in others, you'll be able to use the factory brackets. When you enter your vehicle information on our website, you'll see what fits your truck and what you need to do.
Drilling the holes isn't hard, and the average DIY-er could do it with his or her eyes closed – which is a terrible idea, obviously. Your eyes should be wide open, focused intently, and safe behind protective eyewear. Before you start, make sure you know what you're drilling into and what's in the general vicinity. You are, after all, drilling a hole into your truck, so work carefully and get the job done right.
Once everything's installed, check to see if the speakers are working, then test the locks and windows to make sure nothing's snagged. Once all is well, button up the panels and rock on.
Tools needed: Phillips screwdriver, panel tool, Torx T15 driver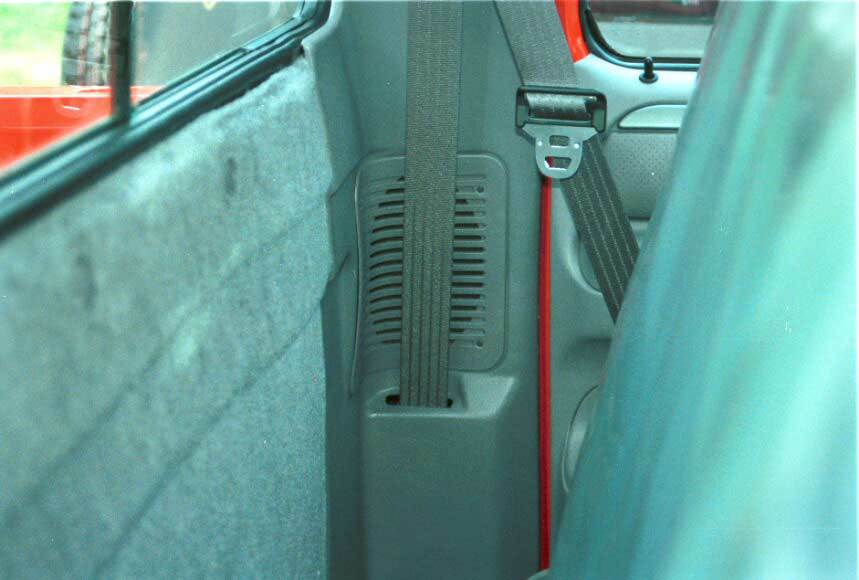 Replacing these rear speakers is a very simple task that pays big dividends. (Crutchfield Research Photo)
Removing the rear speakers — Regular Cab and Crew Cab
These speakers, located in the side panel corners, are pretty easy to get to, and you can replace the old ones with some aftermarket 6"x8" or 5-1/4" speakers. If you go with the smaller speakers, you'll need adapter brackets, which are included cheap with your Crutchfield speaker purchase.
All you need to do is remove the four Phillips screws securing the speaker to the grille assembly and remove it. Install the new speaker on the grille using the screws you just removed, then connect the wiring adapter to the factory wiring and put everything back together.
Tools needed: Phillips screwdriver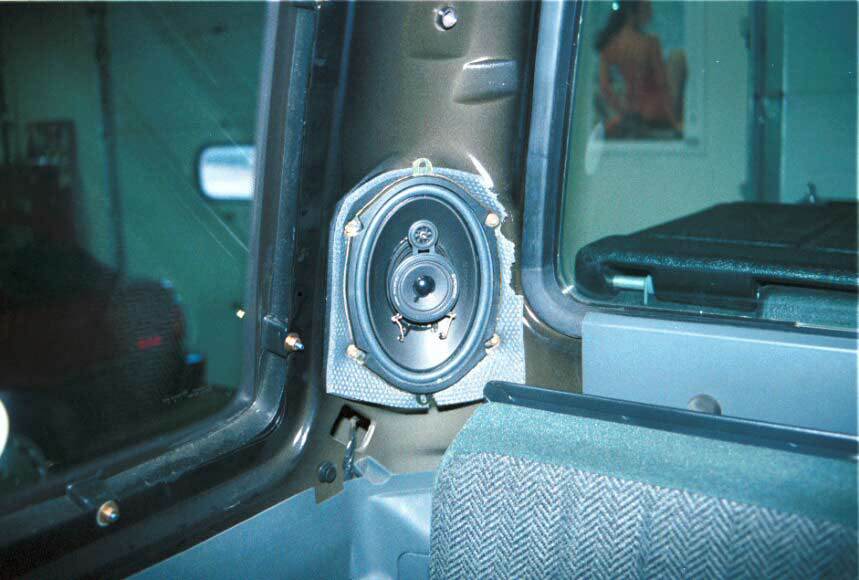 Getting to the rear speakers in an Extended Cab truck involves a bit of work. (Crutchfield Research Photo)
Removing the rear speakers — Extended Cab
In extended cab trucks, the situation is a little more complicated. The entire side trim panel must be removed to access the speaker locations, which involves a fairly lengthy list of steps. If you dive in, it's important to stay organized and have a safe place to store all the panels you're removing. If you can corral a helper, that's even better.
We've seen references to removing the speaker grilles if you're doing something like this. We tried it, and discovered that it's a good way to damage the grilles by kinking the perforated metal just a bit. If you don't absolutely see the need to do this, don't.
A decent assortment of 5"x7" and 5-1/4" speakers will fit here, but if your truck didn't come with factory speakers, double-check the length of the screws included with your new speakers. Not all speakers come with screws these days. But t if yours did, make sure they're not so long that they go through to the body of the truck. If you need shorter screws, head to the hardware store before you start working.
This is a weird location in a lot of ways, and to get the best possible performance out of your new speakers, we highly recommend a set of foam baffles. They'll really help out with bottom-end sound, plus they're also reduce vibration and protect the speakers from damage.
Tools needed: Phillips screwdriver, Torx T20 and T50 drivers, panel tool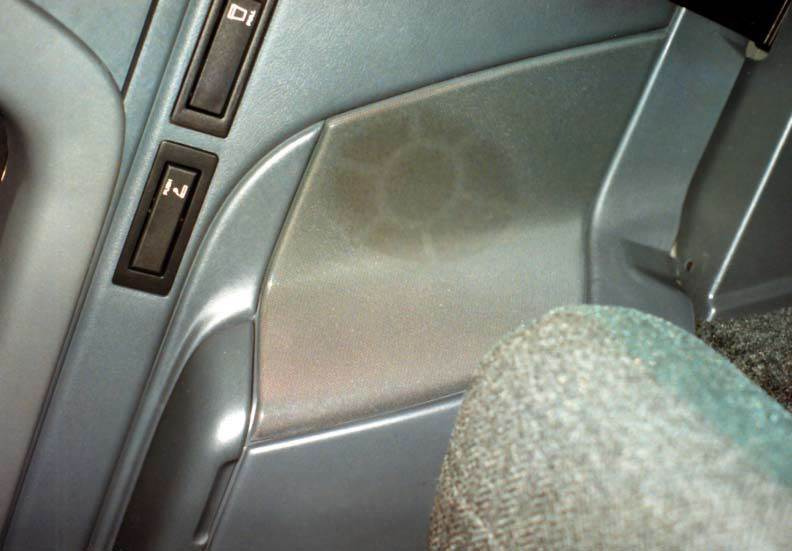 In the Bronco, the rear side speakers can be found underneath these grilles. (Crutchfield Research Photo)
Removing the rear speakers — Bronco
In the Ford Bronco, the rear speakers are mounted in the side panels. A wide variety of 6"x8" or 5-1/4" aftermarket speakers will fit behind the curvy grille, but you'll need mounting brackets (included at a discount with your order) to install the smaller ones.
You'll need to remove the side panels to get to the speakers. The work itself isn't complicated, but there are a number of steps, so it's important to work carefully and stay organized. You'll be removing a decent number of Phillips screws, so you'd be wise to have a safe place to keep them all until you need them again when you're putting things back together.
Tools needed: Phillips screwdriver, flat blade screwdriver, panel tool
Read our Car Speakers Buying Guide for more information.
Shop for speakers that fit your Ford Bronco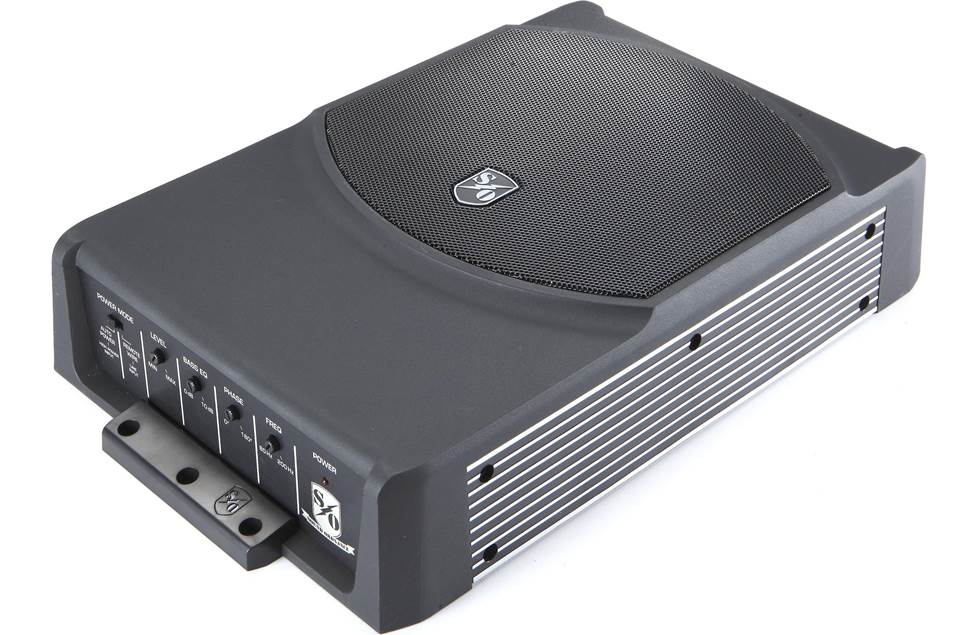 A powered sub like this Sound Ordnance B-8PTD is a sensible (and powerful) choice for Bronco owners.
Bass in your F-150 or Bronco
The F-Series pickups don't offer much space for bass. If you're really looking for more bottom-end performance, you can install woofers instead of full-range speakers in the rear panel locations. And if you get creative, you might be able to find some room for a compact powered sub.
Broncos offer a lot more room for subwoofer boxes, obviously. The size of the box you choose depends on how you use your Bronco. If you're on-road all the time, you might not need cargo room, so a big box is fine. If you go off-road or use your Bronco for everyday family duties, check out a powered sub.
And if you don't remember where you left the doors the last time you removed them, you're the kind of Bronco owner who should be looking into weather-resistant marine audio gear.
Learn more about building a bass system in our Car Subwoofer Buying Guide.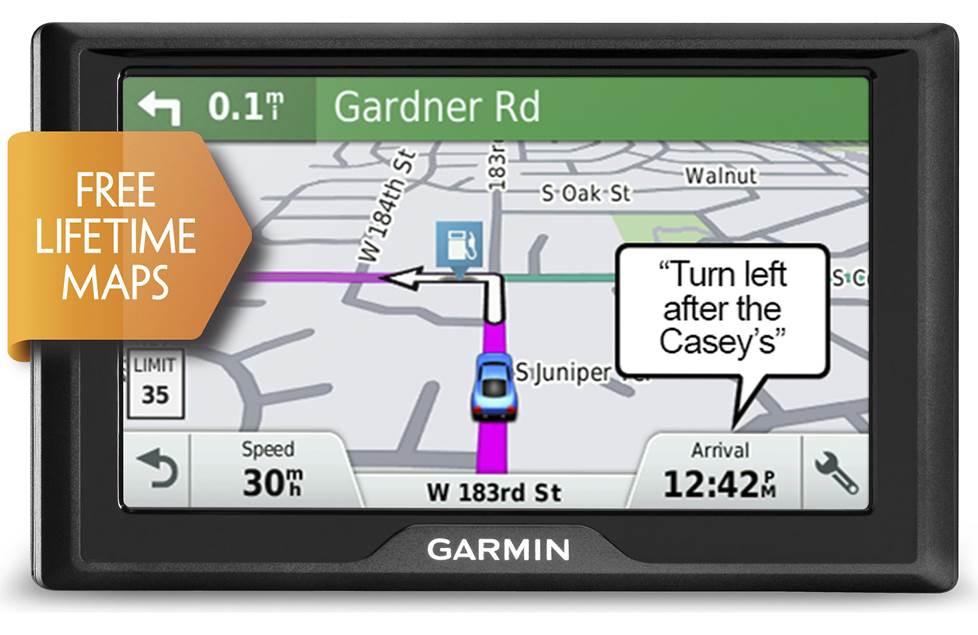 A Garmin GPS makes an excellent travel companion. And with lifetime maps, it'll stay that way.
Other options for your F-150 or Bronco
Here are some other new ideas for your Ford pickup or SUV.
Navigation
Yes, you can have aftermarket nav functionality without installing a touchscreen receiver. A portable GPS mounts on the dash and gives you turn-by-turn directions, traffic updates, and everything else you need to make your road trip go smoothly. Plus, when you get where you're going, you can put your GPS in your pocket and use it to find points of interest around town.
Antenna replacement
Your truck's antenna has no doubt led a very hard life. If it's still working, you don't have to replace it when you install a new receiver, but this is as good a time as any. And if your truck doesn't have an antenna (possible), you'll need to install one. Either way, the process is explained in your MasterSheet.
Security systems and remote start
Installing a security system in your F-150 or Bronco won't be easy (security systems rarely are), but it's definitely a good idea if you tow long distances and stop overnight. Our Crutchfield Advisors can help figure out what you need to get the job done, but we usually recommend taking your truck to a professional installer.
Adding remote start capability to your truck lets you warm it up in the winter or cool it down in the summer. Installation is usually easier with these systems, but we still ask that you call to order so that we can make sure you get the right harness for your ride.
Let's get started!
Ready to shop? Use our vehicle selector to find the gear that will fit your car or truck. If you have questions, give us a shout via phone, chat, or email