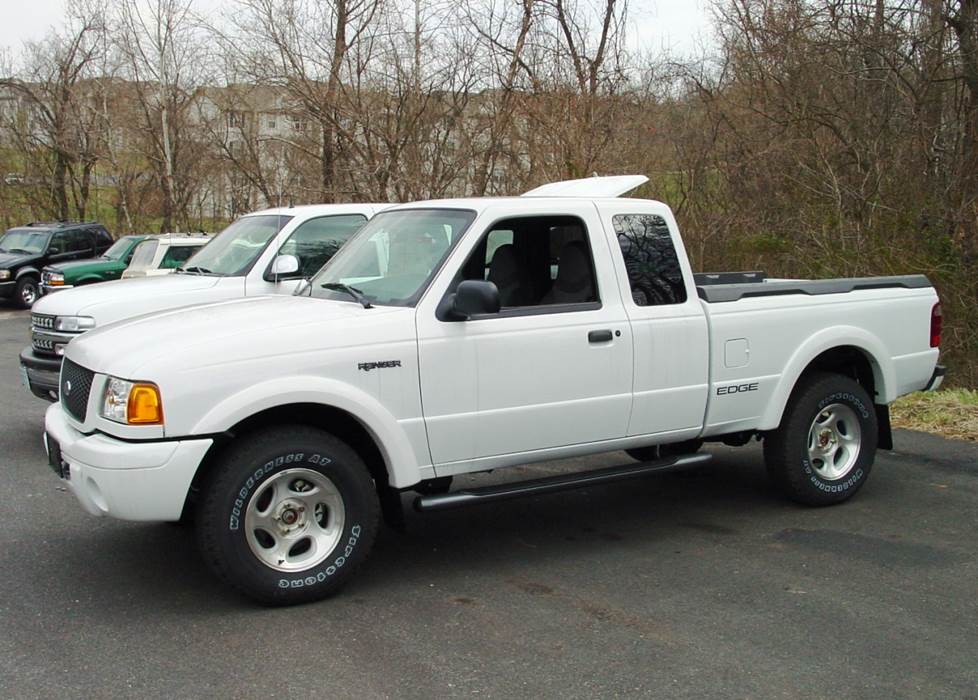 In brief: This Crutchfield Research Garage article gives you an overview of your truck's stock stereo system and your aftermarket upgrade options. We'll tell you all about:
Then, use our vehicle selector to find the gear that will fit your pickup.
Overview of the Ford Ranger and Mazda B-Series
Okay, not everyone knows someone who knows someone who owns or once owned a Ranger. But it sure seems like it sometimes, because these phenomenally popular Fords have always appealed to an amazing cross-section of people. Including you.
Tradesmen used them to haul tools, students used them to haul dorm furniture, suburban families used them to haul weekend sports gear, and some people just used them to look cool driving to work. And that's okay, because the only thing better than having an active, outdoor lifestyle is having people think that you do.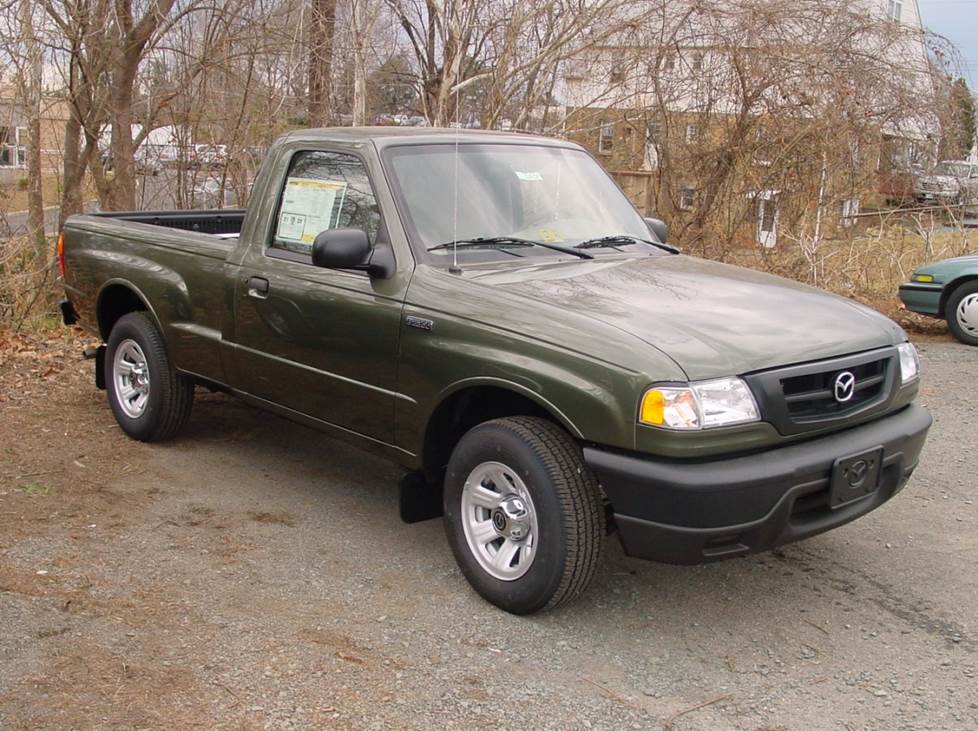 Rangers (and Mazdas) are pretty cool, really. Whether yours is a daily driver or a weekend warrior, these trucks are just about the right size to do just about anything you want to do. And if you have four-wheel drive, you can go pretty much anyplace you want to go without knocking down an entire forest, like you might in a full-size truck.
There's a lot to like about the Ranger (same goes for its fraternal twin, the 1998-2009 Mazda B-Series), but the factory stereos aren't as likable as they used to be. Upgrading the audio will bring big sound to your small truck.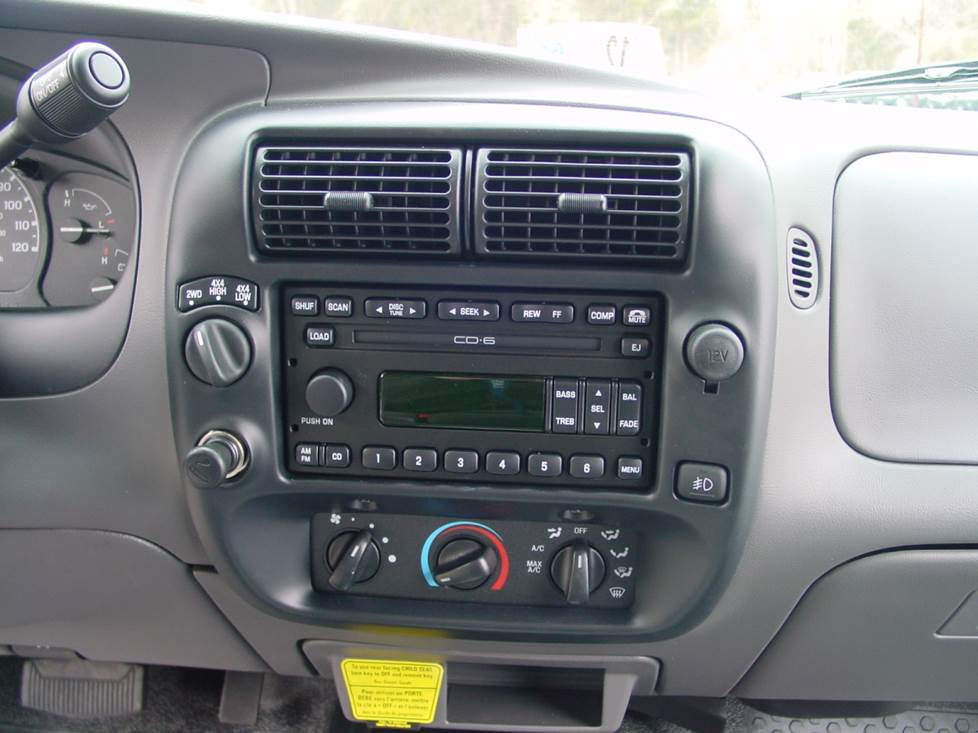 The factory radios weren't awful, but an aftermarket model will give you a lot more performance (Crutchfield Research Photo)
The factory stereo system
The Ranger was around for quite a long while, and while there were evolutionary changes and occasional restyles, the basic elements of the audio system didn't change all that much. We've seen pretty much every variant of the Ranger/B-Series over the years, and we've broken the stereo replacement info into two Crutchfield MasterSheets. The right one for your truck will be included free with you order when you buy your new stereo or speakers at Crutchfield.
The one variant we haven't seen yet (go figure….) is the Pioneer system found on some of the later trucks. We doubt there are any massive differences to note, but if you know something we don't, share it in the comments section below or send pics and info about your stereo upgrade to our Custom Car Showroom.
The stock radios evolved over the years, but even the newest is still a bit behind on tech and waaay behind on power and performance. A wide variety of standard-DIN (2" tall) or double-DIN (4" tall) receivers will fit, but if you go with a DD, you'll have to make some permanent modifications to the dash cavity. It's not a lot of work, but it is for keeps.
Due to the dash configuration, video receivers with retractable screens are not recommended for the Ranger, but you have enough options to choose from as it is!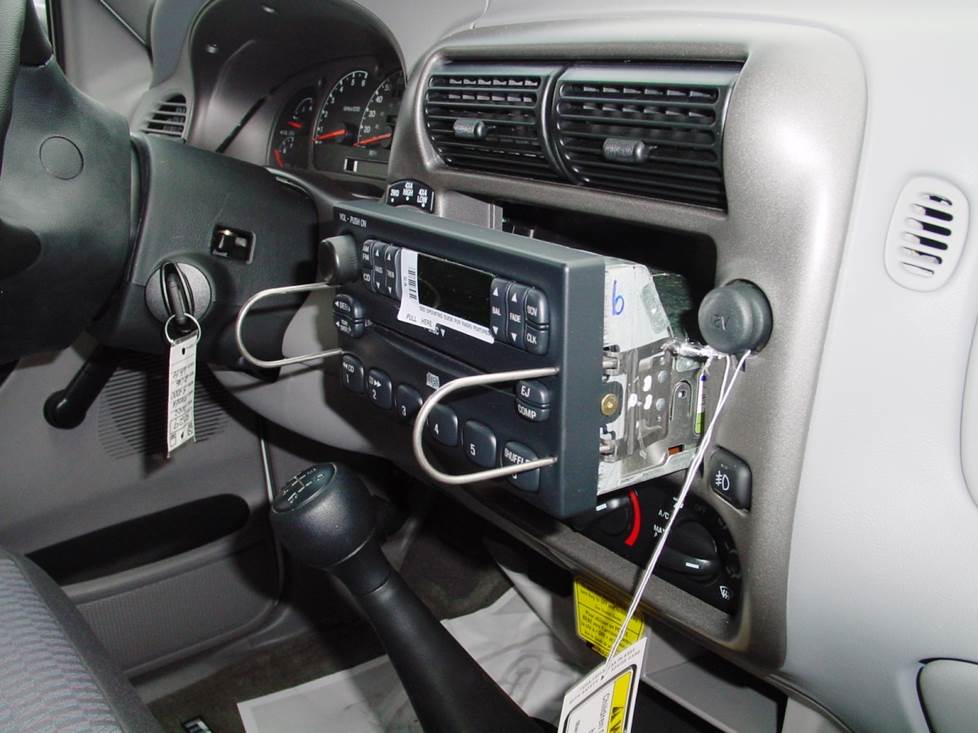 You'll use a pair of DIN tools to remove the factory receiver (Crutchfield Research Photo)
Removing the factory radio
The opening in the dash looks like a double-DIN slot, but it's actually a little smaller. A single-DIN aftermarket car stereo fits right in there with the help of a mounting kit (there are two styles available). Each dash kit comes with assembly instructions.
A double-DIN kit is also available, but you'll need to modify the sub-dash to accommodate the new receiver. As noted before, this is a permanent deal, and you won't be able to re-install the original factory radio after you make these mods.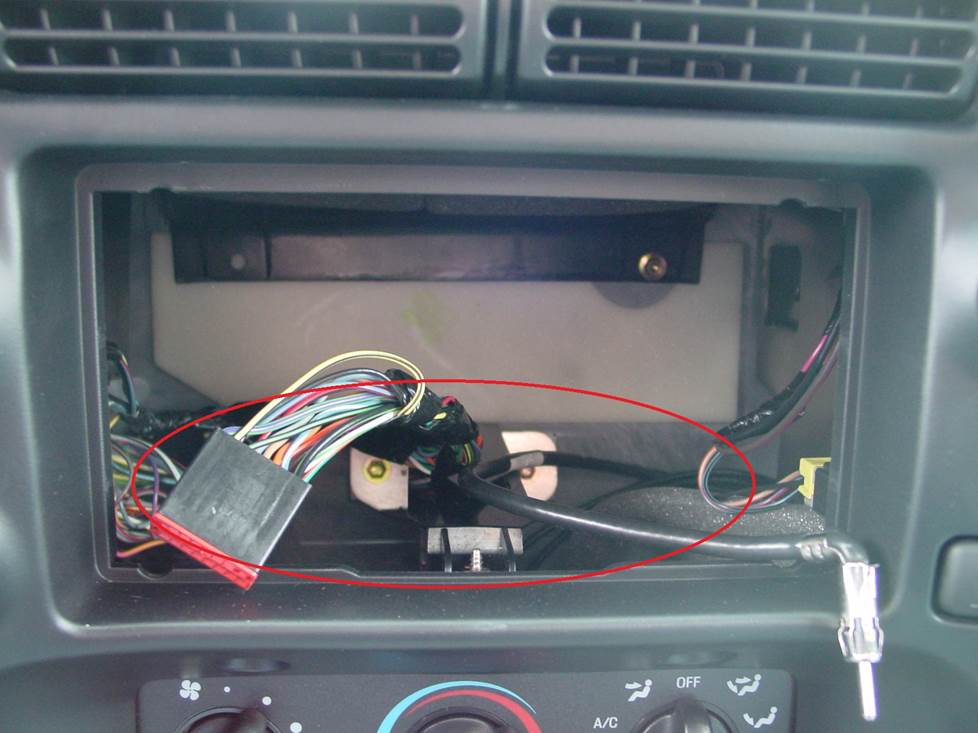 You'll have to remove this support bar (move the wires out of the way) to install a 4" tall stereo.
Getting the old radio out of the dash isn't hard, and other than being careful with the plastic dash trim, it's pretty low-stress. You'll need a set of DIN tools to remove the original radio, and they couldn't be easier to work with. Just insert these U-shaped tools into the front of the Ford radio and it'll pop right out.
Detailed stereo and speaker removal instructions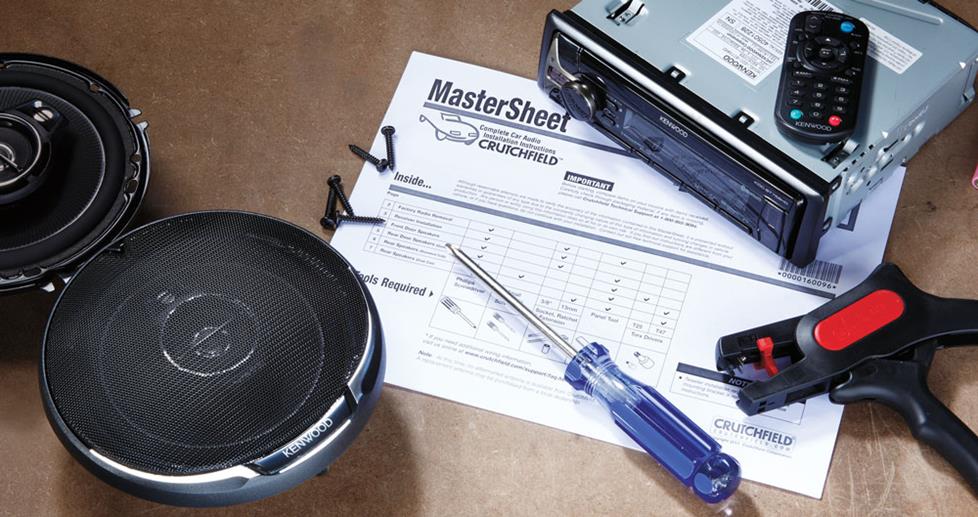 With step-by-step disassembly instructions and plenty of up-close, detailed photos, our exclusive
Crutchfield MasterSheet
™ takes the guesswork out of removing the factory stereo and speakers. It's free with your Crutchfield order, or you can purchase one separately for just $9.99.
Once you have the receiver out, the dash cavity offers plenty of depth, so almost any car stereo will fit in here. That said, take care when you're shoving everything into place.
You'll need the right harness to connect your new car stereo to the factory system. That harness, along with the dash mounting kit and DIN tools, is available at a deep discount with your Crutchfield stereo purchase.
With a job like this, a good start is as important as a good finish. Before you start working, set the truck's parking brake and disconnect the negative battery cable to prevent any electrical short. And before you finish, test the stereo to make sure it's working properly before you shove it all the way into the dash and button everything up.
Note: If your 1998-2000 Ranger or B-Series has a factory amp, you'll need to bypass it and install something else when you add a powerful aftermarket stereo and speakers. Complete, illustrated panel disassembly instructions can be found in your truck's MasterSheet. Once you've removed the panel, just follow the instructions supplied with the bypass wiring harness.
Tools needed: DIN tools, flat blade screwdriver, Torx T-20 driver
Read our Car Stereo Buying Guide for shopping tips and advice.
Shop for car stereos that fit your Mazda B Series
Steering wheel audio controls
In most cases, it's reasonably easy to retain your truck's steering wheel audio controls when you install a new stereo. When you enter your vehicle information, our database will choose the adapter you need to make your factory steering wheel controls work with a compatible aftermarket receiver.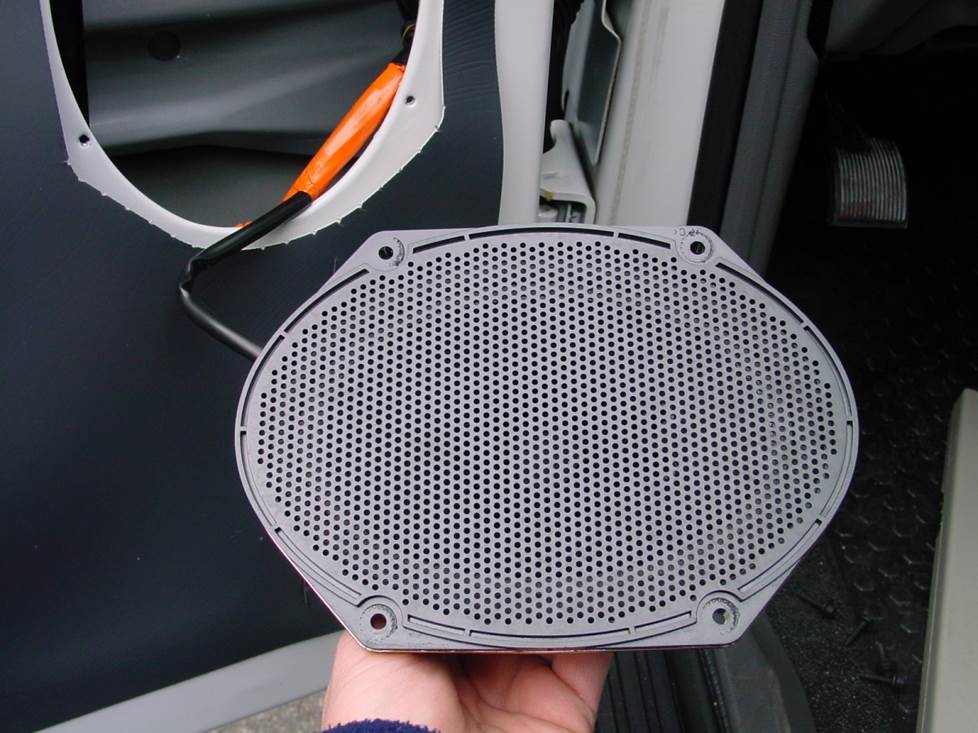 The speakers in these trucks are reasonably easy to reach and remove (Crutchfield Research Photo)
Removing the factory speakers
Some Ranger and B-Series trucks don't have speakers at all, but most will have speakers in the front doors. Standard Cab trucks usually have speakers in the rear side panels, while Extended Cab trucks can have speakers in the doors. Complete disassembly instructions can be found in your MasterSheet.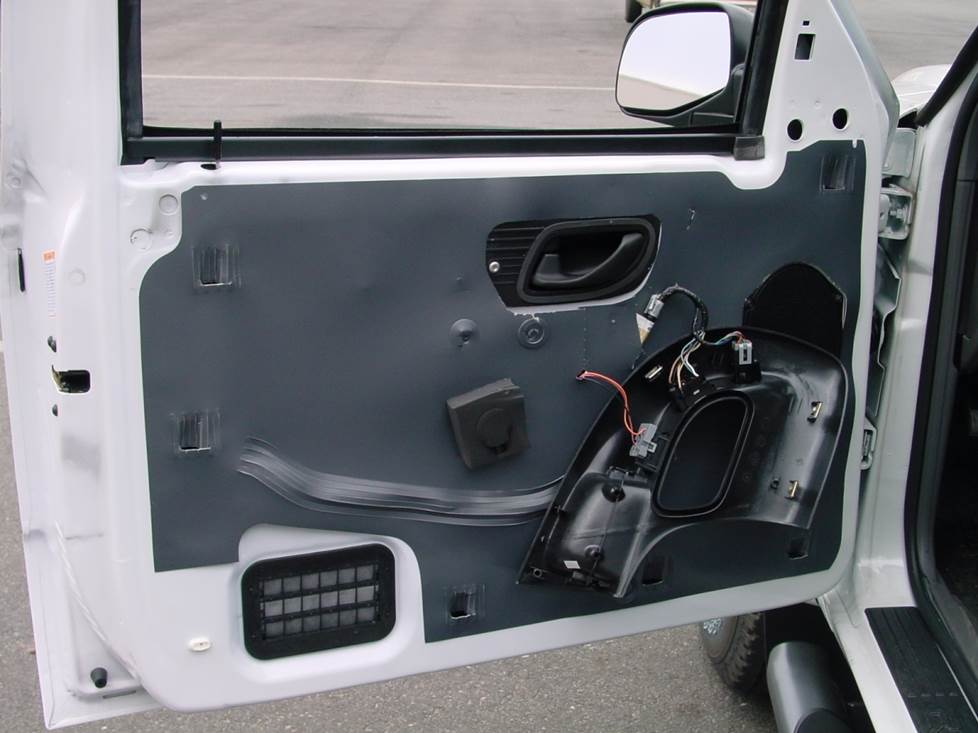 The front doors changed a lot over the years, but speaker replacement stayed the same (Crutchfield Research Photo)
Removing the front speakers
A child born in 1998 would've been finishing up middle school by the time the last Ranger rolled off the assembly line. The Ranger's front doors didn't go through as many changes as the kid did during that time, but there were quite a few.
The basics stayed the same throughout – the Ranger has 6"x8" factory speakers that can be replaced by same-size or 5-1/4" models, you'll need mounting brackets to install the smaller ones, and the brackets are included at a discount when you buy from Crutchfield.
The ins and outs of actually reaching and removing the speakers changed quite a bit, however, and while all the details can be found in your truck's Crutchfield MasterSheet, we'll skip the step-by-steps here. The Internet is only so big, you know….
Speaker replacement isn't difficult, though, so it's a great project for the car audio DIY beginner. Whether you have power windows or old-fashioned hand-crank windows, you can do the job with simple hand tools. And if you run into any complications here or anywhere else in your audio upgrade project, your Crutchfield purchase entitles you to free, lifetime tech support from our Virginia-based experts.
These trucks do tend to be a bit tinny, so to get the most out of your new speakers, purchase a set of foam baffles and install them behind the new speakers before you put the doors back together. In addition to boosting sound quality, these inexpensive baffles will help protect the speakers from moisture and dust.
Before you finish up, you should also test the door locks and make sure the wires aren't interfering with window operation. Better to do it now than to have to take the doors apart again!
If you want even more audio oomph up front, consider a set of Q-Forms Kick Panel pods. These custom speaker enclosures fit into the space where the kick panels are now. Once you install a set of 6-1/2" component speakers, they'll direct great sound up towards your ears. Installation isn't massively difficult, but if you're not an experienced DIY-er, it might be wise to turn this job over to a car audio pro.
Tools needed: Panel tool, Phillips screwdriver, 6mm socket, ratchet & extension, Torx T-20 driver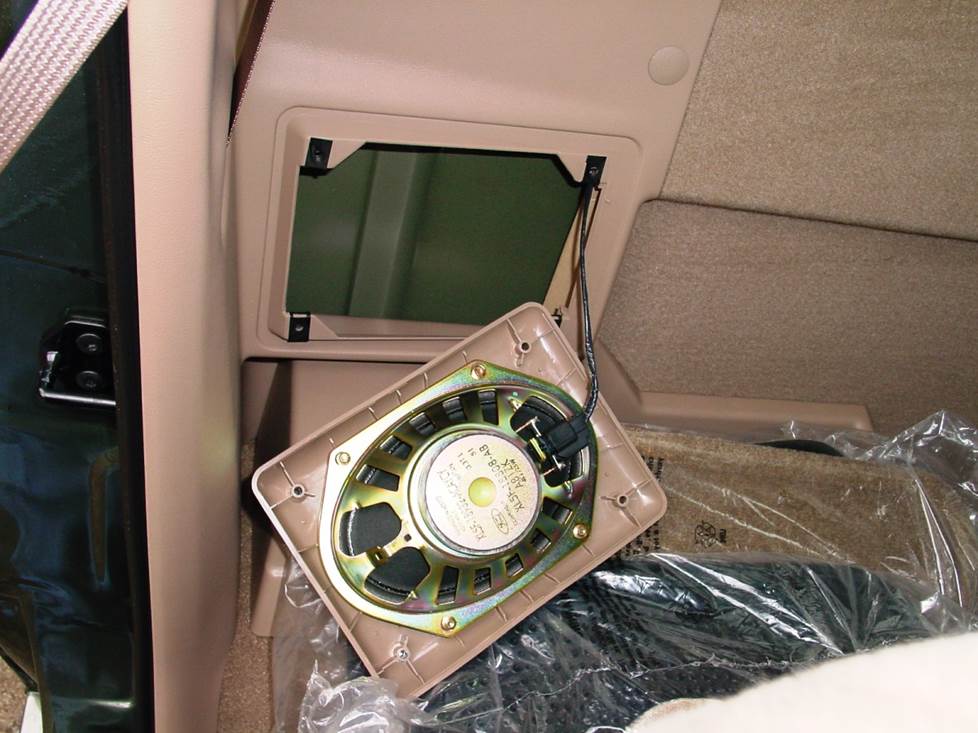 The Standard Cab rear speakers are right behind the seats (Crutchfield Research Photo)
Removing the Standard Cab rear speakers
The basic, 2-door, no-frills (well, maybe some frills) Ranger is usually equipped with stock 6"x8" rear speakers. You can replace them with same-size or 5-1/4" aftermarket models, and the mounting brackets needed for the smaller ones are included at a discount when you buy from Crutchfield.
If the truck was not factory-equipped with rear speakers, you won't find any speaker wire hidden down behind the panels. To install speakers, you'll need to run your own speaker wire from the receiver to each speaker. This is not the easiest thing you will ever do, but if you care about sound, it's worth it. And our techs can walk you through the whole process.
Tools needed: Phillips screwdriver, 5mm socket, ratchet & extension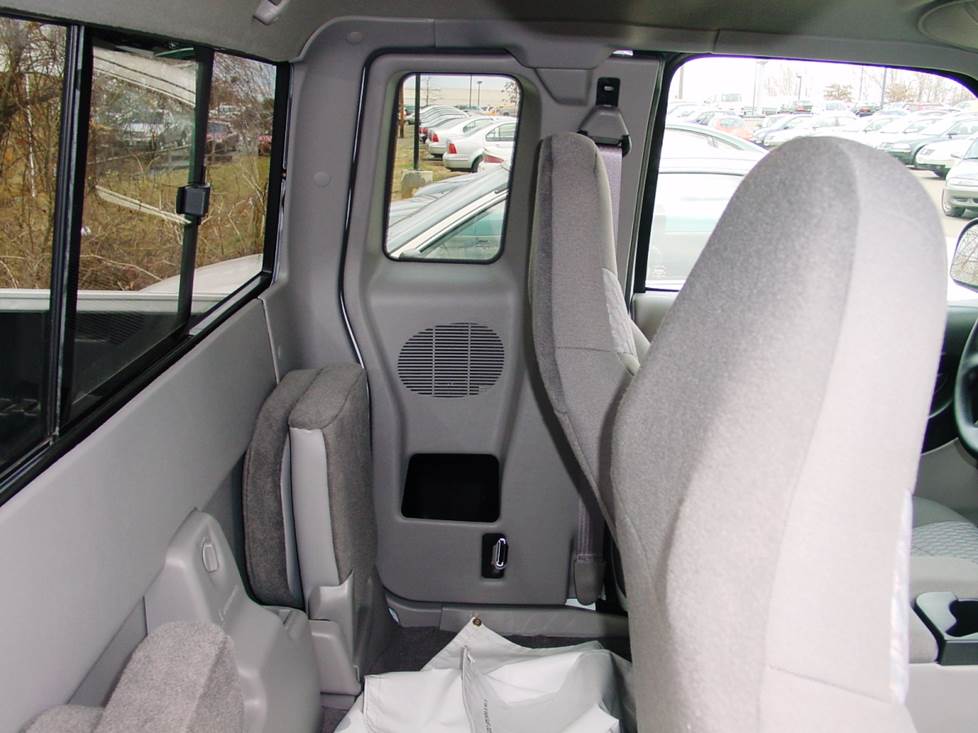 SuperCab speakers vary a bit, depending on whether you have a 2-door or 4-door truck. This is a 4-door. (Crutchfield Research Photo)
Removing the Extended Cab rear speakers
Whether your Extended Cab pickup has 2 or 4 doors, you're dealing with the same 6"x8" speakers you've seen elsewhere in the truck, and the replacement speaker info is the same, too.
Accessing the speakers is a little more involved here, but it's completely within the skill set of the average DIY-er. All the details are in the MasterSheet, and Tech is just a phone call away, so relax, you can do this – even if your truck doesn't have stock speakers (see above).
And remember to test the speakers and make sure everything in the doors is working properly before you reinstall the door panels.
Tools needed: Panel tool, 6mm and 15mm socket, ratchet and extension
Read our Car Speakers Buying Guide for more information.
Shop for speakers that fit your Mazda B Series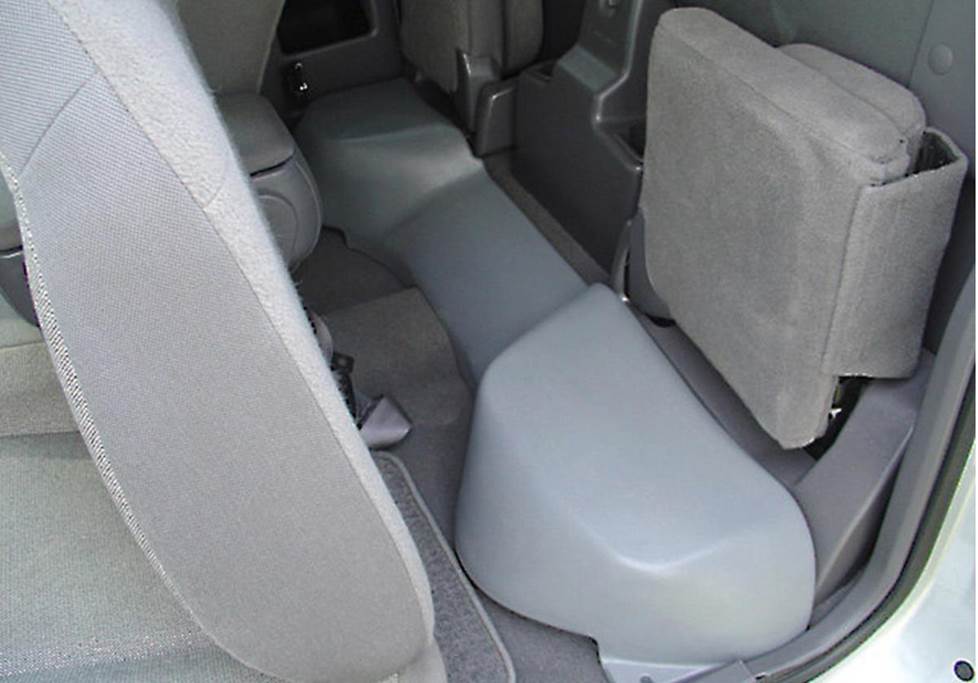 This JL Audio Stealthbox fits right into the back of select Ranger and B-Series trucks
Bass in your Ranger
Adding bass to a compact pickup isn't as hard as you might think. You can always install a compact powered subwoofer (measure first and see what fits), which will enhance your music by pumping out a surprising amount of bass.
If you want even more thump in your truck, there are custom-fit MTX Thunderform enclosures available for the Standard Cab Ranger and B-Series. Available with and without built-in 10" MTX subs, these enclosures come in charcoal or tan to match your truck's interior. They'll fit behind the seat on the driver's side, and while you'll have to remove the factory storage tray, you won't have to disturb the passenger's side tool tray that contains the jack.
For most SuperCab trucks, there's an MTX ThunderForm that mounts under the rear jump seat. The enclosure is seamless and airtight, with the correct internal volume to yield optimum bass response from the subwoofer. This enclosure is also available in Charcoal or Tan.
Too see all the bass options for the Ranger or B-Series, go to Outfit My Car and enter your vehicle information.
Learn more about building a bass system in our Car Subwoofer Buying Guide.
Shop for vehicle-specific subwoofers for your Mazda B Series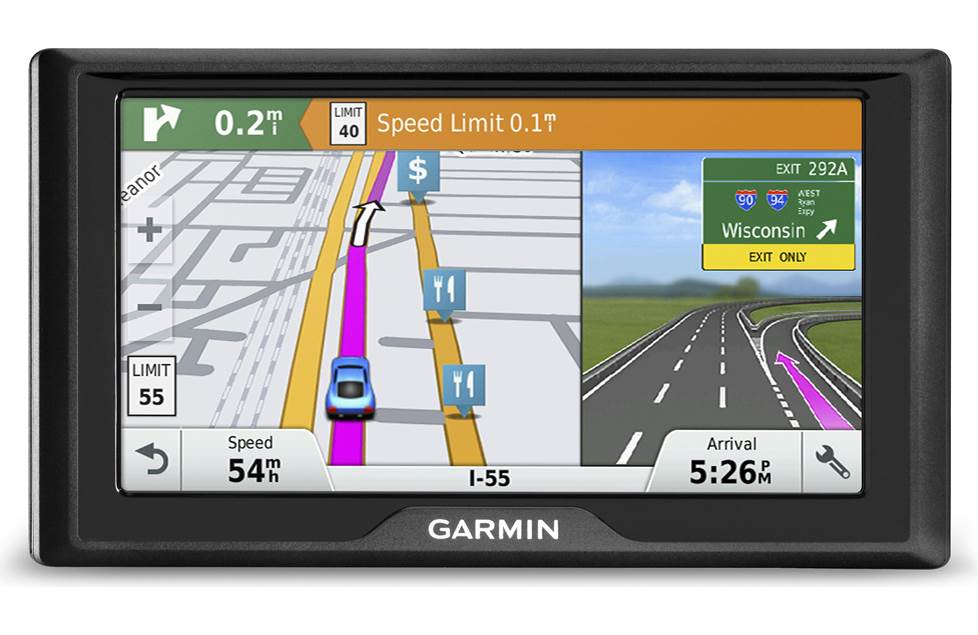 The Garmin Drive™ 60LM is just one of many great portable GPS options for your truck
Other options for your Ranger or B-Series
Here are some other cool ideas for your pickup.
Get directions from a portable GPS
These trucks weren't available with factory navigation, but you can add an aftermarket double-DIN nav receiver with help from a dash kit. Depending on how you use your truck, a amplifier to your Ranger. There are plenty of reasonably priced amps that will give you the loud, clear sound you want, especially when paired with upgraded speakers and some Dynamat in the doors.
Quiet the road roar with Dynamat
A Dynamat Xtreme Door Kit is the perfect way to seal in sound. This heavy-duty insulating material is easy to install, and it really makes a difference. One kit will take care of the front doors in your pickup.
Protect your truck with a security system
Installing a security system in your Ranger isn't easy (security systems rarely are), but it's definitely a good idea, because breaking into a Ranger IS easy. Our Crutchfield Advisors can help figure out what you need to get the job done, but we usually recommend taking your truck and new gear to a professional installer.
Let's get started!
Ready to shop? Use our vehicle selector to find the gear that will fit your car or truck. If you have questions, give us a shout via phone, chat, or email