1999-2002 Chevy Silverado and GMC Sierra regular cab
Upgrading the stereo system in your Silverado or Sierra
1999 • 2000 • 2001 • 2002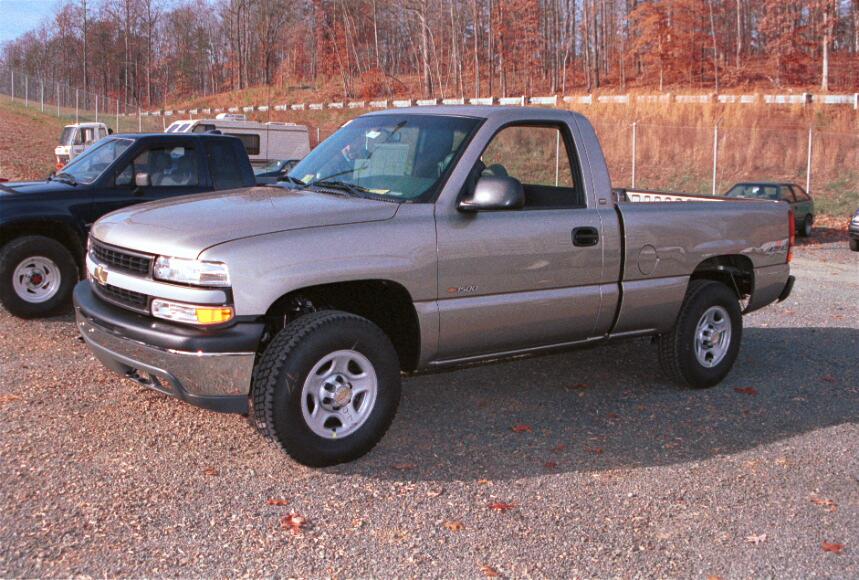 In brief: This Crutchfield Research Garage article gives you an overview of your truck's stock stereo system and your aftermarket upgrade options. We'll tell you all about:
Then, use our vehicle selector to find the gear that will fit your Chevy or GMC.
Overview of the Silverado and Sierra trucks
GM's full-size pickup twins, the Chevy Silverado and GMC Sierra, have always been workhorses, so it's no surprise that a lot of older trucks are still out on road and getting the job done.
These GM trucks are tougher than week-old pumpernickel, easy to work on, and, at this point, practically brimming with "old truck" character. Installing a new stereo and speakers in your truck will make your hard-working pickup even more enjoyable to own.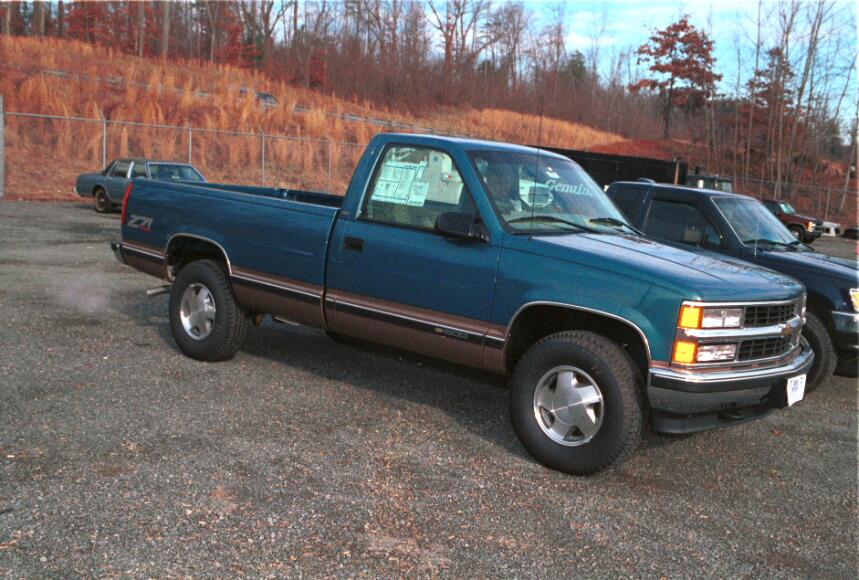 The Silverado "Classic" has a flatter hood and a much more squared-off nose than the newer model above. (Crutchfield Research Photo)
Note: The chassis discussed here, known inside GM as the GMT800, was introduced in 1999. The previous generation, the GMT400, hung around for another year of (mostly) fleet sales under the "Classic" name. If you're not sure which '99 version you have, see which of these photos looks like your truck. The Classic (the green-ish blue one above) has a flatter hood and a much more squared-off front end.
Detailed stereo and speaker removal instructions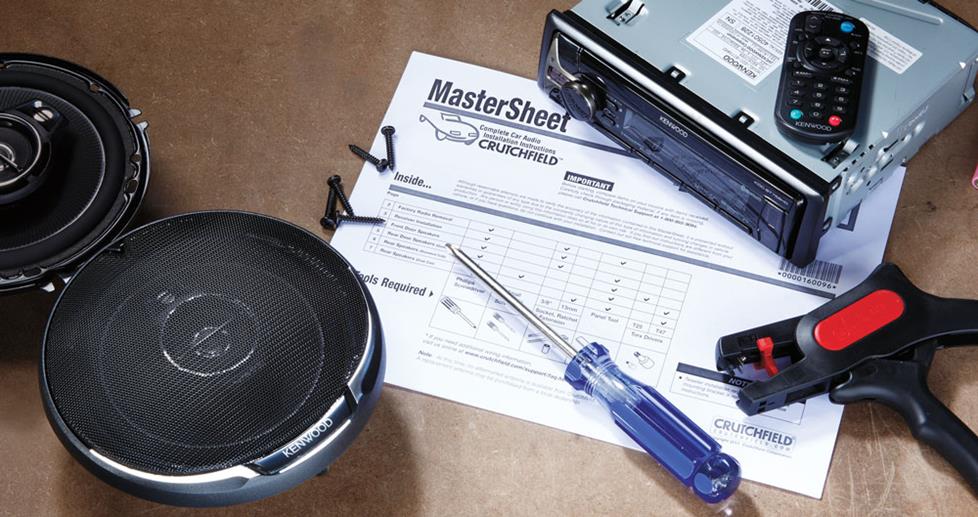 With step-by-step disassembly instructions and plenty of up-close, detailed photos, our exclusive
Crutchfield MasterSheet
™ takes the guesswork out of removing the factory stereo and speakers. It's free with your Crutchfield order, or you can purchase one separately for just $9.99.
The factory stereo system
Old trucks are wonderful things, but old factory stereos are pretty weak – and these stereos weren't that great when they were new. If your Silverado or Sierra is still hauling after all these years, it's way past time for an upgrade. Smartphone compatibility, satellite radio, and Bluetooth® connectivity are just a few of the modern features that can make your truck a much nicer place to work and play.

The Silverado's factory radio (Crutchfield Research Photo)
Removing the factory radio
The '99-'02 pickups were equipped with GM's ubiquitous AM/FM CD player, which is slightly taller and shallower than most single-DIN aftermarket stereos.
A vast number of single-DIN (2" tall) and double-DIN (4" tall) stereos will fit right in, with the help of a dash kit that's designed specifically for your truck. Some sub-dash modifications may be required to install a double-DIN receiver.
As tempting as it might be to add a single-DIN stereo with a flip-out screen, we don't recommend it, because the screen will bang into the column-mounted shifter.
You'll also need an antenna adapter and a wiring harness interface that will allow you to connect the new radio without having to cut into the factory wiring. If your truck is equipped with the Onstar system, you'll need a special adapter that will work with your new receiver and retain the system's voice prompts.
That wiring harness interface we mentioned above is an essential part of this installation because it retains the audible safety alerts delivered through the factory radio. Those are very important, and we always caution potential customers that we won't be able to provide tech support to any installation that doesn't use the required harness.
All of those items are available at a healthy discount with your order, and you'll also get a free Crutchfield MasterSheet, which contains illustrated, step-by-step stereo and speaker removal instructions.
Tools needed: Panel tool, 7mm socket, ratchet, and extension
Steering wheel audio controls
Not all of these Silverados and Sierras were equipped with steering wheel audio controls, but the option was available on some 2001-02 models. If yours is one of them, you'll need to install a special adapter when you install your new stereo. Our website will match things up nicely, but if you have questions, a Crutchfield Advisor can help you get all the equipment you need.
Shop for car stereos that fit your GMC Sierra 1500
Removing the factory speakers
The Silverado/Sierra Regular Cab has speakers in the front doors and the rear pillars.

Front door speakers
The door speakers in the Silverado and Sierra regular cab are 6-1/2" models, a common size with great aftermarket support. You'll have no trouble at all finding a speaker to fit any musical taste or budget.
You also can install slightly smaller 5-1/4" speakers with the help of a mounting bracket, or, if you're willing to drill some new screw holes, slightly larger 6-3/4" models. If you need mounting brackets, they'll be included free with your Crutchfield speaker purchase. Crutchfield also includes speaker wiring harnesses with every speaker order.
The speakers are reasonably easy to reach and replace. You'll need to remove the sail panel and door panel, but it's not a terribly involved process at all. Your MasterSheet will walk you through every step. The key is to work carefully and take it easy when you're prying away the plastic bits. They're not as young and flexible as they used to be.
An optional 6-speaker stereo system included tweeters in the front doors. As long as you have the door panel off, you might as well replace the woofer and the tweeter with a top-quality set of component speakers. You'll have to fashion a mounting plate for the new tweeter, a task for which our universal backstraps are very helpful.
Tools needed: Panel tool, small flat blade screwdriver, shop rag, 7mm socket, ratchet, and extension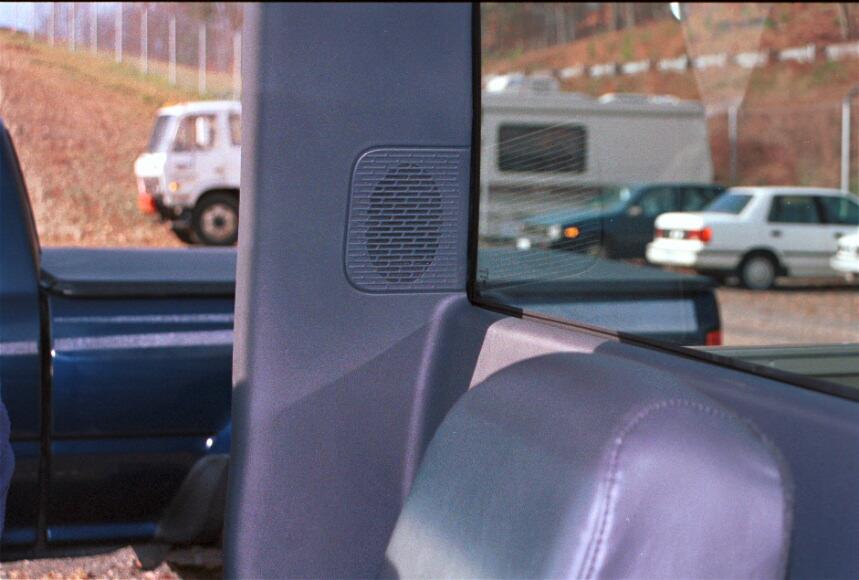 The rear side speakers are mostly easy to work with (Crutchfield Research Photo)
Rear pillar speakers
The standard cab features a pair of 4"x6" speakers in the rear pillars. The speaker grilles are built into the pillars, so you'll need to pry up the lower scuff plate and remove the trim panel underneath the rear window before removing the pillars and reaching the speakers.
There's nothing terribly difficult about this, but each panel is held in place by metal clips, so work carefully and gently to avoid damaging the trim pieces. Once again, our detailed MasterSheet will walk you through the process.
Same-size replacement speakers are available, or you can install 3-1/2" or 4" replacements. You'll need a mounting bracket for the smaller speakers, and it's included with your speaker purchase.
You'll also need to drill new mounting holes for any aftermarket speaker. This isn't hard, either, but you'll want to know what's around where you're drilling, work carefully, and wear eye protection.
Tools needed: Panel tool, Phillips screwdriver, drill and 1/8" bit
Shop for speakers that fit your GMC Sierra 1500
Bass in your Chevy Silverado or GMC Sierra
Like most regular cab pickups, there isn't a ton of space for a custom sub enclosure in these trucks. Well, in the cabin, anyway. The bed's another matter, but that's a whole different project! If you're looking for a way to boost your bass, look into compact powered subwoofers that might fit behind or beneath the seat.
Other options for your Silverado or Sierra
There are plenty of other ways to improve your Chevy Silverado or GMC Sierra. Here are some of the ways Crutchfield can help.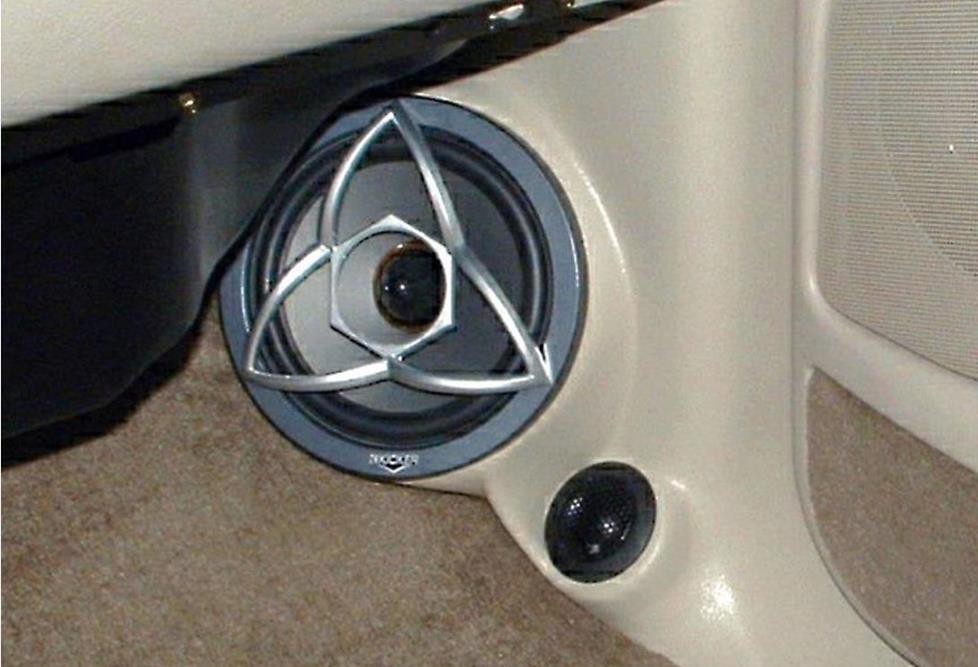 The Q-Forms Kick Panel Pod is available in colors to match your truck's interior.
Kick Panel Pods
To pump up the sound even more, install a set of Q-Forms Kick Panel Pods. These custom speaker enclosures fit right into the space where your kick panels are now and, once you pick and install a set of 6-1/2" speakers, will direct great sound up towards your ears. They're available in a variety of colors to match your truck's interior.
Sound damping
Like most pickup trucks, the Silverado/Sierra has a noisy cabin. There's no way to totally eliminate wind and road noise, but installing some Dynamat in the doors — and, potentially, throughout the cabin, can really seal in sound. A set of inexpensive foam speaker baffles behind your new speakers will also help, plus they help protect the speakers from dust and damage.
Navigation
The Silverado wasn't available with factory navigation, but you can add an aftermarket double-DIN nav receiver with help from a dash kit. Depending on how you use your truck, a portable navigation unit could also be a good solution, because you can move it between vehicles as needed and tuck it into a storage compartment when you're not using it.
Security
Installing a security system in this truck is reasonably simple as these things go, but security systems really aren't that simple. If you're not experienced with car security and remote start installations, consult a Crutchfield advisor before ordering and consider handing the job off to a professional.
Let's get started!
Ready to shop? Use our vehicle selector to find the gear that will fit your car or truck. If you have questions of your own, give us a shout via phone, chat, or email