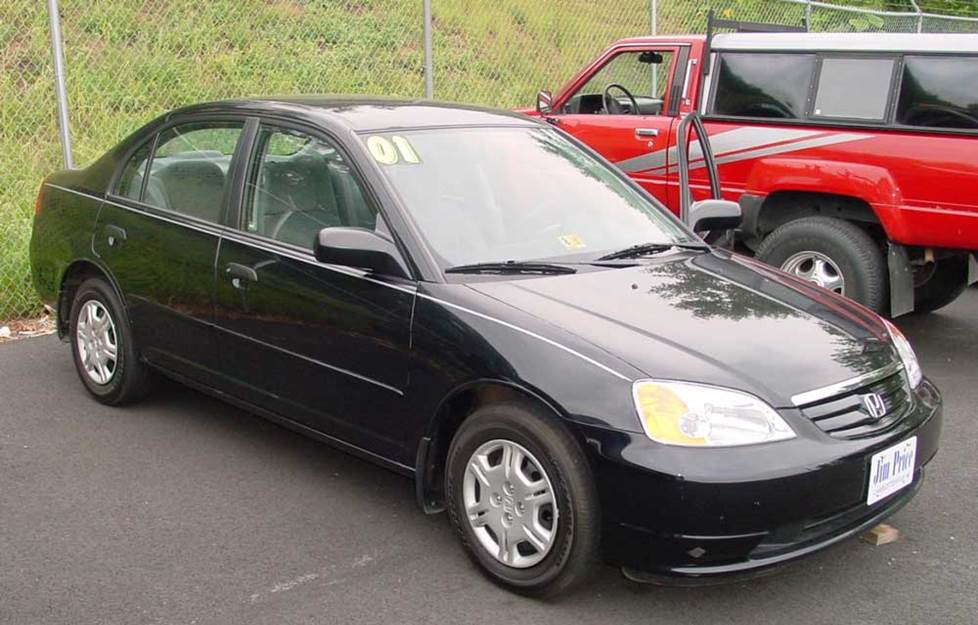 In brief: This Crutchfield Research Garage article gives you an overview of your Civic's stock stereo system and your aftermarket upgrade options. We'll tell you all about:
Then, use our vehicle selector to find the gear that will fit your Honda.
Overview of the Honda Civic
Thanks to near-legendary reliability, affordability and efficiency, the Honda Civic has long been one of the most popular cars around. They're also known for impressive longevity, so if your seventh-generation Civic is still running strong, a new stereo is probably a wise investment.
Designing a stereo system that suits your musical tastes is one way to make your Civic stand out from the crowd. There are plenty of simple upgrades that will make a big difference in your car's sound, not to mention a variety of add-ons that will allow you to use all of your favorite electronic devices with your car stereo.
The factory stereo system
The standard stereo in the Civic is an AM/FM/CD radio with the option for a CD changer. The sound system is rounded out by either a 4- or 6-speaker configuration, with standard factory sizes that make upgrading easy.
The Civic's factory CD receiver (Crutchfield Research Photo)
Removing the factory radio
After you remove a few dash panels, getting the Civic's factory stereo out of the dash is a snap. The dash opening also accepts any single-DIN (2" tall) or double-DIN (4" tall) stereo with help from a dash kit that's available at a deep discount when you shop at Crutchfield.
Detailed stereo and speaker removal instructions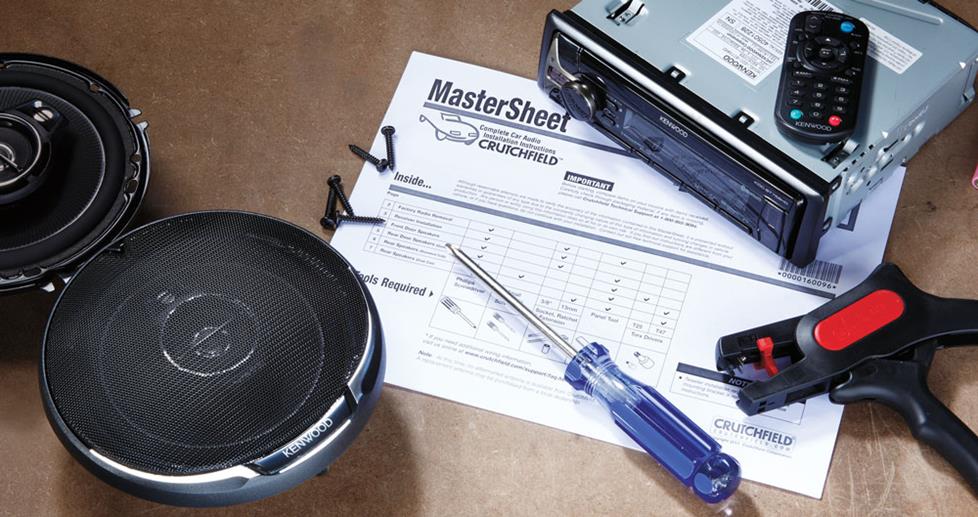 With step-by-step disassembly instructions and plenty of up-close, detailed photos, our exclusive
Crutchfield MasterSheet
™ takes the guesswork out of removing the factory stereo and speakers. It's free with your Crutchfield order, or you can purchase one separately for just $9.99.
How you use your Civic will help you decide the best choice for you, so pick the stereo that will do all the things you need it to do -- plus a few things you might want it to do eventually -- so you can avoid having to upgrade your system again in the near future.
If your car has a factory CD changer, it won't work with a new stereo. But the loss of that component will be made up for by a dramatic improvement in sound quality and the more modern features of most new receivers.
Tools needed: Phillips screw driver, flat-blade screw driver, 8mm driver, panel tool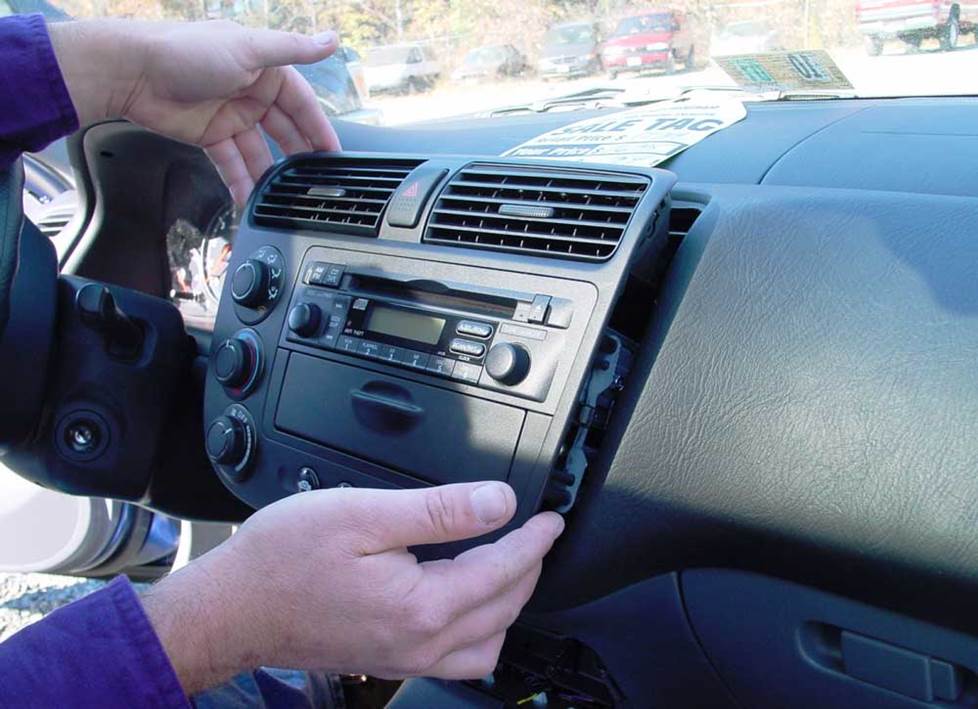 Removing the factory stereo (Crutchfield Research Photo)
Read our Car Stereo Buying Guide for shopping tips and advice.
Shop for car stereos that fit your Honda Civic
Steering wheel audio controls
In most cases, it's reasonably easy to retain your car's steering wheel audio controls when you install a new stereo. When you enter your vehicle information, our database will choose the adapter you need to make your factory steering wheel controls work with a compatible aftermarket receiver.
Hybrid note
The Civic Hybrid's gas-electric hybrid powertrain makes replacing the stereo is a little more complicated. As you might expect, these cars contain some very sensitive electronics, so here are a couple of things to keep in mind:
Be sure to only use a multi-meter when testing wires, and NEVER use a test light to test wires in this vehicle. Doing so could cause some serious (by which we mean dangerous and expensive) damage.
A Civic Hybrid is not the car to choose if you want to build a massively powerful audio system. The thirsty current draw of a high-powered stereo is not a good thing for the hybrid system, so don't exceed a 30-amp current draw or 350-watt RMS power rating.
Removing the factory speakers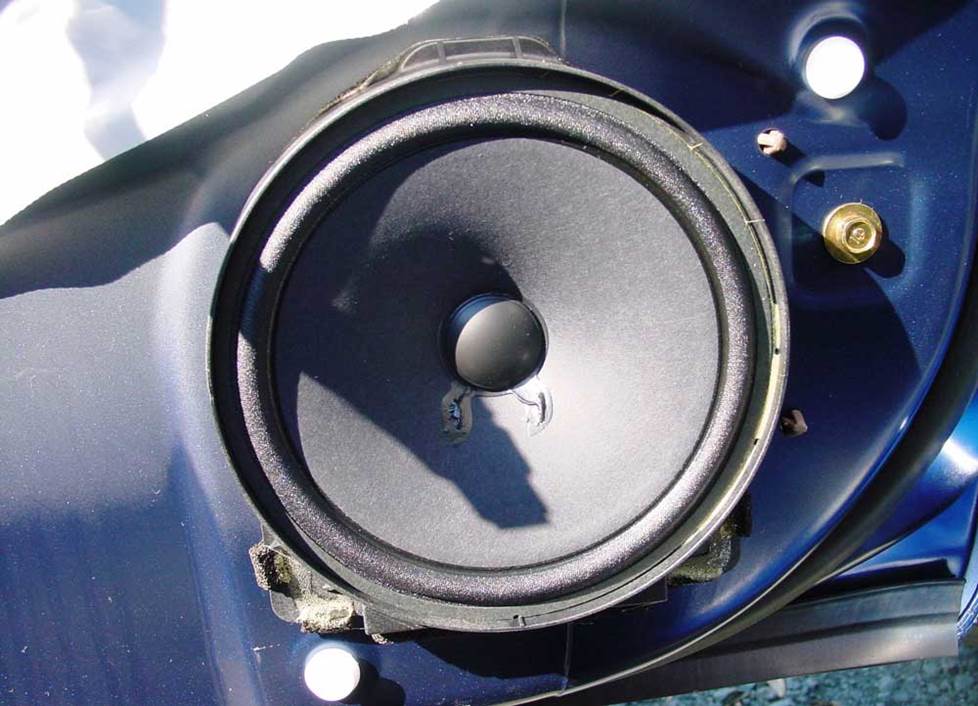 The Civic's front door speakers (Crutchfield Research Photo)
Front speakers
Your Civic came from the factory with one of a couple of speaker options for the front doors: a standard 2-speaker setup, or a 4-speaker configuration with tweeters in the sail panels.
Most 6-1/2 inch speakers fit easily with the help of a mounting bracket, and the common size means there are upgrades for any budget. The factory speakers are kind of an odd size, so you'll have to drill some new screw holes to replace your speakers no matter what you put in there.
The larger size also makes it possible to get solid low notes, and adding a set of component speakers will give you a full, rich sound up front, right where it should be. The door panels are easy to remove to get to all the necessary connection points, so it's a great way to get comfortable with doing your own upgrades to your Civic's stereo.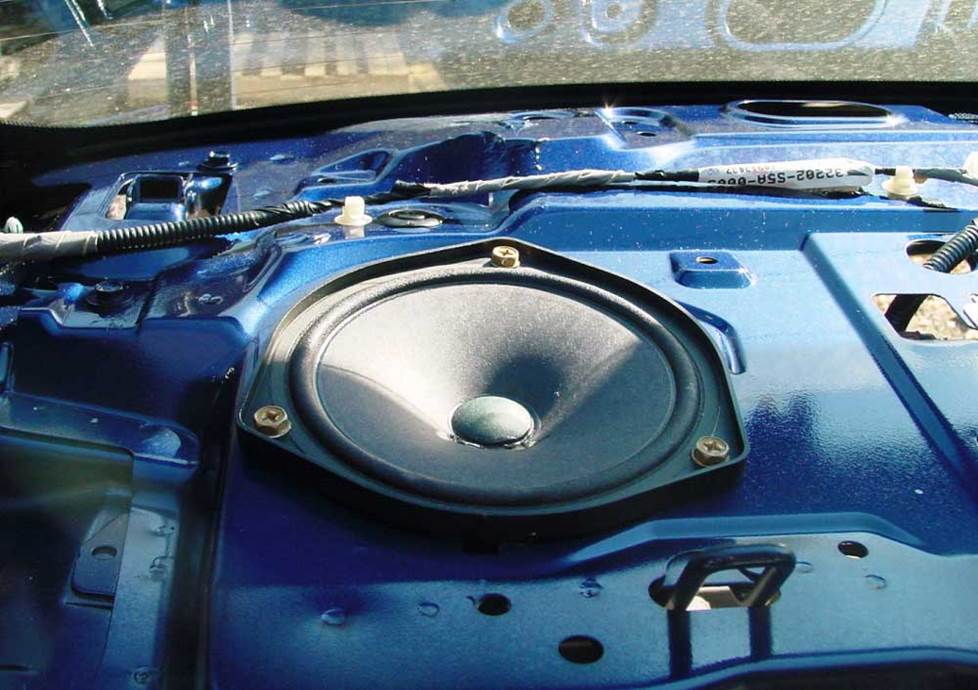 Rear deck speaker (Crutchfield Research Photo)
Rear speakers
The rear shelf speakers in the Civic sedan are a simple, bolt-in upgrade, with large openings that hold 3-bolt 6-3/4" speakers. A set of 5-1/4" speakers are the easiest fit, with the help of mounting brackets, but some 6"x9" models can work, too. Our database will show you what works for your car.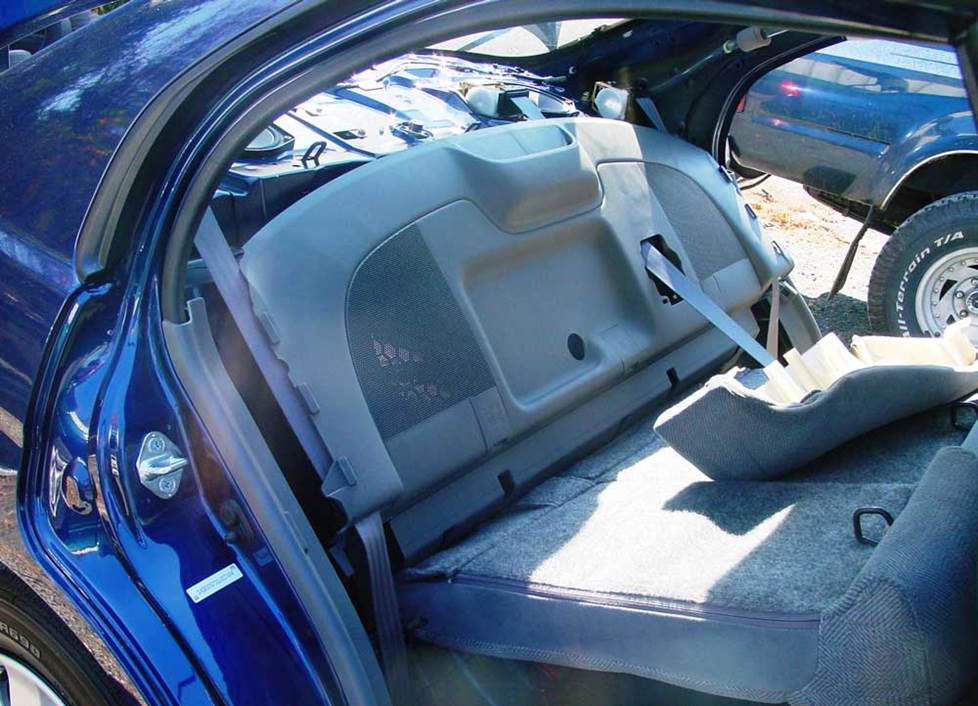 This isn't quite as hard as it looks. (Crutchfield Research Photo)
There are several interior panels that need to be removed to get to the factory speakers, but removal and installation is straight-forward and yields big results. Again, you're only limited by your budget, and swapping out these rear speakers will really fill out the sounds in your Civic.
Tools needed: Phillips screwdriver, flat-blade screwdriver, 10mm driver, panel tool, drill and a 1/8" bit
Read our Car Speakers Buying Guide for more information
Shop for speakers that fit your Honda Civic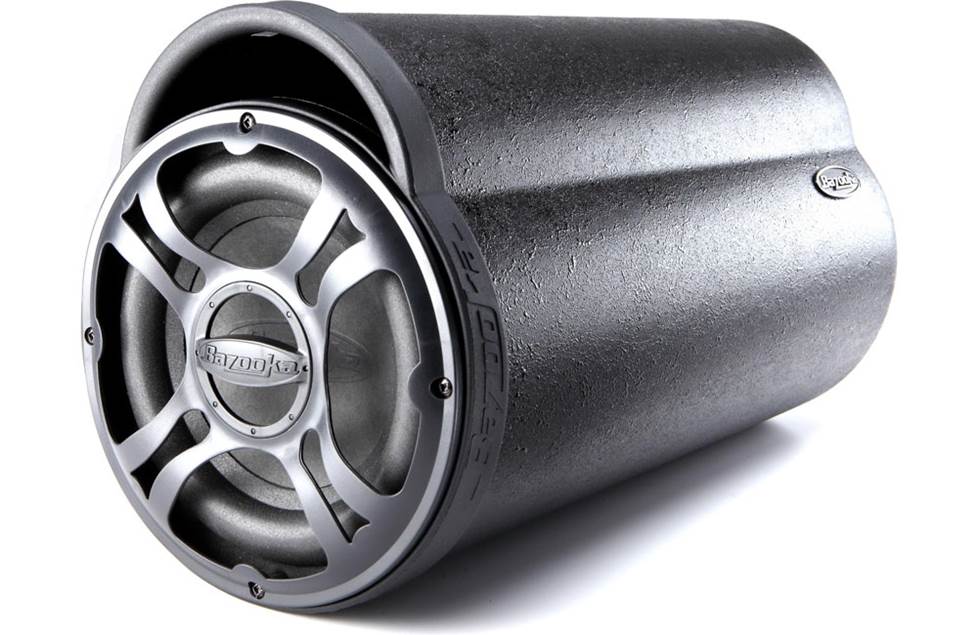 Bazooka BTA850FH powered 8" Bass Tubes enclosure
Bass in your Civic
Honda didn't put much thump in the Civic, so adding a subwoofer will really wake up any style of music. The Civic has impressive trunk space for a compact car, so there's plenty of room to add the necessary amp to go along with a sub and enclosure. Make sure you pick a deck with preamp outputs to make installation easier, and match your new sub to an amp with enough power to push it. If you're looking for something simpler, try a powered subwoofer.
Learn more about building a bass system in our Car Subwoofer Buying Guide.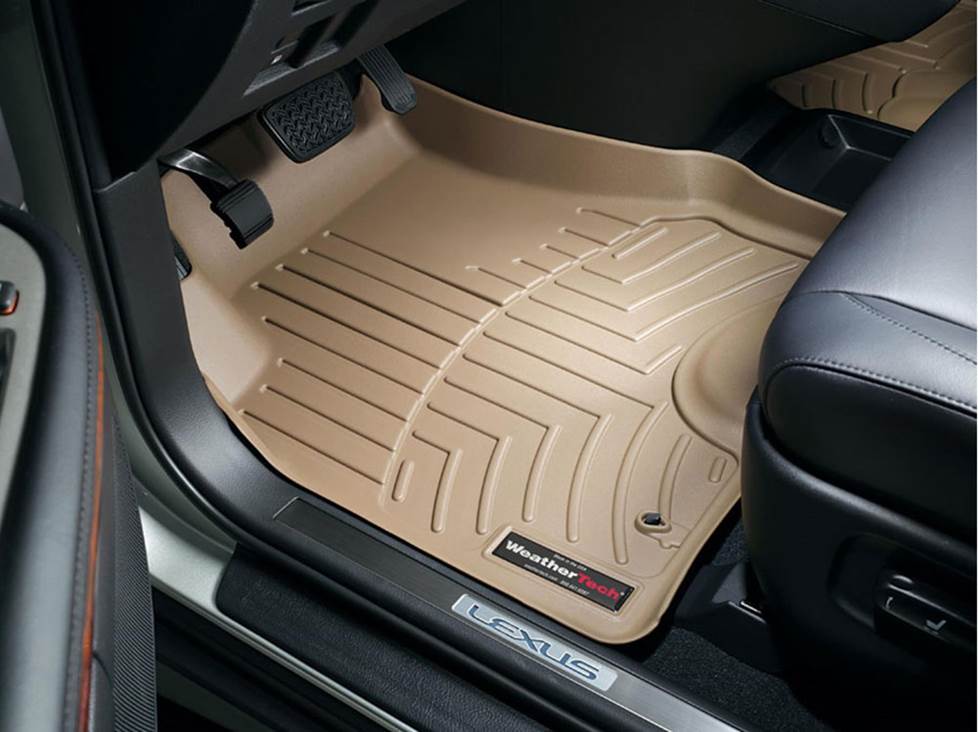 Protect your Civic's carpeting with custom-fit WeatherTech floor liners
Other options for your Civic
There are plenty of ways to improve your Civic's audio and entertainment quality. Here are some of our favorite upgrades:
Protect the carpets with WeatherTech floor liners
It's easier than you think to mess up your Camry's interior while you're going about your daily business. Floor mats and liners from WeatherTech will help protect your car's carpeting from dirt and damage. And if they're already dirty and damaged, these mats will cover it up and make your car's interior a nicer place to be.
Add an amp or two
No amps were offered from the Honda factory, but they're a must if you want the best possible sound. Just how much sound is up to you, but a good place to start is added power for your front speakers. If you're adding a sub, you'll also need a way to power it, so look at multichannel amps that can handle the subwoofer and your door speakers. There is plenty of room for the additional juice, with ample trunk space and room under the seats.
Learn more about adding amps to your system in our Car Amplifier Buying Guide.
Enjoy satellite radio
This wasn't an option on your Civic, but it's a necessity if you find yourself on the road a lot. Most receivers have the ability to add and control SiriusXM tuners, or you can pick up a portable satellite radio that can be easily transferred between vehicles. Your favorite stations will be right there wherever you go, and you'll love the variety of music, sports and news, as well as hearing music you probably wouldn't ever hear on terrestrial radio.
Remote start and security systems
Adding remote start capability to your Civic lets you warm it up in the winter or cool it down in the summer. The iDatastart system is incredibly convenient and makes it easier than ever to install a remote start system, so we highly recommend it. The module requires a vehicle-specific T-harness (sold separately) to connect with your vehicle's computer, security, and ignition systems, so we ask that you call to order so that we can make sure you get the right harness for your ride.
You can also talk to your Crutchfield Advisor about a security system. They're not as easy to install (we usually suggest letting a professional do the job), but we can help you choose a system that'll work in your vehicle.
Let's get started!
Ready to shop? Use our vehicle selector to find the gear that will fit your car or truck. If you have questions, give us a shout via phone, chat, or email