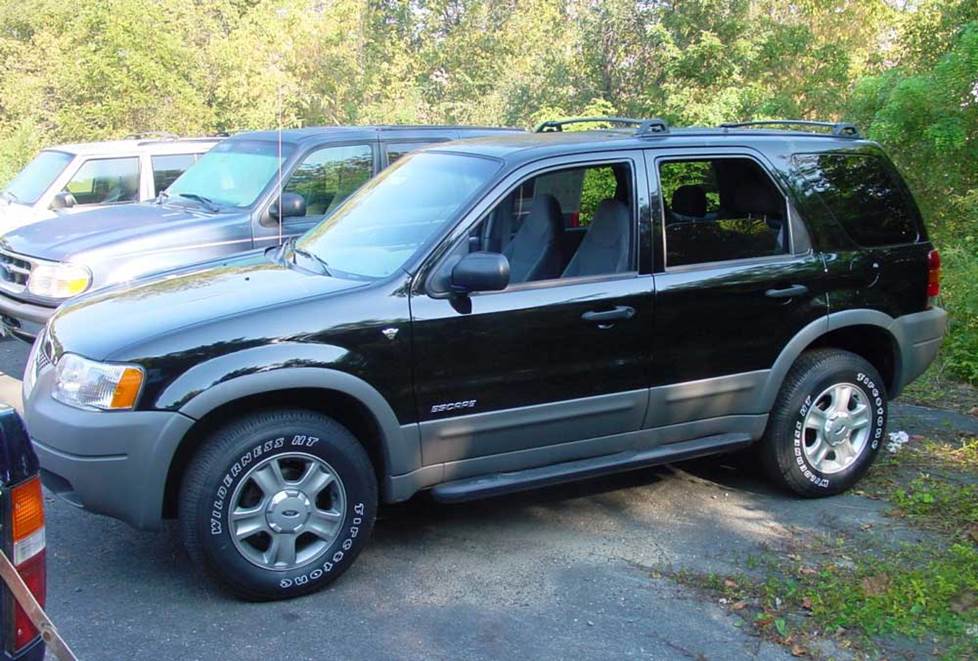 In brief: This Crutchfield Research Garage article gives you an overview of your SUV's stock stereo system and your aftermarket upgrade options. We'll tell you all about:
Then, use our vehicle selector to find the gear that will fit your Escape or Mariner.
Overview of the Ford Escape and Mercury Mariner
The first-generation Ford Escape (and its sibling, the Mercury Mariner, to which all of the following info can be applied) was a phenomenally popular trucklet that took the small SUV market by storm. Developed in collaboration with Mazda, who also sold the same basic vehicle as the Tribute, the Escape was a spacious, comfortable SUV that, when equipped with the optional a 3-liter V6, had all the power needed (and a little bit more) for daily driving or weekend towing duties.
The same, alas, can't be said of the factory stereos, which weren't great to begin with and haven't improved with age. The Escape is reasonably easy to work on, though, so you should have a lot of fun upgrading your entertainment system. With plenty of room for people, bikes, camping gear, and whatever else you need, the Escape is a handy vehicle to have around. And once you upgrade the stereo, it'll also be a nice place to spend time.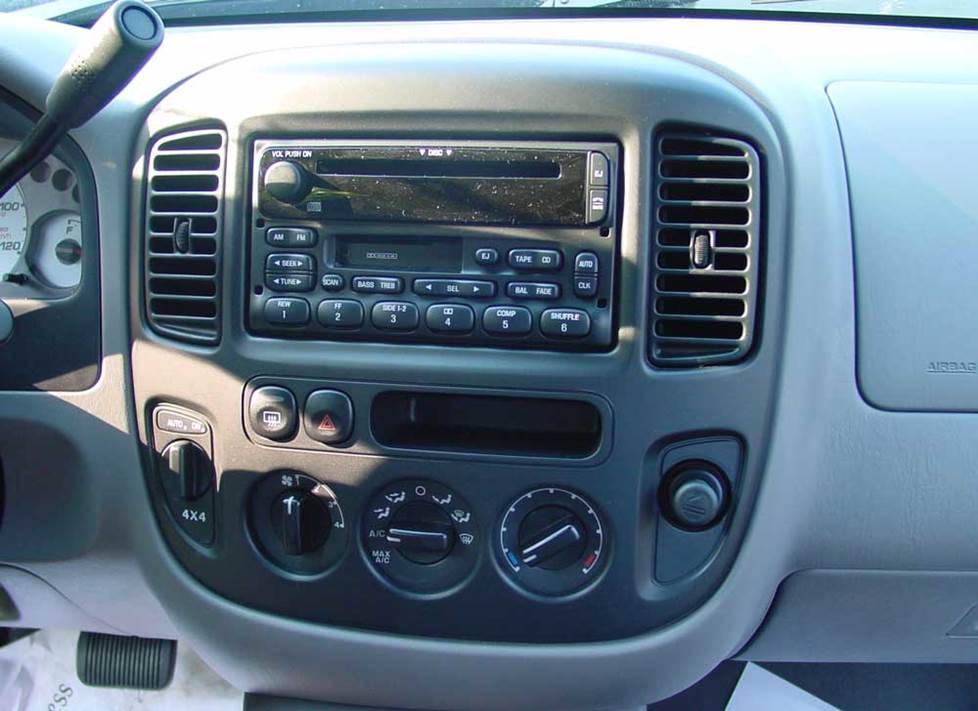 The Escape's standard radio is a pretty basic unit (Crutchfield Research Photo)
The factory stereo system
The Escape came with two entertainment options: the base system and the Mach system. The options changed a little from 2001 to 2007, but in general the Mach system added an amplifier, a subwoofer built into the rear side panel, and (starting in 2004) tweeters in the front doors.
The Mariner's dash doesn't look like the one in the Escape, but the radio removal is the same.
Hybrid note
Replacing the stereo can be a bit more complicated In vehicles equipped with hybrid powertrains. As you might expect, these vehicles contain some very sensitive electronics, so here are a couple of things to keep in mind:
Be sure to only use a multi-meter when testing wires, and NEVER use a test light to test wires in this vehicle. Doing so could cause some serious (by which we mean dangerous and expensive) damage.
A hybrid is not the vehicle to choose if you want to build a massively powerful audio system. The thirsty current draw of a high-powered stereo is not a good thing for the hybrid system, so don't exceed a 30-amp current draw or 350-watt RMS power rating.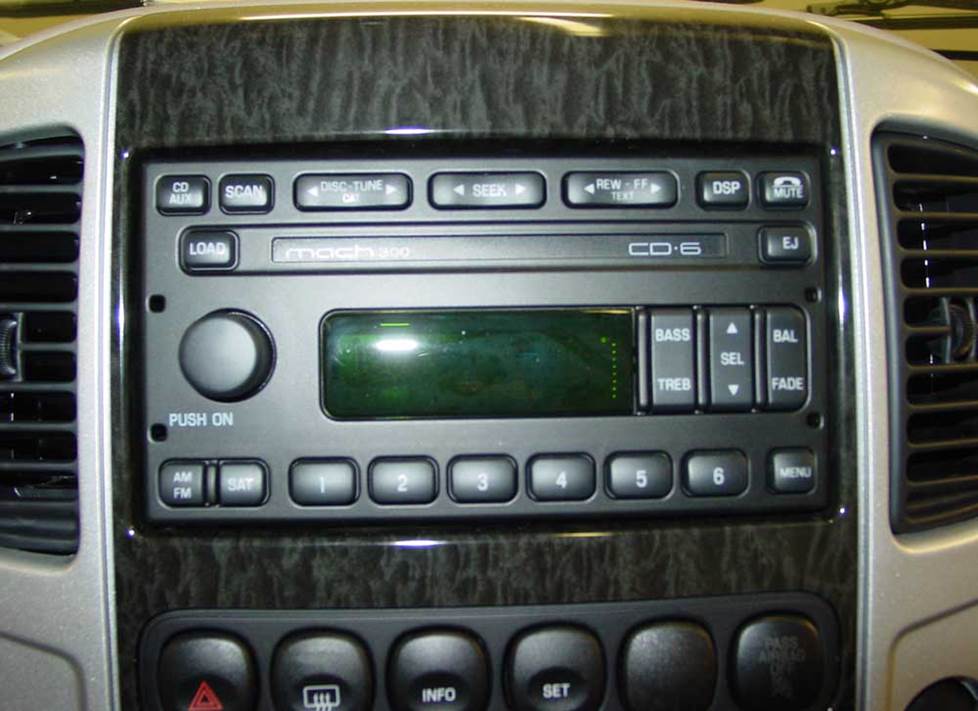 The factory radio in the 2004-up Mach system looks a little different (Crutchfield Research Photo)
Removing the factory radio
The base system centered around an AM/FM/cassette/CD receiver through 2003, then switched over to an AM/FM receiver with a built-in 6-disc CD changer in 2004.
The opening in the dash looks like a double-DIN slot, but is actually a little smaller. A single-DIN aftermarket car stereo fits right in there with the help of a mounting kit. A double-DIN kit is also available, but you'll need to modify the Escape's sub-dash to accommodate the new receiver. As a result, you will not be able to re-install the original Ford radio after making these modifications. Thsi isn't terribly hard, especially when you follow the instructions provided with the double-DIN dash kit.
Taking the receiver out of the dash is pretty straightforward, and doesn't require much effort aside from insuring that you don't mar the plastic dash trim as the pieces come off the dash assembly. Once you have the receiver out, the dash cavity offers better than 9" in depth, so almost any car stereo will fit in here. However, bear in mind that the heater box does offer some obstruction at the back of the cavity, so take care when you're shoving everything into place.
Detailed stereo and speaker removal instructions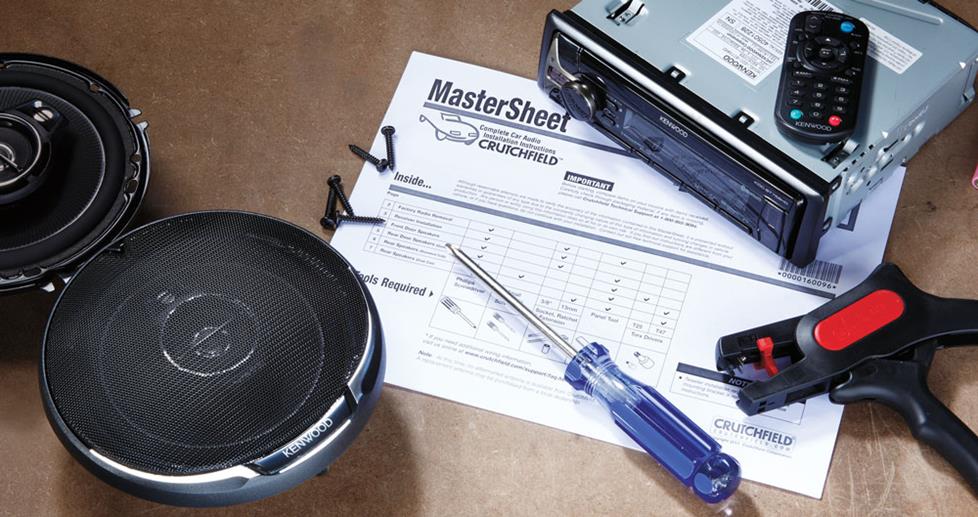 With step-by-step disassembly instructions and plenty of up-close, detailed photos, our exclusive
Crutchfield MasterSheet
™ takes the guesswork out of removing the factory stereo and speakers. It's free with your Crutchfield order, or you can purchase one separately for just $9.99.
You'll need a set of DIN tools to remove the original radio — you poke these U-shaped tools into the front of the Ford radio and it'll pop right out. A harness is also available that lets you connect the new car stereo without having to cut off the plug that connected to the Ford radio. The mounting kit, DIN tools, and harness are available at a deep discount with your Crutchfield stereo purchase.
Replacing the radio in the Mach system is just about the same as with the basic system, but the amplifier in the upgraded system adds a couple of wrinkles.
First, you'll need the right harness to connect your new car stereo to the Ford amp, which is available at a special price with most receiver orders from Crutchfield. You'll also want to select a car stereo that features dedicated subwoofer preamp outputs in order to get the best performance from the Mach system's factory subwoofer.
Finally, the Ford amp is used to getting a 5-volt signal from the stock radio, so the 12-volt signal from a new stereo will cause an audible (and annoying) thump every time you turn on the vehicle. You'll need to purchase an inexpensive 12-volt to 5-volt adapter to cure this problem. Trust us, it's worth every penny.
Tools needed: Small flat-blade screwdriver, DIN tools
Read our Car Stereo Buying Guide for shopping tips and advice.
Shop for car stereos that fit your Ford Escape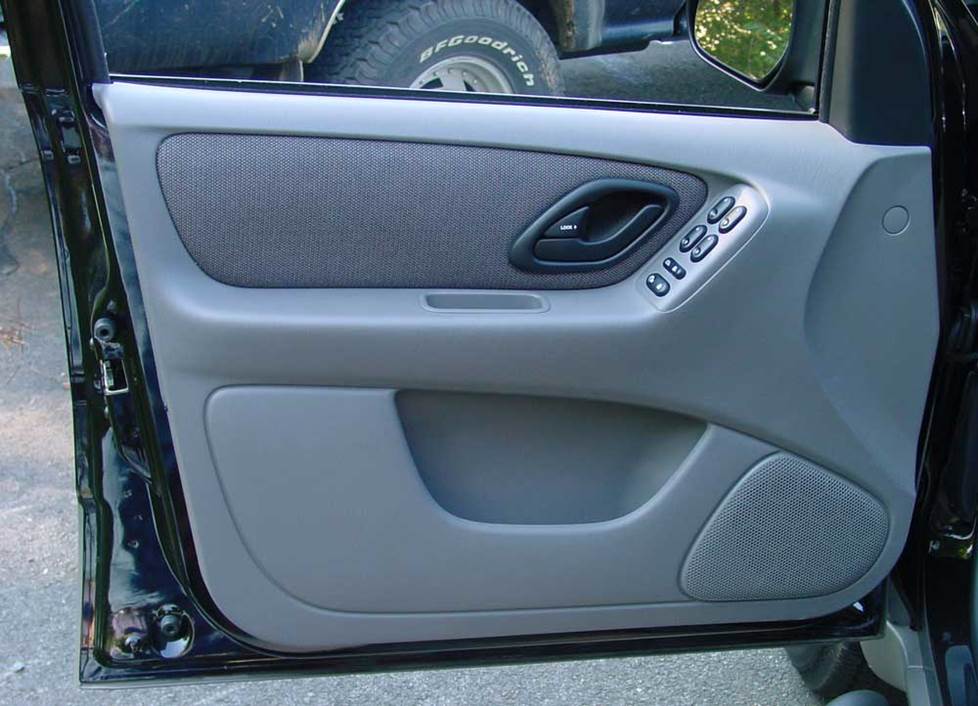 The front door speakers sit pretty low in the doors. They're easy to replace, though. (Crutchfield Research Photo)
Removing the factory speakers
In vehicles equipped with the base system, the front and rear doors hold 4-ohm 6"x8" speakers, located way down low in the door panels.
There are only six steps required to get the front-door panel off the door, then remove and replace the front speakers. You have plenty of room in those doors, so a wide selection of speakers will fit. You can also install 5-1/4" speakers with the help of a mounting bracket. Harnesses are available for both doors so you don't have to cut off the factory plugs.
Since the speakers are down by your feet, you should consider component speakers up front to raise the soundstage to a more satisfying level. Installing the tweeters in the sail panels involves a bit of customization, but it's worth it. It'll sound like someone removed a blanket from your speaker system.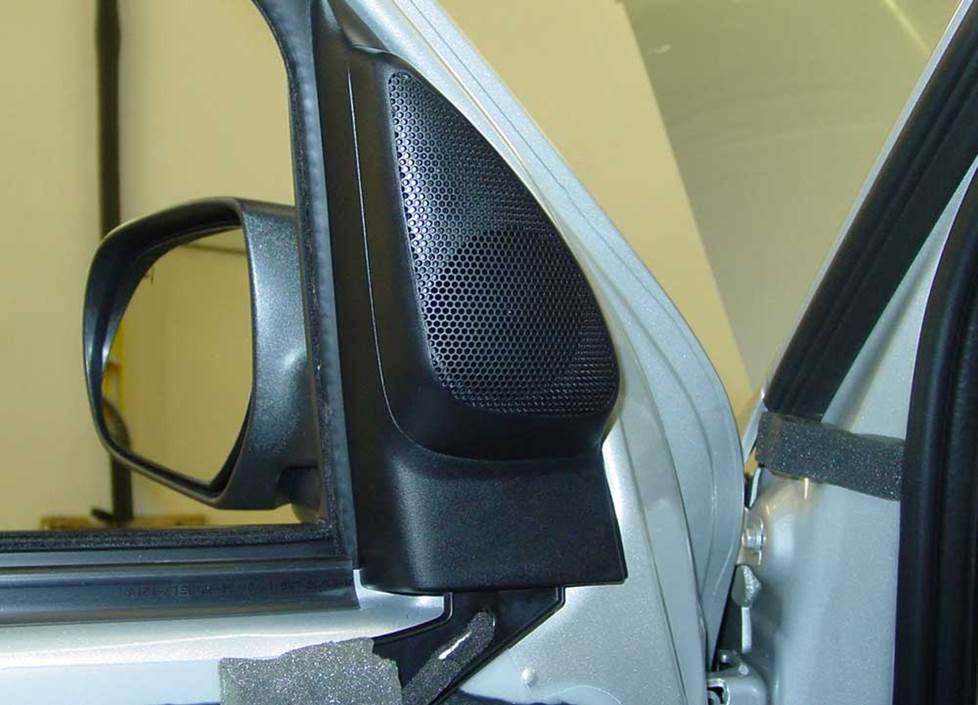 The factory tweeter location in the 2004-up Escape (Crutchfield Research Photo)
With the Mach system, speaker replacement is identical to the non-Mach setup, except that Ford added a 2-5/8" tweeter to each of the front doors beginning in 2004. You can pry off the sail panels with a panel tool, so removing the tweeters is pretty simple.
You'll have to fashion some kind of mounting bracket to hold the new tweeters, but that's not difficult. We suggest getting a couple of our universal backstraps to help with the job. They can be bent or cut to the size and shape you need.
Also, a wiring harness isn't available for this tweeter location, so you'll have to cut off the factory plugs to attach the wires to your new tweeters
Tools needed: Phillips screwdriver, small flat-blade screwdriver, panel tool, 7/32" socket, ratchet and extension
Read our Car Speakers Buying Guide for more information
Shop for speakers that fit your Ford Escape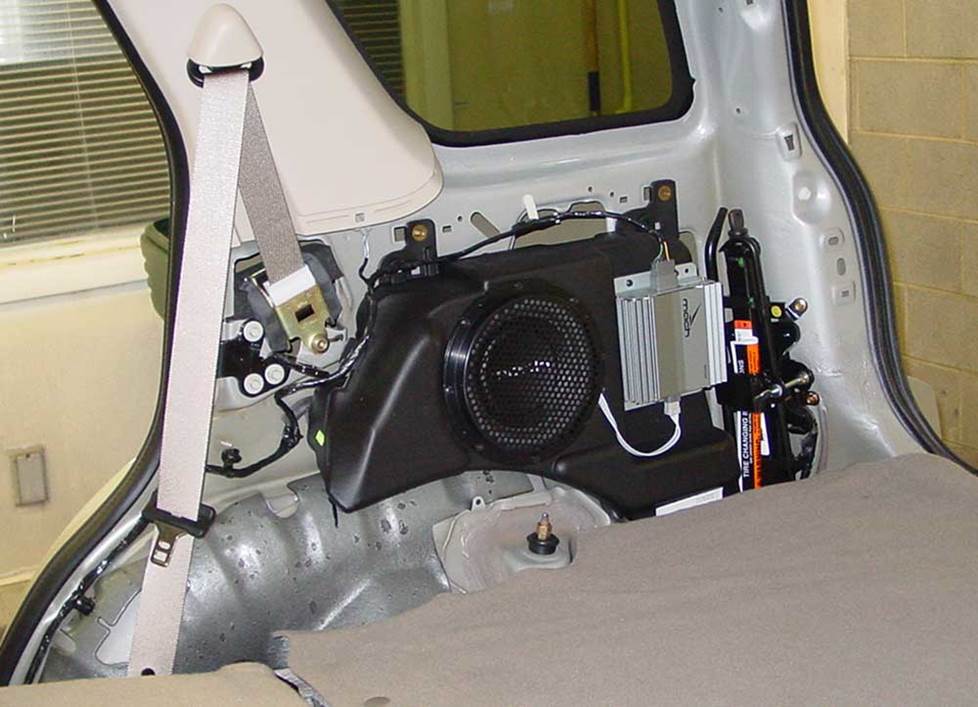 You'll find the factory sub and amp behind the Escape's right rear quarter panel (Crutchfield Research Photo)
Bass in your Escape or Mariner
In the Mach system, you'll find an 8" subwoofer in a plastic enclosure behind the rear quarter panel. Replacing it is easy, but you'll need to drill some new holes for the mounting screws. The factory sub is a dual 1.3-ohm voice coil model, so you'll lose a lot of volume if you replace it with a DVC sub with a higher impedance.
If you're going to go in that direction, you should also replace the sub's amplifier. You'll find several custom-fit subwoofer choices for the Ford Escape from MTX and JL Audio. Enter your vehicle info to see what's available. All the disassembly instructions can be found in your Crutchfield MasterSheet.
Learn more about building a bass system in our Car Subwoofer Buying Guide.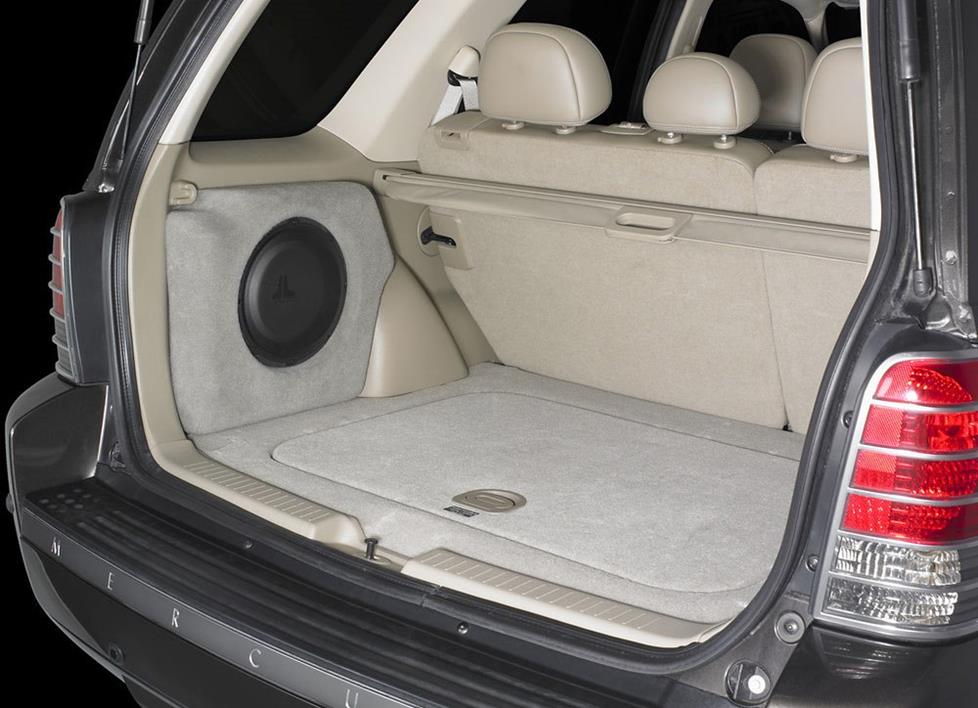 This JL Audio Stealthbox fits select 2001-12 Ford-built SUVs (JL Audio photo)
Other options for your Escape or Mariner
Here are a few more ideas for your SUV.
Protect your carpeting with WeatherTech mats
Whether you're doing outdoorsy SUV-type stuff or just tooling around town, your Escape's factory floor mats might not be up to the job. A set of custom floor liners from WeatherTech will help protect the carpeting from dirt and damage.
Dynamat
A Dynamat Xtreme Door Kit is the perfect way to seal in sound. This heavy-duty insulating material is easy to install, and it really makes a difference. One kit will take care of the front doors in your Escape.
Security systems
Installing a security system in your Escape or Mariner isn't easy (security systems rarely are), but it's definitely a good idea. Our Crutchfield Advisors can help figure out what you need to get the job done, but we usually recommend taking your car and new gear to a professional installer.
Let's get started!
Ready to shop? Use our vehicle selector to find the gear that will fit your car or truck. If you have questions, give us a shout via phone, chat, or email