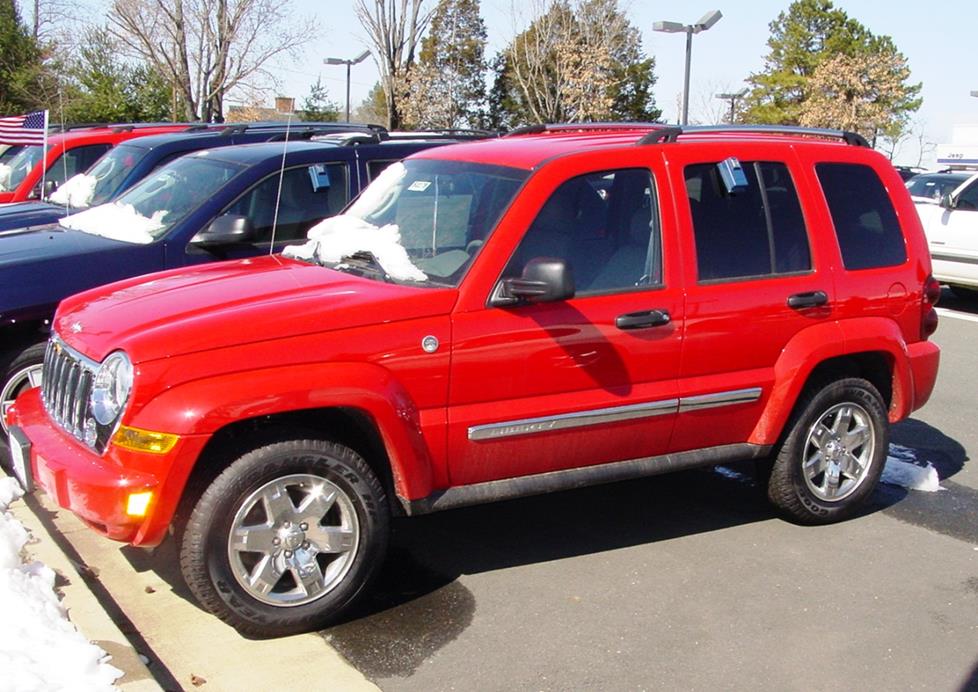 In brief: This Crutchfield Research Garage article gives you an overview of your Liberty's stock stereo system and your aftermarket upgrade options. We'll tell you all about:
Then, use our vehicle selector to find the gear that will fit your Liberty.
Overview of the Jeep Liberty
The 2002-07 Jeep Liberty is a compact SUV that's as capable of tackling the rocks and trails as it is at handling city streets. This rugged little vehicle is Jeep's response to the success of smaller SUVs like the Honda CR-V and Toyota RAV4.
The Liberty factory audio options were somewhat limited. You could choose the base system with a cassette or CD receiver in the dash, powering big 6-3/4" speakers in all four doors. Or, you could step up to the Infinity system, with a CD/cassette receiver or in-dash 6-disc changer/receiver, and an amp on each side powering both door and dash speakers.
If you want to take your tunes to a new level and enjoy them off-road, you'll have plenty of options for this Jeep, ranging from a new CD receiver and speakers to serious bass from a subwoofer enclosure.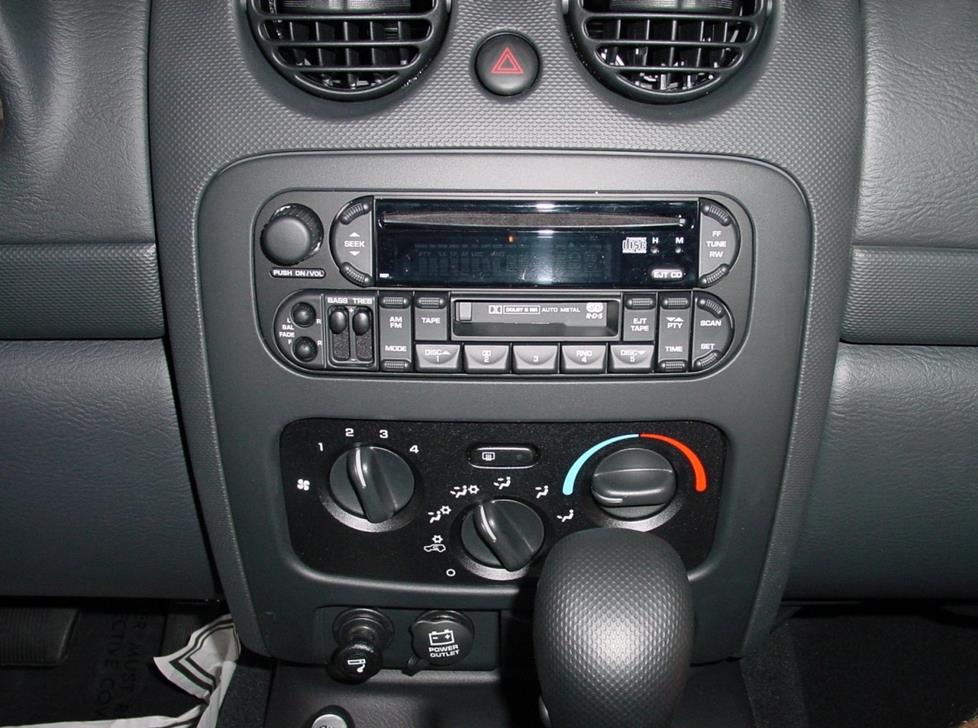 The upgraded factory radio (Crutchfield Research Photo)
The factory stereo system
Base system: The factory system is equipped with six speakers, a CD player with CD changer controls and a fixed mast antenna. The Liberty accepts a DIN (2" tall) receiver with 7.89 inches of room to work with, so any single-DIN radio should easily fit into the space with a mounting kit.
You will also need a wiring harness if you don't want to cut and splice any of the factory wiring, along with an antenna adapter that connects the Liberty antenna cable to the new receiver. The dash kit and harness needed for this installation are available at a deep discount with all Crutchfield receiver orders, along with our free step-by-step MasterSheet™ instructions for your Liberty.
The one downside to replacing your factory receiver is that you will lose the ability to talk on your phone using the hands-free system if you had this option from the factory. You'll have to add a Bluetooth® adapter to the new receiver you install or, better yet, pick a car stereo with built-in Bluetooth connectivity.

The rather expansive radio cavity (Crutchfield Research Photo)
Infinity system: The upgraded Infinity system came with six premium Infinity speakers in place of the six standard speakers. The 6-3/4" speakers in the front doors have amps on them that power the front and rear door speakers, along with the dash speakers, for better sound quality.
You'll go through the same process to replace the radio in the Infinity system as you do with the radio in the standard system, and you'll use the same kit, harness, and antenna adapter. The only difference is that the new stereo is tied into the Infinity amps in each front door. You'll get better performance out of your Infinity speaker system with a new stereo in the dash, but you also have the option of bypassing the Infinity amps by running new wire to all of the speakers.
Tools needed: Panel tool, Phillips screwdriver
Shop for car stereos that fit your Jeep Liberty
Steering wheel audio controls
It's relatively easy to retain your Liberty's steering wheel audio controls when you install a new stereo. When you enter your vehicle information, our database will choose the adapter you need to make your factory steering wheel controls work with your new receiver.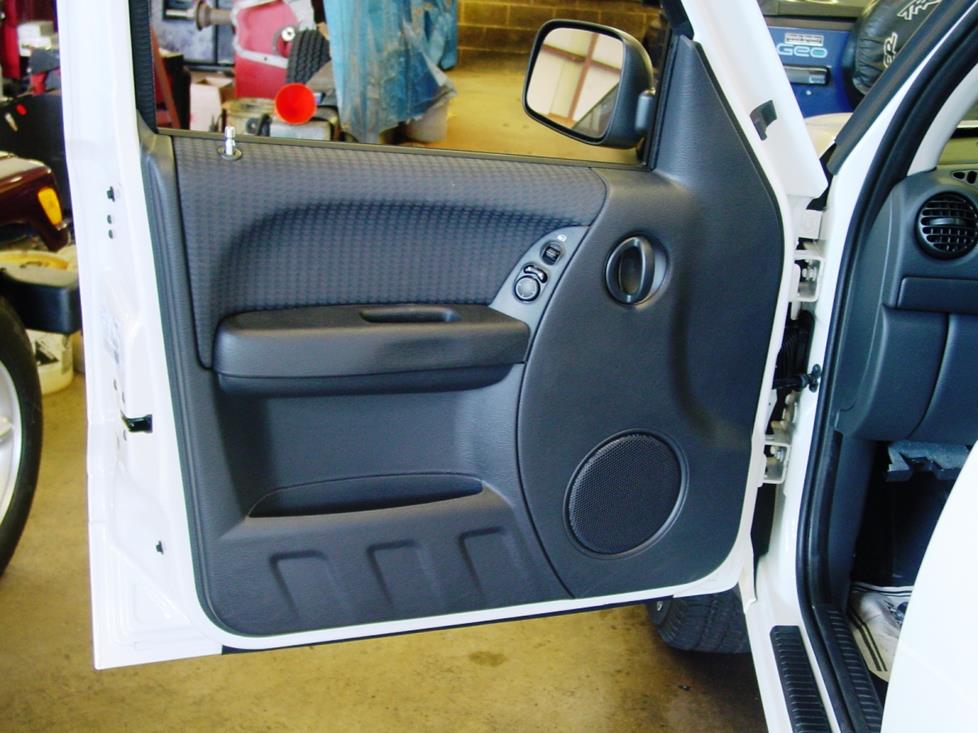 You'll need to remove the Liberty's door panels to access the speakers (Crutchfield Research Photo)
Removing the factory speakers
Base system: The Liberty's front and rear doors house 6-3/4" speakers, and big aftermarket 6-3/4" speakers are the easy fit. But you can also put in 6-1/2" or 5-1/4" speakers with the help of a speaker mounting bracket, so that increases your choices. Jeep uses 2-ohm speakers in all of the doors so you'll want to use Infinity, JBL, or other 2-ohm speakers to replace these if you're keeping the factory radio, or you'll lose some output. You'll keep the factory speaker grilles for all of these speakers.
All four of the door speakers are the same size and are pretty straightforward to remove and replace. You'll need to remove the door panels (two Phillips screws and eleven plastic clips around the edge of the door panel), remove the speaker from the door (three Phillips screws) and disconnect the speaker.
Detailed stereo and speaker removal instructions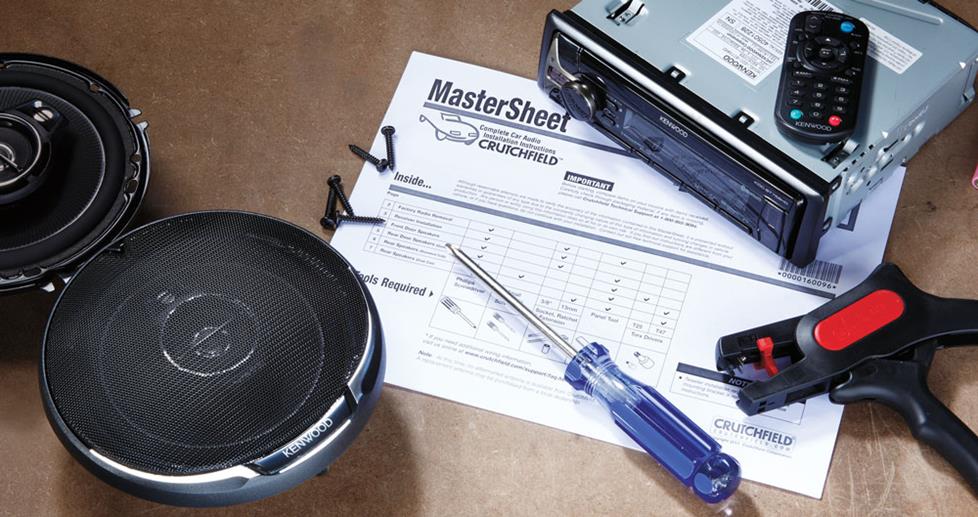 With step-by-step disassembly instructions and plenty of up-close, detailed photos, our exclusive
Crutchfield MasterSheet
™ takes the guesswork out of removing the factory stereo and speakers. It's free with your Crutchfield order, or you can purchase one separately for just $9.99.
No wiring harnesses are available to plug into the factory speaker connectors used in the Liberty, so you'll have to splice the new speaker wires to the factory wires, or use a set of Posi-Products speaker connectors.
If you're installing a speaker with a mounting bracket in the front or rear doors, you'll need to cut or remove the rain shield between the door panel and the door, to gain more clearance for the speaker magnet. You can use speaker baffles to protect your new speakers if you remove the rain shield.

Cut away the plastic rain shield to gain more depth (Crutchfield Research Photo)
Infinity system: Each front door has an amp attached to the speaker that powers the 6-3/4" speaker in the front door, the 6-3/4" speaker in the rear door, and the tweeter in the dash.
You have two choices when you replace the Infinity system's speakers: 1) run new speaker wire from the speakers to your new stereo (or adapt the existing wiring); or 2) you can actually remove the Infinity amp from each front door factory speaker, and use it to power your new speakers. You'll need to extend the speaker wires a few inches to reach your new speakers.

These speakers can be replaced by tweeters, so installing a component system is a smart choice for the Liberty (Crutchfield Research Photo)
Dash speakers
You have a 2.8" 4-ohm speaker located in each corner of the dash in your Liberty, wired in parallel off the front door speaker. You will have to fabricate mounting brackets to install the tweeters that are part of a component speaker system, but you can keep the factory grilles.
Getting to these speakers takes some work. You'll have to remove both pillar trim panels (T20 Torx driver or 5mm ratchet and socket) and pry up the front edge of the dash trimpanel to release 13 metal clips. Two Phillips screws hold the speaker in place. You'll need to use Posi-Products in this location, too.
Tools needed: Phillips screwdriver, small flat-blade screwdriver, panel tool, wire strippers, crimper and connectors (or Posi-connectors), electrical tape
Shop for speakers that fit your Jeep Liberty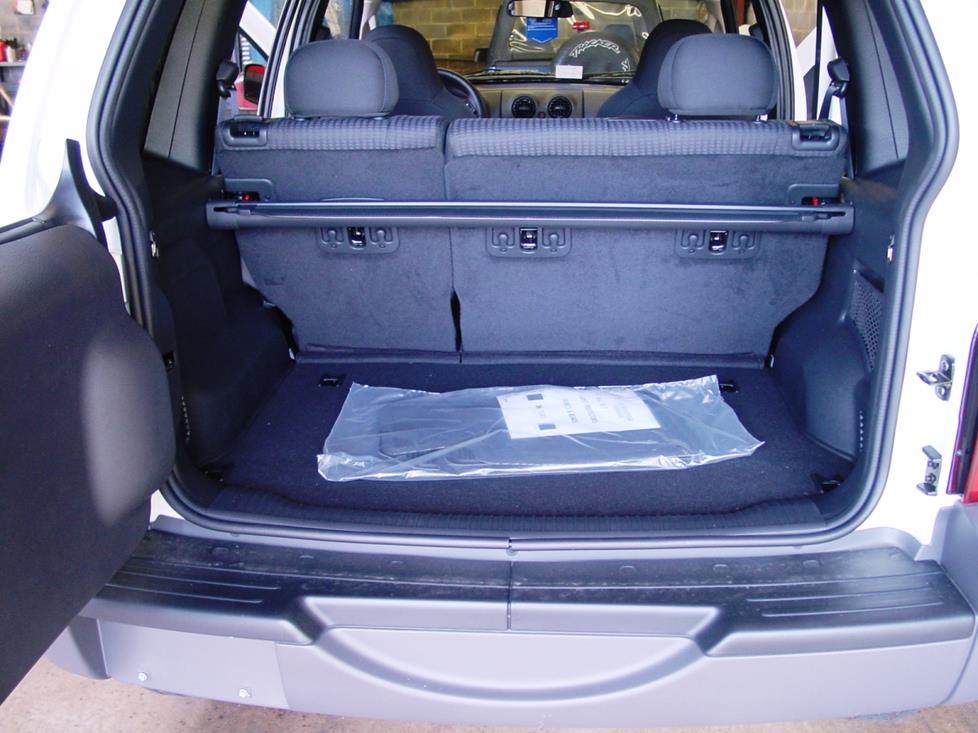 There's plenty of room for subwoofers in this Jeep (Crutchfield Research Photo)
Bass in your Jeep Liberty
If you're just looking for a little low-end reinforcement, you can install a small powered subwoofer under a seat. The Liberty's cabin is relatively small, so you might be surprised by how much punch you'll get. And the cargo area is easily big enough to hold a subwoofer box and still give you room for other, less-important cargo.
Shop for vehicle-specific subwoofers for your Jeep Liberty
Other options for your Liberty
Here are some other ways to improve your Liberty's sound and functionality:
Amps
The factory Infinity system has two small amplifiers attached to the speakers, but these won't give you the best sound when you upgrade your receiver or speakers. You'll get the best sound quality when you bypass or remove the factory amps and go with a new aftermarket amp to power all the speakers. You can fit a new amp underneath the front or rear seats of the Liberty to keep it out of the way.
Navigation
The Liberty will only accommodate single-DIN receivers, so an aftermarket GPS receiver won't work for this vehicle. Portable navigators do a great job, and you can move them from vehicle to vehicle, which is good news if you drive more than one vehicle.
iPod® control
If you don't want to upgrade to an aftermarket receiver with built-in iPod controls, you can still add this little luxury pretty easily with an adapter that connects your iPod to your factory radio. Whether you choose a receiver or an adapter, you'll need to remove the factory radio and plug the iPod control into the back. Adapters are available for almost any version of the Liberty, but some won't work with a factory radio that has a CD changer.
Security systems
Installing a security system in your Liberty isn't easy (security systems rarely are), but it's definitely a good idea. Our Crutchfield Advisors can help figure out what you need to get the job done, but we usually recommend taking your car and new gear to a professional installer.
Let's get started!
Ready to shop? Use our vehicle selector to find the gear that will fit your car or truck. If you have questions of your own, give us a shout via phone, chat, or email