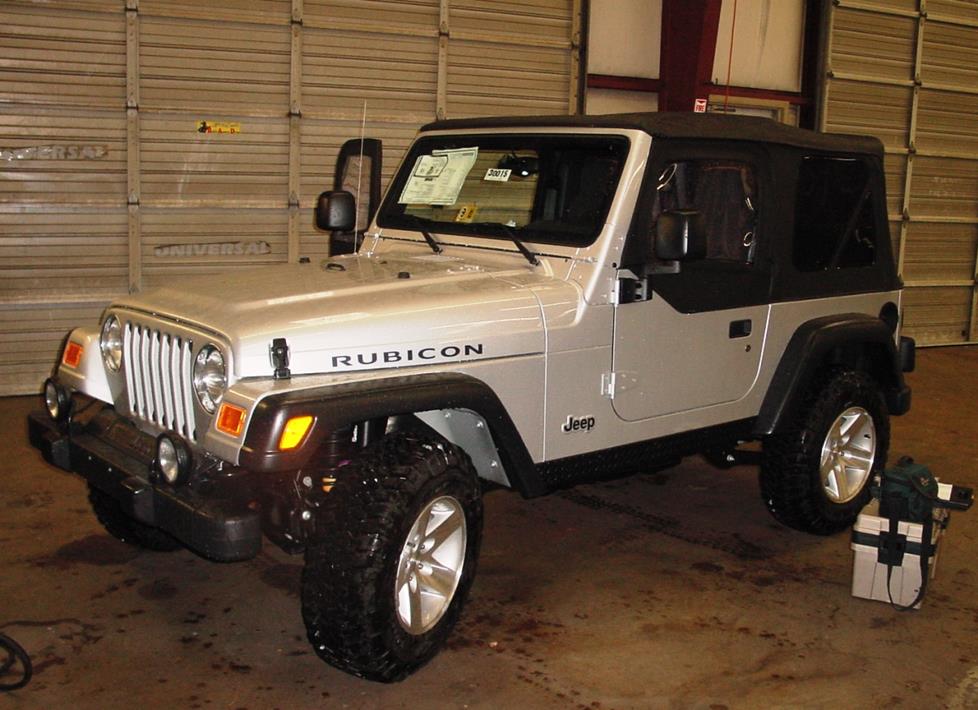 In brief: This Crutchfield Research Garage article gives you an overview of your Jeep's stock stereo system and your aftermarket upgrade options. We'll tell you all about:
Then, use our vehicle selector to find the gear that will fit your Wrangler.
Overview of the Jeep Wrangler
Traditionally, great sound and Jeep Wranglers have not gone hand in hand, but this particular Wrangler actually gives you some pretty cool options for building a rockin' audio system. You'll find enough room in the dash and sound bar for just about any replacement speakers, and some interesting options for bass, ranging from replacing the sub in the center console to amplified subs that fit behind the rear seat.
With a little bit of work, you can fit any DIN (2" tall) or double-DIN (4" tall) radio in the dash. That's really good news compared to Wranglers and CJ Series Jeeps of the past, which were definitely not built with audio excellence in mind.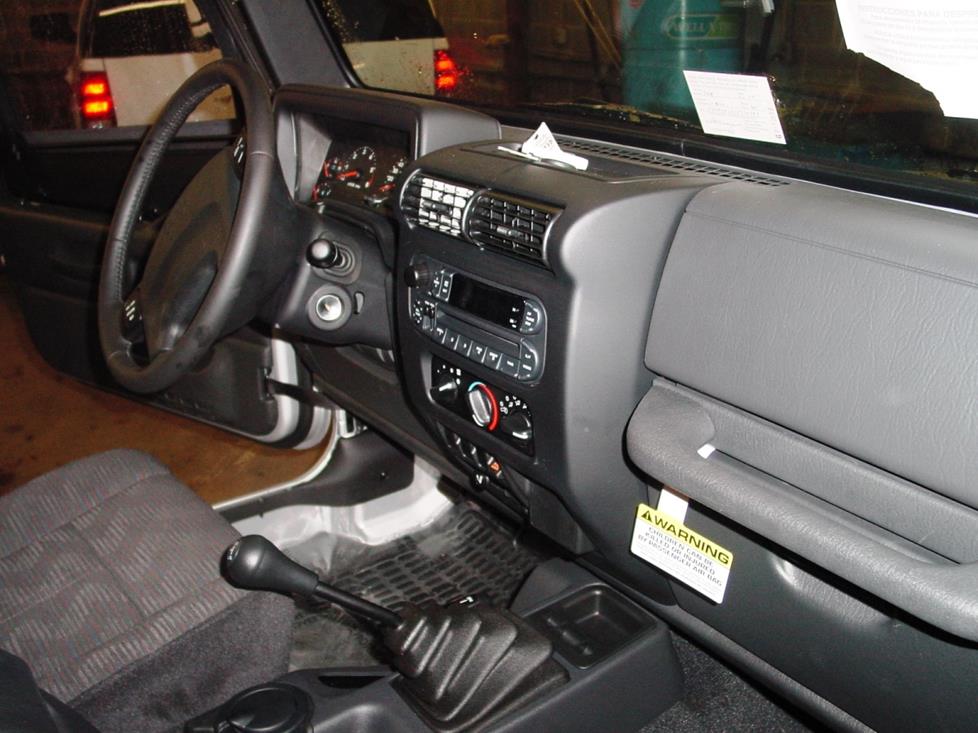 The Jeep's factory radio (Crutchfield Research Photo)
The factory stereo system
The Jeep Wrangler came with a standard AM/FM/CD receiver and offered two speaker options.
4-speaker system: two 4" 2-way speakers in the dash and two 5-1/4" speakers in the roll bar;
7-speaker system: two 4" speakers with accompanying tweeters in the dash, two 5-1/4" speakers in the roll bar, and a 6-3/4" sub in the center console.

A closeup of the Jeep radio (Crutchfield Research Photo)
Removing the factory radio
There's only about 6" of space behind the dash, but you can unbolt and remove the factory radio's rear support without too much trouble, giving you plenty of room for a new receiver. You'll need a mounting kit to trim out the new radio, a wiring harness that allows you to connect it without cutting the factory wiring, and an antenna adapter that connects your Jeep's antenna to the new radio. These installation parts are available at a deep discount with your Crutchfield stereo order, and our step-by-step MasterSheet™ instructions for your Wrangler are included free.
Tools needed: Phillips screwdriver, flat blade screwdriver, 10mm socket wrench, panel tool
Read our Car Stereo Buying Guide for shopping tips and advice.
Shop for car stereos that fit your Jeep Wrangler
Detailed installation instructions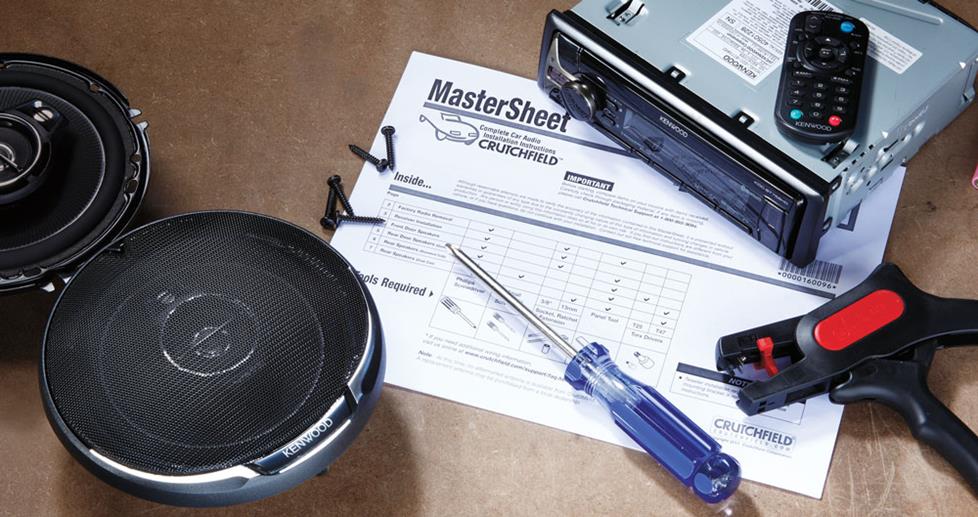 If you're looking for step-by-step instructions on how to install a car stereo or speakers in your car, there's nothing better than our exclusive
Crutchfield MasterSheet
™. This detailed, well-illustrated document is free with your Crutchfield order, or you can purchase one separately for $9.99.
Steering wheel audio controls
In most cases, it's reasonably easy to retain your truck's steering wheel audio controls when you install a new stereo. When you enter your vehicle information, our database will choose the adapter you need to make your factory steering wheel controls work with a compatible aftermarket receiver.
Removing the factory speakers
The Wrangler's speakers are relatively easy to reach and replace, so you'll get much better sound with minimal effort.
4-speaker system
This Jeep will accept both 4" and 4"x6" speakers in the dash with the help of mounting brackets, and 5-1/4" speakers in the sound bar. It's a good idea to get speaker harnesses along with your new speakers. They'll allow you to attach the new speakers to the plugs that connect to the Jeep's factory speakers, and they make it easier to reinstall the factory speakers if you ever sell your truck These brackets and speaker wiring harnesses are available at a very nice discount with every Crutchfield speaker order.
You have plenty of options for replacement speakers, as there's plenty of room in both locations. Your Wrangler may not have speakers in the dash, in which case you'll have to go to your Jeep dealer for speaker grilles and brackets. Many Wrangler owners who drive with their top off choose marine-certified speakers that won't be bothered by an occasional shower or condensation.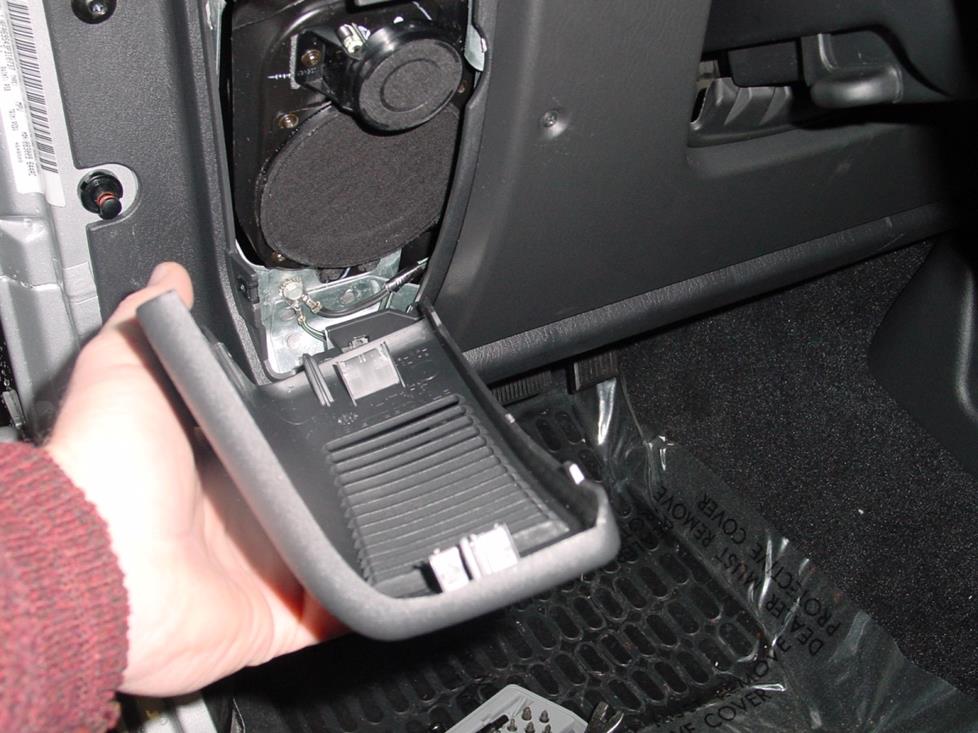 Factory front speakers in 7-speaker system (Crutchfield Research Photo)
7-speaker system
Each of the front dash openings houses a 4" speaker and a tweeter, and you can access the location by removing two small screws. The easiest upgrade is to install 4" coaxial speakers and remove the factory tweeters.
If you're willing to do a little work, you can put a nice set of 4" components up front, but you'll have to fashion mounting plates for aftermarket tweeters. You can also add 4"x6" speakers. Most will fit there, with or without a plate. You'll need a bracket for pretty much any installation in this spot.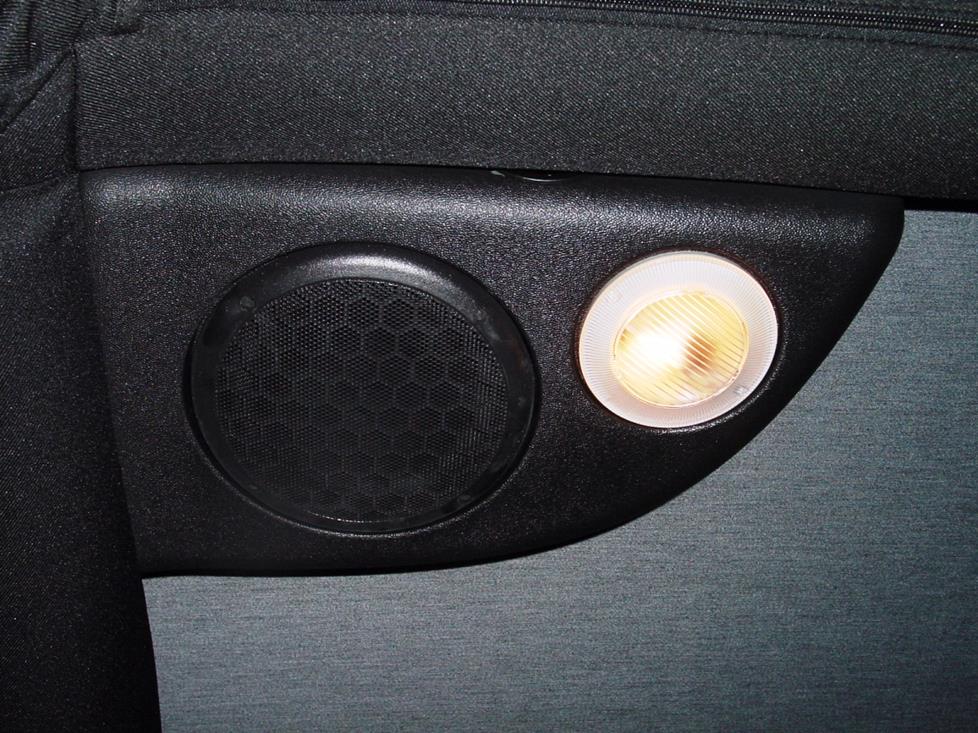 The Wrangler's soundbar speaker (Crutchfield Research Photo)
Sound bar speakers
You only have to remove a few screws to replace these speakers, and you have enough room for almost any 5-1/4" speakers to fit.
Tools needed: Phillips screwdriver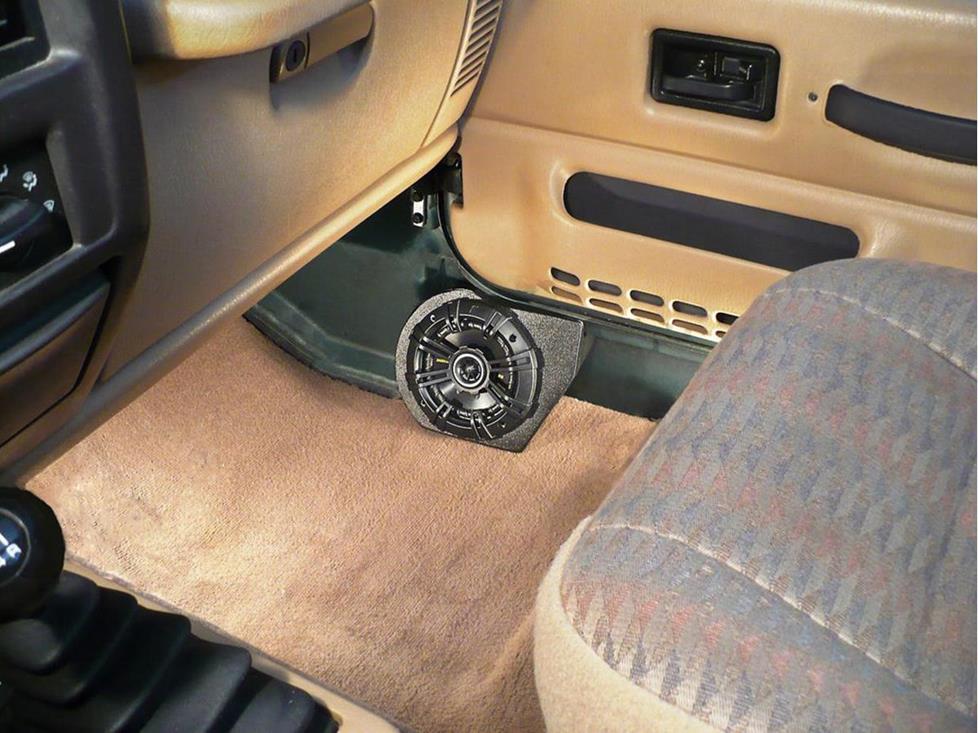 Mod Pods are a terrific speaker option for your Wrangler (Select Increments photo)
Custom speaker installations
Since the Wrangler is such a popular vehicle, there are some options available if you want to put speakers in other locations. These options also let you use larger 6-1/2" speakers, rather than being limited to 4" or 5-1/4" sizes.
Select Increments offers Mod-Pods for the Wrangler, which are unloaded enclosures that hold 5-1/4" speakers just below the Jeep's doors. They also build Quad-Pods, which are unloaded enclosures that hold 6-1/2" speakers and 8" subs in the Jeep's back corners.
Read our Car Speakers Buying Guide for more information
Shop for speakers that fit your Jeep Wrangler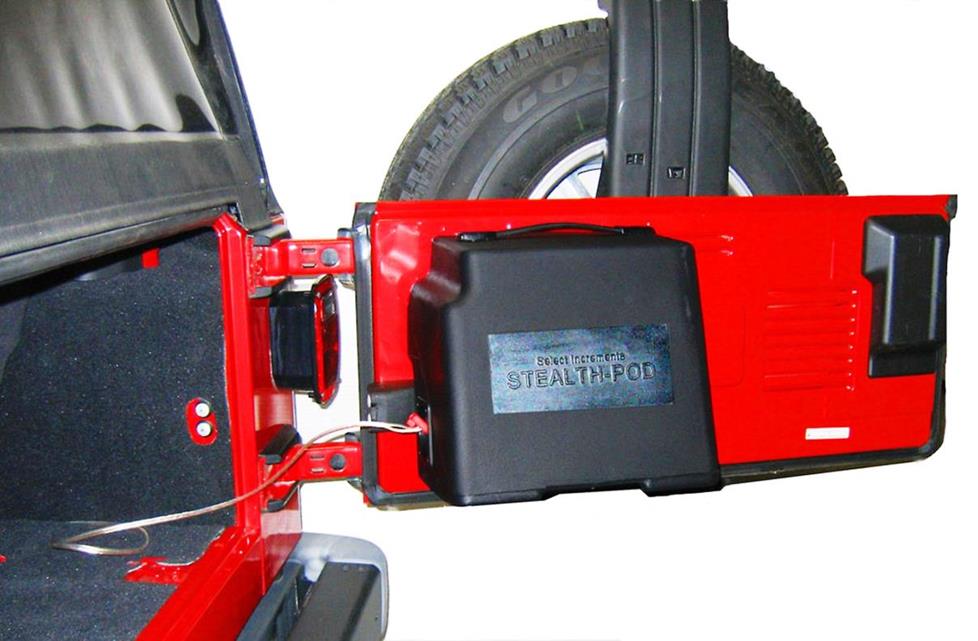 Select Increments Stealth-Pod (Select Increments photo)
Bass in your Jeep Wrangler
Bumping up the bass in your Wrangler will really improve your overall sound. You have several options to choose from, here, too.
4-speaker system
Lots of Wrangler owners install an amp and sub enclosure in the area behind the seats. If you like to get a lot of mud on your Wrangler, it's a good idea to splice connectors into the power and speaker wires so you can quickly remove your sub from the back of your Jeep when you're heading out on the trail. You'll also appreciate the quick disconnect if you're headed to a risky area and don't want someone walking off with your gear.
You'll also find a wide range of subwoofer options available. Select Increments makes the Stealth-Pod, an enclosure that bolts onto the back door and holds a 10" sub of your choice.
MTX also makes a variety of dual 10" amplified and unamplified enclosures that fit behind the back seat. If you're into building your own enclosure, here's the available space: Width (side to side) = 35", Height = 15", Depth (front to rear) = 7" at top, 10" at bottom. The height measurement brings the box even with the top of tailgate.
7-speaker system
You'll have to remove the center console to replace the factory subwoofer. It's not a difficult job, but it'll take some time. Here are the dimensions for this factory sub location:
Mounting depth: 2.789 inches
Magnet diameter: 4.178 inches
Mounting height: 0.712 inches
You may have to re-drill screw holes, but you should be able to find a small 6-1/2" or 6-3/4" sub that's within these dimensions. And, as long as you're going to drop an upgraded sub in the console, you might as well put a small amp under the seat to give it some decent power. If you're keeping the factory amp, you'll want to replace the factory dual 2-ohm voice coil sub with another DVC sub so you don't lose power.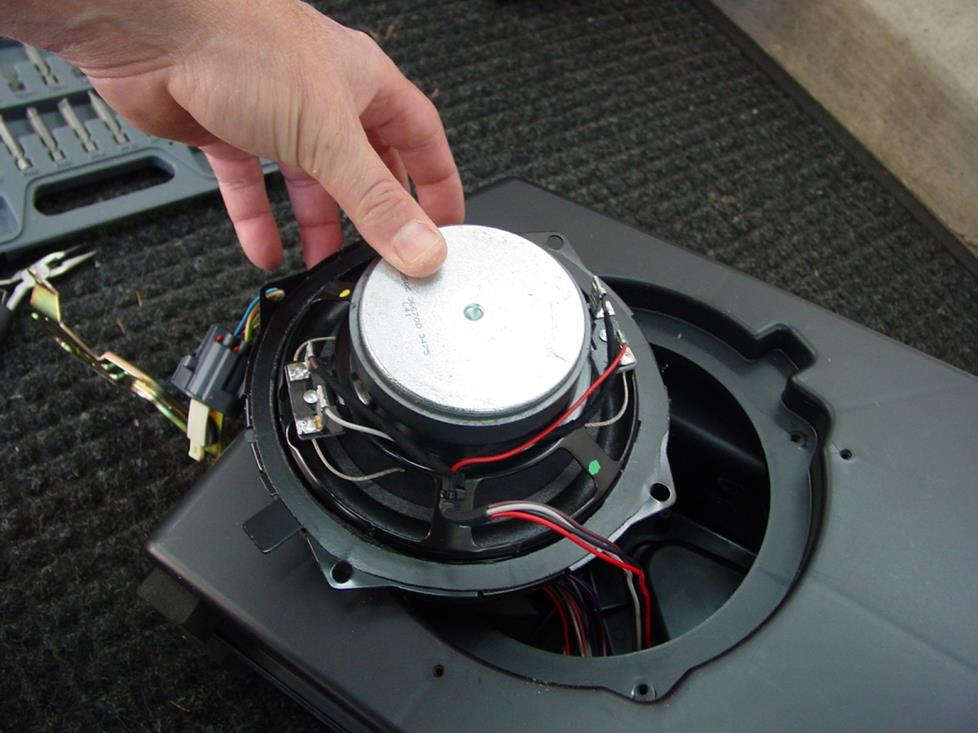 Here's the factory sub, removed from the console (Crutchfield Research Photo)
Tools needed: Phillips screwdriver, panel tool, 10mm socket wrench (with ratchet and extension), T20 and T30 Torx drivers, needle nose pliers
Learn more about building a bass system in our Car Subwoofer Buying Guide.
Shop for vehicle-specific subwoofers for your Jeep Wrangler
Other options for your Wrangler
Here are some other ideas for improving your Jeep's sound, security, and appearance:
Interior protection
When you head to the great outdoors in your Wrangler, some of the outdoors will undoubtedly find its way into your truck. portable GPS from Garmin, Magellan, or TomTom will mount on your dash and give you turn-by-turn directions, traffic updates, and everything you need to make your trip go smoothly. Plus, when you get where you're going, you can put your GPS in your pocket and hit the trail.
Security systems
Installing a security system in your Wrangler isn't easy (security systems rarely are), but it's definitely a good idea. Our Crutchfield Advisors can help figure out what you need to get the job done, but we usually recommend taking your car and new gear to a professional installer.
Jeep Wrangler Audio FAQ
I'm OK with the power of the Jeep system, but I'm constantly turning up the bass control trying to get more punch. What should I do?
You might try adding a powered sub first. Cranking up the bass control puts a huge strain on your Jeep's radio, and the extra bass produced by a sub allows you to turn the bass control back down so you get more usable power from your radio. The extra bass will also make your factory speakers sound better when you're driving with the top off.
My Jeep's system sounds cool in the driveway but it's useless at 55 mph with all the road noise. What should I replace first?
Whatever you replace, you should definitely buy an amplifier because clean power is what you need. The amplifiers that are built into car stereos are relatively low-powered — an outboard amp will give you more headroom so your system can coast along instead of straining to create the level you need on the highway.
I don't want to put a new radio in my Jeep, but my music doesn't sound that great. Will new speakers help?
Absolutely. If you're going to keep your factory radio, look for speakers that are efficient (sensitivity rating over 90 dB). Spend a little more money on the 5-1/4" speakers that are going over your head — a good tweeter will bring out all the details in your music without taking your head off.
Let's get started!
Ready to shop? Use our vehicle selector to find the gear that will fit your car or truck. If you have questions of your own, give us a shout via phone, chat, or email