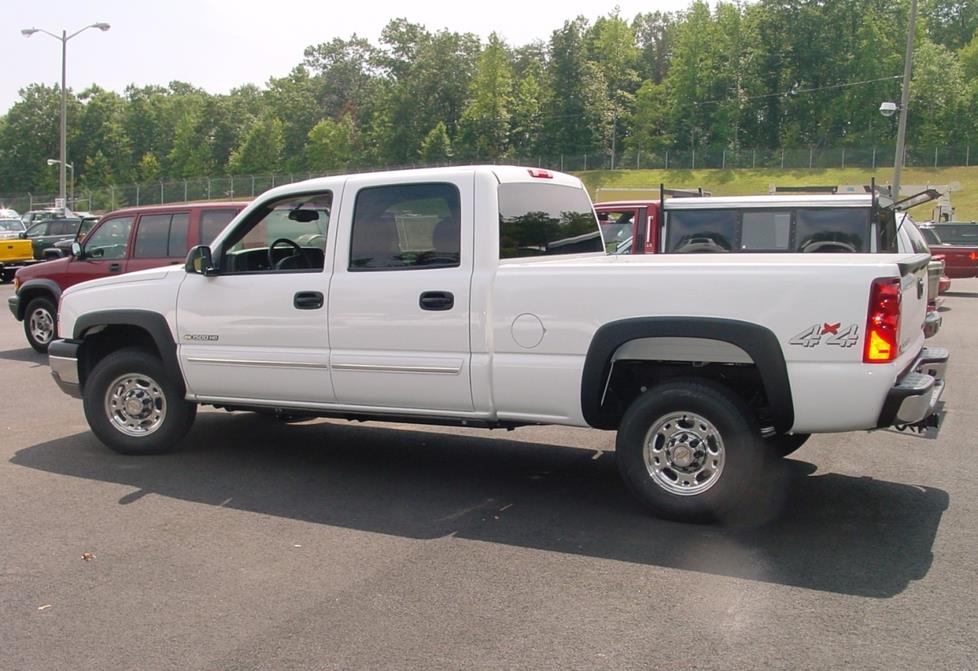 In brief: This Crutchfield Research Garage article gives you an overview of your truck's stock stereo system and your aftermarket upgrade options. We'll tell you all about:
Then, use our vehicle selector to find the gear that will fit your pickup.
Overview of the Silverado and Sierra Crew Cab
The great thing about full-size pickups trucks is the remarkable variety of engines, body styles, trim packages, towing packages, and bed lengths offered by most manufacturers. Whether you're looking for a super-spartan work truck or an ultra-luxurious highway hauler, there's a way to make it happen. The Chevy Silverado/GMC Sierra Crew Cab is a big, brawny pickup that's ideal for people who work hard, play hard, and need a truck that can stand up to all of it.
These are rugged, powerful vehicles with plenty of miles left to go, but the factory stereos are aging badly. Even the optional Bose® stereos are getting on in years, so if your pickup is still working for you, a stereo upgrade could be a smart investment. Smartphone compatibility, satellite radio, and Bluetooth® connectivity are just a few of the modern features that can make your Silverado or Sierra a much more comfortable place to spend time
The 2007 body styles: the Classic (left) has a more rounded nose while the new style (right) is more boxy
Note: The chassis discussed here, known inside GM as the GMT800, was replaced by the new GMT900 models in 2007, but still hung around for another year as the '07 Silverado Classic. If you have an '07 and you're not sure which version you have, check the exterior photos above and see which front end looks like your truck. If yours looks like the new Silverado, see our profile for the 2007-2011 Chevy Silverado.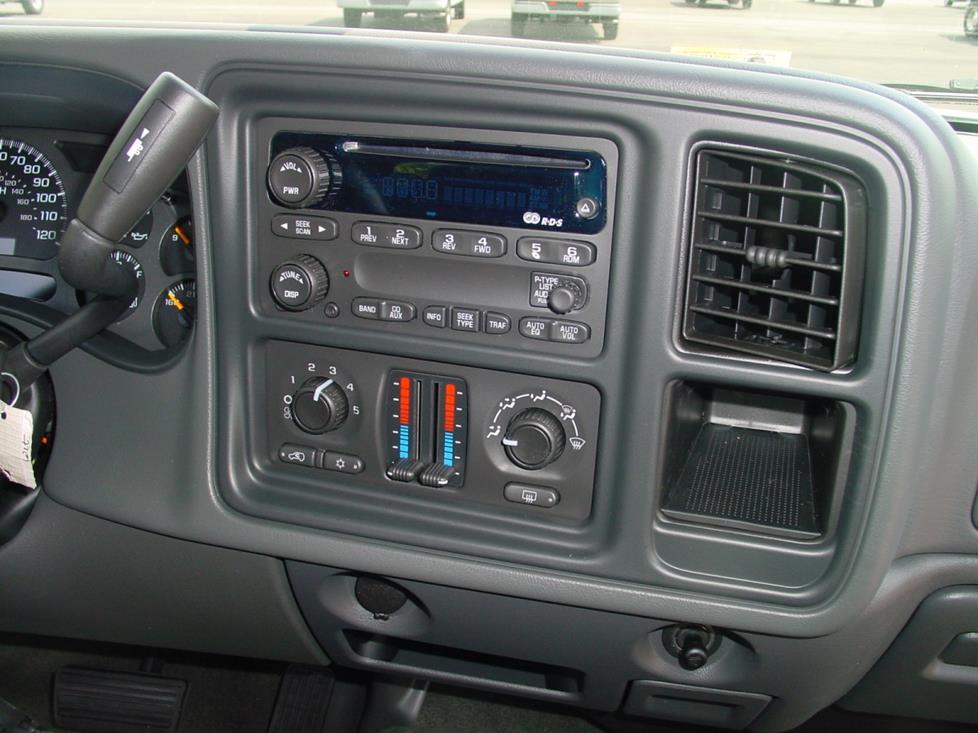 The factory radios were pretty basic units (Crutchfield Research Photo)
The factory stereo system
The new-for-2003 dash and center console design still looks good, but it's also good news for anyone planning to install a new stereo. At first glance, the GM "standard corporate" unit found in the 2002 trucks looked like a double-DIN (4" tall) receiver, but it really wasn't. It was actually a bit of a "tweener," so double-DIN models wouldn't fit in the opening.
The 2003-up trucks, on the other hand, have a legitimate double-DIN opening, so you can install a big screen DVD or navigation receiver if you want to. While a vast number of single-DIN (2" tall) stereos will also work nicely, a single-DIN stereo with a flip-out screen won't because the screen will bang into the column-mounted shifter.
This radio kit is included at a discount with your order (Crutchfield Research Photo)
Removing the factory radio
Replacing the old radio isn't amazingly hard, but it isn't a cakewalk, either. The factory unit is very shallow due to the presence of a metal support bracket inside the dash. You'll need to cut the bracket out to make room for most new CD receivers – even the single-DIN models. This isn't hard, but if you're not comfortable cutting a metal bar out of a dashboard, you might want to turn the job over to someone who is – like a car audio professional.
Of course, if you listen to music stored on a smartphone or an MP3 player and don't need a CD player, then you should check out our selection of digital media receivers. There's no CD drive to worry about, so most of these all-digital models are shallow enough to fit into the opening without any mods.
If your truck is equipped with the Bose® system, you'll lose the compass and temperature display in the rear view mirror when you replace this factory receiver.
Detailed stereo and speaker removal instructions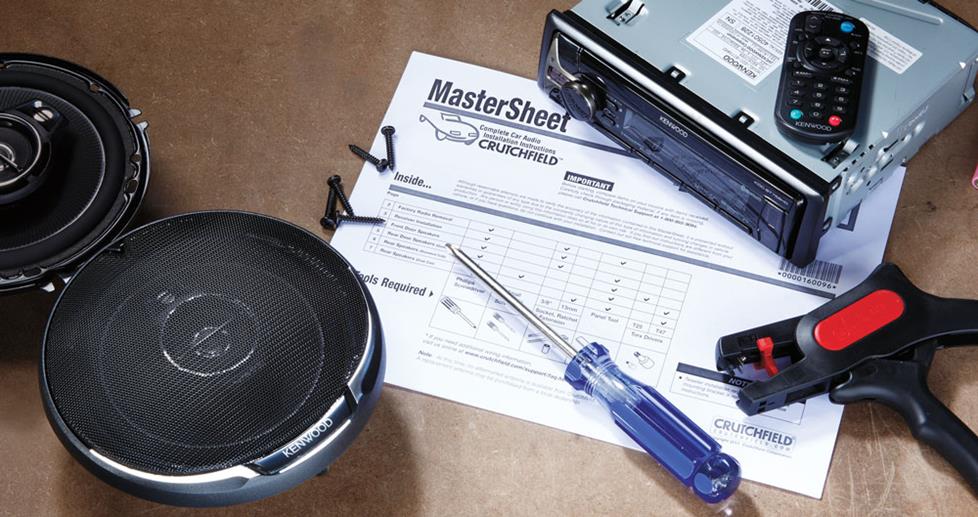 With step-by-step disassembly instructions and plenty of up-close, detailed photos, our exclusive
Crutchfield MasterSheet
™ takes the guesswork out of removing the factory stereo and speakers. It's free with your Crutchfield order, or you can purchase one separately for just $9.99.
Your truck's audible safety warning chimes are built into the factory radio, and you certainly don't want to lose those. You'll need an adapter that retains the warning chime and provides a switched 12-volt power source for your new radio. Crutchfield strongly recommends that you use the recommended adapter when you replace your radio. When you purchase it along with your new receiver, we'll give you a very nice break on the retail price of the adapter, not to mention the dash kit.
Tools needed: Panel tool, 7mm socket, ratchet, and extension
Read our Car Stereo Buying Guide for shopping tips and advice.
Shop for car stereos that fit your GMC Sierra 1500
Steering wheel audio controls
It's relatively easy to retain the steering wheel audio controls when you install a new stereo in your Silverado or Sierra. When you enter your vehicle information, our database will choose the adapter you need to make your factory steering wheel controls work with your new receiver.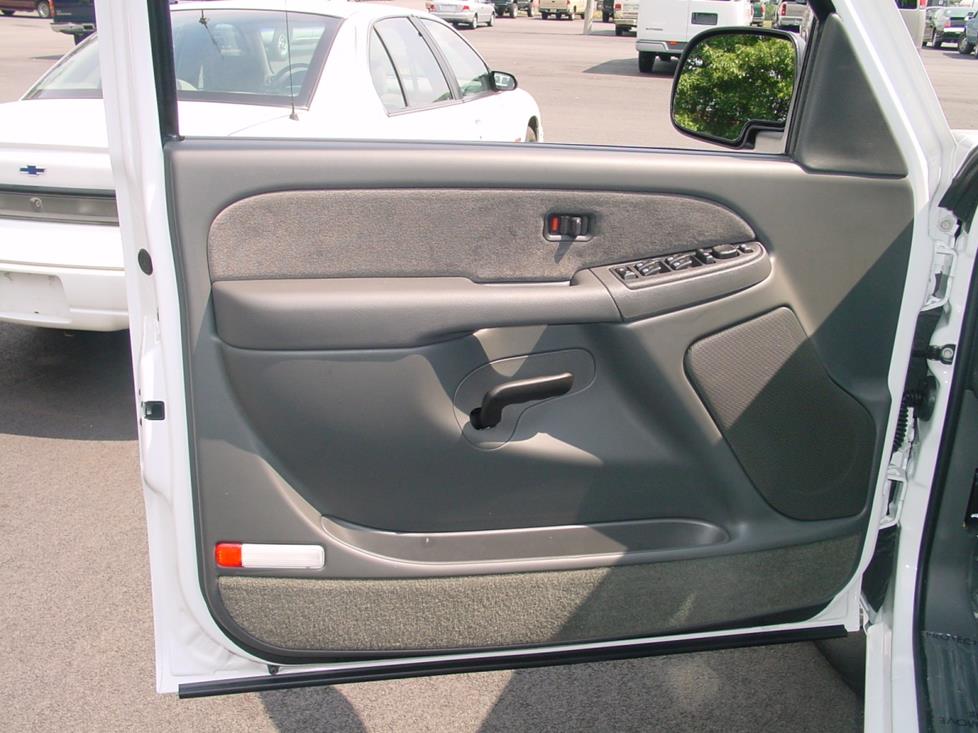 The big front door gives you a lot of speaker options (Crutchfield Research Photo)
Removing the factory speakers
This crew cab pickup has speakers in the front and rear doors. Some trucks will have A-pillar tweeters and a console-mounted subwoofer.
Front door speakers
The standard door speakers in the 2003-04 Silverado/Sierra are 6-1/2" models, so replacement speakers are easy to find. You can also install slightly smaller 5-1/4" speakers with the help of a mounting bracket, or, if you're willing to drill some new screw holes, slightly larger 6-3/4" models.
The 6-speaker stereo system introduced in 2005 featured 6-3/4" woofers and a set of tweeters in the front doors. As long as you've got the door panel off, you might as well replace the woofer and tweeter with a top-quality set of component speakers. You'll have to fashion a mounting plate for the new tweeters, or use our universal backstraps (a much easier solution!) to secure them in the doors.
If you install new 6-3/4" speakers, you'll need to drill new mounting screw holes, but if you go with smaller models, you can use the factory mounting bracket and the adapter that's included with your speaker purchase. Drilling a hole isn't hard, but work carefully and wear eye protection.
The specifics of what speakers fit in your Silverado's door(s) varies a little bit depending on model year, but the sizes remained the same throughout. Sometimes you need an adapter for a 6-1/2" speaker, too, but sometimes you don't. Our vehicle selector will give you the details when you start shopping for new speakers. If you need mounting brackets, they'll be included free with your Crutchfield speaker purchase. We also include speaker wiring harnesses with every speaker order.
These speakers are reasonably easy to reach and replace. You'll need to remove the sail panel and door panel, but this is a pretty simple DIY project and your MasterSheet will walk you through every step. The key is to work carefully and take it easy when you're prying away the plastic bits. They're not as young and flexible as they once were. Raise your hand if you know the feeling.
Tools needed: Panel tool, Phillips screwdriver, small flat blade screwdriver, shop rag, 7mm socket, ratchet, and extension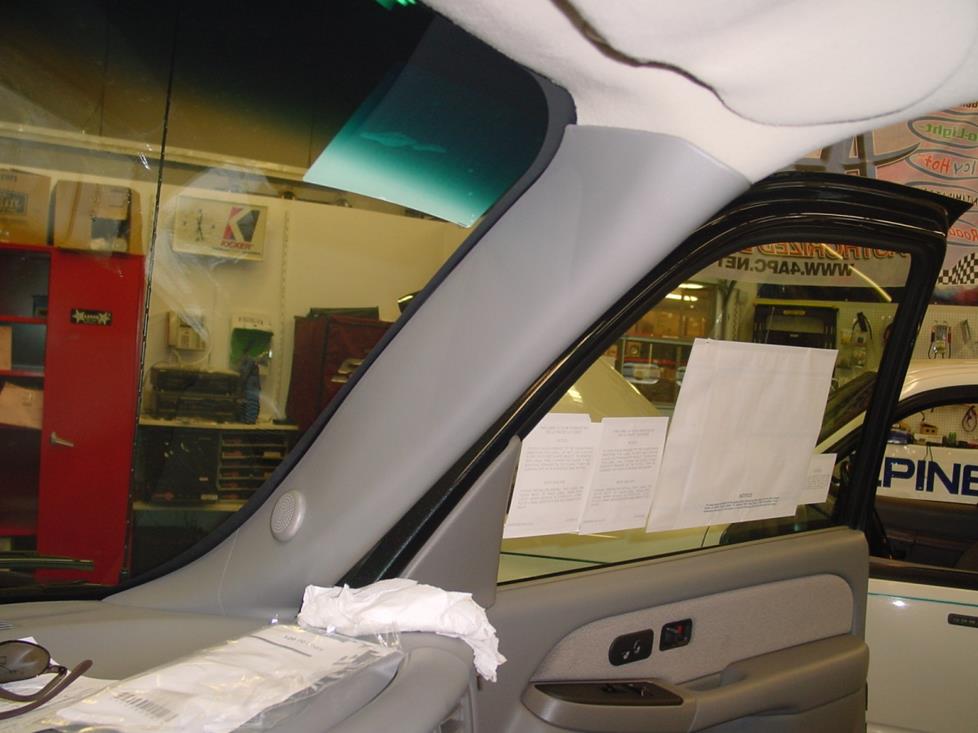 The Bose tweeters are in the A-pillars (Crutchfield Research Photo)
Front pillar tweeters
On 2003-04 Bose-equipped models, the tweeters are mounted in the A-pillars. You'll get to them by prying away the pillar trim with a panel tool, then using a small flat-blade screwdriver to pop the tweeter out of the grille. You'll need universal backstraps to secure your new tweeters in place. A wiring harness is not available for this location, so you'll also need a set of Posi-Products connectors to connect the tweeters to the factory wiring.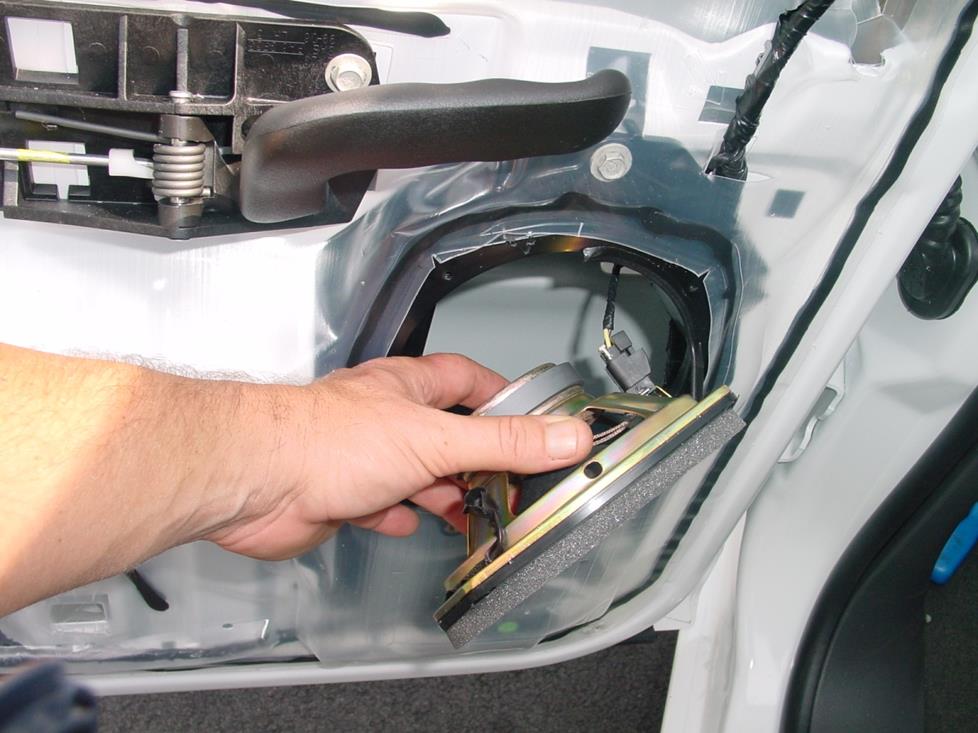 The rear speakers are easy to reach and replace, and a wide variety of aftermerket models will fit here (Crutchfield Research Photo)
Rear door speakers
Despite the heavy-duty nature of these trucks, the factory speakers in the rear doors can be relative lightweights. As with the front doors, plenty of 6-3/4", 6-1/2", and 5-1/4" aftermarket speakers will work in this location. If you install new 6-3/4" speakers, you'll need to drill new screw holes, here, too, but the factory mounting bracket and Crutchfield adapter will work with the smaller models. Again, scout the drilling area, work carefully, and wear eye protection.
If your truck is equipped with manual windows, you'll need to use a shop rag with a "shoeshine" motion to release the "C" clip and remove the crank. If it's equipped with power options, lift and pull out the door panel to disconnect the wiring harnesses.
It's entirely possible that the replacement speakers you purchased for your truck don't include mounting screws. Check the box before you start removing panels and pieces. It's always better to have the mounting hardware you need before you start the job.
Note: Upper-end Silverado/Sierra Crew Cabs were equipped with rear door tweeters, too. We have not yet had a chance to research these speakers, but if you have, please share your knowledge in the comments section below.
Tools needed: Panel tool, Phillips screwdriver, small flat blade screwdriver, shop rag, 7mm socket, ratchet, and extension
Read our Car Speakers Buying Guide for more information.
Shop for speakers that fit your GMC Sierra 1500
Bass in your Silverado or Sierra
The Bose system in the Silverado/Sierra Crew Cab included a subwoofer mounted in the center console. This speaker is not easy to reach, nor is it easy to replace. In fact, it's kind of a pain.
You'll have to remove a remarkable number of panels and pieces to access this forward-firing, dual-voice coil sub, then you'll need to fabricate a mounting bracket to install any aftermarket sub in this location. So yeah, it's a lot. If you have questions, it's a good idea to speak to one of our helpful Crutchfield Advisors before you dive into this project.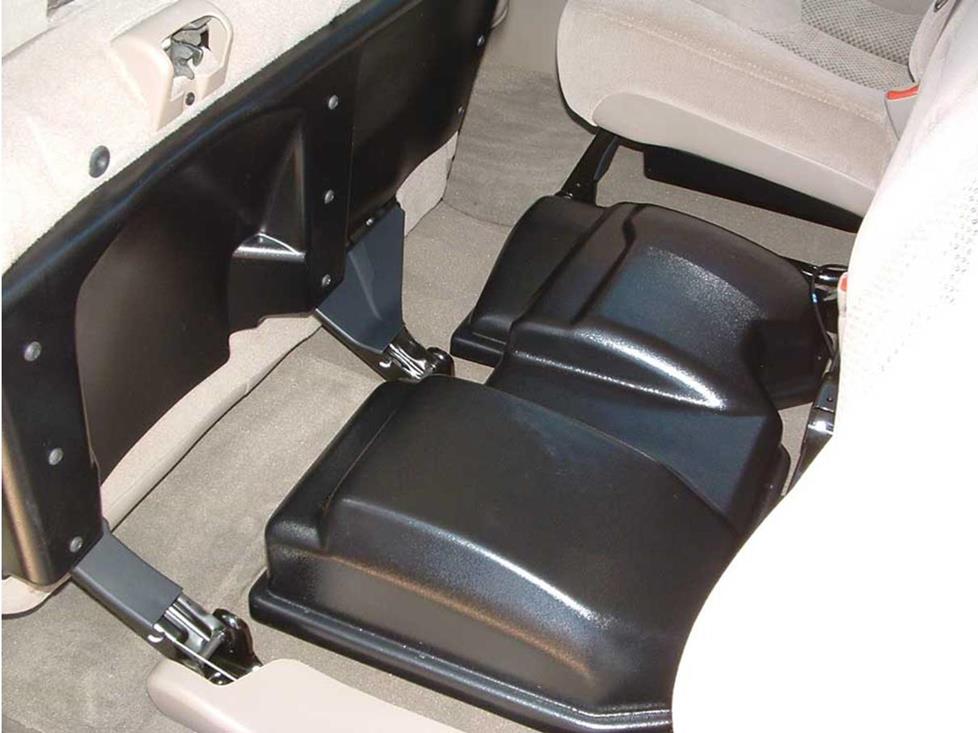 This Q-Customs Factory-fit Subwoofer Enclosure fits under the left rear seat
There's also a Q-Logic enclosure that holds one 10" Type 1 sub and fits under the left rear seat of your truck without sacrificing any space. It only works in trucks with second row 60/40 split bench seats, so if you have any questions, please give us a call.
Of course, if you're looking for a way to improve your truck's bass performance without taking apart the entire interior, you can always bypass the factory sub (if present) and go with a compact powered subwoofer. You'll get the thump you want with minimal hassle.
Learn more about building a bass system in our Car Subwoofer Buying Guide.
Shop for vehicle-specific subwoofers for your GMC Sierra 1500
Other options for your Silverado or Sierra
Here are some more ideas for your pickup:
Add kick panel pods
If you really want to improve the sound in your Silverado or Sierra, install a set of Q-Forms Kick Panel Pods. These unloaded, custom-fit speaker enclosures fit into the space where your kick panels are now. They hold a set of component speakers in an ideal position, angling them to maximize sound quality. They're available in a variety of colors to match your truck's interior. Installation takes some work, but it's not beyond the realm of an experienced DIY-er.
Quiet road roar
Despite plenty of time in the wind tunnel the Silverado/Sierra is still a pickup, so exterior noise is a fact of life – especially when the available diesel engine is hard at work. There's no way to totally eliminate wind and road noise in this (or any truck), but installing some Dynamat in the doors – and, potentially, throughout the cabin, can really seal in sound and let you enjoy your stereo. A set of inexpensive foam speaker baffles behind your new speakers will also help, plus they help protect the speakers from dust and damage.
Boost your security
Installing a security system in your Silverado or Sierra isn't easy (security systems rarely are), but considering the popularity of these trucks, it's definitely a good idea. Our Crutchfield Advisors can help figure out what you need to get the job done, but we usually recommend taking your car and new gear to a professional installer.
Let's get started!
Ready to shop? Use our vehicle selector to find the gear that will fit your car or truck. If you have questions of your own, give us a shout via phone, chat, or email