2003-2007 Cadillac CTS
How to upgrade the stereo system in your CTS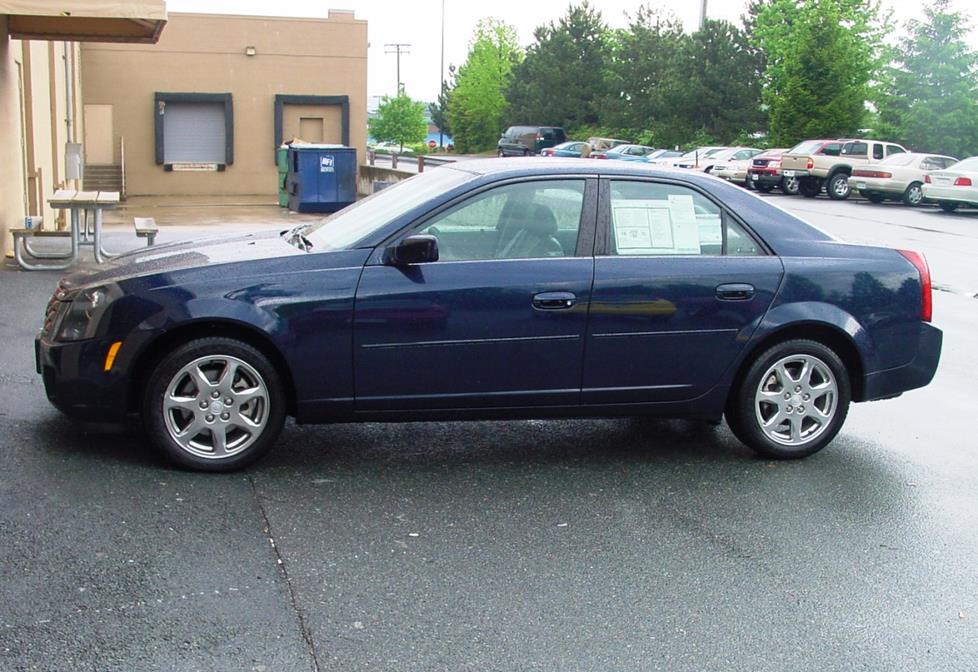 In brief: This Crutchfield Research Garage article gives you an overview of your Caddy's stock stereo system and your aftermarket upgrade options. We'll tell you all about:
Then, use our vehicle selector to find the gear that will fit your Cadillac.
Overview of the Cadillac CTS
The 2003 CTS was a long-awaited sign that the people running Cadillac were finally getting serious about reclaiming the "Standard of the World" title they'd all but abdicated even before the first Cimarron rolled off the assembly line.
Gone were the vinyl roof treatments, crushed velour interiors, and mushy road manners that had defined Cadillacs for a generation or more, replaced by sharp-looking "Art and Science" styling and taut, responsive handling. This wasn't just a re-imagining of Cadillac, it was in some ways a re-imagining of the American luxury car. It was also a massive, '59-Eldorado-tailfin-sized risk. Thankfully, the CTS was a hit with the press and public. More importantly, it proved to be the beginning of Cadillac's return to relevance.
The first-gen CTS is still a sharp-looking, smooth-handling sedan. Roomy, comfortable, and fun to drive – especially in high-performance CTS-V trim — it's a great starting point for an impressive car stereo system.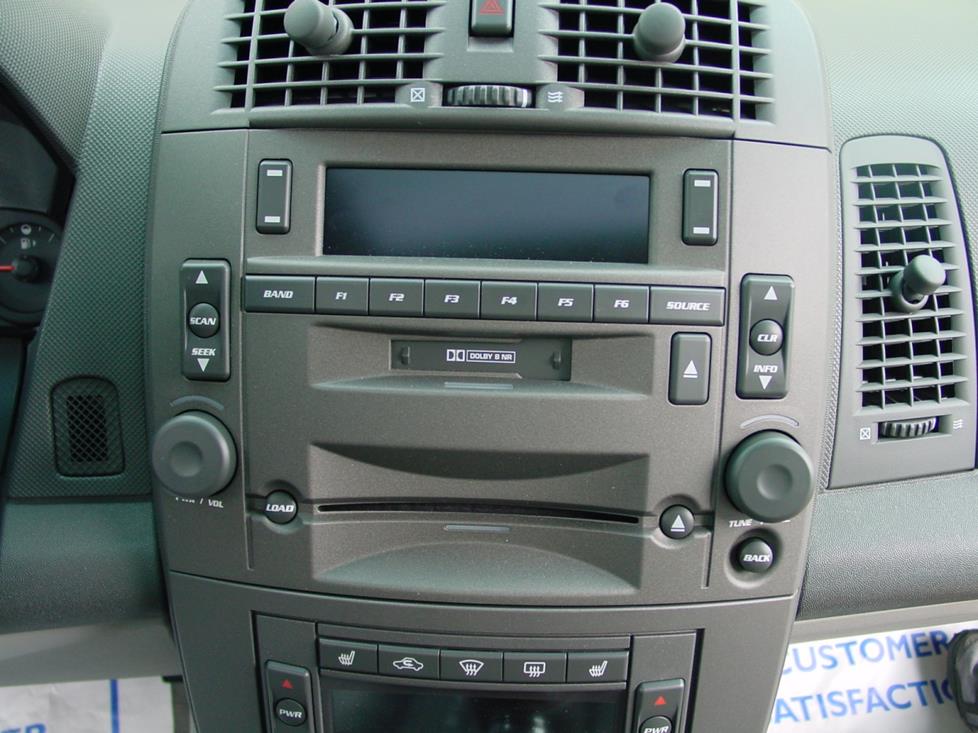 When you replace your factory radio, you'll lose the "Driver Information Center" functionality (Crutchfield Research Photo)
The factory stereo system
The Caddy's base system was less basic than most, with an AM/FM/CD/cassette receiver and seven speakers. An optional Bose system was available as well, with or without an in-dash, DVD-based navigation system. GM's OnStar system was also available.
The dash will comfortably house a wide variety of single-DIN (2" tall) or double-DIN (4" tall) receivers, so you'll have plenty of options to choose from. And when you order from Crutchfield, we'll include a deeply discounted mounting kit for your new stereo.
Replacing the factory radio does come at a cost. You'll lose the "Driver Information Center" functionality, along with the factory XM radio. If you're okay with that, we have a number of receivers that will look and sound great in your CTS.
Detailed stereo and speaker removal instructions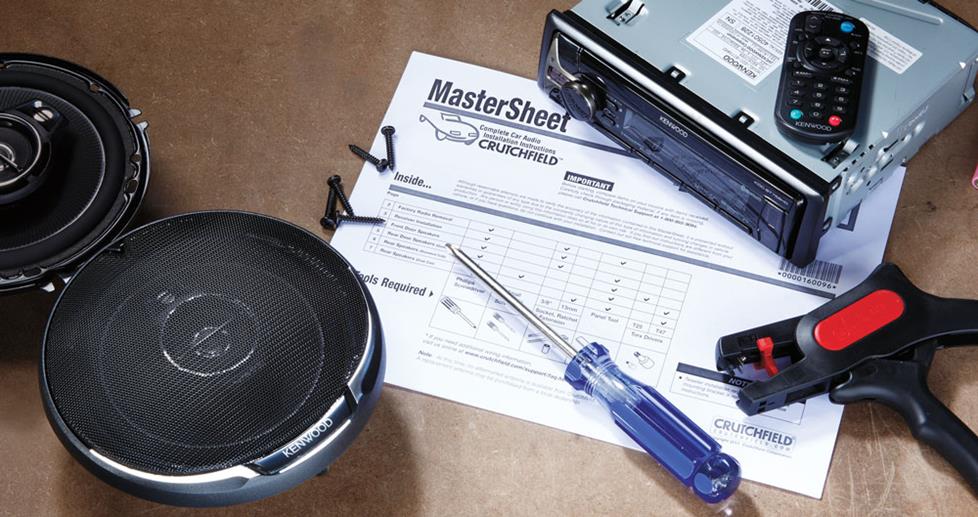 With step-by-step disassembly instructions and plenty of up-close, detailed photos, our exclusive
Crutchfield MasterSheet
™ takes the guesswork out of removing the factory stereo and speakers. It's free with your Crutchfield order, or you can purchase one separately for just $9.99.
Removing the factory radio also means losing the factory warning chimes, and that's a much bigger deal. You'll need a special wiring interface, the PAC OS-2C-CTSX, to retain the warning chimes, the rear parking assist chimes, and OnStar®. It works with standard GM or Bose amplified audio systems, and it's available at a very nice discount when you purchase your new receiver from Crutchfield. Due to safety concerns, Crutchfield cannot offer technical support for an installation undertaken without this interface.
If you want to bypass the factory amp, you'll need a Metra 70-2054 factory integration adapter. This bypass harness works in conjunction with the PAC wiring interface to route the receiver's signal to your speakers, but you'll lose the center speaker and factory sub. That said, this adapter comes in very handy if your factory amp fails, or if you're installing an all-new array of speakers and subs.
Improve the sound and keep the stock look
If you want to retain the Driver Information Center and maintain your car's stock appearance, which many owners do, you can still get better sound and functionality. Just replacing the speakers will make that stock radio sound better. Add a 4-channel amplifier and your new speakers will truly sing.
To get the best possible sound while keeping that factory stereo, consider adding a sound processor (see below). And it's worth pointing out that if you don't buy a new receiver, you'll have more to invest in a new set of speakers, an amp, and a subwoofer.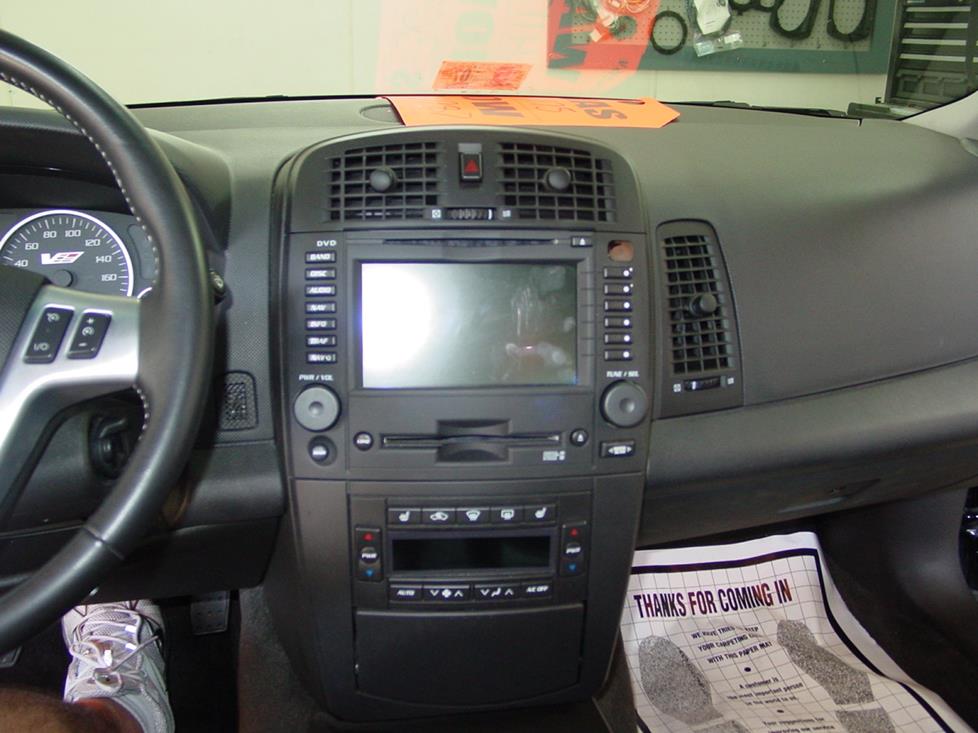 The navigation receiver isn't bad, but it is old. An aftermarket model will be a big upgrade. (Crutchfield Research Photo)
Removing the factory radio
Whether you're replacing a base radio or the factory nav unit, the removal process is the same – which is to say it's relatively painless, even for beginners. The key is to work carefully to avoid damaging the plastic panels.
You'll start by prying out the top and sides of the air vent panel above the radio. Once that's loose, pull it out, disconnect the harness and pry out the clip to finish removing the panel. You'll see two 10mm bolts on the top of the radio, and you'll need to remove those. Moving down a bit, you'll need to remove the lower dash pocket inset; then remove the exposed 7mm screw. It's a good idea to keep these screws together in a tray or coffee cup, because you'll need them again later.
Carefully pry out both sides of the climate control panel to release four retaining clips. Pull out the panel, disconnect the harnesses and place the panel toward the driver's side of the floorboard. You'll finish this part of the process by removing two 10mm bolts exposed by the removal of the climate control panel. At this point, you can pull out the factory radio, disconnect everything, and remove it.
To install the new stereo, secure it to the mounting bracket following the instructions supplied with your installation kit, then connect the Crutchfield receiver wiring adapter to the receiver following the instructions included with that. Hold the new receiver assembly close to the dash, connect the receiver wiring adapter to the factory harness, and plug the antenna lead into the rear of the receiver. Slide the whole assembly into the dash and secure it with the screws you removed earlier.
Test the receiver to make sure everything's working, then button it all up by reversing the disassembly steps.
Tools needed: Panel tool, socket wrench, extension, 10mm and 7mm sockets
Steering wheel audio controls
It's relatively easy to retain your Cadillac's steering wheel audio controls when you install a new stereo. When you enter your vehicle information, our database will choose the adapter you need to make your factory steering wheel controls work with your new receiver.
Shop for car stereos that fit your Cadillac CTS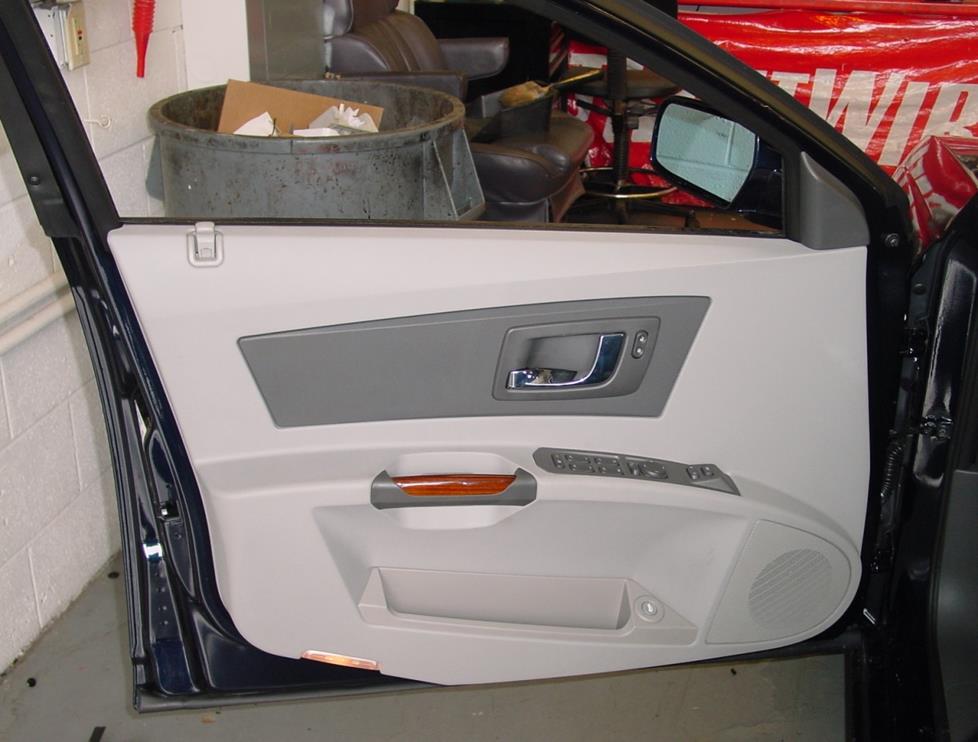 The CTS has 6-3/4" woofers in the front doors. You can replace them with a variety of aftermarket speakers. (Crutchfield Research Photo)
Removing the factory speakers
The CTS has speakers in the dash, front pillars, and doors, plus a subwoofer in the rear deck.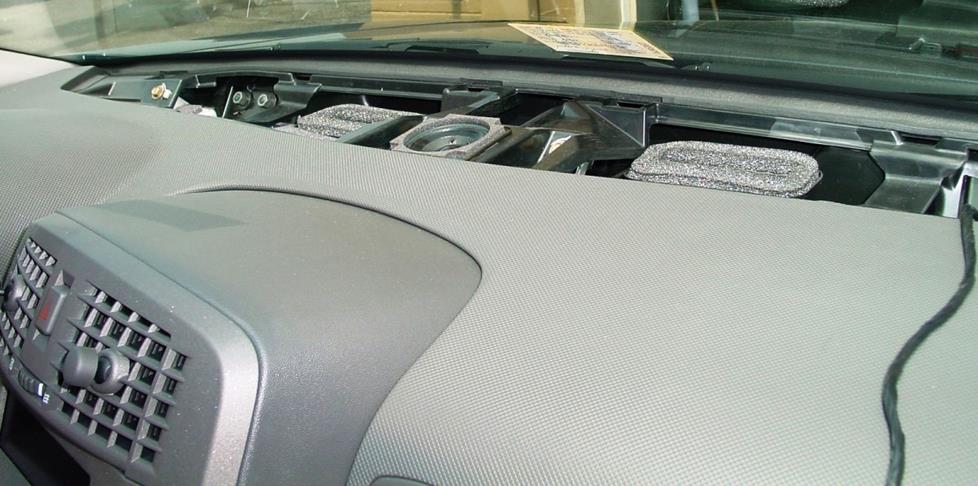 The center dash speaker isn't hard to work with (Crutchfield Research Photo)
Center dash speaker
If your CTS has a Bose stereo, you'll find a factory speaker located in the center of the dash. The speaker measures approximately 2-7/8" square, but a variety of 3-1/2" speakers will fit in the cavity. You'll need to use our universal back strap to mount it, and you may need to acquire additional mounting hardware to secure the speaker to the bracket.
That's the challenging part. On the bright side, reaching and removing the speaker is relatively simple. All the relevant details can be found in the illustrated, step-by-step Crutchfield MasterSheet that's included free with your Crutchfield speaker purchase.
Of course, if you're replacing the stock radio and plan to bypass the Bose amp, there's no need to worry about this speaker because it won't work anymore.
Tools needed: Panel tool, Phillips screwdriver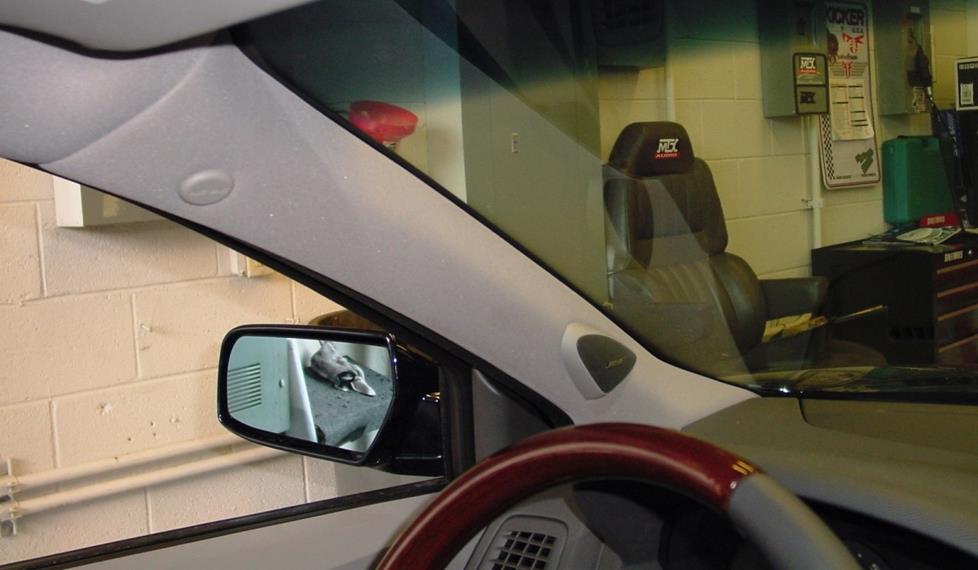 The tweeters are mounted inside the A-pillars (Crutchfield Research Photo)
Front pillar tweeters
All CTS models, regardless of factory stereo, have tweeters mounted on the inside of the A-pillar trim panels. They're reasonably easy to get to, but you will have to fabricate a mounting bracket or use one of our universal backstraps (or hot glue or silicone) to install your new component tweeter. You may also need to acquire the mounting hardware you need here, too.
Tools needed: Panel tool, Phillips screwdriver, small flat blade screwdriver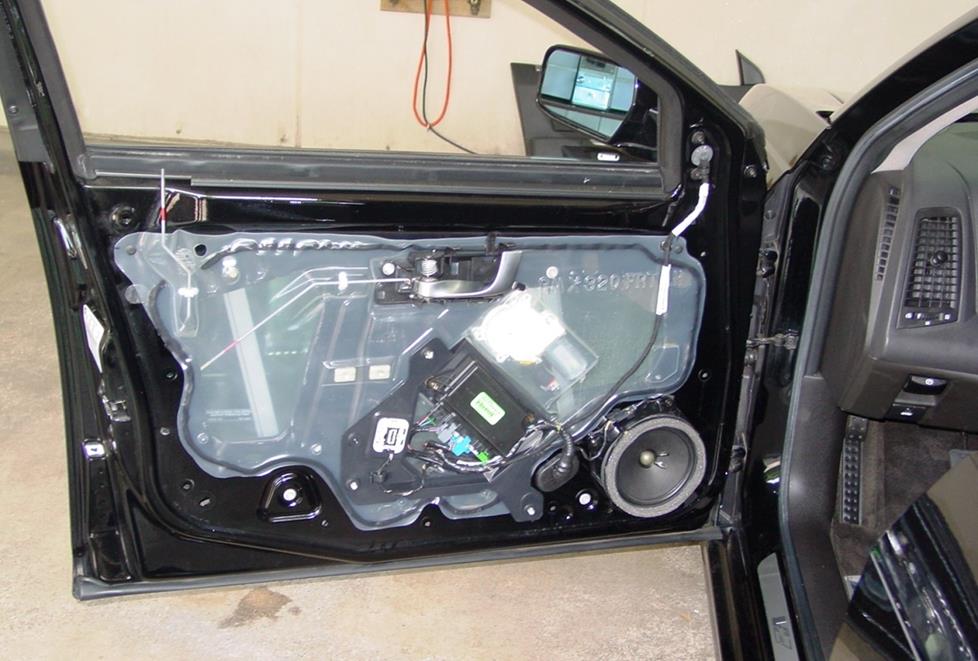 An inside look at the front doors (Crutchfield Reseach Photo)
Front door woofers
The low-end part of the CTS's Bose system was handled by a pair of 6-3/4" woofers in the front doors. You can replace them with same-size aftermarket component speakers, or you can choose 5-1/4" or 6-1/2" models.
On non-Bose cars, you'll need to install 5-1/4" aftermarket speakers, and to do that, you'll need to cut out the back of the plastic cup/bracket that holds the stock speaker. A wiring harness is not available for this location, so you'll need to use Posi-Products speaker connectors to tap into the factory wiring.
You'll need to remove the door panels to get to the woofers, but that's not terribly difficult. The base and Bose systems had different speakers, of course, so there's a slight (and we mean very slight) difference in the speaker removal process. Complete instructions can be found in your MasterSheet.
The key to this procedure is to be careful when you're dealing with the plastic bits. Any time you're dealing with plastic that's been in one place for a decade or so, it's good to work slowly and patiently.
Tools needed: Phillips screwdriver, panel tool, small flat-blade screwdriver, socket wrench, extension, and 1/4" socket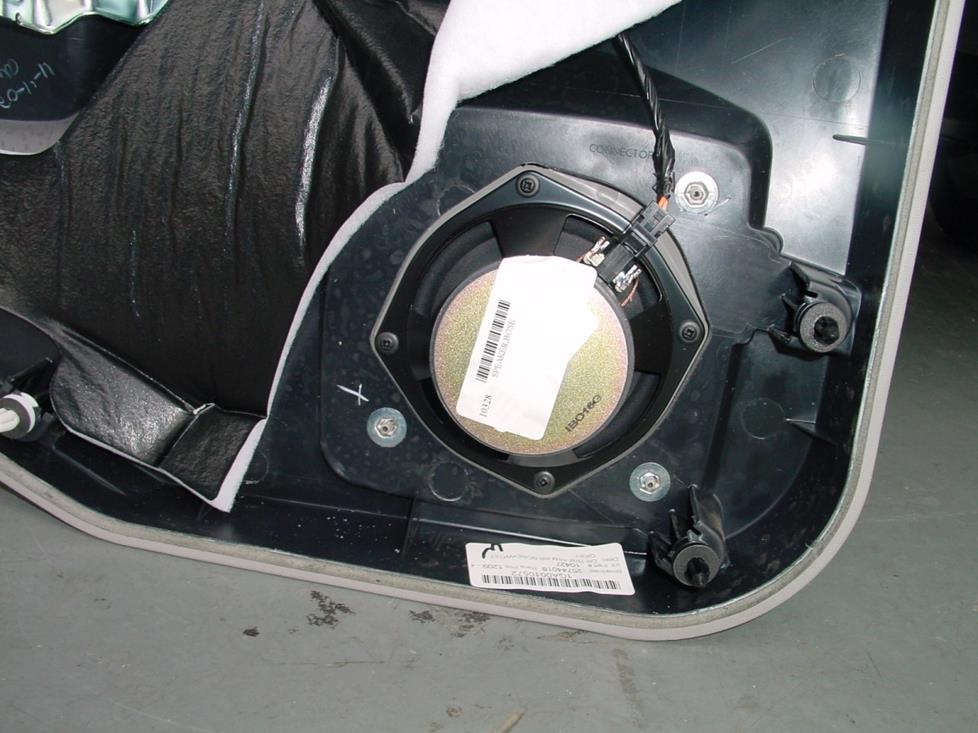 The rear door speakers are mounted directly to the door panels (Crutchfield Research Photo)
Rear door speakers
In the rear doors, you'll find a set of stock 5-1/4" speakers – Bose or non-Bose – secured to the back of the door panel. Your options are somewhat limited by the available space, but regardless of what 5-1/4" speakers you choose; you'll certainly enjoy improved performance.
Obviously, you'll need to remove the panel to get to the speakers. As with the front doors, the panel removal process isn't too difficult. It's important to be gentle with the door panels, of course, but especially so when you're unscrewing the old speakers and screwing the new ones into place. Excess enthusiasm is not your friend on this job, so work slowly and don't lose your patience.
Tools needed: Panel tool, Phillips screwdriver, small flat-blade screwdriver, socket wrench, extension, and 1/4" socket
Shop for speakers that fit your Cadillac CTS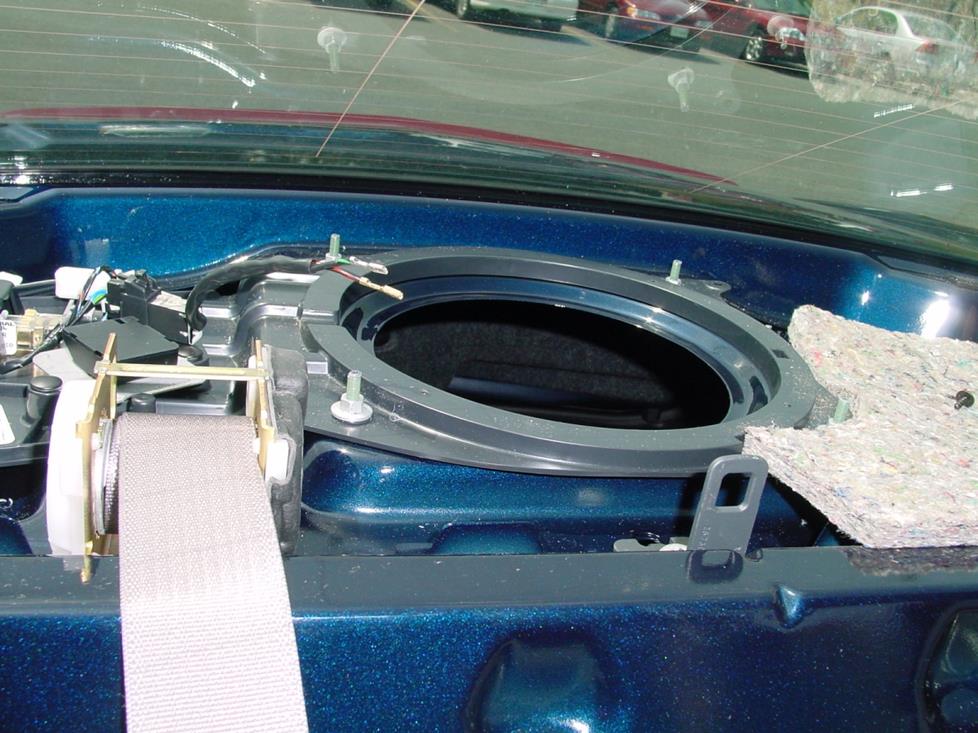 The 10" factory sub is hard to get to. It's also not easy to replace (Crutchfield Research Photo)
More bass in your CTS
Regardless of the audio system, the CTS rolled out of the factory with a surprisingly decent amount of bass, thanks to a 10" subwoofer mounted in the rear deck. That's a pretty big sub for a stock sedan, but there are newer, better aftermarket options out there.
Getting to the sub is not easy. The bottom of the sub can be seen when you peer into the trunk, and if it were a bottom-mount model, replacing it would be a piece of cake. Alas, the sub is attached to the top of the deck panel, so you'll need to remove the back seat and a fair amount of the surrounding trim. You'll want to have a friend to help out, a safe place to store the panels you're removing, and our Crutchfield tech support phone number (found on your invoice) programmed into your phone.
Once you've removed everything and it's time to replace the sub, there's some more work ahead, and it's not the easy kind. Fitting a 10" aftermarket sub into the stock opening can be challenging, if not downright impossible. You'll probably need to expand the stock opening and if you do that, you'll also need to fabricate a new mounting panel for the new sub. If you're not comfortable cutting metal or fabricating panels, you might want to turn this job over to a car audio professional. If you decide to do it yourself, block off a big chunk of time and work carefully.
All that said, this is a great location for a sub, so an aftermarket model will really perform. Be sure to select a new subwoofer designed for free-air applications. You'll need some juice to run that new sub, and the trunk is an excellent place to install an aftermarket amp. The Bose amplifier is located in the trunk, behind a panel on the driver's side.
If a 10" deck-mounted sub isn't enough, the CTS has plenty of room in the trunk for a custom component system. If you're thinking about adding a couple of big subs in an enclosure, you have a 34" W x 16" H x 29"/36" D (front to rear) space to work with.
Tools needed: Phillips screwdriver, panel tool, small flat-blade screwdriver, socket wrench, extension, 7mm and 10mm sockets, a helper, lots of patience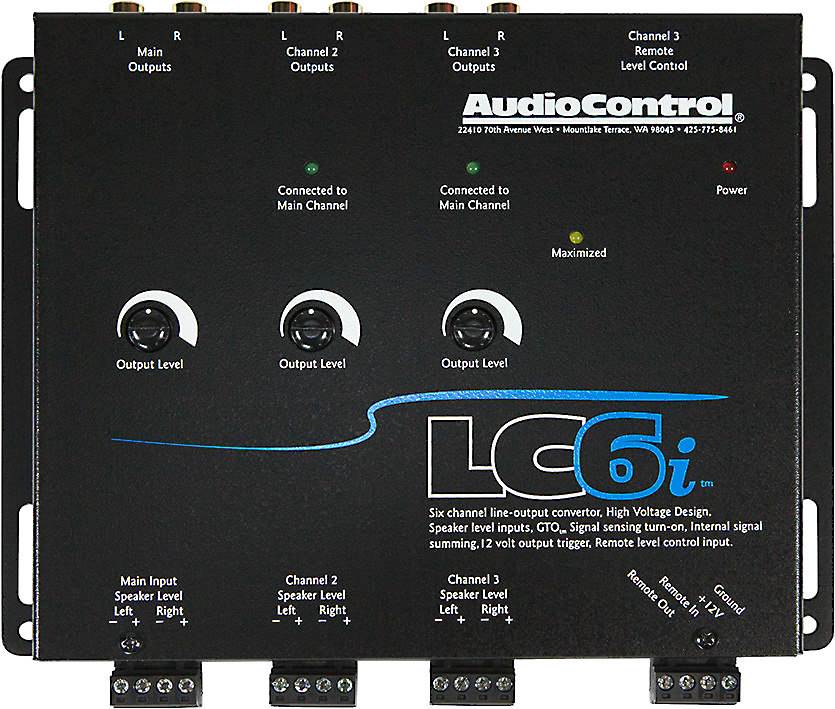 A sound processor will clean up the sound coming from your factory radio
Other options for your CTS
Here are a few other ways to improve the comfort, convenience, and safety of your Cadillac CTS.
Portable GPS
You can still get aftermarket nav functionality without installing a touchscreen nav receiver in your car's dash. Mount a portable navigator on your dash and enjoy turn-by-turn directions, traffic updates, and other info you need to make your road trip go smoothly. Plus, when you get where you're going, you can put your GPS in your pocket and use it to find points of interest around town.
Add an amp (or two)
A new 4-channel amplifier will help you get the most out of your new speakers. You'll get cleaner power (and a lot more of it), which will result in much, much better sound. A mono amp can provide the juice you need for your new rear deck subwoofer, too.
Sound processor
If you choose to keep the stock radio, install a sound processor to send a clear, clean signal to your new amp. Sound processors remove any limitations on the signal imposed by the factory radio. The better the signal, the better the sound. Read our article explaining factory sound processors to learn more.
Security
Installing a security system in your CTS isn't easy (security systems rarely are), but it's less complicated than it could be. Our Crutchfield Advisors can help figure out what you need to get the job done, but we usually recommend taking your car and new gear to a professional security system installer.
Let's get started!
Ready to shop? Use our vehicle selector to find the gear that will fit your car or truck. If you have questions of your own, give us a shout via phone, chat, or email