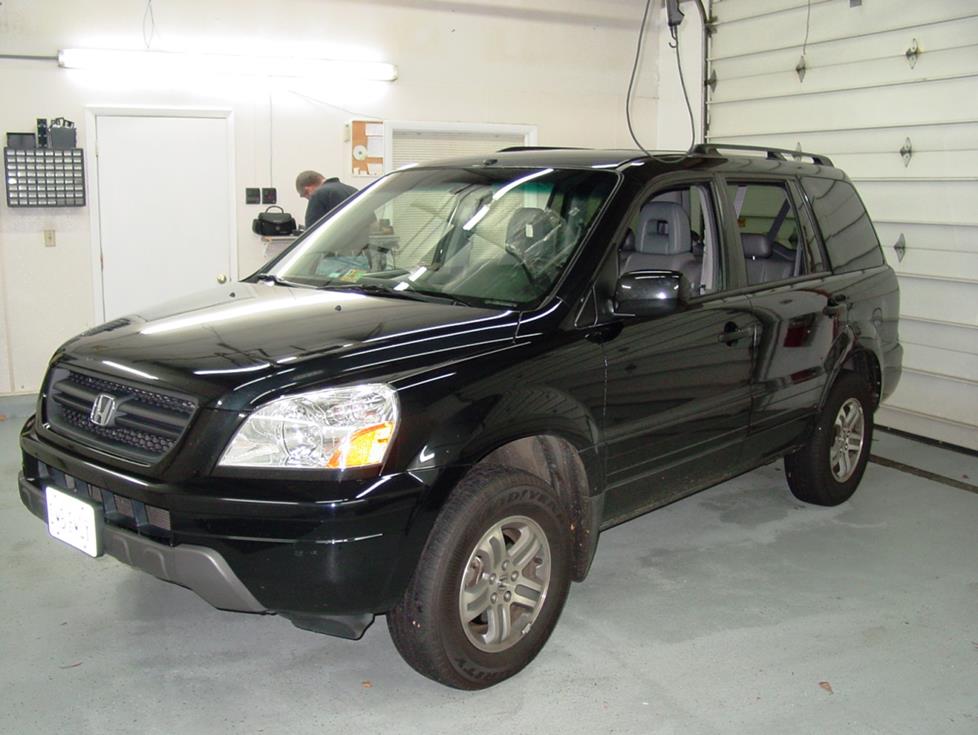 In brief: This Crutchfield Research Garage article gives you an overview of your Pilot's stock stereo system and your aftermarket upgrade options. We'll tell you all about:
Then, use our vehicle selector to find the gear that will fit your Pilot.
Overview of the Honda Pilot
Honda didn't go from obscure Japanese motorcycle manufacturer to worldwide automotive titan by ignoring the needs of the people -- especially the people in North America. In the early 2000's, those people needed (and/or wanted) mid-size SUV's and, alas, Honda didn't have one. Knowing they had to have something to compete in that segment, they reworked an Isuzu, called it the Honda Passport, and did their best to ignore the "Joe Isuzu" jokes until a proper Honda SUV was ready.
The Pilot turned out to be worth the wait. It had everything customers wanted, including all-wheel drive (later augmented by a front-wheel drive model), a solid V-6 engine, third-row seating, and, most importantly perhaps, a real Honda pedigree.
The first-gen Pilot has been a suburban staple ever since, and this handsome hauler remains a solid choice if you're looking for a reliable, comfortable SUV with plenty of room for people and stuff. The Pilot's stock stereo equipment wasn't terrible for the time, but if you're a real music lover, you'll want to upgrade. There are some challenging aspects to the process, but we have the advice and gear you need to make your Pilot sound better than ever.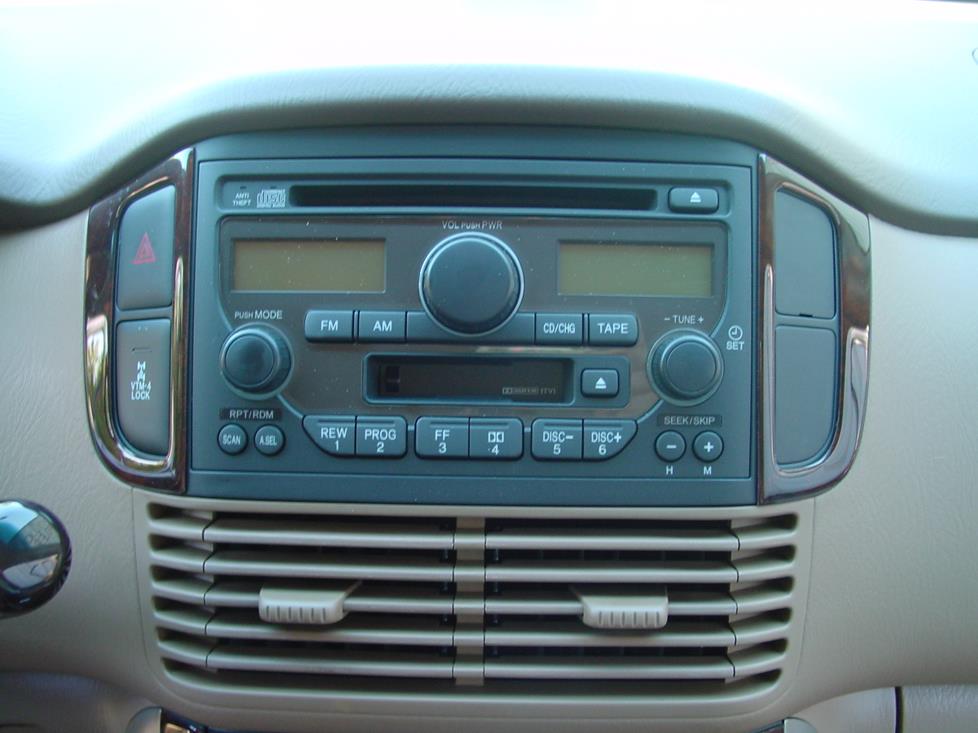 One of the Honda Pilot factory stereos (Crutchfield Research Photo)
The factory stereo system
The Pilot's standard stereo was the expected AM/FM/CD player, located in the upper center of the dash. The upper trim levels could be had with a DVD-based navigation system with a 7" screen and a back-up camera, or a rear-seat DVD entertainment system with a 9-inch flip-down LCD screen -- just not both at the same time. With the nav option, the radio moved south, under the HVAC controls, while the nav screen settled into the spot occupied by the base receiver.
In 2006, Honda gave the Pilot a mid-cycle facelift inside and out, adding new front and rear fascias, plus a revised dash design. The look changed, but the basic layout for each audio system stayed the same. We'll break down the various differences below.
Replacing the factory radio
The techniques you use to remove your Pilot's factory stereo depend entirely on the factory stereo you're removing, but overall, the radio replacement process is pretty uncomplicated.
The dash redesign didn't change the basic layout of the various systems, but it did change the process a bit. We'll hit the high points in this article, but when you order your new stereo from Crutchfield, we'll include a free MasterSheet that provides detailed, step-by-step instructions on removing the stock stereo equipment.
We'll also give you a very nice discount on the dash kit and wiring harness you'll need to connect your new receiver to the car's wiring.
Detailed stereo and speaker removal instructions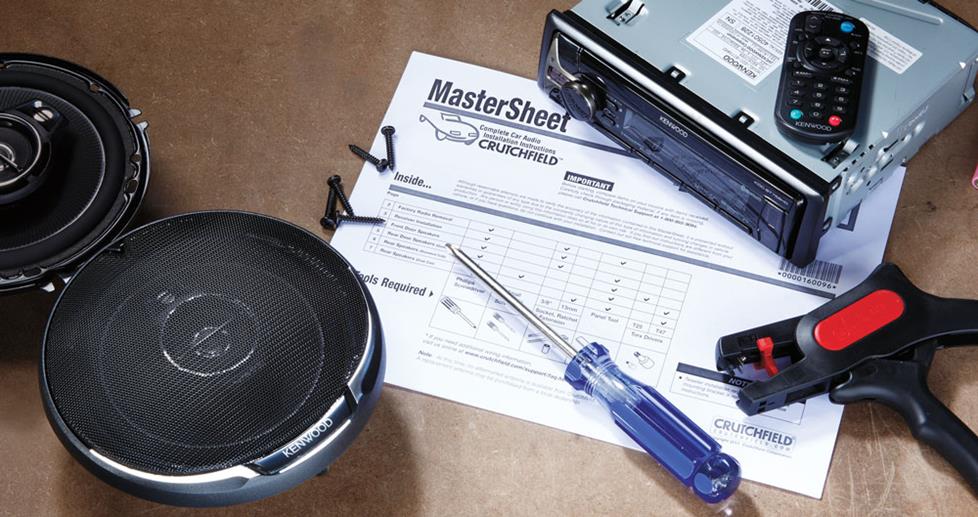 With step-by-step disassembly instructions and plenty of up-close, detailed photos, our exclusive
Crutchfield MasterSheet
™ takes the guesswork out of removing the factory stereo and speakers. It's free with your Crutchfield order, or you can purchase one separately for just $9.99.
Replacing the factory radio means losing (if present to begin with) factory features like satellite radio, navigation, and DVD entertainment. You can get all or most of them back (and better than ever) with the right aftermarket receiver. One of our Crutchfield Advisors will be happy to help you choose the right single-DIN (2" tall) or double-DIN (4" tall) receiver for your needs.
Just a note before you start: In order to unlock the factory radio after the battery has been reconnected, you will need the radio security code. If you can't find the code, the radio must be unlocked at a dealership. The owner's manual is usually a good place to start.
---
2003-2005 Pilot
Replacing the base receiver is pretty simple. Pry the radio trim out from the dash to release five metal clips, then disconnect the harness and remove it. You'll then remove four Phillips screws from the radio brackets, then pull the radio out and disconnect the harnesses and antenna. You'll need to purchase a mounting kit and a wiring harness, but both are deeply discounted with your stereo purchase.
---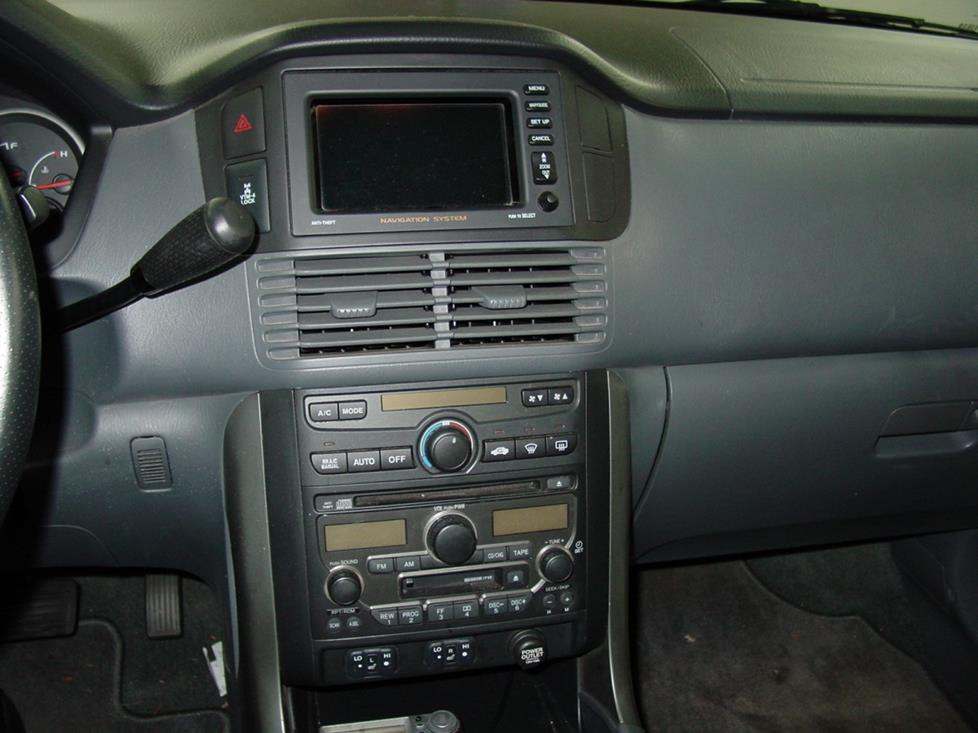 The 2003-05 receiver with navigation (Crutchfield Research Photo)
Replacing the nav receiver is a smidge more involved, but not too much. It's certainly nothing the average car audio DIY-er can't handle.
The key difference in these 2003-05 vehicles is the location of the stock receiver, so make sure you enter your vehicle info before you start stereo shopping.
Tools needed: Panel tool, Phillips screwdriver
---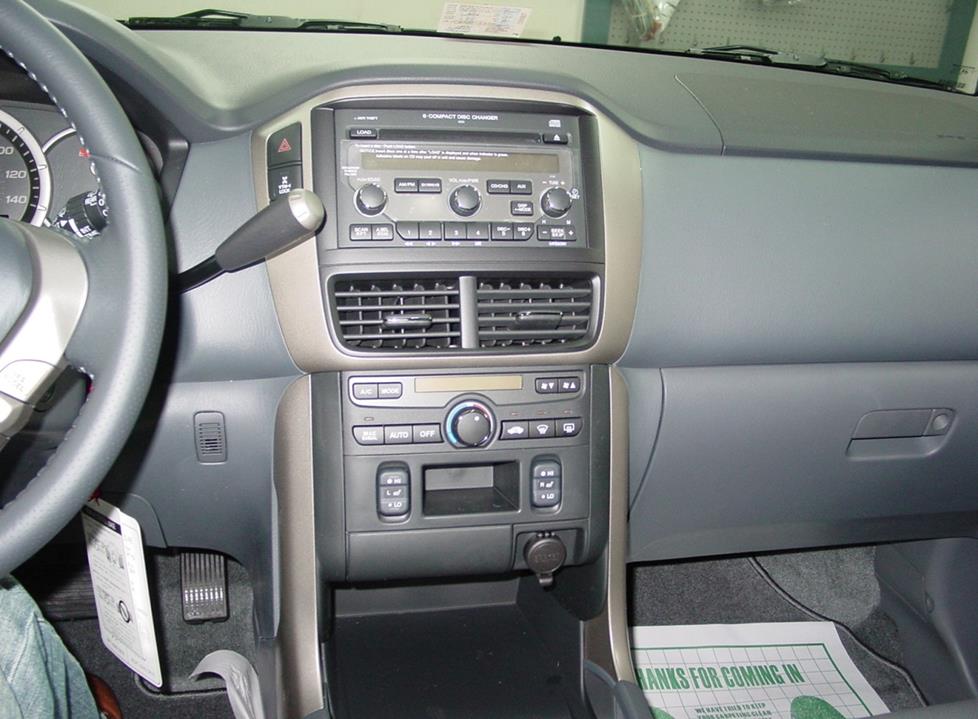 The 2006-08 radio without navigation (Crutchfield Research Photo)
2006-2008 Pilot
The "new" dash layout is also relatively uncomplicated. To remove the non-nav receiver, start by removing two Phillips screws from the trim panel above the instrument cluster, then setting them aside. Tilt the steering wheel to its lowest possible position, then (after setting the emergency brake) place the shifter in the lowest position.
Pull the instrument cluster trim panel towards the rear of vehicle and remove it, then carefully pry around the perimeter of the radio trim panel to release the retaining clips. Set the trim panel to the side, remove the four Phillips screws securing the radio, then disconnect the harnesses and remove the radio.
The navigation receiver isn't that hard to deal with, either, and a mounting kit and wiring harness are available at a discount with most receiver purchases. Note that the navigation screen will remain in place and your new receiver will be mounted in the lower portion of the dash. All the relevant instructions can be found in your Crutchfield MasterSheet.
Tools needed: Panel tool, Phillips screwdriver
---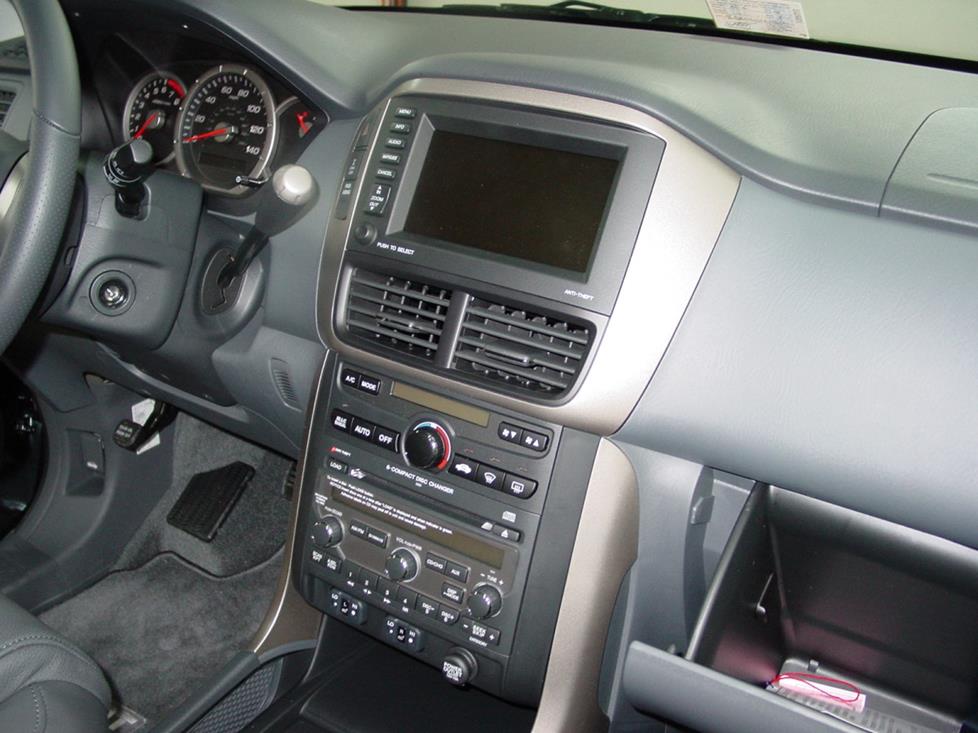 The 2006-08 radio with navigation (Crutchfield Research Photo)
Read our Car Stereo Buying Guide for shopping tips and advice.
Steering wheel audio controls
In most cases, it's reasonably easy to retain your Honda's steering wheel audio controls when you install a new stereo. When you enter your vehicle information, our database will choose the adapter you need to make your factory steering wheel controls work with a compatible aftermarket receiver.
Replacing the factory speakers
Honda left the door design alone during the mid-cycle refresher, so the speaker replacement instructions are the same for all models.

The tweeters are located in the dash (Crutchfield Research Photo)
Tweeters
All Pilots, no matter what model or year, have a set of (roughly) 1-1/2", 4-ohm tweeters wired in parallel with the front door speakers. They're mounted on the top of the dash, near the base of the windshield, and they're relatively easy to reach. That's good news if you want to install a set of aftermarket component speakers in your Pilot, which we highly recommend.
The tweeters are reasonably easy to reach and replace. You'll need to either fabricate your own speaker mounting bracket, or use our universal back straps to install your new component tweeters. There are also speaker wiring adapters available that plug straight into the vehicle's speaker harness.
Tools needed: Panel tool, small Phillips screwdriver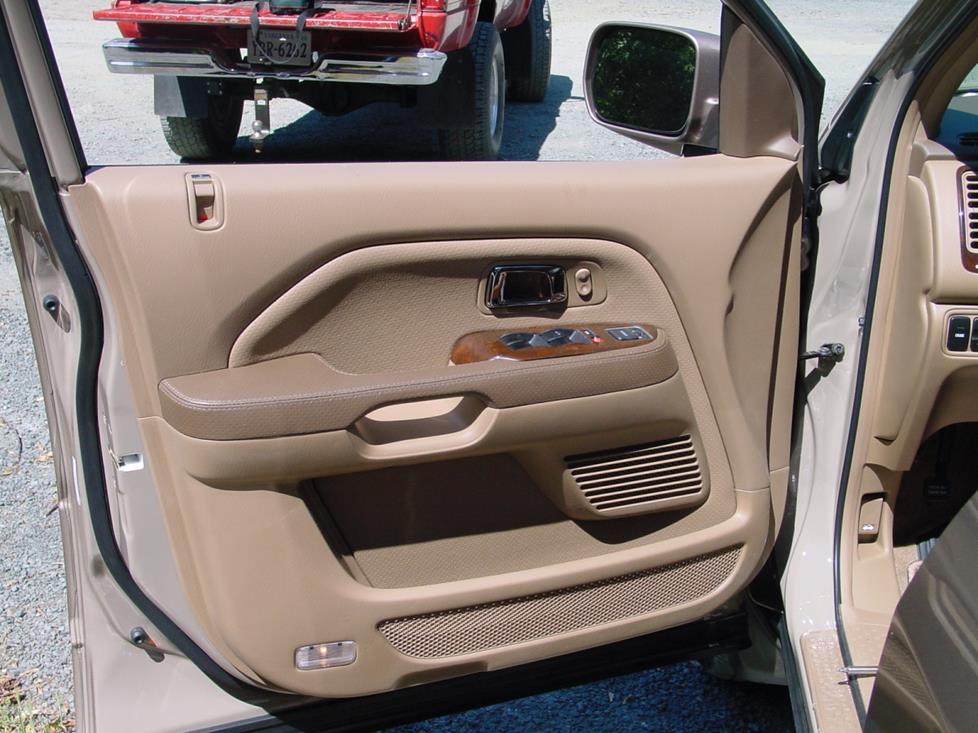 The Pilot's front door (Crutchfield Research Photo)
Front door speakers
The stock front speakers are 6-1/2" 4-ohm Alpine models that can be replaced with 5-1/4" or same-size aftermarket speakers. You'll need to remove the door panel, of course, and while that's not an especially difficult procedure, we do recommend that you take your time and use care when prying off the panels. It's also a good idea to make sure you have a clean, safe place to store the panels when they're out of the car.
If you're going to install 6-1/2" aftermarket speakers, you'll need to cut out the back of the plastic factory cup or mounting bracket to provide enough depth or magnet diameter for your new speakers.
You'll also need to break off the locating tabs on the factory speaker bracket before mounting an aftermarket speaker or bracket. Removing the tabs isn't too hard to do, and it won't affect the bracket's structural integrity.
If you install 5-1/4" speakers, you'll need adapter brackets, which are available at a special discount with your Crutchfield speaker purchase.
Rear door speakers
Conveniently enough, everything you just read about the front door woofers is also true for the rear door speakers.
Tools needed: Panel tool, Phillips screwdriver, small flat blade screwdriver
Read our Car Speakers Buying Guide for more information.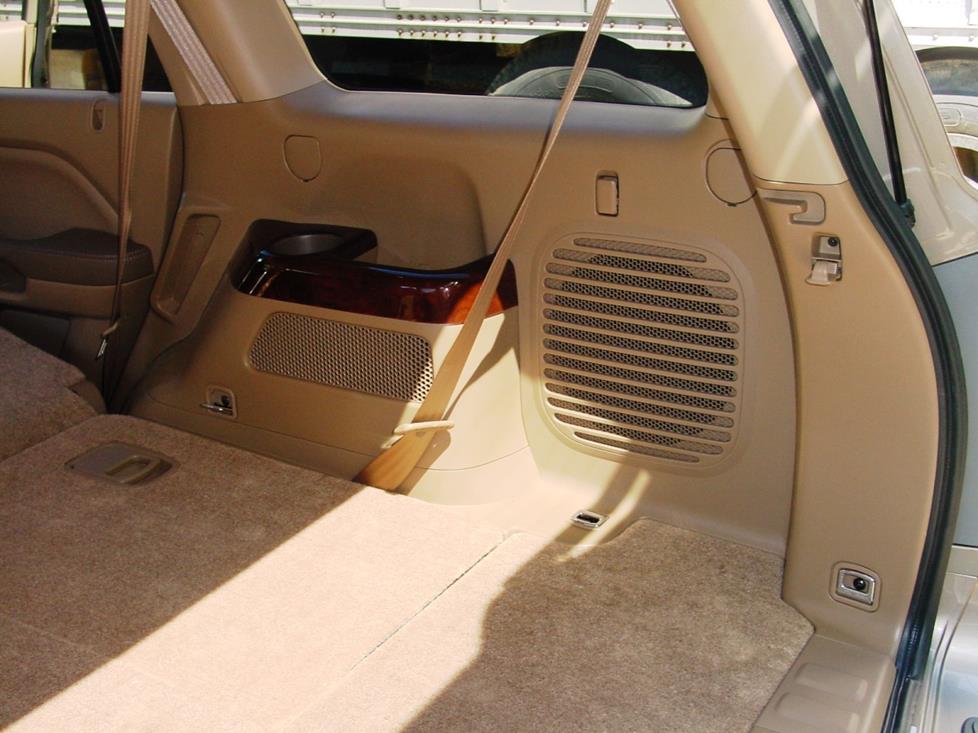 The Honda Pilot's rear subwoofer is easy to spot, but hard to replace. (Crutchfield Research Photo)
Bass in your Honda Pilot
Your Pilot's 10", 2-ohm factory sub (if equipped) can be found behind a speaker grille on the far-right side of the cargo area. The subwoofer is powered directly from a woofer channel on the factory radio, so if you replace that unit, you'll lose the sub. Unfortunately, this factory sub is a rather thin model, and there's not enough space behind the opening to install most aftermarket subs without some modification.
There are a couple of subs that are within a few hundredths of an inch of fitting, but just getting to the sub is a challenging process involving extensive disassembly. That innocent-looking speaker grille is actually part of a lengthy plastic trim piece that extends all the way from the rear corner of the Pilot to just behind the back seat.
There aren't any real tricks to removing it, but there sure are a lot of steps. It's a time-consuming job, so your best — and easiest — bet for better bass is a powered sub. You'll get better sound in a compact package that won't eat up your cargo space.
If you have something bigger in mind, there's plenty of room for a dedicated subwoofer enclosure and an amp or two. The Pilot can hold a sub box up to 48" W x 17" H x 15"/6" D, so you can build a truly massive system back there if you want to.
Learn more about building a bass system in our Car Subwoofer Buying Guide.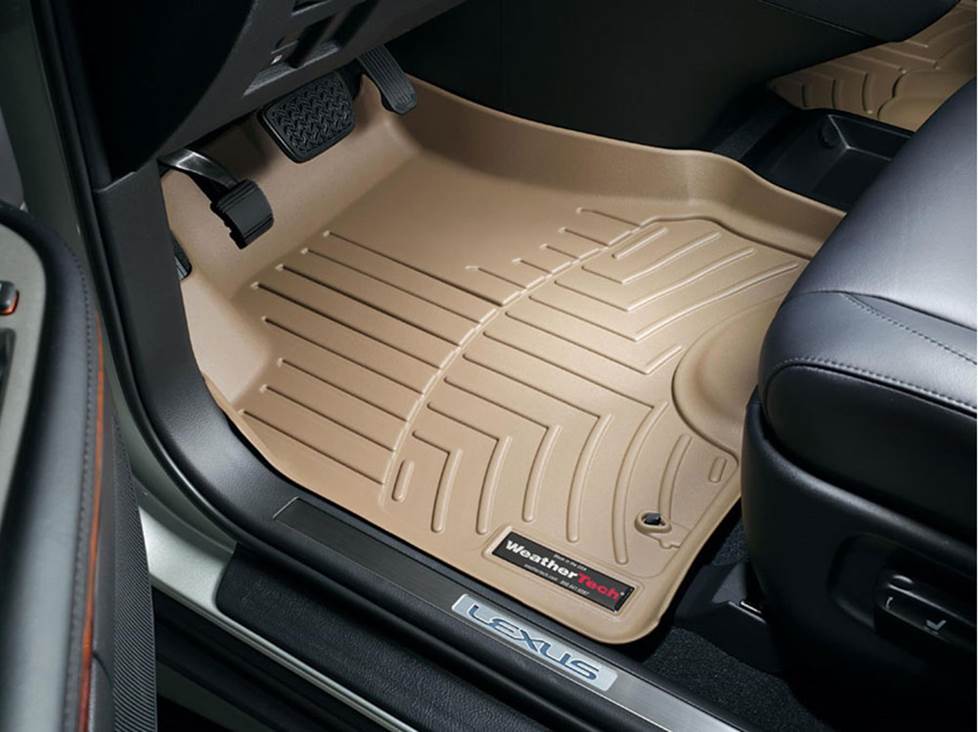 Protect your Pilot's carpeting with a set of custom-fit WeatherTech FloorLiners
Other options for your Pilot
Perfecting your Pilot starts with quality gear. Here are a few suggestions from our experts.
Protect your carpeting with WeatherTech mats
ThePilot is a very nice SUV, but the factory floor mats are...just regular old factory floor mats. Whether you're doing outdoorsy SUV-type stuff or just tooling around town, those mats might not be up to the job. A set of custom floor liners from WeatherTech will help protect the carpeting from dirt and damage.
Add an iPod® or satellite radio adapter
If you don't want to replace the factory receiver (and if you have factory nav, you really don't), you can still add versatility and great sound to your Pilot. We offer several adapters that will allow you to use an iPod, MP3 player, or satellite radio with the factory system.
Seal in sound with Dynamat
The Dynamat 10435 Xtreme Door Kit is the perfect way to seal in sound. This heavy-duty noise-damping material is easy to install, and it really makes a difference. One kit will take care of the front doors in your Pilot.
Add a security system
Installing a security system in your Pilot isn't easy (security systems rarely are), but it's definitely a good idea. Our Crutchfield Advisors can help figure out what you need to get the job done, but we usually recommend taking your car and new gear to a professional installer.
Building your system
If you're thinking about a used Honda Pilot and you're serious about car audio, you should look for one with the base stereo. The base receiver's "all-in-one" location makes it much, much easier to build a great system on your own. As we mentioned above, replacing the upmarket nav system is complicated enormously by the need to fabricate a custom trim plate to house the screen, HVAC controls, and radio.
If you already have a nav-equipped Pilot, though, you can still build a very impressive system using other components. Start by replacing the speakers, a reasonably easy and generally affordable process that's the same on every model. You'll be surprised at how much better that factory receiver sounds once it's playing through a nice set of speakers.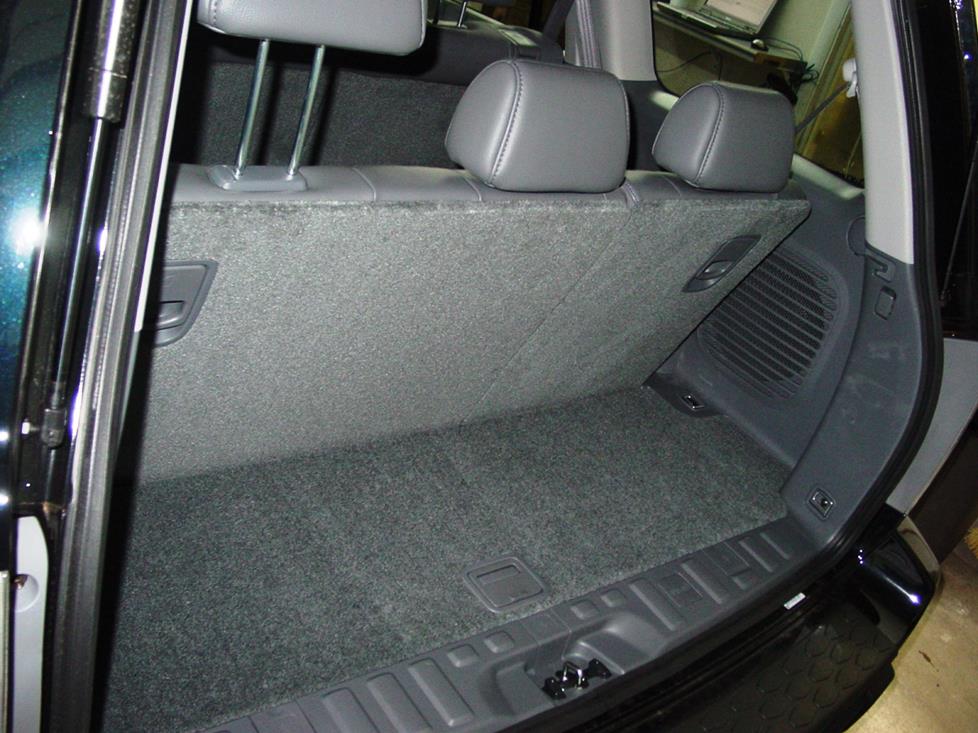 Even with third-row seating, there's room for a powered subwoofer and an amplifier (Crutchfield Research Photo)
The Pilot gives you plenty of room to work with, so if you really want to maximize your sound, you can add a new subwoofer and an amplifier. If it's all about expanding your musical options, you can add an iPod or MP3 adapter, or connect a SiriusXM satellite radio tuner (subscription required).
Any or all of these options will give you improved sound and performance, without disturbing your Honda's factory nav system. If you're looking for better, newer maps, you can always add a portable GPS receiver with lifetime map updates.
Let's get started!
Ready to shop? Use our vehicle selector to find the gear that will fit your car or truck. If you have questions, give us a shout via phone, chat, or email