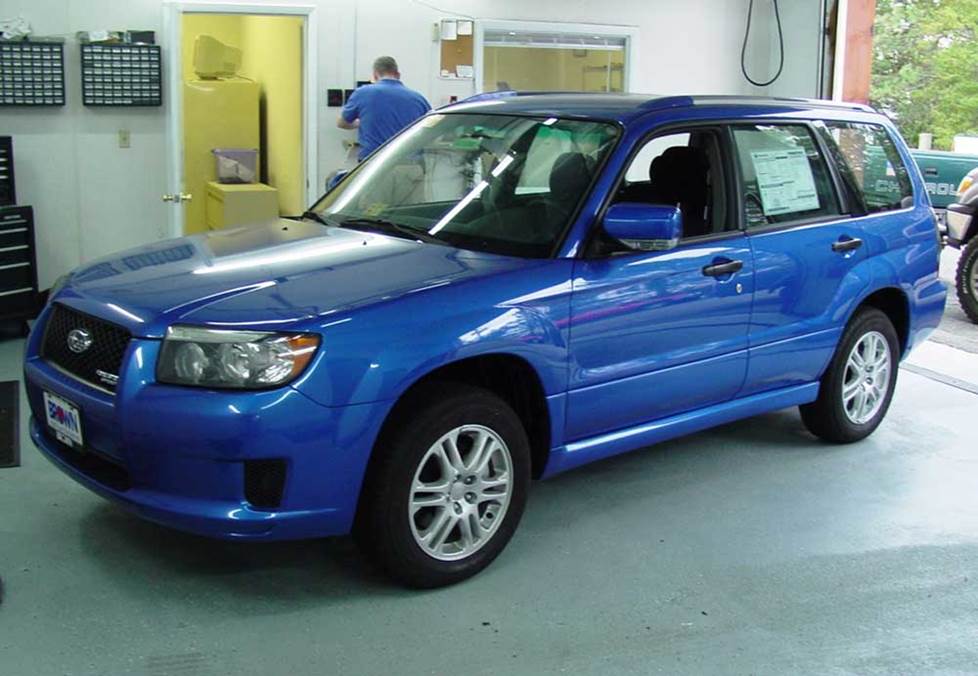 In brief: This Crutchfield Research Garage article gives you an overview of your Forester's stock stereo system and your aftermarket upgrade options. We'll tell you all about:
Then, use our vehicle selector to find the gear that will fit your Subaru.
Overview of the Subaru Forester
The second generation Subaru Forester is the perfect SUV for people who really don't want an SUV in the first place. This clever, competent vehicle can do almost everything an SUV does, but you don't have to put up with truck-like ride and handling characteristics. For those reasons and many others, many loyal owners feel that their Forester is "just right." Not too big, not too tall, not too thirsty, and not too hard to live with – just right.
The Forester is practical, comfortable, and, while it's not exactly "beautiful," the exterior is well-proportioned and the front end maintained a certain bulldog charm through a couple of restylings. It also has an amazing and inexplicable way of looking, driving, and feeling like a compact car – until it's time to load up the old desk you just bought at the antique mall. It's hard to explain, but trust us, it's a real thing..
In our hilly and occasionally snowy part of the world, these "Fozzies" are everywhere – generally being driven by people who smile when you ask them about their car. If you're looking for a practical, reliable wagon/SUV with the added safety and security of all-wheel drive, a Gen 2 Forester is a smart choice. Replacing the decidedly weak factory stereo is a pretty smart idea, too.

The base radio fits into a space large enough for a double-DIN receiver (Crutchfield Research Photo)
The factory stereo system
The Forester's stereo system evolved a bit over the years, but the basic set-up involved either a standard single-DIN (2" tall) one-disc AM/FM/CD radio or an optional double-DIN (4" tall) in-dash 6-CD changer. Later models added an aux input. The stock radios also included the NOAA weather band — a wonderfully handy Subaru kind of touch.
A wide variety of single-DIN or double-DIN receivers will fit in the stock cavity, but, alas, you'll probably lose the weather band feature. Of course, many current receivers will let you check the weather using your phone, so you won't be out in the cold. Or the hot, for that matter.
Detailed stereo and speaker removal instructions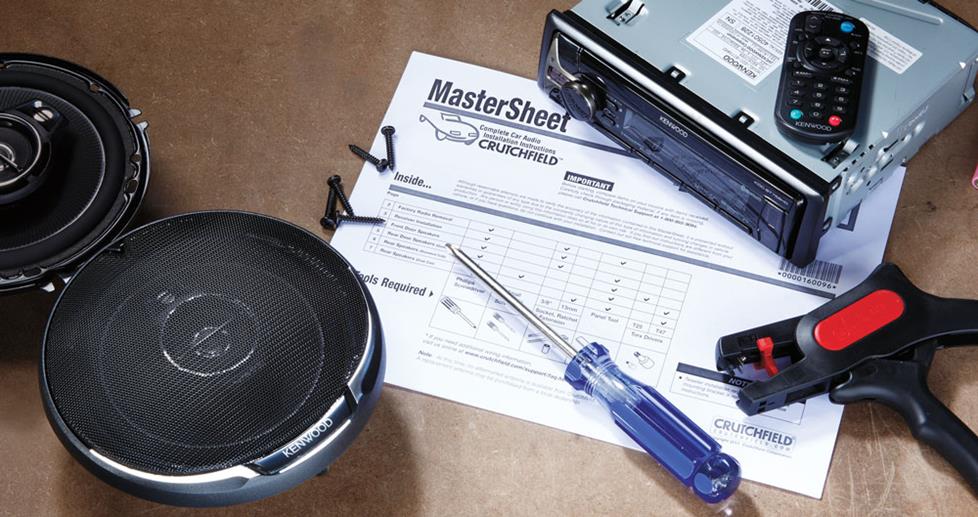 With step-by-step disassembly instructions and plenty of up-close, detailed photos, our exclusive
Crutchfield MasterSheet
™ takes the guesswork out of removing the factory stereo and speakers. It's free with your Crutchfield order, or you can purchase one separately for just $9.99.
The basic 4-speaker system featured 6-1/2" speakers in the front door and 5-1/4" models in the rear doors. An optional subwoofer, located underneath the front seat in early models and in the rear cargo area later on, was available in premium models. Some Foresters also sport sail panel tweeters, part of an upgrade package that could be ordered from the factory, installed by a dealer, or purchased from the dealer and installed by the customer.
If your Forester is equipped with a sub and amp, you'll lose both of 'em when you replace the radio. Higher-quality replacements are available for both.

The 6-CD changer was good in its day, but imagine how much music you can fit onto a thumb drive (Crutchfield Research Photo)
Removing the factory radio
Replacing the Forester's factory radio isn't a complicated procedure, but there are some fiddly bits to deal with along the way.
Illustrated, step-by-step dash disassembly instructions can be found in the Crutchfield MasterSheet that's included free with your stereo purchase. With most receivers, you'll also save big on your installation kit (if needed) and the wiring harness adapter you need to connect your new receiver to your car's electrical system. We give you a detailed instruction sheet for that harness, too.

What happens next depends on whether or not your Forester is equipped with automatic climate control.
Installing the new car stereo
If your car doesnt' have the factory CD changer, and you're installing a single-DIN unit, all you need to do is remove the DIN sleeve from the new stereo and bolt the stereo in place of the factory radio using the screws you removed earlier. Connect the adapter harness and reinstall the stereo and pocket assembly.
If your car does have a factory CD changer, you still need to use the factory mounting brackets to install a new receiver. It's not complicated, it's just different. If you're installing a double-DIN receiver, just bolt those mounting brackets onto the side of it. But if you're installing a single-DIN receiver, you'll also need to install a storage pocket below it. This is the mounting kit that you'll get when you purchase your stereo from Crutchfield. If you don't have the factory brackets anymore, you'll need to get those from your local dealer.
All these details and more can be found in the instructions included with your purchase.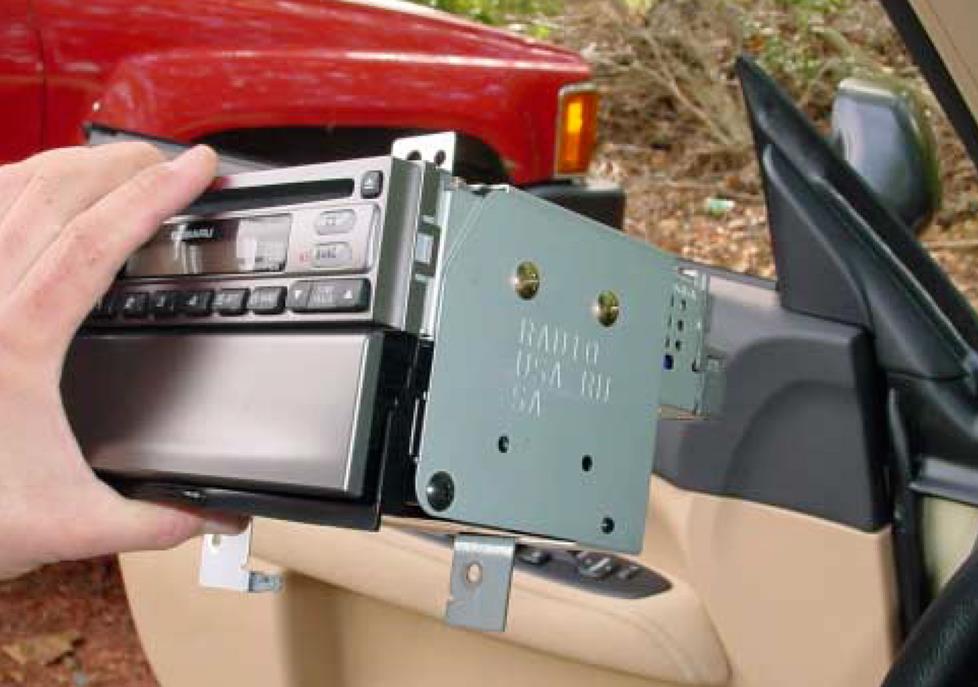 The factory brackets hold the radio and storage pocket in place (Crutchfield Research Photo)
Once you have everything hooked up, test the receiver to make sure it's working properly before you go to the trouble of putting the dash back together.
Tools needed: Panel tool, Phillips screwdriver
Installation note: Your parking lights may flash when you reconnect the battery after installing a new car stereo. There are two ways to make this stop. If you still have the keyless entry remote, press "Unlock" to defeat the flashing. If you don't have the remote, you'll find an Emergency Programming Override Button located under the dash (check your Owner's Manual for the exact location). Turn the ignition to the ON position and press the Override Button at the same time.
Read our Car Stereo Buying Guide for shopping tips and advice.
Shop for car stereos that fit your Subaru Forester
Removing the factory speakers
The Forester has speakers in the front and rear doors. Depending on how it was optioned, it might also have tweeters in the sail panels and a subwoofer in the cargo area. All of them could probably stand to be replaced by now.

The door speakers are neither large nor powerful (Crutchfield Research Photo)
Front door speakers
The Forester's factory front door speakers are 6-1/2" models best described as "adequate." If you want to really enjoy your music, a set of same-size aftermarket speakers will give you much better sound.
Getting to the old speakers involves removing the door panel, which is a relatively uncomplicated procedure covered in your Crutchfield MasterSheet. The slightly more complicated part involves drilling new mounting screw holes for the new speakers. This isn't the hardest task ever – you'll place the new speaker in its future location, mark where the holes go, and use a 1/8" bit to drill the new holes – but you're still drilling holes in your car, so be careful. Be aware of what's around the spot you're drilling into, mind your drilling depth, and wear eye protection.
Your aftermarket speakers may or may not come with mounting screws, so check the packaging carefully. If you need to pick something up at the hardware store, it's best to do it before you start taking your car apart.
Tools needed: Panel tool, Phillips screwdriver, small flathead, drill, 1/8" bit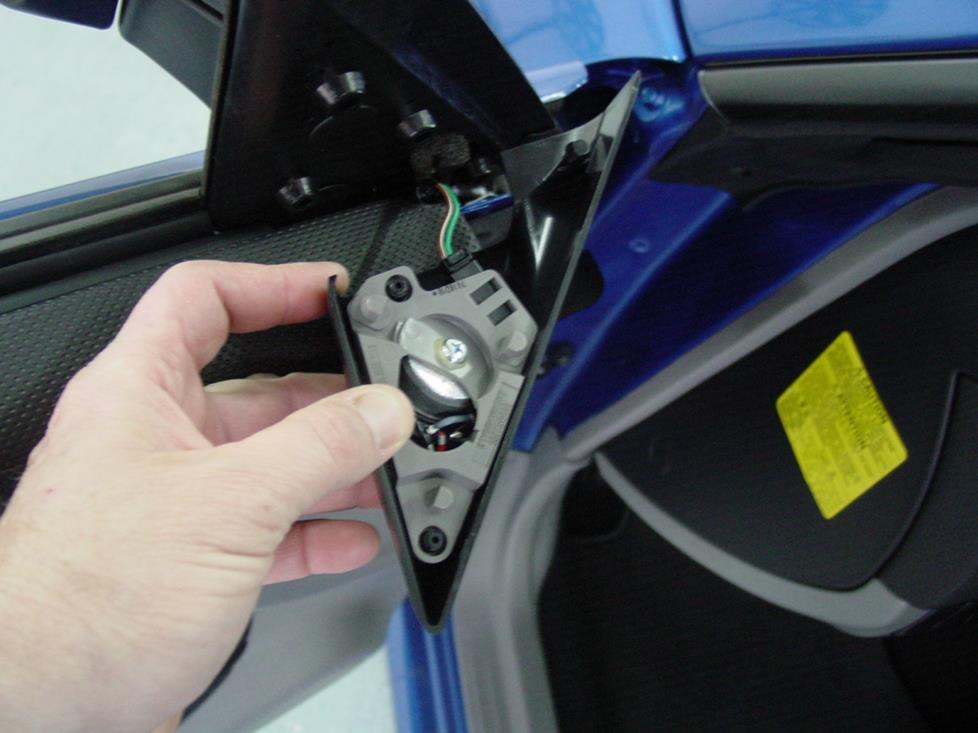 The optional sail panel tweeters aren't too hard to replace (Crutchfield Research Photo)
Front door tweeters
If your car is equipped with sail panel tweeters, they're reasonably easy to reach. If not, you still have sail panels, so it's possible to surface-mount the tweeters from a new component speaker system in that location.
If you're replacing the 35-watt stock speakers, you'll need to either fabricate a mounting bracket or use one of our universal backstraps to hold the tweeters.
Tools needed: Small flat blade screwdriver, Phillips screwdriver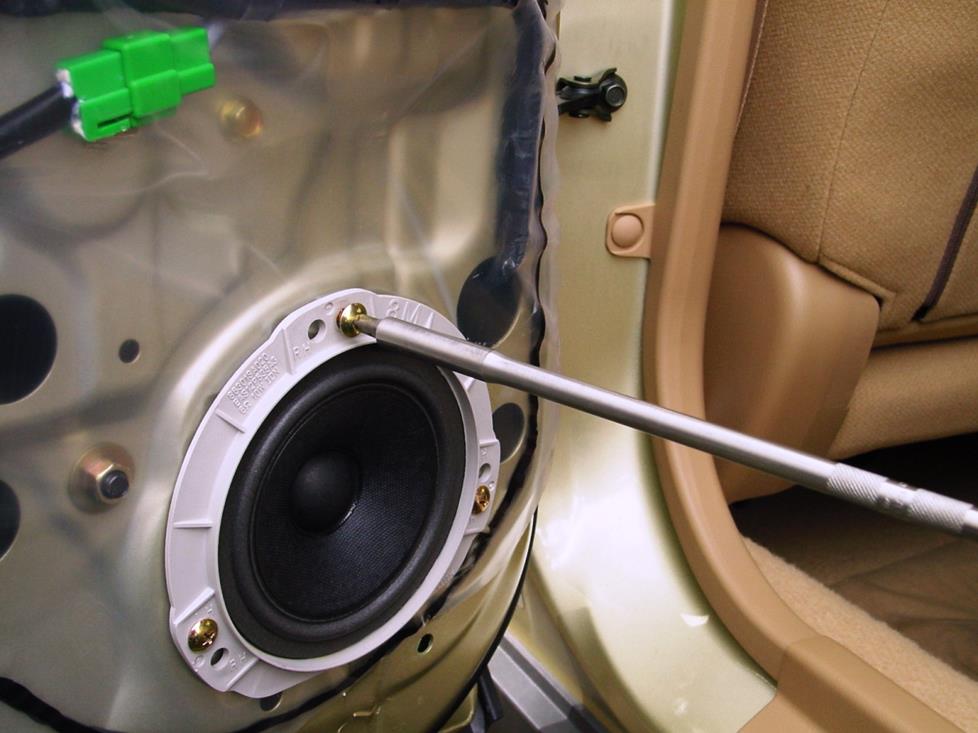 Replacing the rear speakers is basically the same job you did up front (Crutchfield Research Photo)
Rear door speakers
The rear door speakers are 5-1/4" models that can be replaced by a number of same-size aftermarket models. The removal process here is essentially the same as it is up front, and you'll have to drill new mounting screw holes here, too. Again, it's not difficult; it's just something that requires care and caution.
Speaking of care and caution, whenever you're using a panel tool to remove plastic trim panels from your car, remember to be patient and let the tool do the work. Brute force doesn't necessarily help here, and, as anyone who's ever snapped a trim panel will tell you, it can certainly hurt.
Tools needed: Panel tool, Phillips screwdriver, small flathead screwdriver, drill, 1/8" bit
Read our Car Speakers Buying Guide for more information.
Shop for speakers that fit your Subaru Forester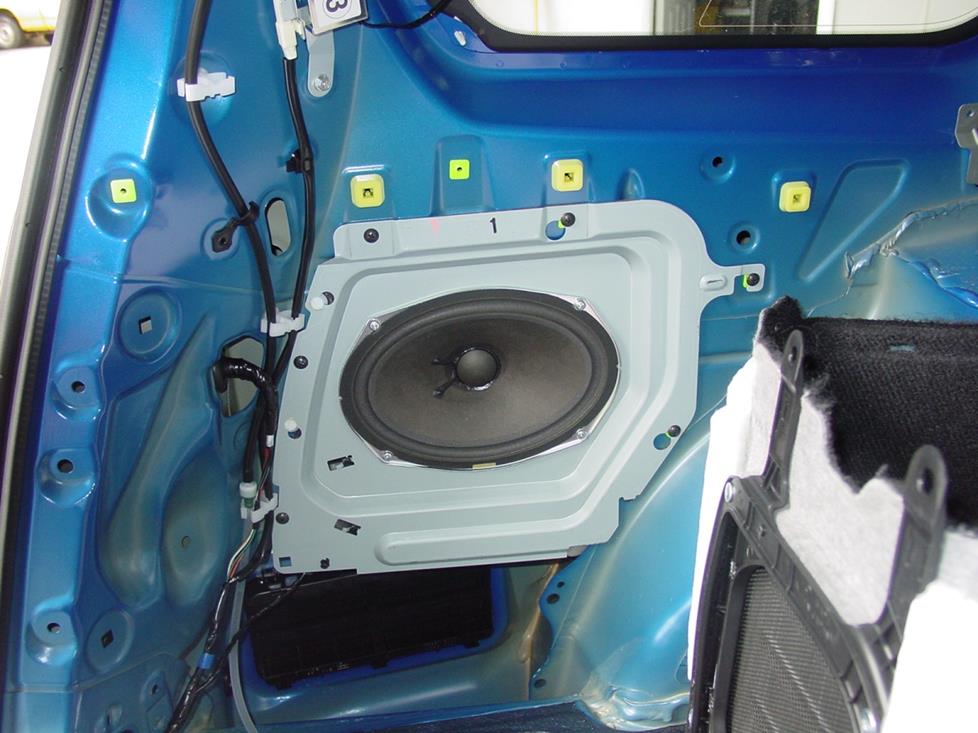 The factory sub is not so easy to work with (Crutchfield Research Photo)
Bass in your Subaru Forester
If your Forester is equipped with a factory subwoofer, it's either under the front seat or, in later models, on the driver's side of the cargo area. Both are powered by the factory receiver, so if you replace that, you lose your subwoofer. That's not a huge loss, because neither one of them is exactly thunderous.
Replacing the under-seat sub is reasonably uncomplicated if you scoot the front seat forward far enough. Crutchfield offers a number of compact, powered subwoofers that will fit in the space and deliver outstanding bass performance. Depending on your level of car audio installation experience, you may want to have the sub installed by a professional shop.
If you're replacing the rear cargo area sub, you'll definitely want to consider hiring pros. The stock 6" x 9" sub is nestled in the space that's used as a storage cubby in most Foresters, so the location works well in terms of everyday utility. The down side is that removing and replacing this speaker involves taking the entire cargo area apart and putting it back together.
This isn't an impossible task for the average DIY installer, but it's a massive amount of work. If you've replaced the receiver, this sub won't work anymore anyway, so we'd suggest leaving it where it is and installing a powered sub somewhere else in the car.
This location is only optimized for a speaker if the factory sub is present. If your car just has a storage cubby here, installing a speaker will require a lot of custom wiring and fabrication work. Same goes for the passenger's side. All in all, a powered subwoofer offers your best combination of sound, ease of installation, and everyday utility.
If you're serious about bass and less serious about hauling things in your Forester, there's obviously plenty of room back there for a component sub system in an enclosure. You have a 36" W x 14" H x 35"/30" D space to work with, so you can build something pretty impressive.
Tools needed: Panel tool, Phillips screwdriver, socket wrench, extension, and 10mm & 14mm sockets
Learn more about building a bass system in our Car Subwoofer Buying Guide.

There's room for bass back here. And a new cargo mat, too (Crutchfield Research Photo)
Other options for your Forester
For all its charms, the Forester is not the quietest of vehicles. The frameless windows, thin doors, and boxy shape combine to produce a symphony of road noise on the highway. While Lexus-like silence is probably unattainable, there are some things you can do to hear more music and less wind roar.
Sound deadening
An economical, highly recommended fix for the doors involves installing a set of foam baffles behind your new speakers. In addition to improving sound, these waterproof baffles help keep the speakers clean and dry, which is an important thing if you take your Forester off-road with any regularity.
For even better stereo performance, line the doors with Dynamat when you install your new speakers. This sound-deadening material keeps the sound of travel outside, so you can enjoy your music inside.
Floor mats and cargo liners
Quality mats and liners from WeatherTech will help protect your Forester from dirt, damage, dog hair, and discarded juice boxes.
Security
Installing a security system in your Forester isn't easy (security systems rarely are), but it's less complicated than it could be. Our Crutchfield Advisors can help figure out what you need to get the job done, but we usually recommend taking your car and new gear to a professional installer.
Let's get started!
Ready to shop? Use our vehicle selector to find the gear that will fit your car or truck. If you have questions, give us a shout via phone, chat, or email