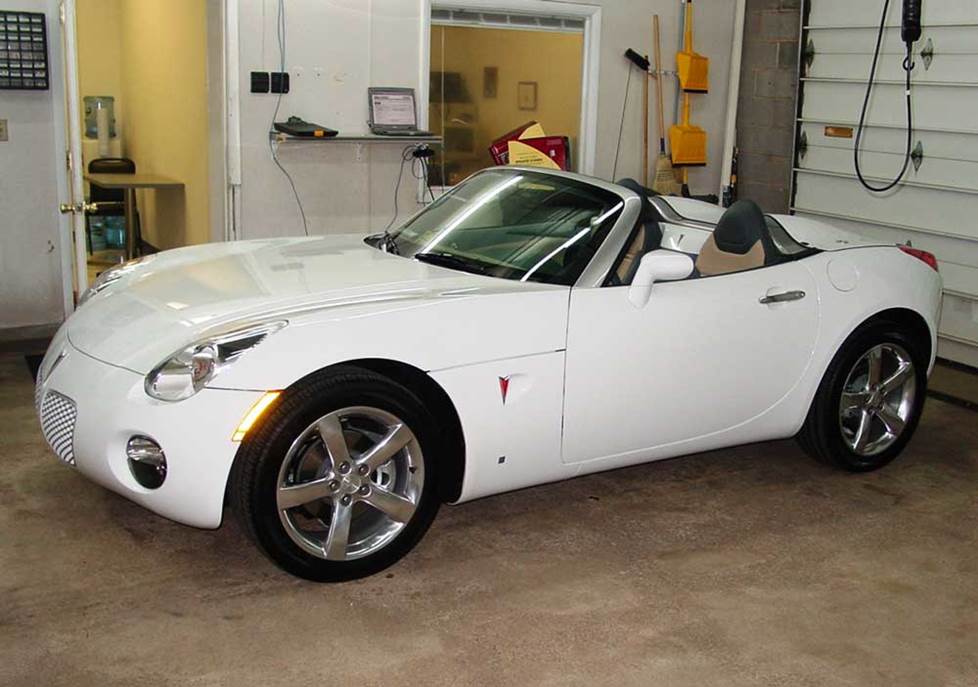 In brief: This Crutchfield Research Garage article gives you an overview of your Solstice's stock stereo system and your aftermarket upgrade options. We'll tell you all about:
Then, use our vehicle selector to find the gear that will fit your Solstice.
Overview of the Pontiac Solstice
Every now and then, one of those sleek, shiny "concept cars" seen under the bright lights at a big automotive show manages to make the journey from fantasy to reality. It doesn't happen often, but when it does, it's a victory for every showgoer who ever buttonholed a manufacturer's rep and said, "I will give you a deposit check RIGHT NOW if you tell me you'll build this thing!"
Sometimes, they actually build the thing. And sometimes, as in the case of the Pontiac Solstice, the production car is every bit as neat as the hand-built show car that inspired it. This small, sporty two-seater combined a reasonable price point with great looks, taut handling, and, with the optional turbocharged engine, a useful amount of power.
The Solstice wasn't enough to save Pontiac, but it's still a car worth savoring. Whether you have a convertible or the 2009-only targa-topped coupe, you've already got a fun, flashy little runabout that's a blast to drive on a sunny day. A great-sounding aftermarket stereo can make it even better.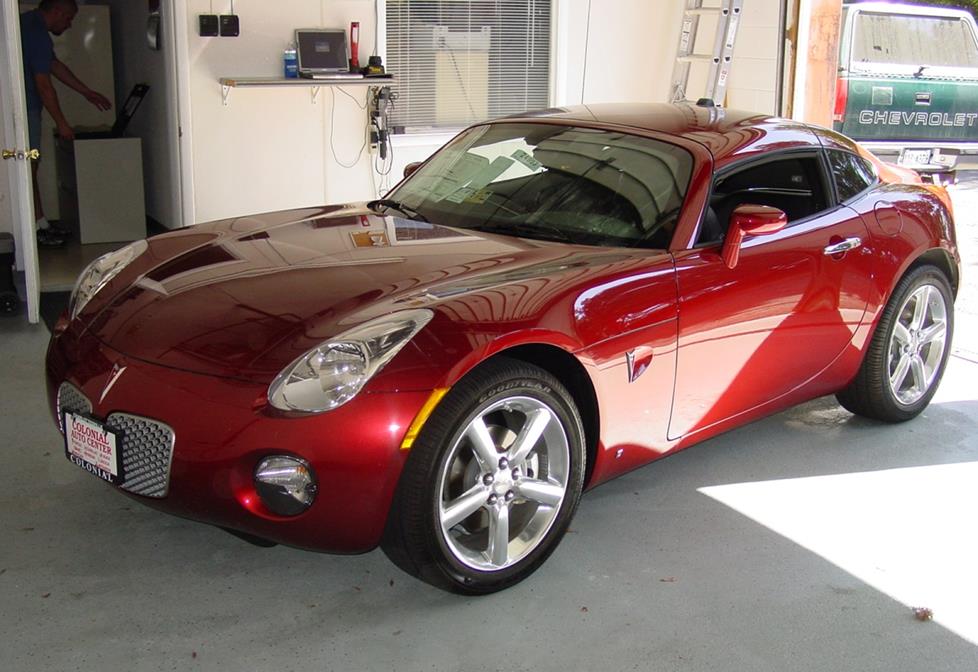 The factory stereo system
The standard Solstice system featured an AM/FM/ single-CD receiver with 6 speakers. The premium system consisted of a 6-disc AM/FM/CD/MP3 system with 7 speakers. Other available features included OnStar®, XM satellite radio, a trip computer, and, in 2009, Bluetooth® connectivity.
A wide variety of single-DIN (2" tall) or double-DIN (4" tall) aftermarket receivers will fit in the dash opening. If you replace the factory radio, you'll lose the factory XM satellite radio capability, but since many new receivers work with an optional SiriusXM tuner, that's no big deal.
Detailed stereo and speaker removal instructions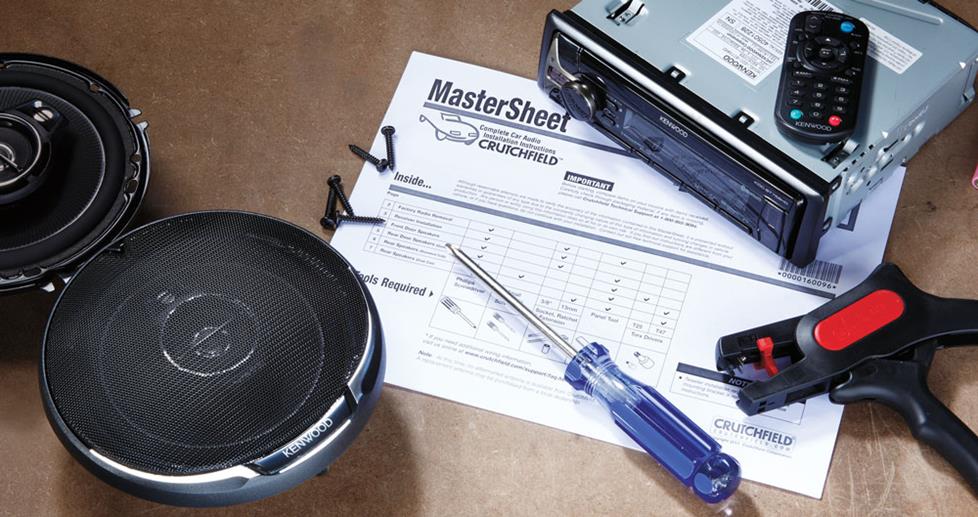 With step-by-step disassembly instructions and plenty of up-close, detailed photos, our exclusive
Crutchfield MasterSheet
™ takes the guesswork out of removing the factory stereo and speakers. It's free with your Crutchfield order, or you can purchase one separately for just $9.99.
Your vehicle's warning chimes are built into the factory radio, so you'll need to purchase an adapter that retains that audible safety warning and also provides a switched 12-volt power source for your new radio. Which adapter you need depends on whether or not your car is equipped with OnStar and/or the Monsoon system.
This is a major safety thing and Crutchfield strongly recommends that you use the recommended adapters when your replace the factory receiver. So much so, in fact, that if you don't use them, we won't provide tech support for your installation. On the other hand, you'll get a really nice discount on the adapter when you buy your receiver at Crutchfield.

There were several radios available, but they're all reasonably easy to remove and replace (Crutchfield Research Photo)
Removing the factory radio
Despite its small size and snug interior, the Solstice isn't as hard to work on as you might expect. Replacing the factory receiver requires care and a certain amount of precision, but it's really not that difficult. The entire process is laid out in the Crutchfield MasterSheet that's included free with your purchase.
You'll start by prying off the trim panel on the right of the console's pull handle. Next, remove the two exposed 7mm screws, then remove the left side trim panel. To avoid scratching these and other panels on the Solstice, use a clean shop rag in conjunction with your panel tool.
With that done, gently pry up on the shifter trim ring, then pry up the clips on the underside of the chrome ring and remove it. Starting at front edge, pry off the console's side trim panel. Dropping the steering column to its lowest possible position will make this much, much easier.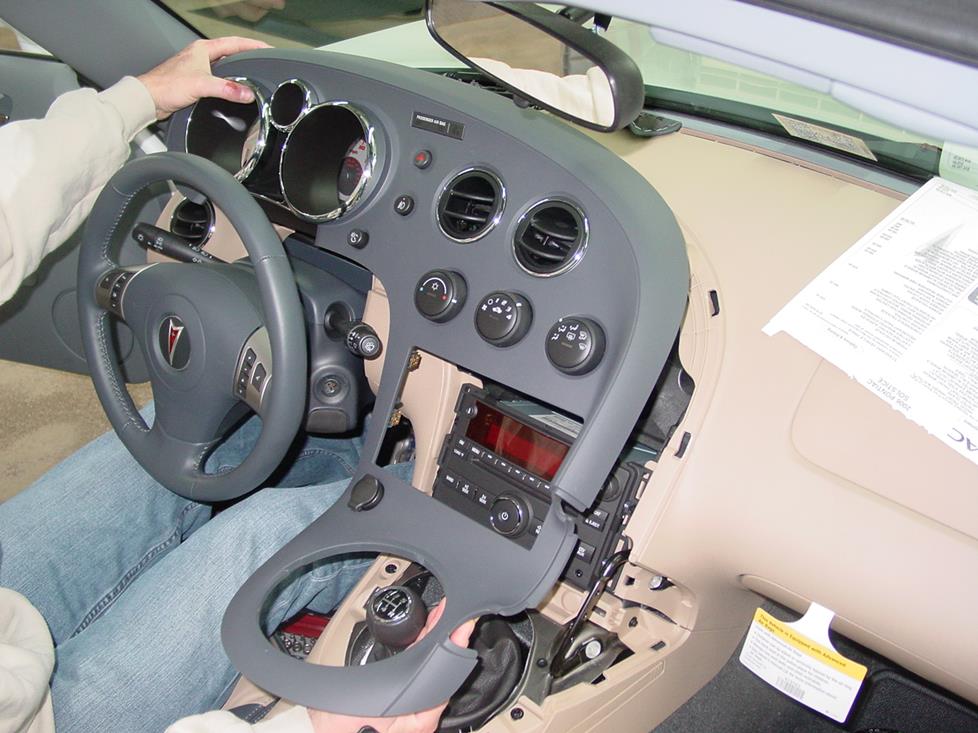 Carefully pry all the way around the console trim (Crutchfield Research Photo)
Starting at rear of the center console trim panel, pry out around the console/receiver trim panel to release the retaining clips. Disconnect the harnesses and remove the receiver trim panel to expose the radio and the four 7mm screws that secure it in the dash. Remove those, then disconnect the harnesses and remove the radio.
We're not collectable car experts, but the Solstice (especially the one-year-only coupe) seems like a car that might have some long-range potential. It's always difficult to gauge the future availability of spare parts, but "new old stock" radios for the Solstice could be hard to find. So, if you replace your factory radio and/or speakers, hang onto that gear. You can always put it back when it's time to sell the car.
Tools needed: Panel tool, socket wrench, 7mm socket, small flat blade screwdriver
Read our Car Stereo Buying Guide for shopping tips and advice.
Steering wheel audio controls
It's relatively easy to retain the steering wheel audio controls when you install a new stereo in your Solstice. When you enter your vehicle information, our database will choose the adapter you need to make your factory steering wheel controls work with your new receiver.
Removing the factory speakers
The Solstice has speakers in the front pillars, doors, rear side panels. Some systems also have a subwoofer on the back wall of the cockpit. The Crutchfield MasterSheet will cover the removal process for all of these locations, but here are some notes on each them.

The front pillars are a great spot for component tweeters (Crutchfield Research Photo)
Front pillar speakers
Your Solstice, regardless of stereo, has a set of 1-1/2" (roughly) tweeters located in the sail panel. They're quite easy to get to and reasonably easy to replace, so if you're thinking about installing a set of component speakers, you're in luck. You'll need an adapter to hold the new tweeter in place, and our universal backstrap is an easy, efficient solution. You can also use hot glue or silicone.
Tools Required: Panel tool, Torx T30, small flat-blade screwdriver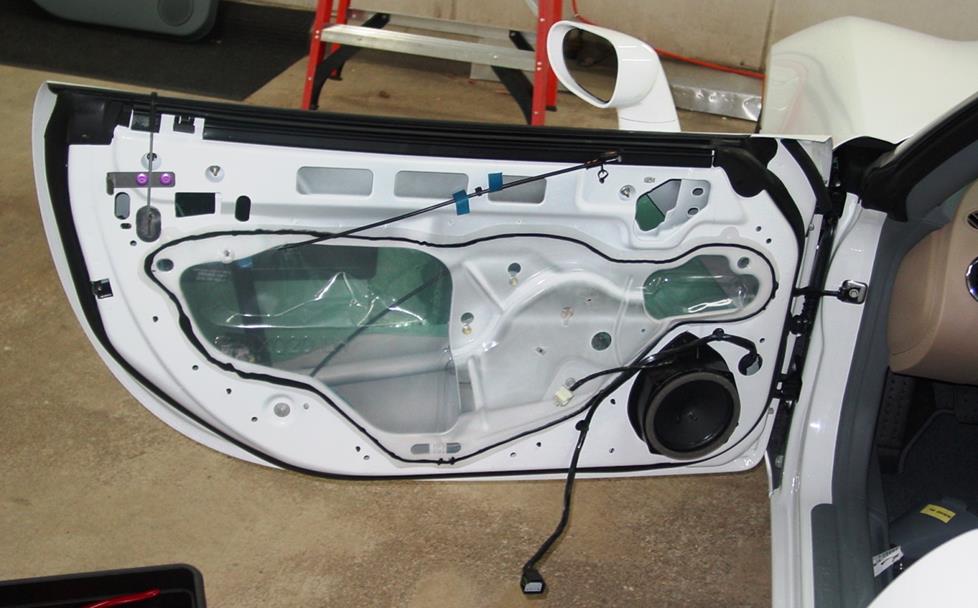 The door speakers are 6-3/4" models, and they're not too hard to replace (Crutchfield Research Photo)
Door woofers
The stock speakers are 6-3/4", 2-ohm models that can be replaced by a variety of 6-1/2" or 5-1/4" or 6-3/4" aftermarket speakers. You'll need speaker brackets for the smaller sizes, and they're included with your Crutchfield speaker purchase at a nicely discounted price. There aren't any wiring adapters available for this car, so you'll need a pack of Posi-Products Speaker Connectors to tap into the car's wiring.
Replacing the woofers is a bit more straightforward than the tweeter process. You'll need to remove the door panel, of course, but that's not terribly difficult. The key here is to take your time and be careful with prying away the trim pieces. You'll also be removing a fair number of screws, so it's a good idea to toss them into a plastic bowl for safekeeping until it's time to put everything back together.
If you replace the 2-ohm factory speakers with standard 4-ohm aftermarket speakers, you'll hear a noticeable drop in volume. Instead, make sure your new speakers also have a low impendance rating of either 2 or 3 ohms.
Tools Required: Panel tool, small flat blade screwdriver, needle-nose pliers, 7mm driver, Phillips screwdriver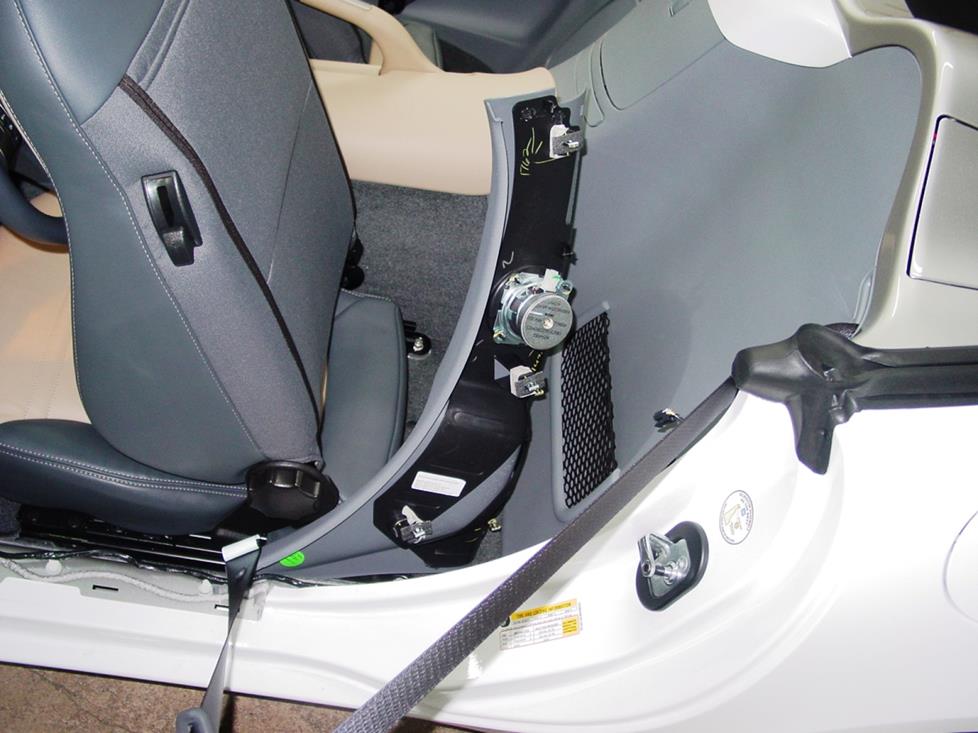 The Solstice has 3-1/2" speakers in the rear side panels (Crutchfield Research Photo)
Rear side panel speakers
The rear side panels house 3-1/2", 4-ohm speakers that are reasonably easy to get to and easy to replace with same-size aftermarket units. You'll need to remove the panel, of course, which isn't hard at all. Just remember to work carefully and wrap your panel tool in a clean cloth to prevent scratching the panel.
You'll need a pair of pliers to remove the four self-threading nuts that hold the speaker in place. These can be quite snug, so brute force is not recommended. Be patient, and they'll come loose. You'll need those nuts to attach the new speakers, so you don't want to strip them during the removal process.
Tools Required: Panel tool, pliers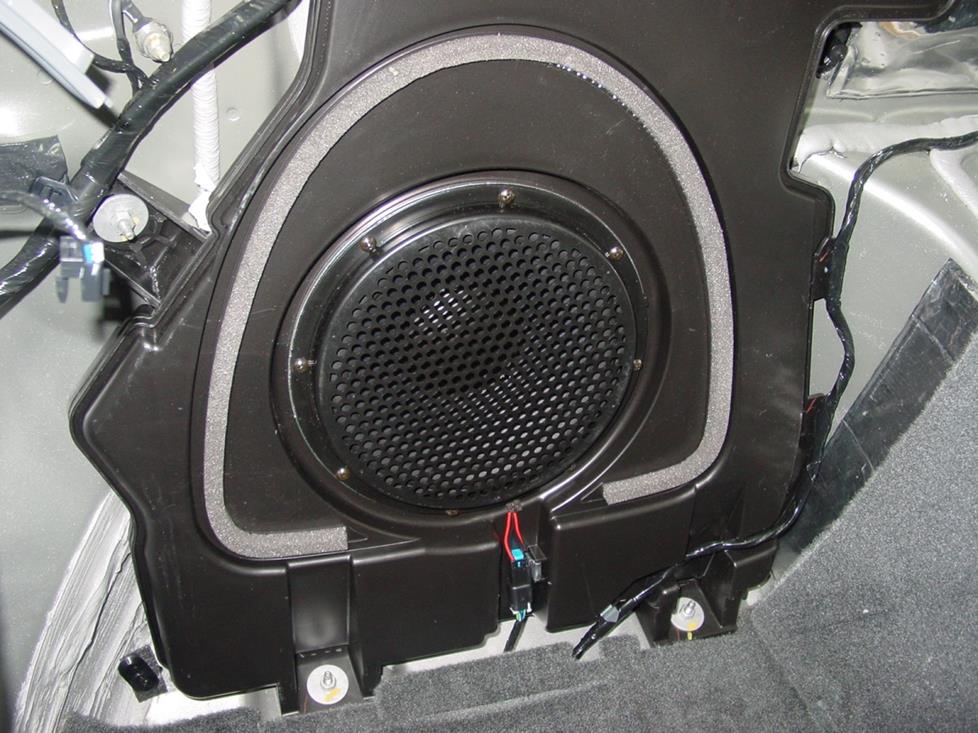 Removing the sub is less complicated than it looks (Crutchfield Research Photo)
Back wall subwoofer (coupe and convertible)
The Monsoon system's rear sub, an 8" model mounted behind the passenger seat on the rear "wall" of the interior, is an interesting case. When you see the removal process in list form, you'll think it's way more challenging that it actually is. There are a number of small, fiddly steps involved, but you're basically just prying out trim panels and retaining clips. The convertible involves a bit more hassle than the coupe, but not much more.
That said, it still might not be worth the effort. Due to mounting depth issues, there aren't a lot of subs that fit, so your options are limited. A wiring harness is not available, so if you find a sub, you'll need to splice the wires or make connections using Posi-Products connectors.
And, since the factory sub only receives bass frequencies from the factory amp, you'll also need a new amplifier to get the most out of your new sub. Helpfully, the factory amp is also located on the back wall of the Solstice, so there's that.
Tools needed: Panel tool, Phillips screwdriver, socket wrench, 10mm deep socket, 8mm socket, Phillips screwdriver
Read our Car Speakers Buying Guide for more information.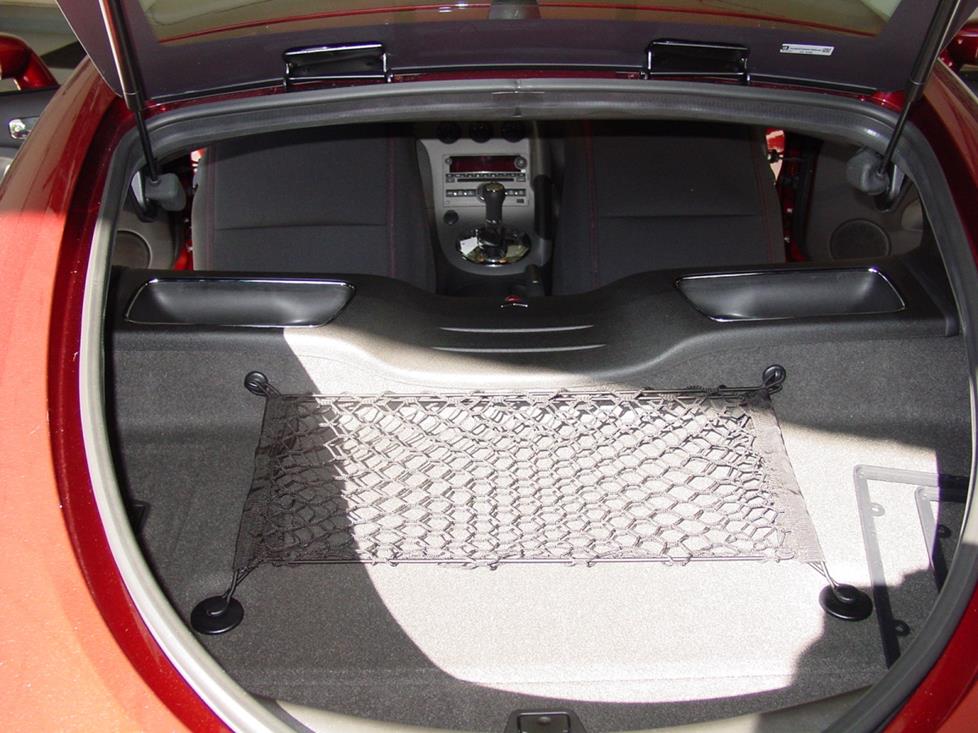 Neither the coupe not the convertible have a ton of trunk space, but there's room for a powered sub (Crutchfield Research Photo)
Bass in your Solstice
Unsurprisingly, there's not a lot of space for a big component subwoofer box (or luggage or groceries, for that matter) in the trunk of either Solstice. Then again, if your wanted an Aztek, you would've purchased an Aztek. And if you have purchased an Aztek, you'll definitely want to read our profile of it.
In either car, you're looking at a 20" W x 9" H x 12"/4" D space, which means you should be looking at a compact powered subwoofer for your Solstice. These surprisingly powerful units produce plenty of bass and fit neatly into the trunk without taking up too much of the available space.
Learn more about building a bass system in our Car Subwoofer Buying Guide.
Other upgrade options for your Solstice
Here are some other great ideas to improve your car's sound and security.

A powered sub, like the 8", 100-watt Bazooka BTA8100 Bass Tube, will bring a lot of bass to your Solstice.
Speaker baffles
A set of waterproof foam baffles can help you get the most out of your new set of speakers. The soft baffles compress easily within the doors, forming a seal that reduces panel vibration and improves sound. If you cut a hole in the bottom of the baffle, or remove the entire bottom, you'll maintain good bass response while still protecting your speaker.
Dynamat
The Solstice can be a noisy car, even when you're not wringing its neck on a twisty road. If you're serious about sound, Installing Dynamat in the doors helps keep road noise and rattles to a minimum so you can enjoy your new stereo to the fullest. If you add a sub, you'll also want to line the top of the trunk.
Remote start and security systems
Adding remote start capability to your vehicle lets you warm it up in the winter or cool it down in the summer. The iDatastart system is incredibly convenient and makes it easier than ever to install a remote start system, so we highly recommend it. The module requires a vehicle-specific T-harness (sold separately) to connect with your vehicle's computer, security, and ignition systems, so we ask that you call to order so that we can make sure you get the right harness for your ride.
You can also talk to your Crutchfield Advisor about a security system. They're not as easy to install (we usually suggest letting a professional do the job), but we can help you choose a system that'll work in your vehicle.
Let's get started!
Ready to shop? Use our vehicle selector to find the gear that will fit your car or truck. If you have questions, give us a shout via phone, chat, or email