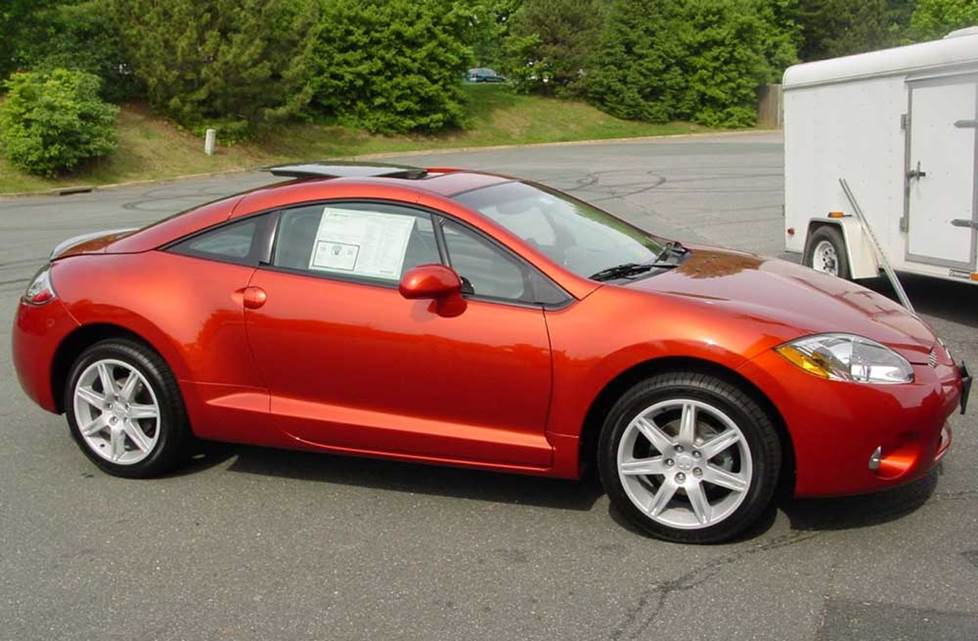 In brief: This Crutchfield Research Garage article gives you an overview of your Mitsubishi's stock stereo system and your aftermarket upgrade options. We'll tell you all about:
Then, use our vehicle selector to find the gear that will fit your Eclipse.
Overview of the Mitsubishi Eclipse
The original Mitsubishi Eclipse was a rowdy little pocket rocket that captured the imagination of teenagers and tuners alike. The fourth (and final) generation Eclipse, on the other hand, is a more mature sort of sports car.
It's still plenty of fun, mind you — the optional V6 actually makes it the fastest Eclipse ever — but it's not the screaming, hair-on-fire thrill ride of yore. That's a good thing, since most people who remember the original car are trying desperately to hold on to the hair they (we) have left.
Of course, if you have the hair to spare, you can add some aftermarket performance parts and make your Eclipse as fast and furious as you like. The same goes for car audio. If you're looking for more power and punch from your stereo system, Crutchfield has the gear you need to make your Eclipse sound awesome.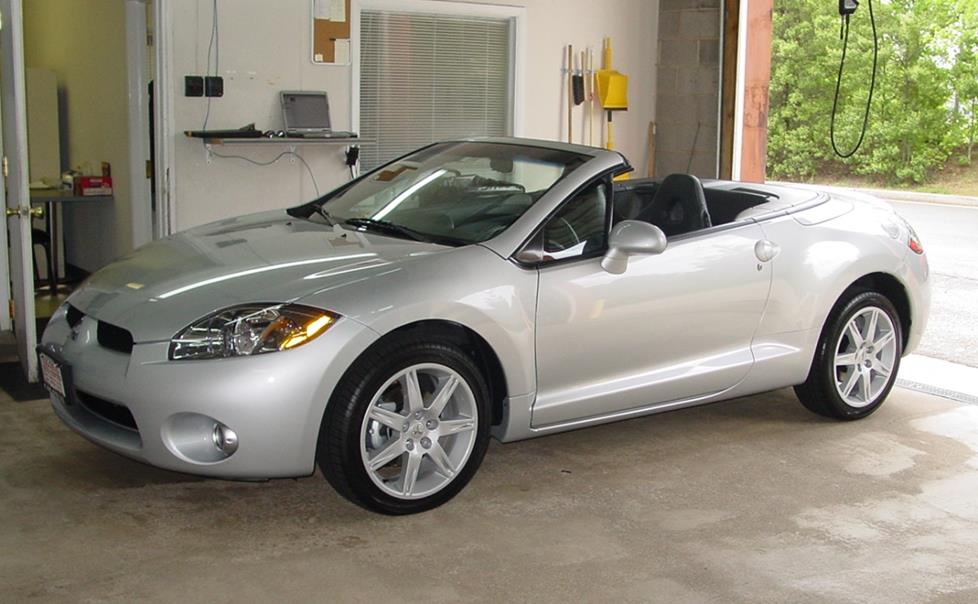 The factory stereo system
The Eclipse was available with two factory stereo systems. The base model was a 6-speaker AM/FM/CD/MP3 set-up, but the best option for audiophiles was optional Rockford Fosgate system. This premium stereo consisted of an AM/FM 6-disc in-dash receiver and 9 speakers (More like 7, since Mitsubishi treats the rear dual-voice coil speakers as seperates), including a subwoofer.
Though it's easily eclipsed (sorry, couldn't resist…) by just about any current aftermarket system, the Rockford Fosgate earned kudos from the automotive press when new, and it's really not bad now.
Some models are equipped with a satellite radio tuner, auxiliary audio jack, and steering wheel controls. An iPod® adapter was available as a dealer-installed option.

The factory radio isn't awful, but it could be a lot better. (Crutchfield Research Photo)
Removing the factory radio
Whether you have the base system or the Rockford Fosgate stereo, the radio removal process is pretty straightforward with the Eclipse. You'll start by gently prying out the edges of the receiver trim panel to release the retaining clips. We recommend that you use a panel tool for this type of work because screwdrivers can really damage plastic trim pieces.
Once everything's loose, pull out the trim panel, disconnect the wiring harnesses, and stash the panel in a safe place while you work on everything else. Remove the four Phillips screws that secure the factory radio, then pull it out and set it aside. Be sure to keep those screws handy, because you'll need them again later.
On first glance (and second, and third), it's hard to see how a new receiver could possibly work in the Eclipse. The factory receiver is so smoothly integrated into the trim panel that there's no room for even a single-DIN (2" tall) replacement, much less a double-DIN (4" tall) model.

The faceplate conceals the actual receiver (Crutchfield Research Photo)
Thankfully, there's a replacement trim panel that lets you install either size. It's available at a deep discount with your Crutchfield receiver purchase, and the finish matches up quite nicely with the dashboard. Depending on what's being installed, wiring harnesses or integration adapters are also available with your purchase, so you'll have what you need when you start the installation.

Metra's dash kit adapts the space to fit a new stereo (Crutchfield Research Photo)
Installing your new receiver is just about as uncomplicated as removing the old one. Secure the new receiver to the mounting bracket following the instructions included with the installation kit, then connect the receiver wiring harness adapter to the receiver. Hold the receiver assembly near the dash, connect the receiver wiring adapter to the factory harness, and plug antenna lead into rear of receiver. From there's all you need to do is slide the assembly into the dash and secure everything in place with the screws you removed earlier.
Detailed stereo and speaker removal instructions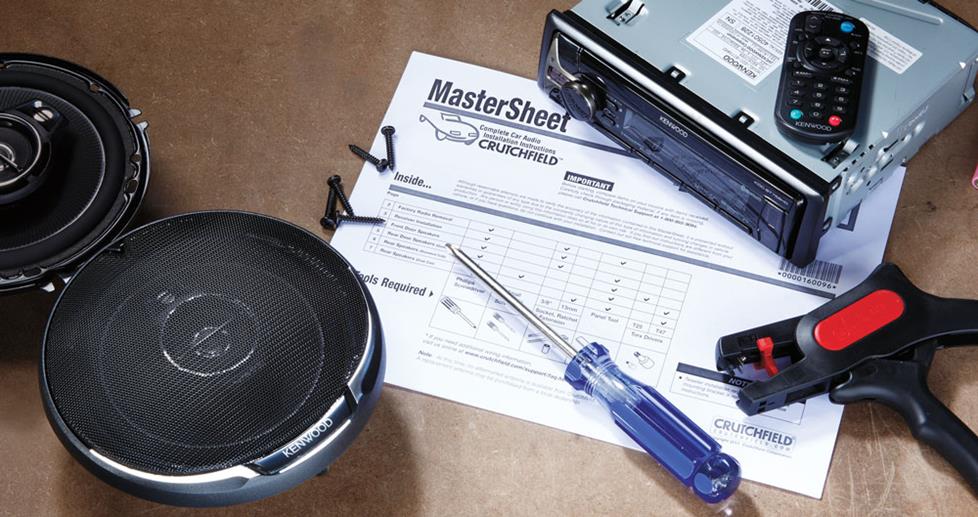 With step-by-step disassembly instructions and plenty of up-close, detailed photos, our exclusive
Crutchfield MasterSheet
™ takes the guesswork out of removing the factory stereo and speakers. It's free with your Crutchfield order, or you can purchase one separately for just $9.99.
Note: If your Eclipse is equipped with the Rockford Fosgate system, the dash tweeters and rear side panel speakers are powered directly by the receiver, while the door woofers and the subwoofer are powered by an amp located behind the right kick panel. If you're keeping the factory amp and want to retain fader control, the new receiver must have two pairs of RCA preamp outputs.
Tools needed: Phillips screwdriver, panel tool
Read our Car Stereo Buying Guide for shopping tips and advice.
Steering wheel audio controls
In most cases, it's reasonably easy to retain your car's steering wheel audio controls when you install a new stereo. When you enter your vehicle information, our database will choose the adapter you need to make your factory steering wheel controls work with a compatible aftermarket receiver.
Removing the factory speakers
The Eclipse has factory speakers in the dash, doors, and rear side panels. We'll take a look at both the Coupe and the Spyder versions below.

The dash speakers are easy to remove, but replacing them takes some work (Crutchfield Research Photo)
Dash speakers
The factory 4-ohm tweeters are located in the dash, near the base of the A-pillars. They're very easy to get to, but replacing them will involve a fair amount of work.
Mounting brackets are not available, so you'll need to drill new mounting holes, which, due to the angle of approach, is not at all easy in this location. Truth be told, this is the kind of job that's best left to professional installers unless you're very, very "good with tools". You can use a set of our universal backstraps to create brackets to hold the new tweeters in place. A wiring harness isn't available either, so you'll need to use Posi-Products connectors to connect the speaker wires to the vehicle's wiring system.
Wiring instructions can be found in your Crutchfield MasterSheet, and you can also check out our instructional video about wiring, which has plenty of information about splicing, soldering, and using Posi-Products connectors.
Tools needed: Panel tool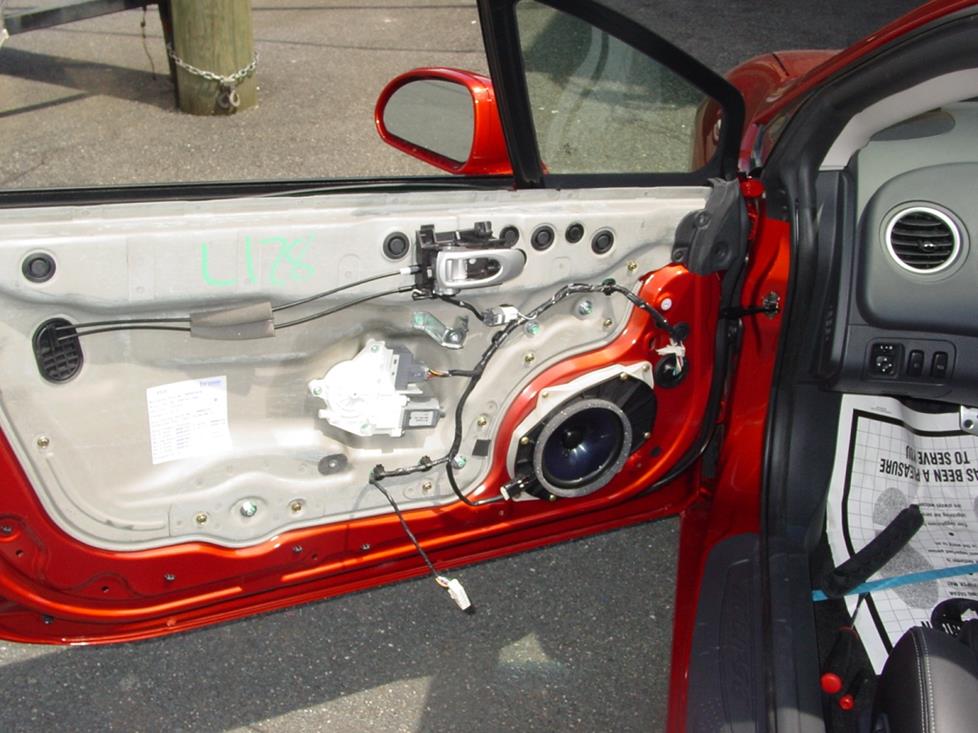 The stock front door speakers can be replaced by a wide variety of aftermarket models. (Crutchfield Research Photo)
Front speakers
Regardless of the factory system, your Eclipse is equipped with stock 6-1/2" speakers that can be replaced with 5-1/4", 6-1/2" or even 6"x9" speakers. An adapter bracket is required, and it's included free with your speaker purchase.
If you choose to install component speakers (a great idea for a car like the Eclipse), remember that you'll need to fabricate new mounting brackets if you're planning to install the new tweeters in the stock dash locations. Your woofers will include a set of mounting brackets for the doors.
Removing and replacing the door speakers in the Eclipse isn't difficult, but it does involve several steps, so it's good to work slowly and it's even better to keep track of the various Phillips screws you'll be removing as you remove the door panels and speakers. It's a lot easier to put something back together when you know how it came apart.
Tools needed: Panel tool, Phillips screwdriver, small flat blade screwdriver, socket wrench and 10mm socket
Rear side speakers
This is where the Coupe and Spyder begin to diverge a bit, though the aftermarket speaker selection remains the same no matter which stock stereo or body style you're working with. When it comes to replacing the rear dual-voice coil speakers, you'll want to look for same-size models or choose from a variety of 5-1/4" or 6-1/2" speakers. The difference is in how you get to the factory speakers. Spoiler alert: the Coupe is easier.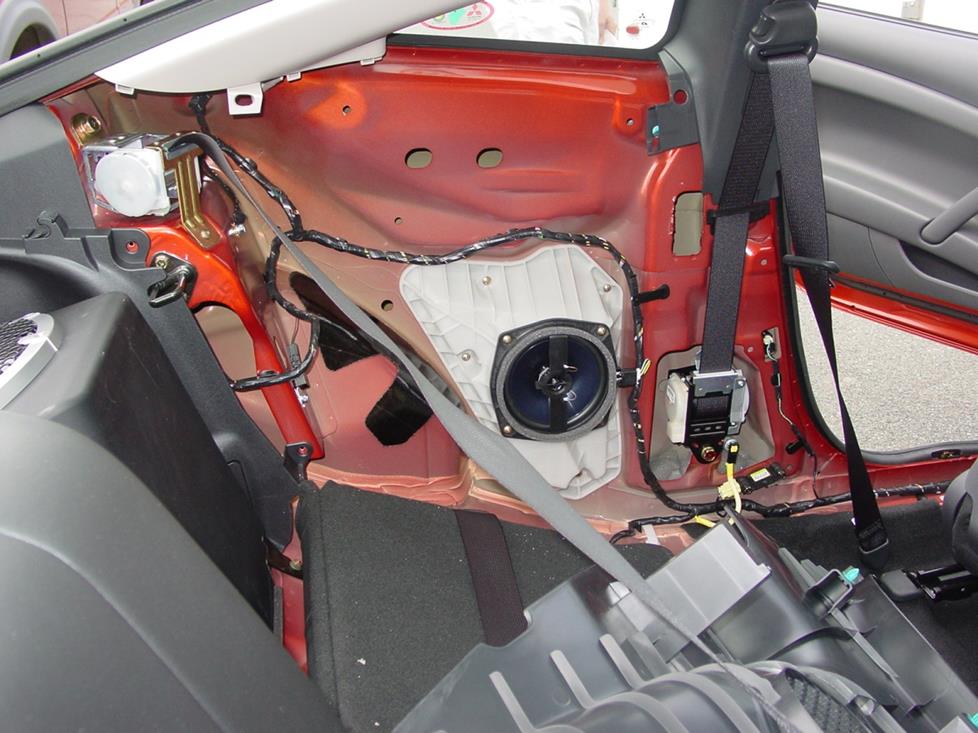 It takes a bit of work to reach the Coupe's rear side speakers. (Crutchfield Research Photo)
Coupe
To begin, you'll use a panel tool to pry up and remove the door scuff plate. That will expose a Phillips screw, which you'll remove. Next, you'll lift the front edge of the rear seat bottom cushion to release two clips that hold it in place. Remove the cushion, then fold down the seat backs and remove the two Phillips screws located at the rear edge of each rear side panel. Pry out the side panel to release the retaining clips, then set the panel to the side in a safe place.
Now, you're in the homestretch. Remove the four Phillips screws securing the speaker, pull it out, and disconnect it. Connect the speaker wiring adapter of your new speaker to the vehicle speaker harness, then secure the speaker with the screws previously removed.
Test the speakers to make sure they're working and, if they are, button everything up by reversing the steps above. Illustrated, step-by-step instructions can be found in your Crutchfield MasterSheet.
Tools needed: Panel tool, Phillips screwdriver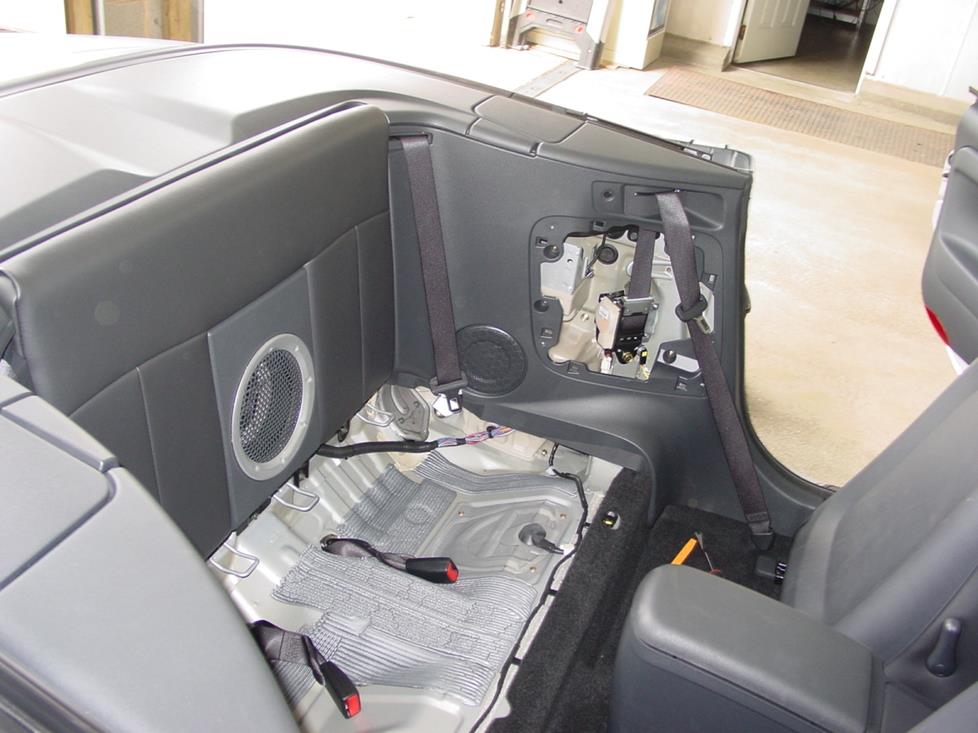 In the Spyder, the speakers are on the sides and the sub is in the center. (Crutchfield Research Photo)
Spyder
Installing new rear speakers in the open-air Eclipse is a more complicated task. It takes some rather sophisticated machinery to make a power-operated top do its thing, so there's less space available for speakers and subs.
The rear panel speakers are easy to find (they're right at the base of the panel, near the seat bottom), but getting to them takes a fair amount of work. And, once you're in, some modifications may be necessary in order to install a set of aftermarket speakers in this location.
Your Crutchfield MasterSheet contains Illustrated, step-by-step instructions, but if you're not feeling confident about your car audio installation skills, you may want to leave your Eclipse Spyder in the hands of professional installers.
Tools needed: Panel tool, Phillips screwdriver, socket wrench, 12mm socket
Read our Car Speakers Buying Guide for more information.
Bass in your Mitsubishi Eclipse

The coupe's subwoofer is easy to find. (Crutchfield Research Photo)
The Rockford Fosgate system, which was optional on the Eclipse Coupe and standard on the Spyder, includes a factory dual voice coil subwoofer. The Coupe sub is roughly equivalent in size to a 10" sub, while the Spyder's is more of an 8" model. In either case, you'll probably need to re-drill the mounting screw holes when you install an aftermarket sub.
They're both rated at 2 ohms and powered by an amp located up front, behind the right-hand kick panel. The coupe's sub is located in the trunk and the ragtop's is located in the center of the rear seat (see photo above) — mostly because there's precious little room in the trunk once the top is stowed.
Honestly, there's precious little room in either trunk, but you knew this wasn't a Montero when you bought it. If your coupe is not equipped with a factory sub, you're looking at a 25" W x 13" H x 22" D space for a sub box – which means you're probably really looking at our selection of powered subwoofers. For the record, the ragtop is even tighter, at a duffle bag-friendly 45" W x 10" H x 13" D
Other options for your Mitsubishi Eclipse
There are plenty of other ways to improve your Eclipse. Here are some of the ways Crutchfield can help.
Speaker baffles
For small, sporty cars like the Eclipse, a set of waterproof foam baffles can help reduce noise and maximize door speaker performance. The soft baffles compress easily within the doors, forming a seal that reduces panel vibration and improves sound.
Dynamat
If you're really serious about sound, installing Dynamat in your Eclipse will help keep noise and rattles to a minimum and allow you to enjoy your new stereo to the fullest.
Security
Installing a security system in your Eclipse isn't easy (security systems rarely are), but it's less complicated than it could be. Our Crutchfield Advisors can help figure out what you need to get the job done, but we usually recommend taking your car and new gear to a professional installer.
Let's get started!
Ready to shop? Use our vehicle selector to find the gear that will fit your car or truck. If you have questions, give us a shout via phone, chat, or email