2006-2015 Mazda Miata
Upgrading the stereo system in your Miata
2006 • 2007 • 2008 • 2009 • 2010 • 2011 • 2012 • 2013 • 2014 • 2015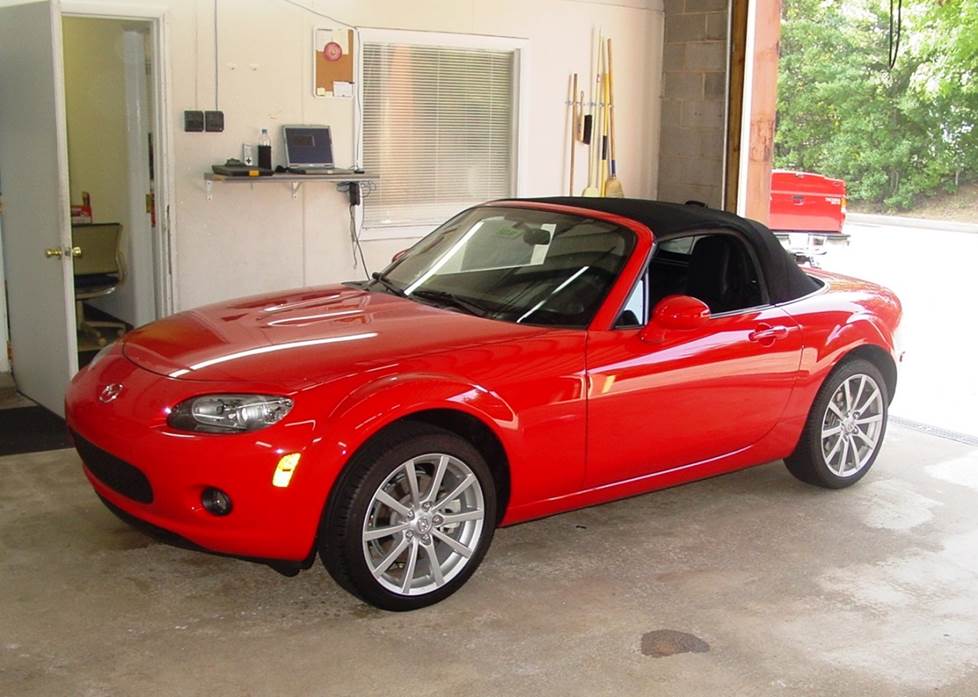 In brief: This Crutchfield Research Garage article gives you an overview of your MX-5 Miata's stock stereo system and your aftermarket upgrade options. We'll tell you all about:
Then, use our vehicle selector to find the gear that will fit your Mazda.
Overview of the Mazda MX-5 Miata
The trouble with creating an iconic car like the Mazda Miata is that even iconic cars eventually need to be updated or replaced by something that's newer and (hopefully) better. The problem is that "better" can be a subjective term, especially for any car with a passionate fan base.
Fortunately, Mazda has totally got this. The second-gen Miata was well-received and the third, though a smidge bigger and more comfortable, managed to be better still without losing any of the qualities that made the original car great in the first place.
The "NC" Miata remains what's it's always been – a tossable two-seater with all of the virtues and none of the vices found in the classic two-seaters of yore. It's a car built for fun, and thankfully, Mazda is serious about keeping it that way. Adding some new car audio gear will make your Miata even more enjoyable.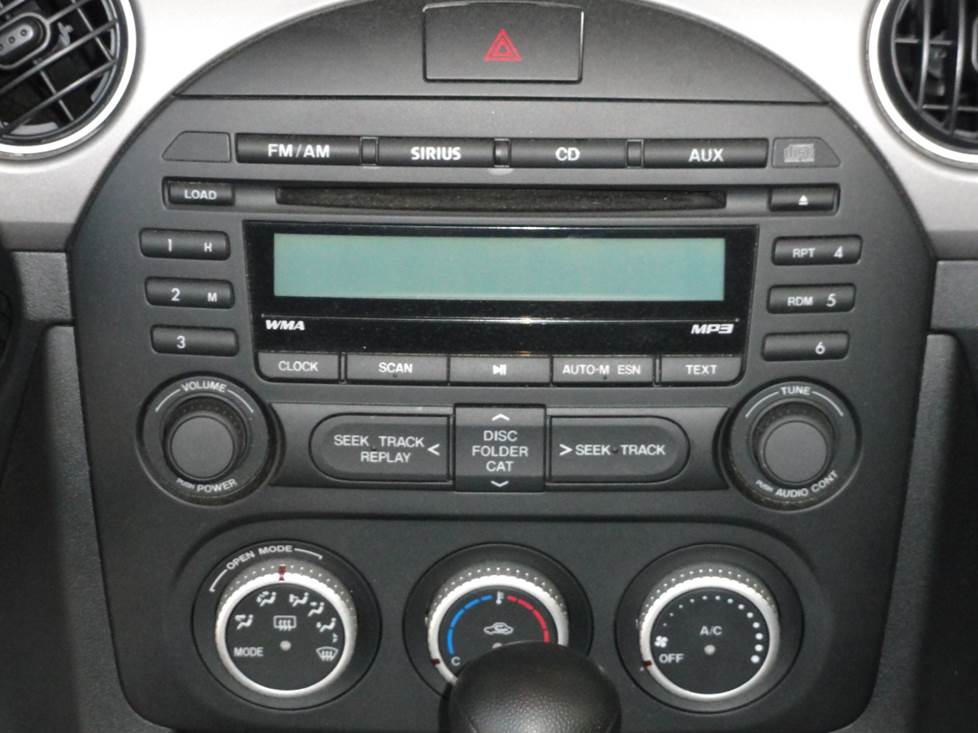 The factory radio stayed basically the same from 2006-2015. (Crutchfield Research Photo)
The factory stereo system
Depending on your car's model year and options package, the factory stereo will be either an AM/FM/CD receiver with four speakers, an AM/FM/6-CD unit with the seven-speaker Bose system, or, in 2009-2015 cars, an AM/FM/Sirius/6-CD/WMA/MP3 receiver with six speakers.
They're all okay-ish as factory radios go, but if you care about sound as much as you care about speeding along a twisty road, you'll definitely want to upgrade the receiver and speakers.
If you bypass the Bose factory amp, we recommend replacing the low-impedance factory speakers with standard 4-ohm aftermarket speakers to prevent overheating and other damage to your new radio. You can also add an aftermarket amplifier, which will make it all sound better.
Despite the differing approaches to radio removal noted below, the same dash kit works in all NC-series Miatas. It's designed to blend right into the dash, so you'll get the best of both worlds – a better stereo and a factory look.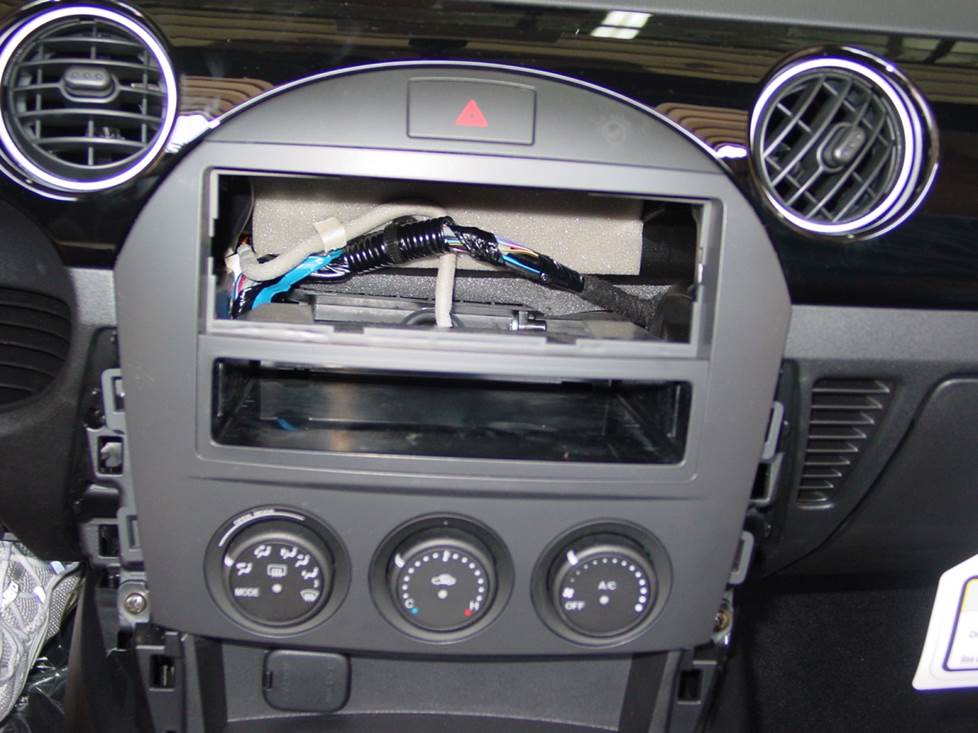 The same radio kit can be used in all 2006-2015 Miatas. (Crutchfield Research Photo)
Removing the factory radio
A variety of single-DIN (2" tall) and double-DIN (4" tall) stereos will fit in these Miatas, with the help of the dash kit and wiring harness. Both of those are available at a steep discount with your Crutchfield stereo purchase. You'll lose the factory AUX input when you replace the stock receiver, but it's easy to find an aftermarket model with that and more.
2006-2008 cars, with or without Bose
The early cars are pretty easy to deal with, even if you're new to the DIY car audio game. You'll need some basic tools (see below), several of which are available from Crutchfield if you don't already have them in your toolbox.
You'll start by using a panel tool to pry off the upper console side panels on either side of the climate control/radio assembly. You'll find two Phillips screws on either side of the radio assembly, and you'll need to remove all of them. Next, pry the driver's side knee panel off and remove the four Phillips screws securing the metal crash plate
You'll finish up by removing one 10mm bolt from the driver's side of the radio, pulling the radio out of the cavity, and disconnecting the harness.
Tools needed: Panel tool, Phillips screwdriver, 10mm socket, ratchet & extension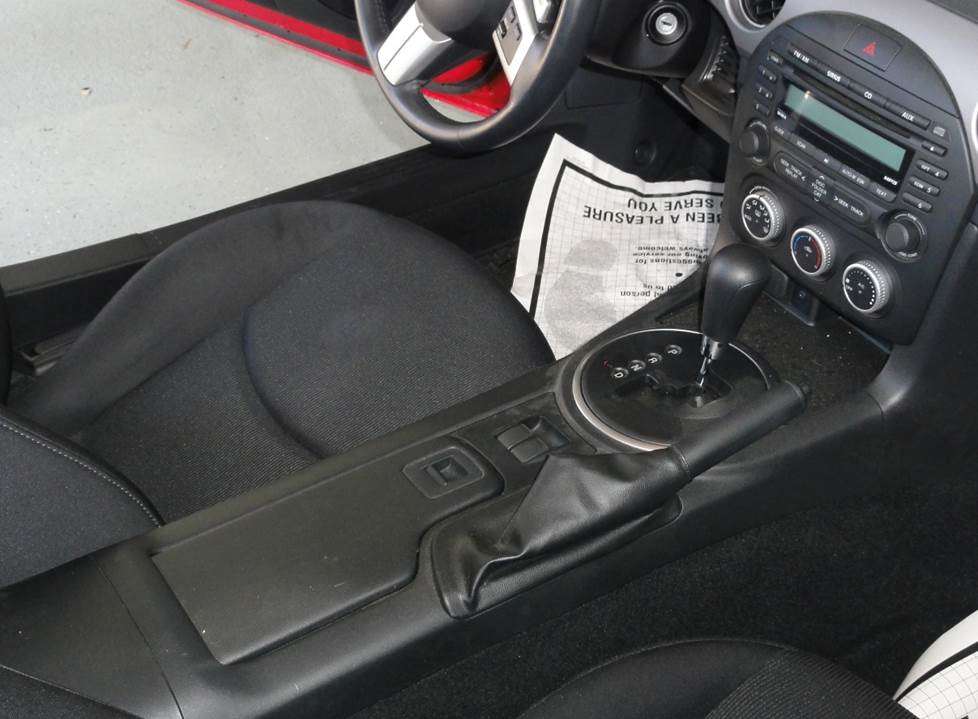 Removing the 2009-up center console takes as fair amount of time, but it's not complicated. (Crutchfield Research Photo)
2009-2015 cars, with or without Bose
As a result of some mid-cycle (-ish) interior updates, the radio removal process is a little more complicated in 2009-2015 Miatas. The radio itself is the same. The difference is that the center console trim is a bigger part of the equation. Removing that adds steps to the process.
None of those steps require a tremendous amount of talent or anything, but there are a lot of them. Once the console's out of the way, you'll basically be able to follow the 2006-2008 instructions above to remove the radio.
Listing all the console and radio removal details here would take up a vast amount of space, but every single one of them can be found in the Crutchfield MasterSheet that's included free with your stereo purchase. It's ordinarily a $10 value, but when you're doing a job like this, it's priceless in more ways than one.
Tools needed: Panel tool, Phillips screwdriver, 10mm socket, ratchet & extension
Shop for car stereos that fit your Mazda MX5
Steering wheel audio controls
It's relatively easy to retain the steering wheel audio controls when you install a new stereo in your Miata. When you enter your vehicle information, our database will choose the adapter you need to make your factory steering wheel controls work with your new receiver.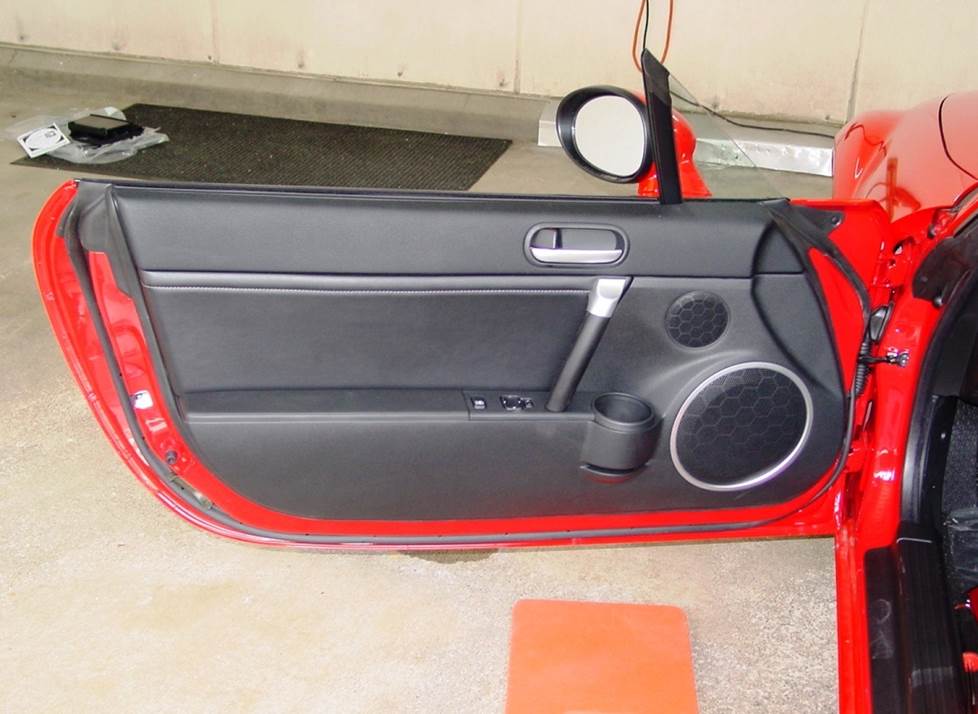 The front door styling changed a bit over the years. This is the 2006-2008 look. (Crutchfield Research Photo)
Removing the factory speakers
Depending on factory trim level, the Miata could have speakers in the dash, doors, and rear panel. The dash and door speakers are easy to deal with. The rear panel speakers are not.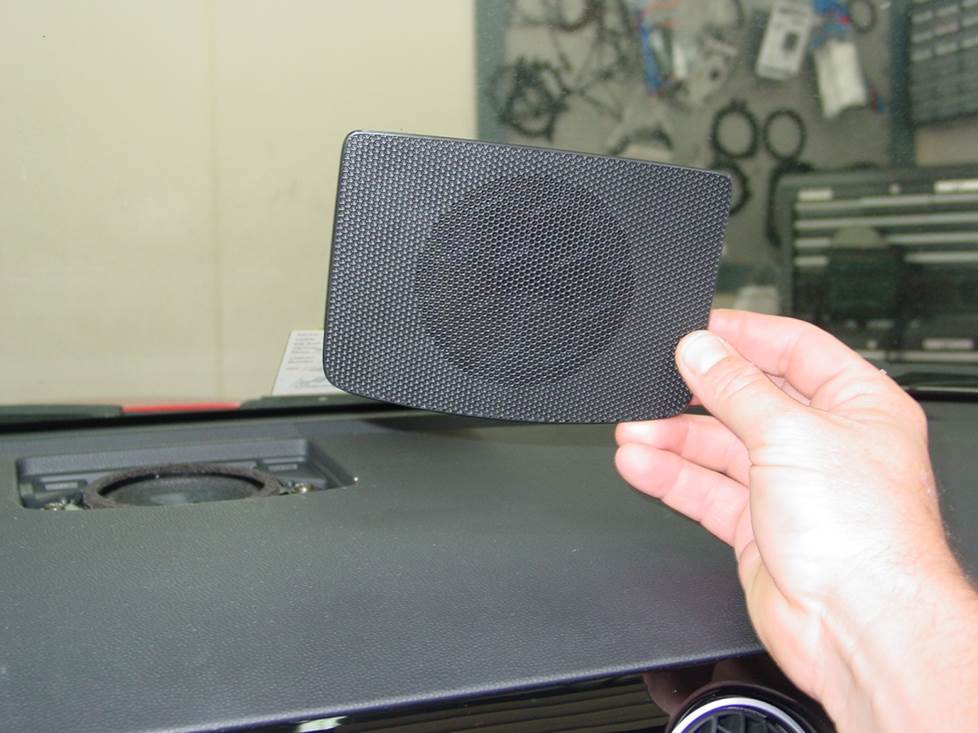 The center dash speaker is very easy to reach and replace (Crutchfield Research Photo)
Removing the Miata's dash speaker (Bose® system only)
Bose-equipped Miatas feature a center-dash speaker that can be replaced by a 3-1/2" aftermarket model. It's under a grille and easy to reach and remove. All you need to do is pry the grille straight up to remove it, then remove the two Phillips screws securing the speaker to the dash. Disconnect the wiring harness, remove the speaker, and set it aside.
A wiring harness is not available for this speaker, so you'll need to make your connections using Posi-Products speaker connectors. They're easy to work with, and you'll get a tight, long-lasting connection. That's always a handy thing, especially in a cowl-mounted speaker.
Tools needed: Small flat blade screwdriver, stubby Phillips screwdriver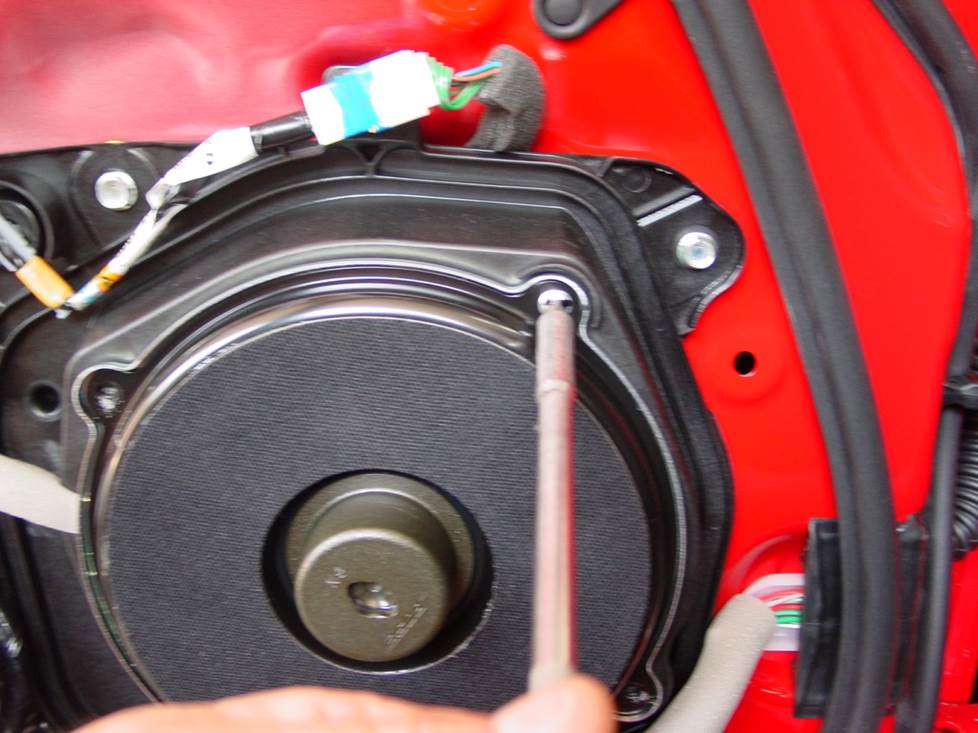 When you replace the 8" Bose speakers, you'll need to drill new mounting holes for your aftermarket speakers. (Crutchfield Research Photo)
Removing the Miata's door speakers
Dealing with the door speakers starts with removing the door panels. The panel design changed slightly over the years, so there's going to be a slight difference in how you go about removing the panels. But that difference is really, really slight, so no matter what model year you're dealing with, panel removal is pretty painless.
On a 2006-2008 car, you'll start by prying off the screw cover at the top of door pull and removing one exposed Phillips screw. On a 2009-2015 car, you'll start by prying off the outer door pull cover (start at the bottom) to release the retaining clips. Remove that, then remove the exposed Phillips screw.
Remove the Phillips screw from the cupholder, then pry around the sides and bottom of the door panel to release eight retaining clips. Lift the door panel, disconnect the door release cable and door lock wiring harnesses, then remove the panel.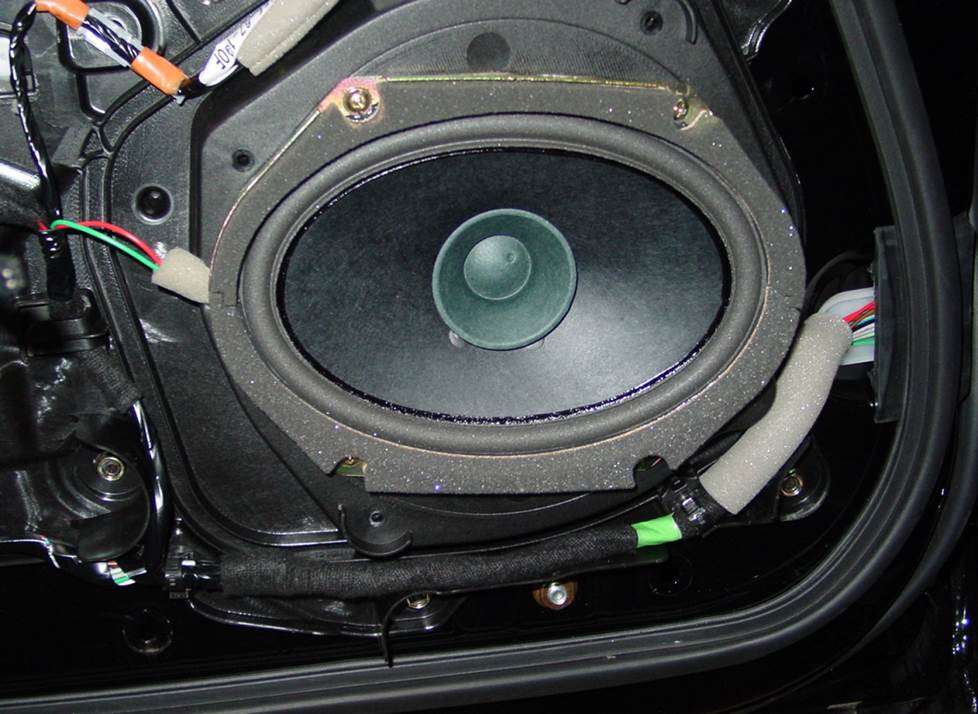 The 6"x8" base speakers are comparitively easy to deal with. (Crutchfield Research Photo)
Removing the Miata's door woofers
The difference between the base and Bose speakers isn't just a performance thing. They're actually, physically different. The Bose speakers are 8" in diameter and round, while the base speakers are 6"x8" oval-shaped models. When you replace the low-impedance (1-ohm or 2-ohm) Bose speakers, choosing a higher-impedance speaker will result in less volume, so keep that in mind when you're shopping.
You'll need to remove the four Phillips screws securing the speaker, then pull the speaker out, disconnect it, and set it aside. If you have the base speakers, you should be able to connect the new speakers, test them out, and move on.
Detailed stereo and speaker removal instructions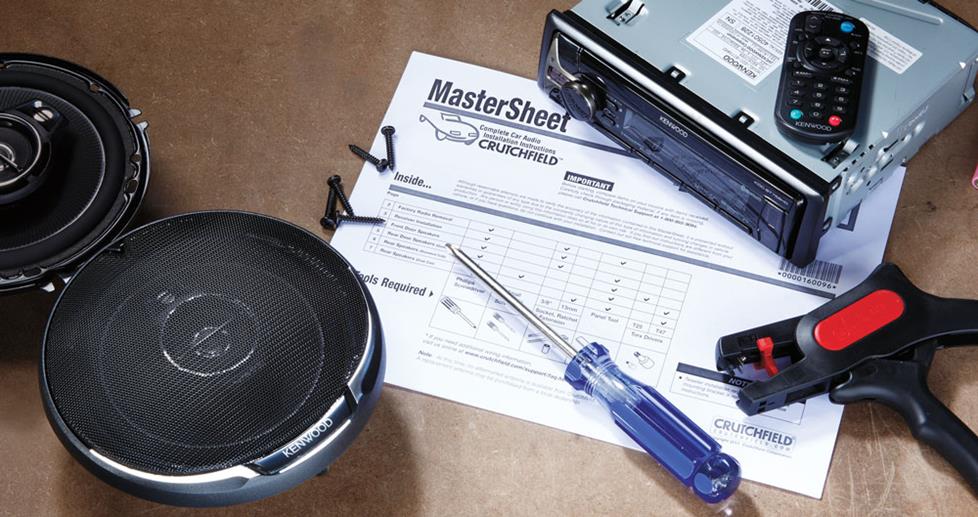 With step-by-step disassembly instructions and plenty of up-close, detailed photos, our exclusive
Crutchfield MasterSheet
™ takes the guesswork out of removing the factory stereo and speakers. It's free with your Crutchfield order, or you can purchase one separately for just $9.99.
If you have the Bose speakers, you'll need to place the new speaker in the cavity, mark the new mounting holes, then remove the speaker and drill the new holes with a 1/8" bit.
Wait, drill the what? Relax. If you're an experienced DIY-er, this is no big deal. If you're not, remember that you're just drilling a hole. Yes, you're drilling a hole into your beloved Miata, but still, it's cool.
Whether you're an experienced hand or a total newbie, you need to be safe and smart about this. Wear eye protection, and be very aware of what's around and behind the places you're drilling. Work patiently and it'll go fine.
Once the holes are neatly and safety drilled out, connect the replacement speaker's wiring adapter to the car's speaker harness, then secure the speaker with the screws you removed earlier.
Tools needed: Phillips screwdriver, panel tool, small flat blade screwdriver, drill and 1/8" bit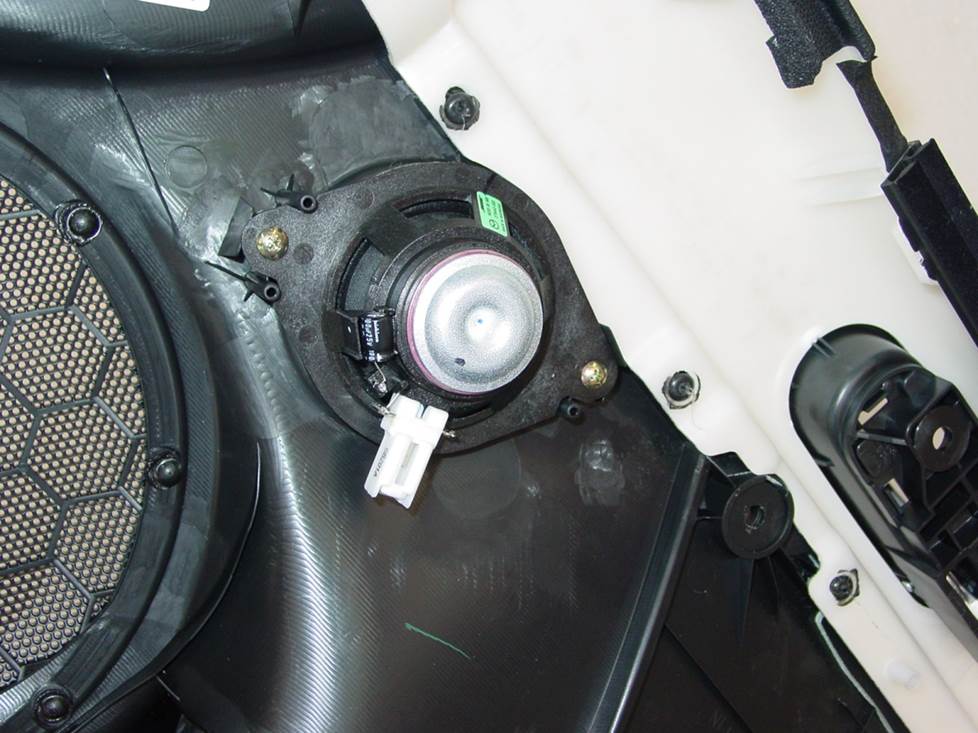 The factory tweeter is attached to the door panel. (Crutchfield Research Photo)
Removing the Miata's door tweeters
As long as the door panels are off, you'll also want to replace the factory tweeters. This isn't hard, but you'll need to do a bit of work. With the panels out of the way, a lot of the work is already done, though. Remove the two Phillips screws securing the speaker to the door panel, then disconnect it. On later cars, the speaker is glued in place, so you'll use a pry tool or small flat head screwdriver to gently separate it from the panel.
Once that's done, you're now ready to install the new tweeters. Well, kinda. There's no wiring harness available for this location, so you'll need to connect the new speaker to the car's wiring using Posi-Products speaker connectors. This actually isn't hard, and you'll get a very secure connection – always a plus with door-mounted speakers.
Because the tweeters are connected to the door panel, you may (depending on the tweeter you choose) need to expand the cutout a bit. Most aftermarket tweeters can be flush-mounted in this location, but you'll probably need to use universal backstraps, hot glue, or silicone to secure them in the opening.
Tools needed: Phillips screwdriver, panel tool, small flat-blade screwdriver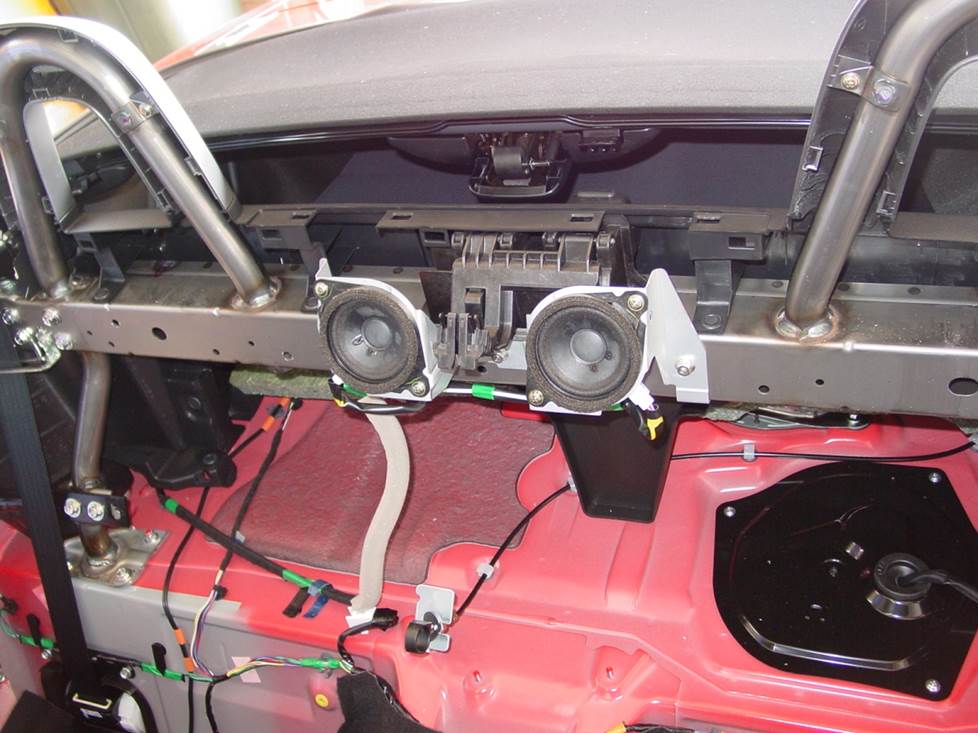 We're only showing this photo because we're proud of all the work we did to expose these speakers. (Crutchfield Research Photo)
Removing the Miata's rear speakers (Bose® system only)
The Bose system includes a pair of 3-1/2" speakers located at the top of the rear section of the center console, between the seats. There aren't a lot of speakers that fit these locations, a wiring harness is not available, and, oh yeah, getting to them involves a vast amount of effort on your part.
We've done it, and, because we're us, we took detailed notes. It's a 17-step process, and we frankly don't recommend it for the average DIY-er. We know that a lot of Miata owners are way above average when it comes to working on their cars, though, so if you're planning to do this, give us a call. Lifetime tech support is included with your Crutchfield stereo or speaker purchase, so we'll tell you everything we know.
Tools needed: Panel tool, Phillips screwdriver, small flat-blade screwdriver, phone to call Crutchfield Tech Support
Shop for speakers that fit your Mazda MX5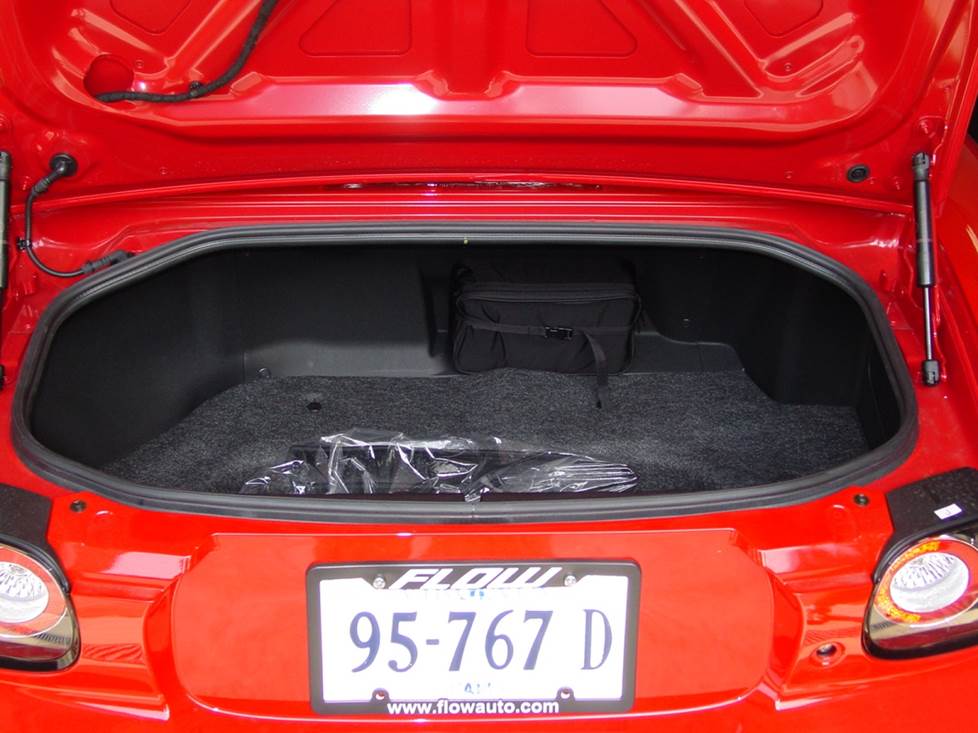 There's not a lot of room back here for anything, really, but a small powered subwoofer could work. (Crutchfield Research Photo)
Bass in your Miata
If you own a Miata already, you're well aware that this is not the car to take when you need to stock up at the warehouse store. There's not a lot of space in the trunk, but if you want to build a custom enclosure to hold a subwoofer or two, you have a 27" W x 10" H x 12" D space to work with.
We'd recommend something smaller, though, like a powered subwoofer. If you go that route, make sure you choose a new stereo with plenty of preamp outputs, because the factory amp is every bit as hard to get to as the rear console speakers. Maybe harder. Bypass it, and move on.
Check out our full selection of powered subwoofers
Other options for your Miata
There are lots of ways to make your Miata just a little more yours. Here are some of the ways Crutchfield can help.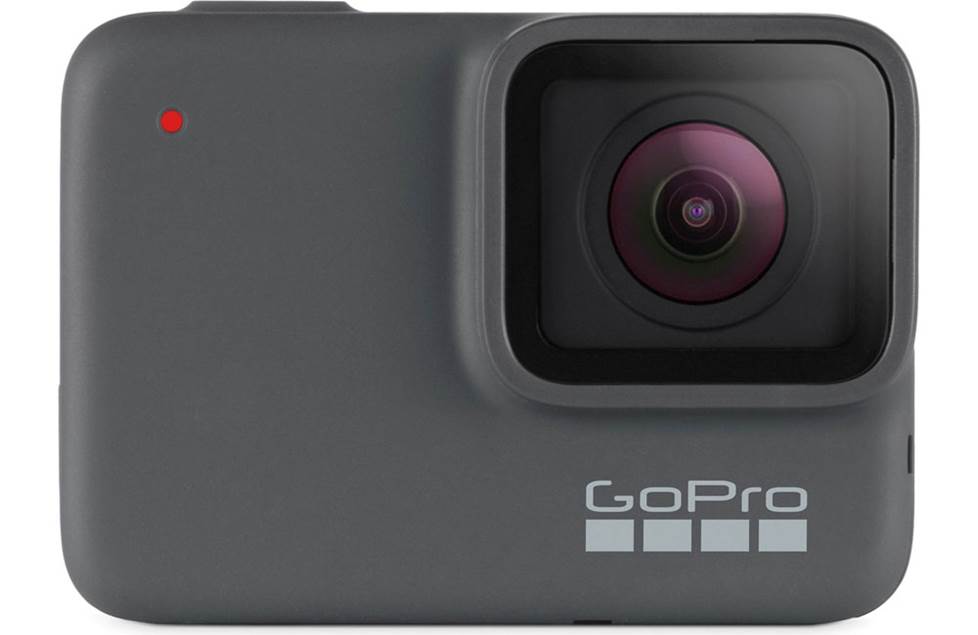 Adding an action camera to your dash is a great way to film your weekend drives and daily grinds.
Record your drive with action cameras
An action camera is an awesome accessory for long drives in the country, but it can also be a handy thing to have when you're cruising around town. If you're a weekend racer, that camera will also be a great addition to your track day kit.
Add iPod® and satellite radio adapters
If you don't want to replace the factory equipment at all, but still want to enjoy great sound while you're enjoying your car, we offer a wide variety of adapters that will allow you to use an iPod, MP3 player, or satellite radio with your Miata's factory audio system.
Protect your car with a security system
Installing a security system in your Miata isn't easy (security systems rarely are), but it's definitely a good idea. Our Crutchfield Advisors can help figure out what you need to get the job done, but we usually recommend taking your car and new gear to a professional installer.
Let's get started!
Ready to shop? Use our vehicle selector to find the gear that will fit your car or truck. If you have questions, give us a shout via phone, chat, or email