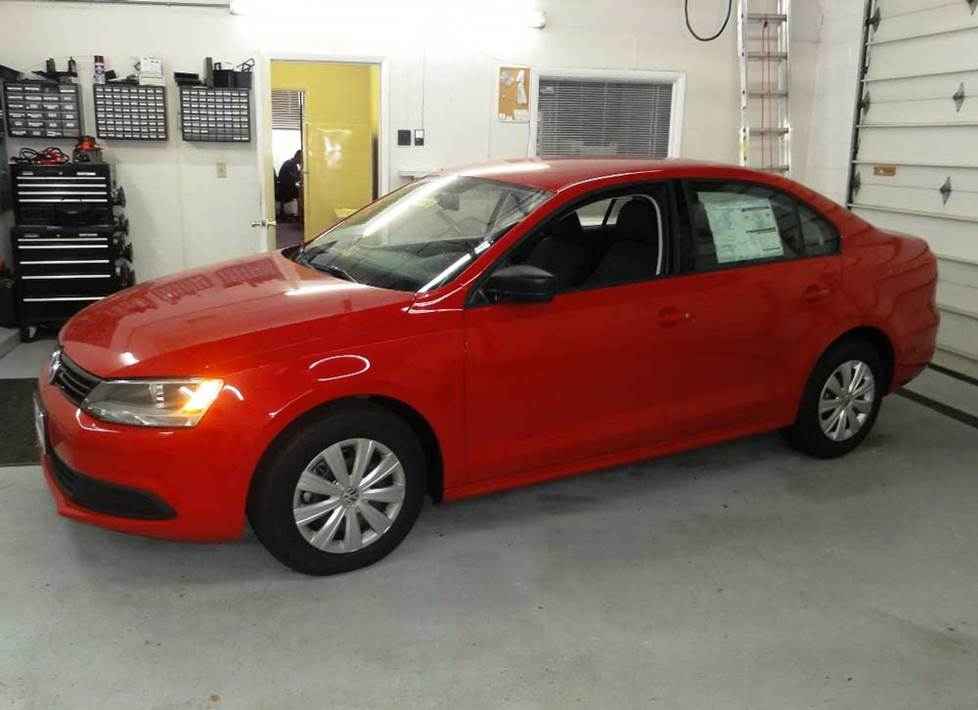 In brief: This Crutchfield Research Garage article gives you an overview of your Jetta's stock stereo system and your aftermarket upgrade options. We'll tell you all about:
Then, use our vehicle selector to find the gear that will fit your vehicle.
Overview of the Volkswagen Jetta
Reasonably sized, reasonably priced family sedans are the bread and butter of the car business. Pickups aside, nothing succeeds like a good sedan at a decent price. Smart, practical, and (yawn).... What were we talking about?
Right, sedans. Which can be really, serously boring. To be perfectly honest about it, the average family sedan sold in the United States is about as exciting as a new phone book. Thankfully, there are companies like Volkswagen that insist on baking a little sports car goodness into every sedan they make.
While it's not going to be confused with a GTI any time soon, the sixth-generation VW Jetta is proof that a family sedan can handle a curve as well as it handles a carpool. With a comfortable interior and smooth, refined road manners, the VW Jetta is a wonderful way to add some European flair to your everyday drive. If you like a little music while you're carving up a country road, add a new stereo and speakers to your Jetta.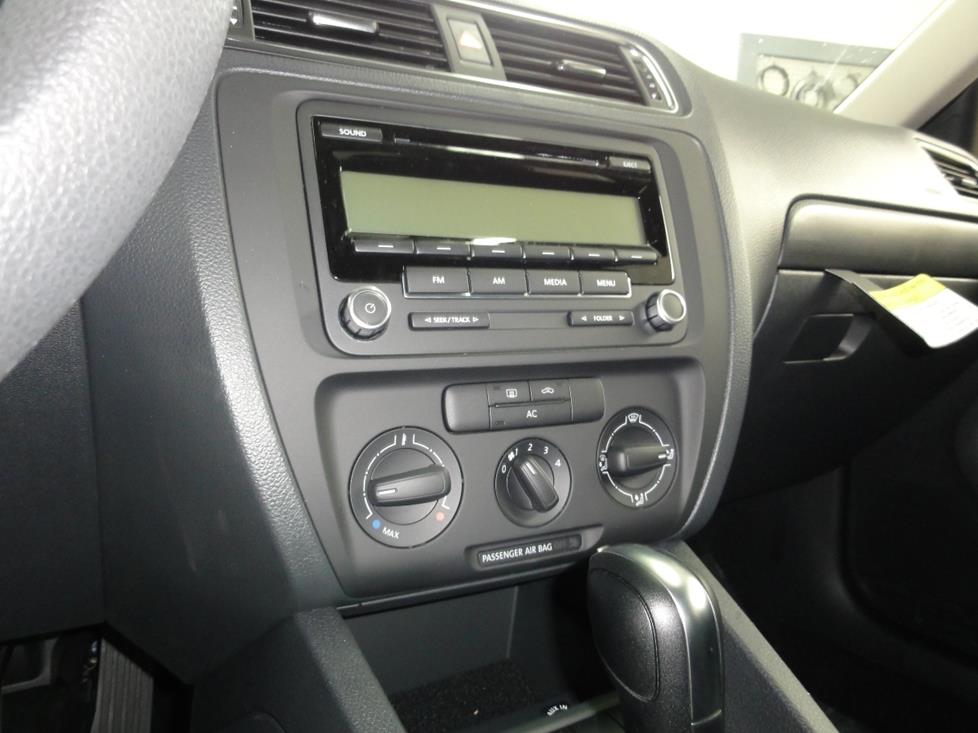 The Jetta's stock radio isn't bad, but you can do a lot better (Crutchfield Research Photo)
The factory stereo system
The Jetta's factory stereo systems aren't bad at all, as these things go. From the standard 4-speaker system to the optional 6-speaker system to the top-shelf 9-speaker Fender (yes, like the guitar) system, VW gave non-audiophile customers a nice set of options. There was also an 8-speaker "Premium 8" system (no subwoofer) in some early cars.
Depending on how your car is equipped, you'll lose factory features like the AUX input, satellite radio, and navigation when you replace the factory radio. Any or all can be replaced (and enhanced) when you install the right aftermarket stereo.
A variety of single-DIN (2" tall) and double-DIN (4" tall) receivers will fit in the dash, with the help of a mounting kit that's included at a very nice discount with your Crutchfield stereo purchase. We'll also include a discounted wiring harness and a free copy of our illustrated, detailed Crutchfield MasterSheet disassembly instructions for your Jetta.

The Jetta was also available with a factory nav receiver (Crutchfield Research Photo)
Replacing the factory radio
Removing and replacing the Jetta's factory radio is a reasonably simple project for the average do-it-yourselfer.
Start at the lower edge of the receiver trim panel and gently pull it out to release nine retaining clips. Under no circumstances do you want to disconnect the airbag harness, so spread a clean shop rag on the center console and place the panel there while you work on everything else. Remove the four Torx T-20 screws securing the receiver to the dash, then disconnect the harnesses and remove the receiver.
Detailed stereo and speaker removal instructions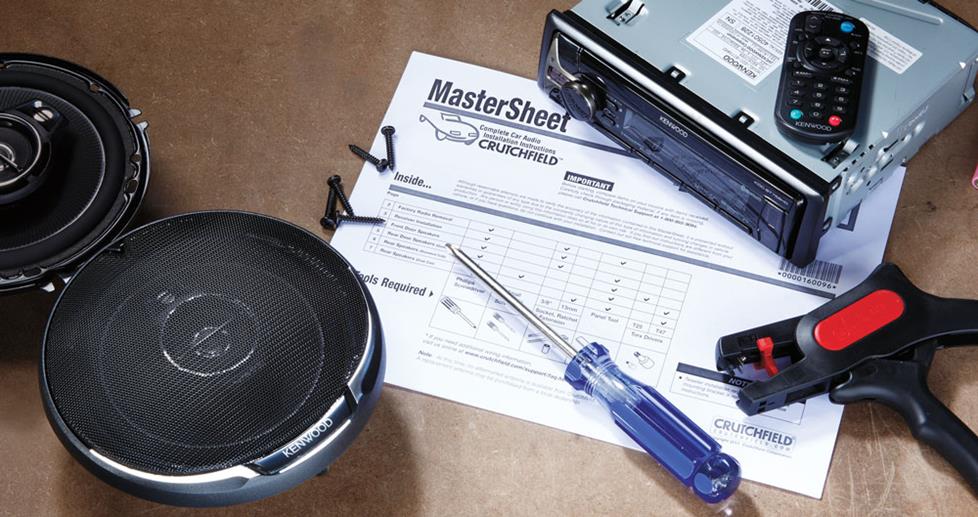 With step-by-step disassembly instructions and plenty of up-close, detailed photos, our exclusive
Crutchfield MasterSheet
™ takes the guesswork out of removing the factory stereo and speakers. It's free with your Crutchfield order, or you can purchase one separately for just $9.99.
To install the new receiver, secure it to the mounting bracket following the included instructions, then make the necessary wiring connections following instructions supplied with the wiring adapter. Hold the receiver assembly near the dash; then connect the receiver wiring adapter to the vehicle harness and plug the antenna lead into the rear of the receiver. Slide the entire assembly into the dash and secure it with the screws you removed before. Test it out, and if everything's sounding good, put the dash back together by reversing the disassembly instructions.
Tools needed: Torx T-20 driver, shop rag
Steering wheel audio controls
It's relatively easy to retain your Jetta's steering wheel audio controls when you install a new stereo. When you enter your vehicle information, our database will choose the adapter you need to make your factory steering wheel controls work with your new receiver.
Shop for car stereos that fit your Volkswagen Jetta
Replacing the factory speakers
Whether your car is equipped with a 4-, 6-, 8-, or 9-speaker factory system, the Jetta has speakers located in the front and rear doors. The tools and techniques used to replace the door speakers are the same for both. The Fender system adds a subwoofer mounted under the rear deck.
If you're replacing your Jetta's door speakers, be aware that there's no wiring harness available for the tweeter location in all models, and the woofer location in some models. We'll discuss that in further detail below.

The Fender package includes A-pillar tweeters (Crutchfield Research Photo)
Front pillar tweeters
The premium systems include a set of 2-ohm tweeters located in the car's A-pillars. The pillar trim panel must be removed to access the tweeters, which is easy enough, but once you get to them, things get a bit more challenging. The 1.749" diameter tweeters are heat-fused to the grille, so you'll need to use caution when using a rotary tool to separate the two. A damaged grille is not a good look, so be very, very careful when you're doing this.
Neither a wiring harness nor a mounting bracket can be found for this installation, so you'll want to use a set of Posi-Products connectors to hook up the wires, and a pair of universal backstraps to mount your aftermarket tweeters. By the way, there's a reasonably good chance that the new tweeters (or any speakers, for that matter) don't come with mounting screws, so you may need to visit the hardware store before you get started.
Tools needed: Panel tool, rotary tool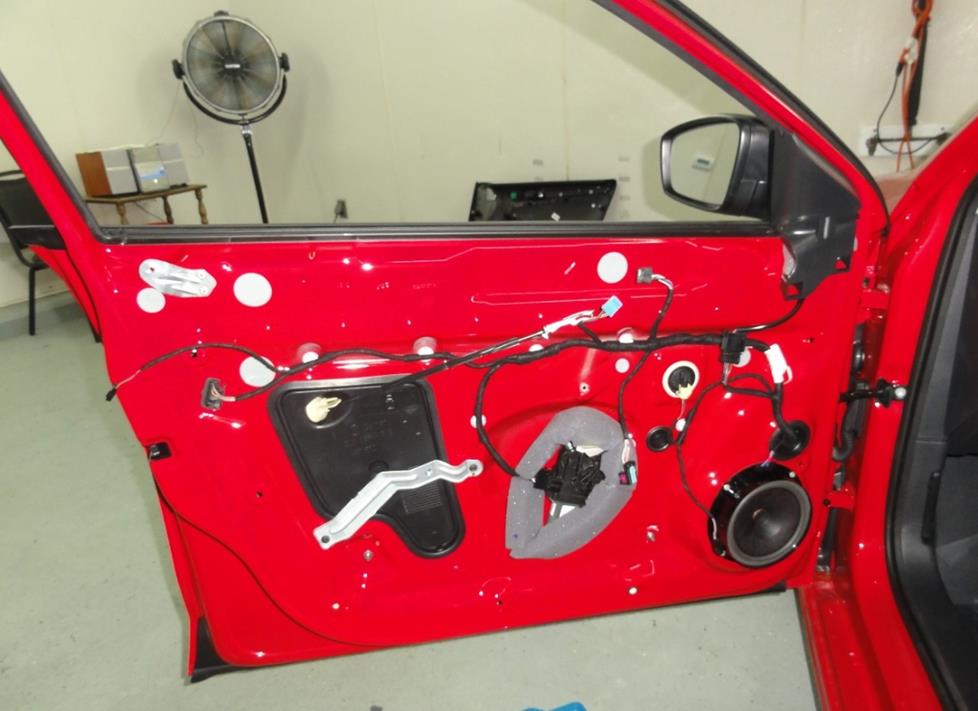 An inside look at the Jetta's front door. This is the base system. (Crutchfield Research Photo)
Front door speakers
The stock front door speakers (woofers, in the case of upper-level models) are 6-3/4" units that can be replaced by a wide variety of 6-1/2" or 5-1/4" aftermarket models. Speaker mounting brackets and wireing harnesses are required, and they're included at a great discount when you buy your speakers at Crutchfield.
Removing and replacing the front speakers isn't hard, but there are multiple steps involved, and there's also some drilling to be done. The best way to manage the multiple steps is to work carefully and store all the various screws you're removing in a safe place. You'll need them later. When it comes to drilling, work carefully, know what's around the area you're drilling into, and always wear eye protection.
The 4" mid-range speakers found in the premium system are pretty easy to deal with once the door panels are removed. You'll need speaker mounting brackets (which we'll include in your order), plus some more Posi-Products connectors.
In both cases, remember to check the speaker packaging for mounting screws before you get started. You'll need them to install your new speakers. Complete instructions can be found in your Crutchfield MasterSheet.
Tools needed (woofers): Panel tool, Torx T-20 & T-30 drivers, drill with 11/64" bit
Tools needed (mids): Panel tool, Torx T-20 & T-30 drivers, 7/64" Allen wrench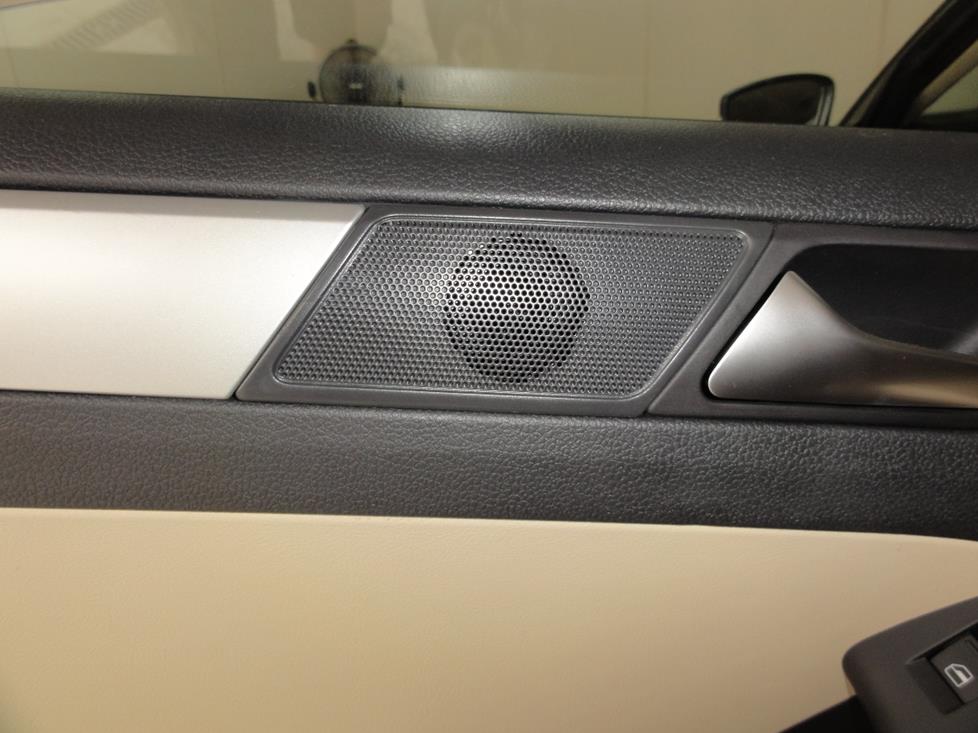 The rear tweeters can be found in the door panels (Crutchfield Research Photo)
Rear door speakers
The process for the rear door woofers is essentially the same as the one undertaken up front. If you handled that, you can handle this. Here's an astonishingly quick review: remove the door panels, remove the screws, work carefully, stay organized, and be careful drilling out rivets while wearing eye protection.
On the other hand, if your Jetta has tweeters in the rear doors, replacing them is a bit of a challenge. Like the A-pillar tweeters, they're heat-fused to the grilles, so use a rotary tool to carefully separate the two. Work carefully to avoid damaging the grilles. Each tweeter has a 1.637" diameter, by the way.
Wiring harnesses and mounting brackets are not available, so you'll want to use a set of Posi-Products connectors to hook up the wires, and a pair of universal backstraps to mount your aftermarket tweeters. You might also need mounting screws.
Complete, illustrated disassembly instructions can be found in your Crutchfield MasterSheet, of course.
Tools needed: Panel tool, Torx T-20 & T-30 drivers, drill with 11/64" bit; rotary tool (for tweeters)
Shop for speakers that fit your Volkswagen Jetta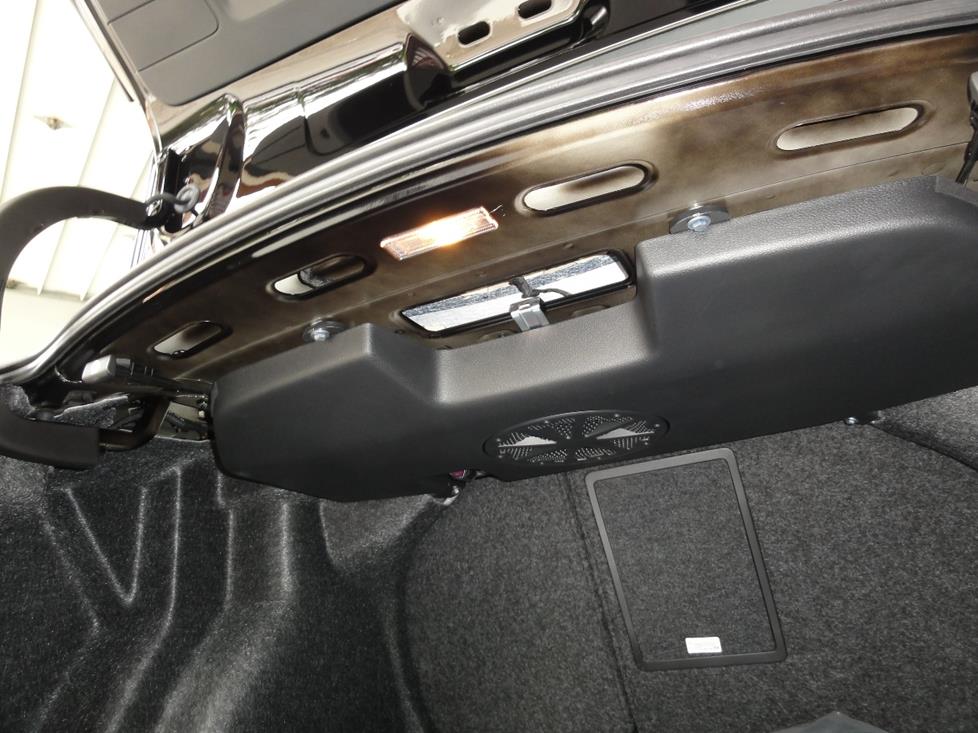 The Fender system includes this down-firing 8" sub (Crutchfield Research Photo)
Bass in your VW Jetta
The Fender system includes a down-firing 8" subwoofer, which is mounted in the Jetta's rear deck. This non-standard sub is only 2" deep, so while it takes up precious little cargo room; it doesn't produce a whopping amount of bass. If you're serious about your stereo's bottom end performance, you'll want to upgrade.
A direct replacement isn't possible at this time, simply because there aren't any aftermarket subs shallow enough to fit in the space available. You can remove it using a Torx T-20 driver, or you can keep it around. Either way, you'll need to add an aftermarket subwoofer in an enclosure.
If you're going all-out and planning to install component subs in a sub enclosure, you'll have a 40" W x 20" H x 39"/35" D space to work with. It's not a huge trunk, but that's enough room to stuff in some decent-size subs. On the other end of the scale, you can pop in a compact powered sub and get the bass enhancement you want without losing the trunk space you need.
If you're looking for something that's more practical, but still packs plenty of punch, there's a JL Audio Stealthbox enclosed subwoofer that's designed specifically for the Gen 6 Jetta. The Stealthbox, which installs neatly in the driver's side corner of the trunk, contains a 4-ohm, 300-watt 10" W1v2 subwoofer, so it'll pump out plenty of sound.
Shop for vehicle-specific subwoofers for your Volkswagen Jetta
Other options for your Jetta
With a car like the Jetta, there are lots of ways to upgrade your in-car experience. Here are some of the ways Crutchfield can help:
Amplifiers
If your Jetta has a Fender system, there's a factory amplifier located under the driver's seat. It's a nice touch, but an aftermarket amplifier (or two) will give you the power you need to really make your system sing.
Dynamat
The Jetta is a relatively quiet car for its size, but a Dynamat Xtreme Door Kit will really maximize the impact of your new system. This heavy-duty insulating material is easy to install, and it really makes a difference. One kit should be more than enough for a Jetta sedan. If you install an aftermarket subwoofer, you might want to line the trunk lid as well.
Security
Installing a security system in your Jetta isn't easy (security systems rarely are), but it's less complicated than it could be. Our Crutchfield Advisors can help figure out what you need to get the job done, but we usually recommend taking your car and new gear to a professional security system installer.
Let's get started!
Ready to shop? Use our vehicle selector to find the gear that will fit your car or truck. If you have questions of your own, give us a shout via phone, chat, or email.