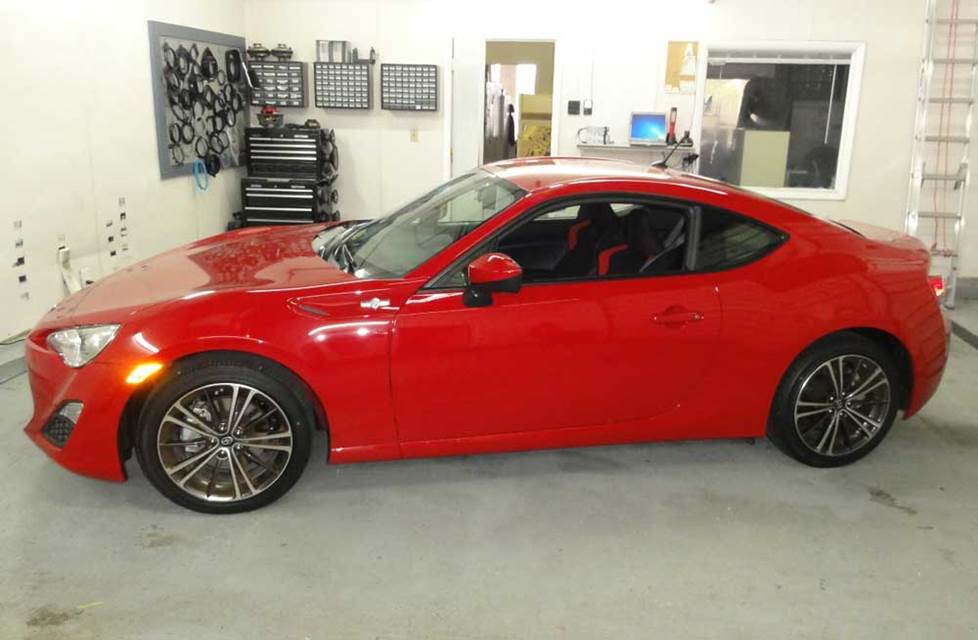 In brief: This Crutchfield Research Garage article gives you an overview of your Scion's stock stereo system and your aftermarket upgrade options. We'll tell you all about:
Then, use our vehicle selector to find the gear that will fit your Scion FR-S.
Overview of the Scion FR-S
While there's something wonderful (lots of things, actually) about having several hundred more horsepower than you need on tap whenever you want it, raw power isn't the only way to have fun in a car. There are plenty of grins to be had in a small, light, well-balanced vehicle with the right combination of motor, manners, and moxie. The Scion FR-S (and its fraternal twin, the Subaru BRZ) is that kind of ride.
The FR-S is a sleek, sporty, rear-wheel drive coupe designed for people who really enjoy driving. Cat-quick, impressively agile and thoroughly entertaining, the FR-S is the kind of car you can't help but enjoy, whether you're driving to work on a weekday or autocrossing on a weekend.
If you want to add more power under the hood, you won't have to look hard for aftermarket performance parts. If you want to add a more powerful stereo system, you won't have to look at all — you're already in the right place. Crutchfield can help you find the gear you need to make your FR-S sound as sweet as it drives.
Detailed stereo and speaker removal instructions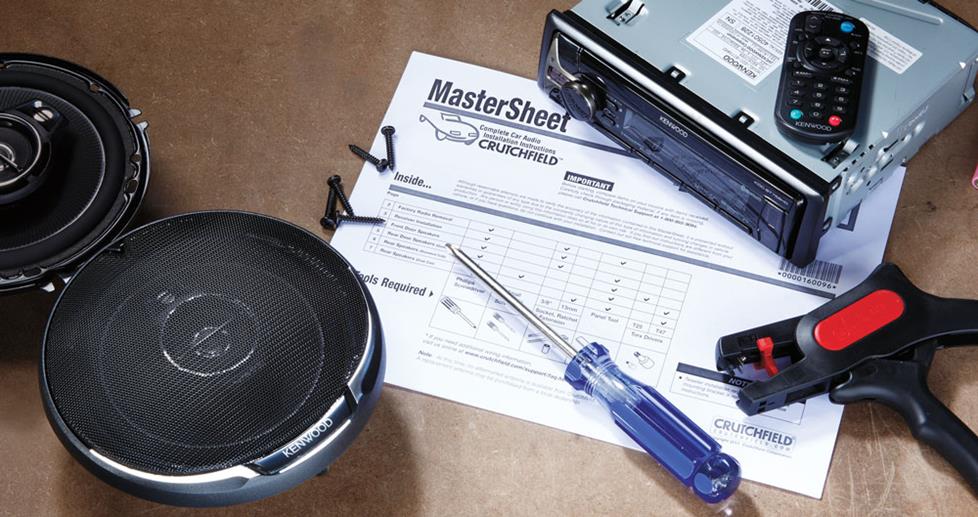 With step-by-step disassembly instructions and plenty of up-close, detailed photos, our exclusive
Crutchfield MasterSheet
™ takes the guesswork out of removing the factory stereo and speakers. It's free with your Crutchfield order, or you can purchase one separately for just $9.99.
The factory stereo system
The Scion's factory 8-speaker stereo system features a touchscreen receiver with all the bells and whistles you'd expect to find in a modern car, including navigation, HD Radio™, Bluetooth® connectivity and connections for Apple® and Android™ smartphones. The features are nice, but many reviewers have complained about the system's sound and functionality with the same amount of brio they've used to praise the car's handling and performance.
The good news is that you can upgrade to a better receiver that's easier to use (and a lot easier on the ears) without losing any of the functions you like. You will lose the factory USB and AUX connections, but just about any aftermarket receiver will have those nowadays, so that's no big deal.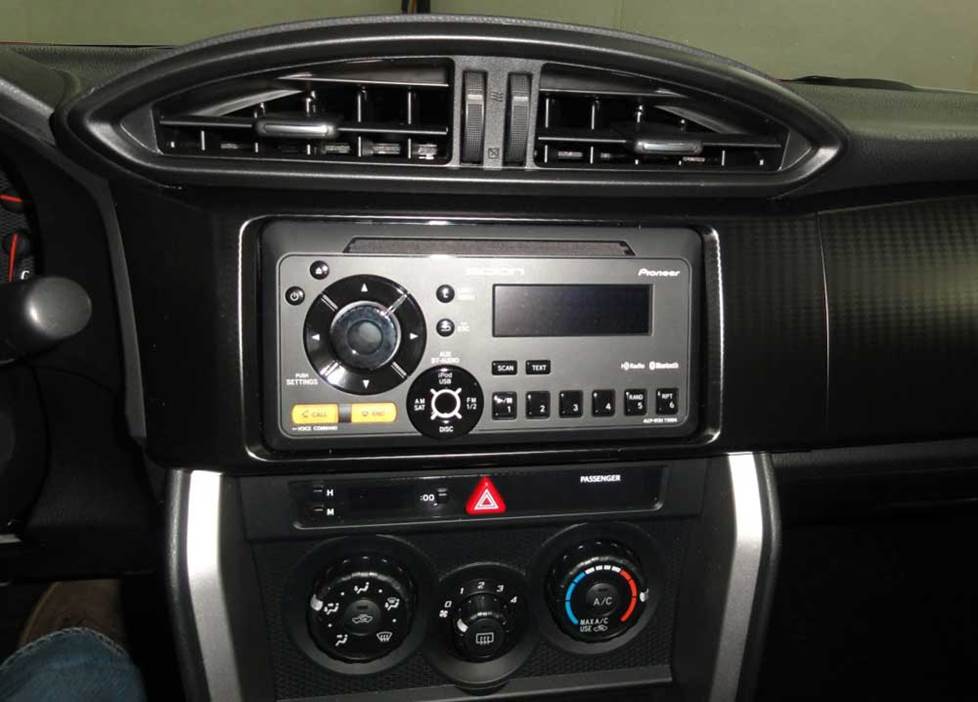 The Scion's factory radio is reasonably easy to remove (Crutchfield Research Photo)
Removing the factory radio
The factory receiver can be replaced with a wide number of single-DIN (2" tall) or double-DIN (4" tall) receivers. With most Crutchfield stereo orders, you'll get a deep discount on a dash and wiring kit that connects the receiver to the car's factory wiring and allows the new stereo to fit the dash perfectly. You'll also get a Crutchfield MasterSheet, which contains illustrated step-by-step instructions that will make the process a lot easier.
To install a new double-DIN receiver, you'll need the factory brackets. If you're replacing the stock receiver, they'll obviously be there. If you're replacing an aftermarket unit and the old brackets are long-gone, you'll need to obtain a new set from a dealership.
Removing the receiver itself is pretty easy. Starting at the lower corners, pry off the four clips that hold the receiver trim panel in place. Even if you're using a proper pry tool, it's never a bad idea to use a piece of paper to protect the dash finish. With that out of the way, remove the four 10mm screws that secure the receiver to the dash, disconnect the harnesses, and remove the receiver.
Tools needed: Panel tool, 10mm socket, ratchet, and extension
Read our Car Stereo Buying Guide for shopping tips and advice.
Shop for car stereos that fit your Scion FR S
Removing the factory speakers
The FR-S has speakers in the dash, the doors, and behind the rear side panel.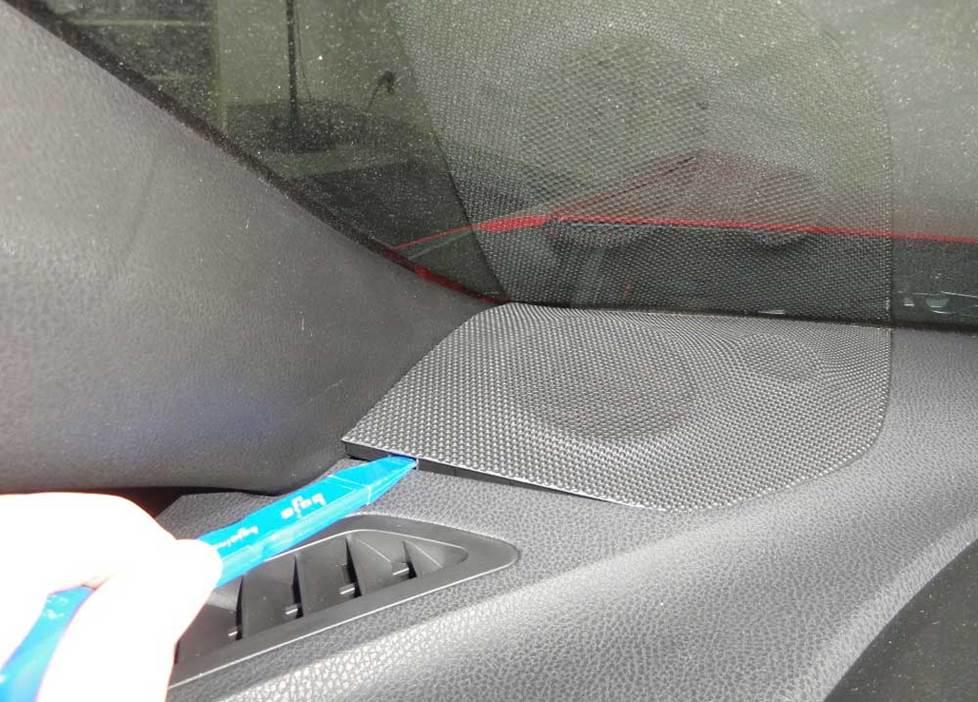 A set of Bojo panel tools will help you get to the dash speakers (Crutchfield Research Photo)
Dash speakers
The tweeters and midrange speakers are conveniently located under grilles in either corner of the dashboard. The tweeters are attached to the grille, while the midrange is in the opening. Getting to them is merely a matter of prying up the grille, releasing two retaining clips, and disconnecting the harness.
Replacing these speakers, which are wired in parallel, isn't terribly difficult, but it's not a "plug and play" operation, either. Few things are. The stock tweeter is just a tad under 1-1/2" and the mid is a 4" model, so a set of component speakers could totally work in this location.
You'll need to fabricate a bracket (or use one of our universal backstraps) to hold the tweeter in place, and you'll also want to use a set of Posi-Products connectors to hook the tweeter into the factory wiring. You could splice here, of course, but Posi-Products give you an easier, more durable connection. In a car that's likely to be driven with a certain amount of enthusiasm, that's a good thing.
Depending on the speakers you choose, you may need to trim the corners a bit to get the mids to fit into the factory opening. You also might need to acquire your own mounting hardware. Some speakers come with the screws you need, but many don't. Be sure to check the packaging before you get started.
Tools needed: Panel tool, small flat blade screwdriver, 10mm open-ended wrench
You'll need to do a bit of work to make new speakers fit here, but it's not too difficult (Crutchfield Research Photo)
Door speakers
You'll find a set of 6-3/4", 2-ohm speakers behind the door panels in the FR-S. Removing and replacing them isn't especially difficult, but there are a couple of things to keep in mind.
You'll need to remove the door panels, of course, and while this isn't hard to do, you will want to work carefully and patiently when you're prying the panel away from the door. There are ten clips that hold the door in place, and you don't want to break any of them.
You'd think a set of aftermarket 6-3/4" speakers would fit right in, but that's actually not the case. Better speakers require bigger magnets, and there just isn't room in the door. You can install 5-1/4" or 6-1/2" speakers, but even then, you'll need to cut off the back of the plastic factory speaker grille to create enough space for your new speaker.
You'll need mounting brackets and a wiring harness to install the new speakers in the opening, and both are available at a nice discount when you buy your speakers at Crutchfield.
Tools needed: Panel tool, small flat blade screwdriver, #2 & #3 Phillips screwdrivers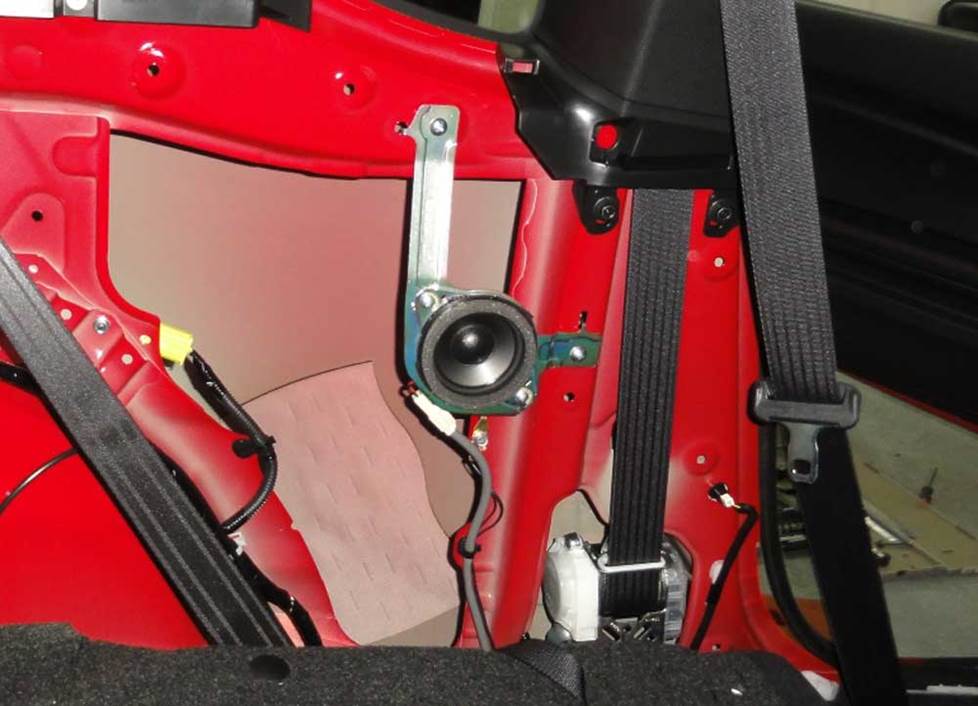 Getting to the rear side speakers is somewhat challenging (Crutchfield Research Photo)
Rear side panel speakers
The factory system also includes a pair of 4" speakers behind the rear side panels. Same-size replacements are easy to find and they're not hard to install. The hardest part of this job will probably be moving around in the decidedly cramped rear seat area while you remove the lower seat cushion and side panels.
If you can do this work outdoors, you probably should, simply because light and ventilation will make the job a lot easier. Considering how dark and cramped it is back there, you'll probably want to have a task lamp handy anyway. And you'll definitely want to be patient while you're working on this project.
A wiring harness is not available for these speakers, so you'll want to use another set of Posi-Products connectors to tap into the factory wiring.
Tools needed: Panel tool, Phillips screwdriver, 10mm socket, ratchet, and extension
Read our Car Speakers Buying Guide for more information.
Shop for speakers that fit your Scion FR S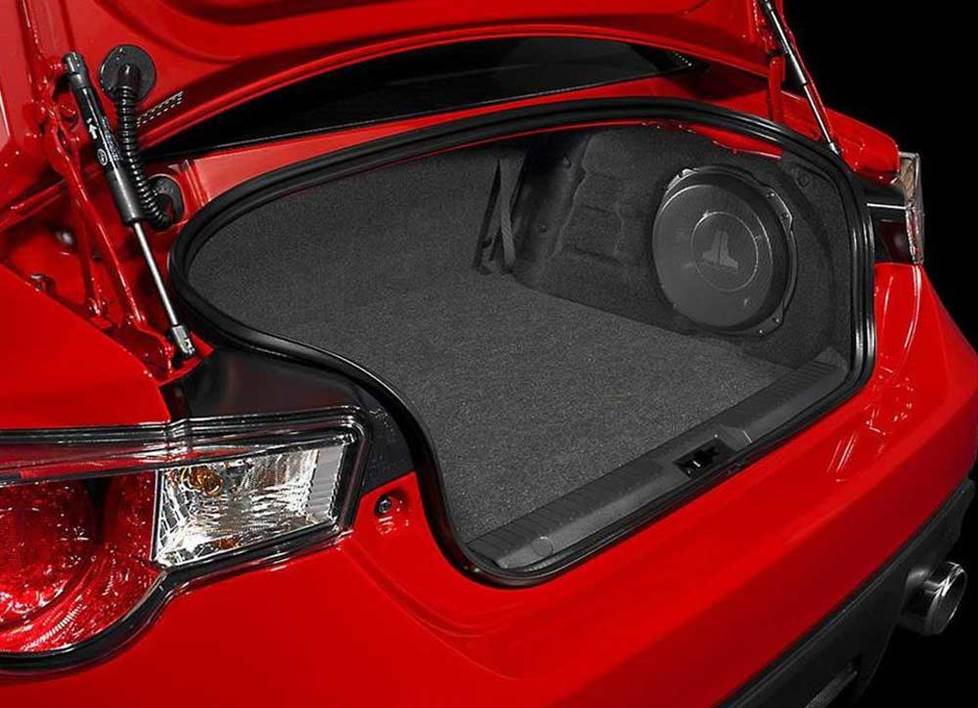 This JL Audio Stealthbox is made to fit in the FR-S (JL Audio photo)
Bass in your Scion FR-S
As you might expect, the FR-S doesn't have a cavernous amount of space for a subwoofer box. With the folding rear seat in the "up" position, the trunk dimensions are 12" H x 42" W x 31"/24" D, so while you have some room to work with, you don't have much. If you fold the seat down, there's obviously a lot more space, but you'll lose some utility.
Of course, the FR-S is designed to carve up country roads, not cruise along boulevards at 5 mph with the stereo cranked. For most owners, we're guessing that more compact subs will suffice. JL Audio offers a custom-fit Stealthbox enclosure for the FR-S, which houses a 10" JL sub and fits in the trunk on the passenger's side. It's wired for a 2-ohm load and offers 400 watts of power.
If you don't want to go the custom-fit route, you can also opt for a powered subwoofer back here.
Learn more about building a bass system in our Car Subwoofer Buying Guide.
Shop for vehicle-specific subwoofers for your Scion FR S
Protect your car's carpeting with a set of custom-fit WeatherTech FloorLiners (WeatherTech photo)
Other options for your Scion FR-S
There are lots of things you can do to make your FR-S uniquely yours. Here are a few ideas.
Protect the carpets with WeatherTech floor liners
It's easier than you think to mess up your car's interior while you're going about your daily business. Floor mats and liners from WeatherTech will help protect your car's carpeting from dirt and damage. And if they're already dirty and damaged, these mats will cover it up and make your car's interior a nicer place to be.
Add an amp
Replacing the factory amp will really help you get the most out of your new speakers. It's located under the rear cargo floor, on the driver's side. Space is tight, so a compact amplifier would be the best choice for this location. These small amps don't take up a lot of space, and they're designed to run cool and operate with maximum efficiency. Extra amps can be secured in the cargo area. Learn more about adding amps to your system in our Car Amplifier Buying Guide.
Sound deadening
Like many sporty cars, the FR-S can be a noisy little bugger. If you want to hear more of your new stereo and less road and wind noise, the Dynamat 10435 Xtreme Door Kit is the perfect way to seal in sound. This heavy-duty insulating material is easy to install, and it really makes a difference.
Security
Installing a security system in your FR-S isn't easy (security systems rarely are), but it's less complicated than it could be. Our Crutchfield Advisors can help figure out what you need to get the job done, but we usually recommend taking your car (and the recommended security system) to a professional installer.
Let's get started!
Ready to shop? Use our vehicle selector to find the gear that will fit your car or truck. If you have questions, give us a shout via phone, chat, or email