In brief: This Crutchfield Research Garage article gives you an overview of your Jeep's stock stereo system and your aftermarket upgrade options. We'll tell you all about:
Then, use our vehicle selector to find the gear that will fit your Jeep.
Overview of the Jeep Wrangler and Gladiator
An all-new Jeep Wrangler is kind of a big deal to a lot of people. Jeep fanatics, of which there are many, greet new models with a mixture of fevered anticipation of something new and anxious dread of, well, something new. Thankfully, they seem to have adjusted nicely to the new-for-2018 JL series Wranglers.
The new JL models turned out to be everything people like about the Wrangler with a few touches that might entice even more people to like the Wrangler. It's a little bigger, a little roomier, a little more comfortable and a little closer to a normal SUV without crossing the line into boring. This is good, because Jeep people do not do normal and they do not do boring.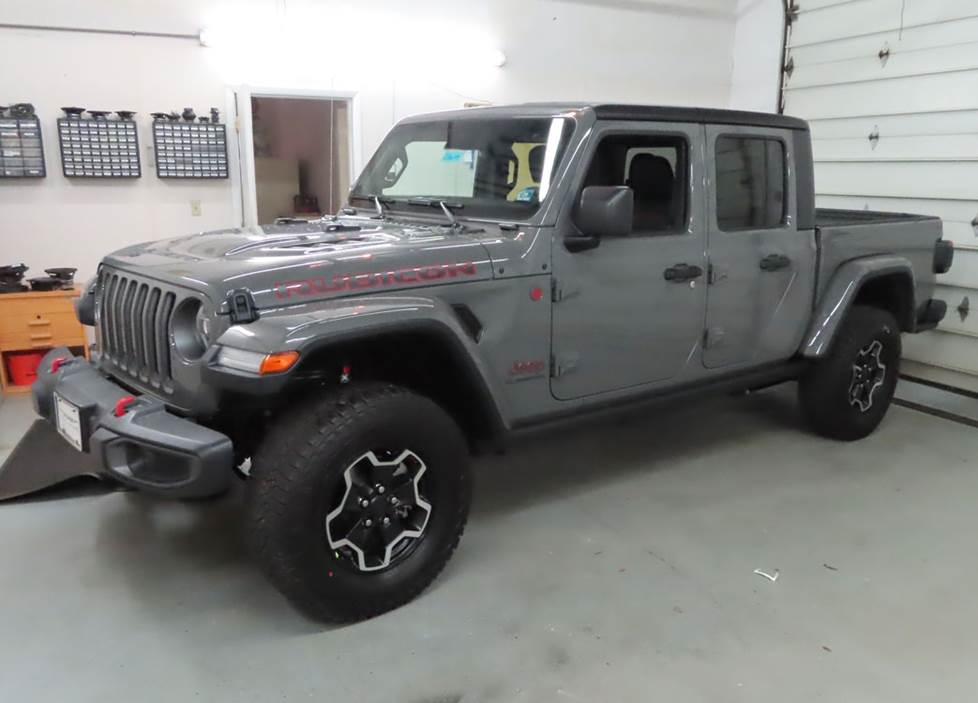 And, after plenty of teasing, Jeep also added a pickup to the line for the first time in decades. The 2020 Gladiator (JT) is basically the same as the Wrangler from the grille to the back of the cab, which sits in front of a five-foot cargo bed that's the right size for most outdoor adventures.
For all the new in these trucks (and there's a ton of it), they're still Jeeps in every way, which means they'll go pretty much anywhere you want to go and look cool doing it. They're also big, bluff, and loud, so upgrading the audio gear is a smart move if your music matters.
The car audio aftermarket is still catching up in some areas, but here's our initial take on what's possible with your Wrangler or Gladiator.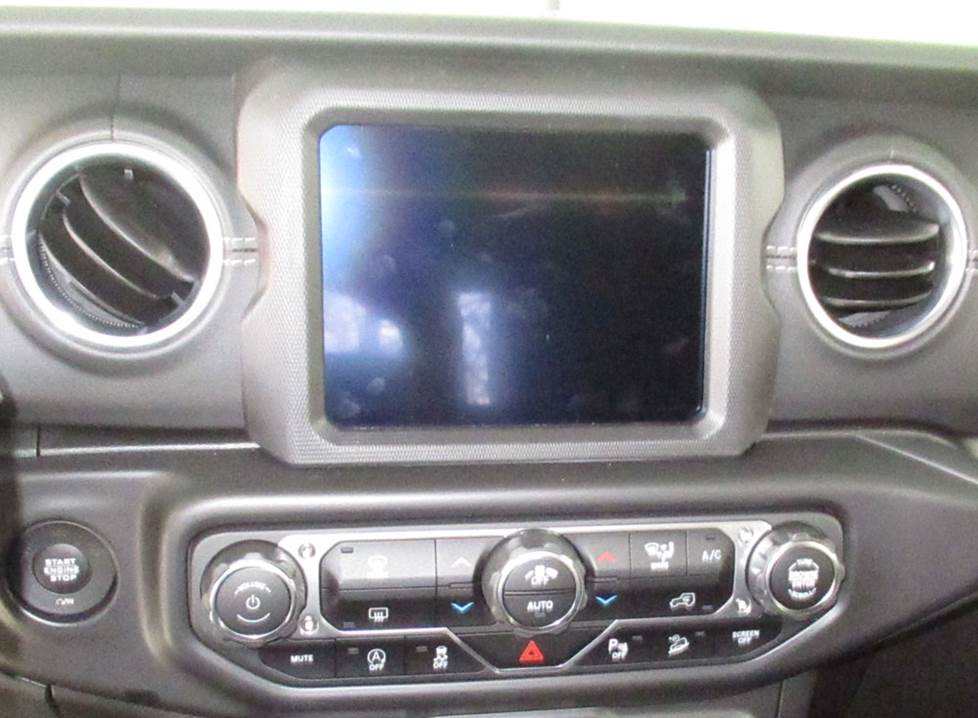 Replacing the radio will give you better sound and functionality (Crutchfield Research Photo)
The factory stereo system
With these Jeeps, you have your choice of three factory receivers, a 5" base model, a 7" LCD, and the top-shelf 8.4" LCD. The list of suitable replacements isn't long at the moment, but there are options. When you replace the factory radio, you'll lose factory features such as the AUX input connection, USB input connection, and satellite radio capability. You should be able to regain all or most with the right aftermarket receiver.
Speaker-wise, replacement is possible, but in the case of the uniquely Jeep knee panel speakers, it's not necessarily easy. It's do-able for the DIY-er, though, especially with the help of the Crutchfield ResearchNotes included free with your stereo or speaker purchase.
If you are bypassing the factory amplifier (located under the driver's side dash) in your Jeep, we recommend replacing the low-impedance factory speakers with standard 4-ohm aftermarket speakers to prevent overheating and other damage to your new radio. You can also install an aftermarket amplifier, which will give you a wider range of speakers to choose from and a lot more clean power.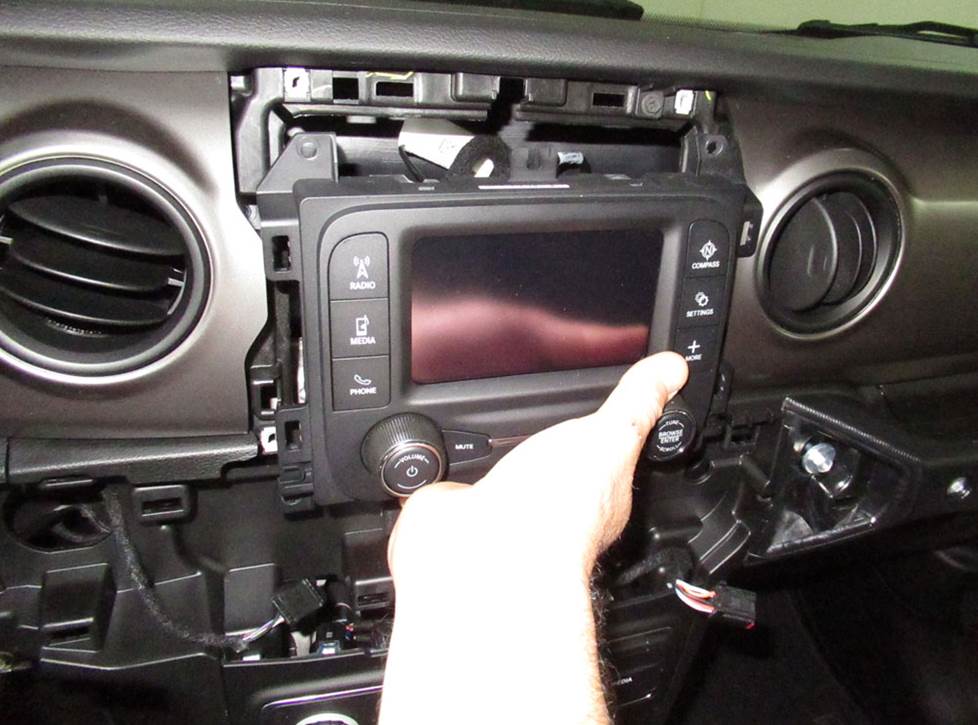 Removing the 5" LCD is a reasonably easy task for the DIY-er (Crutchfield Research Photo)
Removing the factory radio
The stock radios can be removed and replaced, but cavity depth is an issue. There are some digital media receivers that will work nicely, includinga very clever Pioneer receiver that has a 1" thick display and a separate "black box." To see what fits, enter your vehicle info.
Removing the stock radio isn't remarkably hard, so it's a good project for the car audio DIY-er. Complete instructions will be included with your Crutchfield receiver purchase. And when you buy your receiver at Crutchfield, you'll also save some money on the dash kit and wiring harness adapter you'll need to connect it.
Tools needed: Panel tool, Phillips screwdriver
Read our Car Stereo Buying Guide for shopping tips and advice.
Shop for car stereos that fit your Jeep Gladiator
Steering wheel audio controls
In most cases, it's reasonably easy to retain your Jeep's steering wheel audio controls when you install a new stereo. When you enter your vehicle information, our database will choose the adapter you need to make your factory steering wheel controls work with a compatible aftermarket receiver.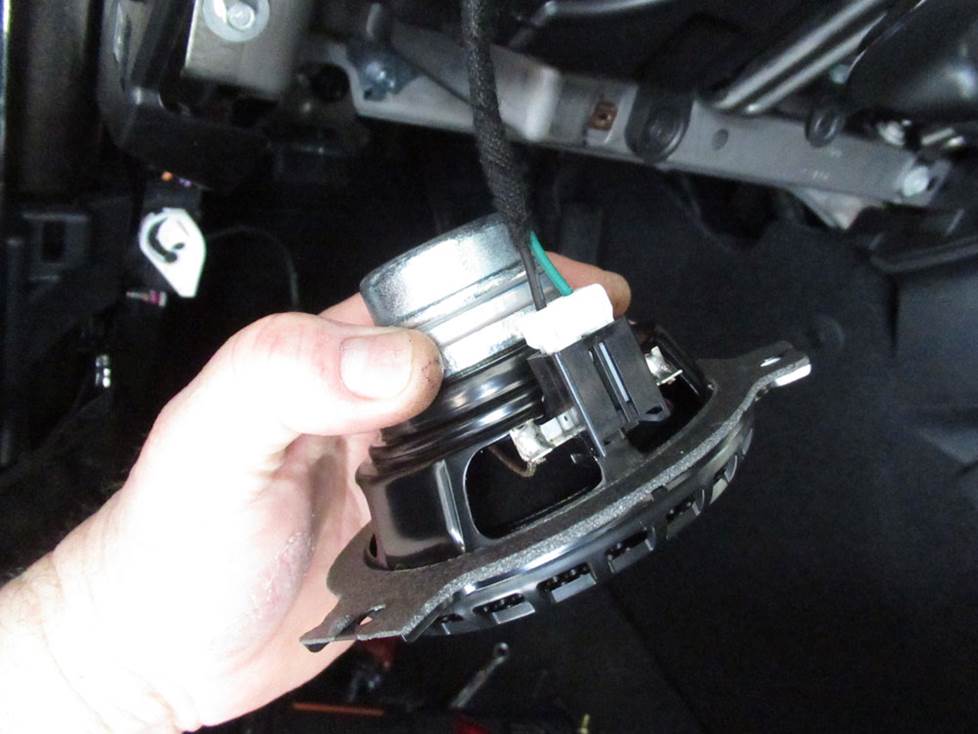 Getting to the knee panel speakers is challenging, but do-able (Crutchfield Research Photo)
Removing your Jeep's factory speakers
The Wranglers and Gladiator have speakers in the dash and knee panels. The Wranglers add soundbar speakers. Ease of replacement varies from "quite" to "not very," but there's nothing that can't be handled by a reasonably adept DIY-er.
The factory soundbar speakers are weatherproof, but if you do a lot of topless (the Jeep, we mean) off-roading, you should still consider a set of marine-rated speakers. You'll get the same level of power, plus the security of knowing that your speakers will still rock even after you've spent the afternoon splashing through creek beds and mud holes.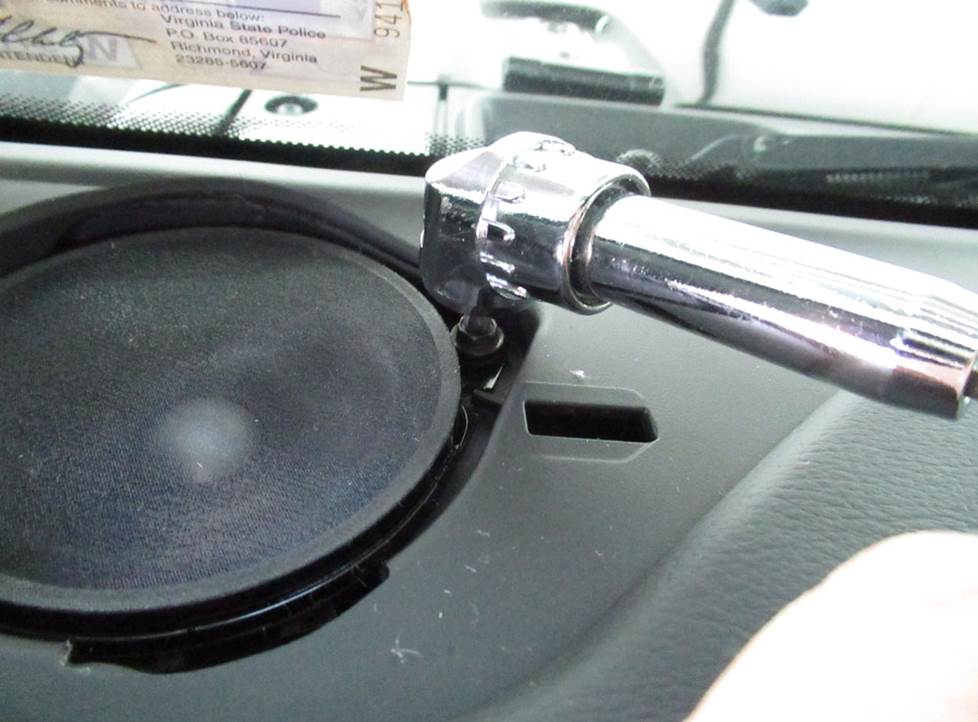 The dash speakers are refreshingly easy to reach and replace (Crutchfield Research Photo)
Removing the corner dash speakers
The 3-1/2" factory tweeters are located on the top of the dash and are wired in parallel with the front speakers. To replace them, you'll simply need to pry up the grille and remove the two Phillips screws securing the tweeter to the dash. Disconnect the harness, remove the old speaker, and set ready to install your new tweeter. Depending on the tweeters you chose, you may need to trim their mounting tabs to allow for a flush fit.
Tools Required: Panel tool, right-angle Phillips screwdriver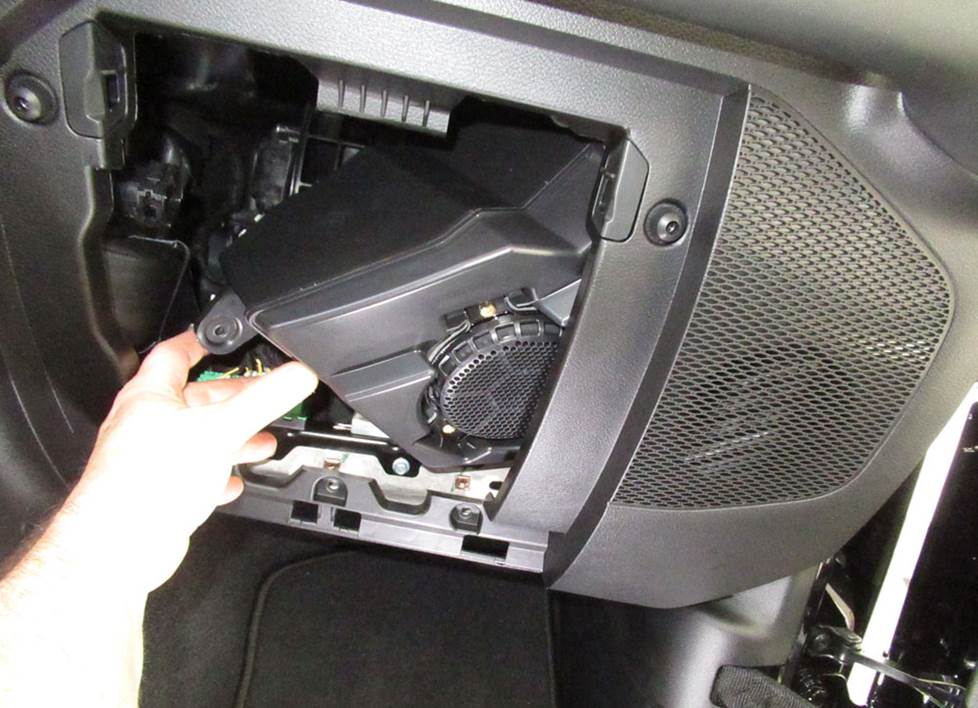 The passenger's side knee panel speaker is a bit easier to deal with than the driver's side (Crutchfield Research Photo)
Removing the knee panel speakers
The average SUV has big doors with big speakers that are generally pretty easy to reach and replace. The Wrangler is, now and always, not your average SUV. The doors are removable, for one thing, so you'd probably miss the speakers when you left the doors in your garage.
As with previous Wrangler generations, the JL's dash woofers are mounted to plastic enclosures that are bolted to the sub-dash. This is pretty perfect in a lot of ways, but easy audio upgrading is not one of them. Removing the enclosure on the driver's side is a challenging, time consuming job. The passenger's side is easier to deal with, but it's still a bit of a slog. All in all, this upgrade project can easily devour an entire afternoon or more. It'll be worth it in the end, but you might want to keep your evening plans loose and casual, just in case.
You don't have to be a DIY genius or anything to do this, but there are a lot of steps involved and you'll probably need to drill new mounting screw holes for your aftermarket speakers. Take your time, stay patient, and be sure to keep all the various parts and screws organized as you're removing them. There will be lots of parts and screws.
Detailed stereo and speaker removal instructions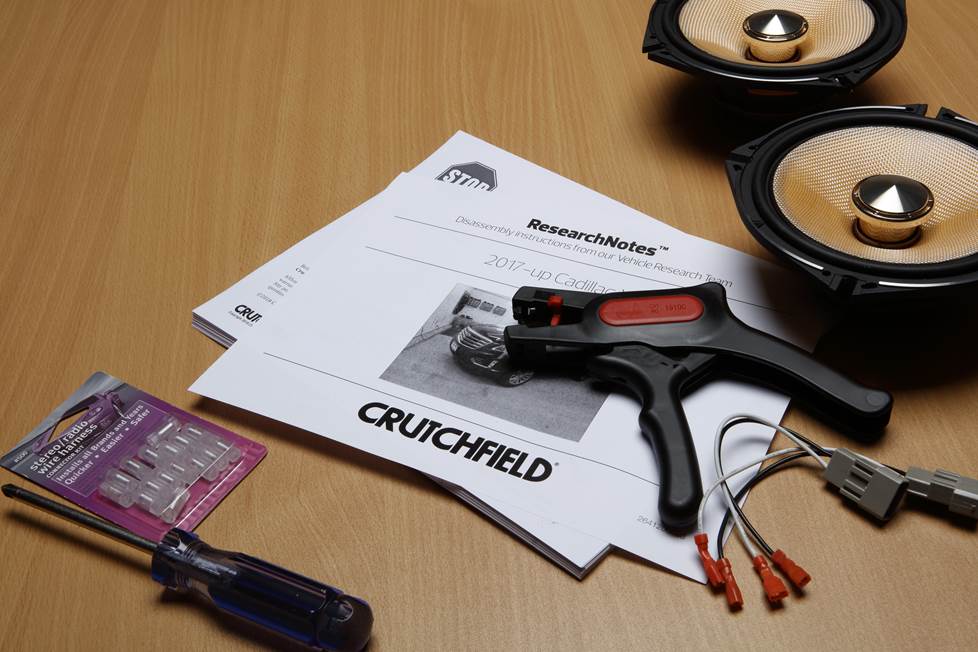 With step-by-step disassembly instructions and plenty of up-close, detailed photos, our exclusive
Crutchfield ResearchNotes
™ takes the guesswork out of removing the factory stereo and speakers. It's free with your Crutchfield order, or you can purchase one separately for just $9.99.
There will also, thankfully, be Crutchfield's Virginia-based tech team. If you run into a jam, remember that your Crutchfield purchase comes with free tech support for the life of your gear. That includes installation help, of course, so give us a call if you need us.
Oh, and be very careful with the drilling. Know what's around the area you're drilling into and always wear eye protection. Definitely wear eye protection.
Tools needed: Panel tool, Phillips screwdriver, right-angle Phillips screwdriver, 7mm open-ended wrench, drill with 1/8" bit
You'll find a pair of speakers behind each soundbar grille (Crutchfield Research Photo)
Removing the soundbar speakers (Wranglers)
In Wrangler and Wrangler Unlimited (a.k.a. 2-door and 4-door) models, the stock soundbar contains a pair each of 3-1/2" tweeters and 4" woofers. After everything you went through with the knee panel speakers, you'll be happy to know that these are pretty easy to deal with.
To access both speakers, remove the four 5mm hex screws securing the soundbar grille, then remove the grille. To remove the tweeters, remove the two Torx T-20 screws securing each one to the enclosure, then disconnect the harness and remove the speaker. Same basic thing with the woofers, except that you'll be removing three Torx T-20 screws and you'll probably have to drill new mounting screw holes. Not hard to do, but be careful and wear eye protection.
There are plenty of same-size speakers for each location, but be sure to pay attention to height and depth specs to make sure your new speakers will work with the factory grille.
Tools needed: 5mm hex driver, Torx T-20 driver, drill with 1/8" bit (woofers)
Read our Car Speakers Buying Guide for more information.
Shop for speakers that fit your Jeep Gladiator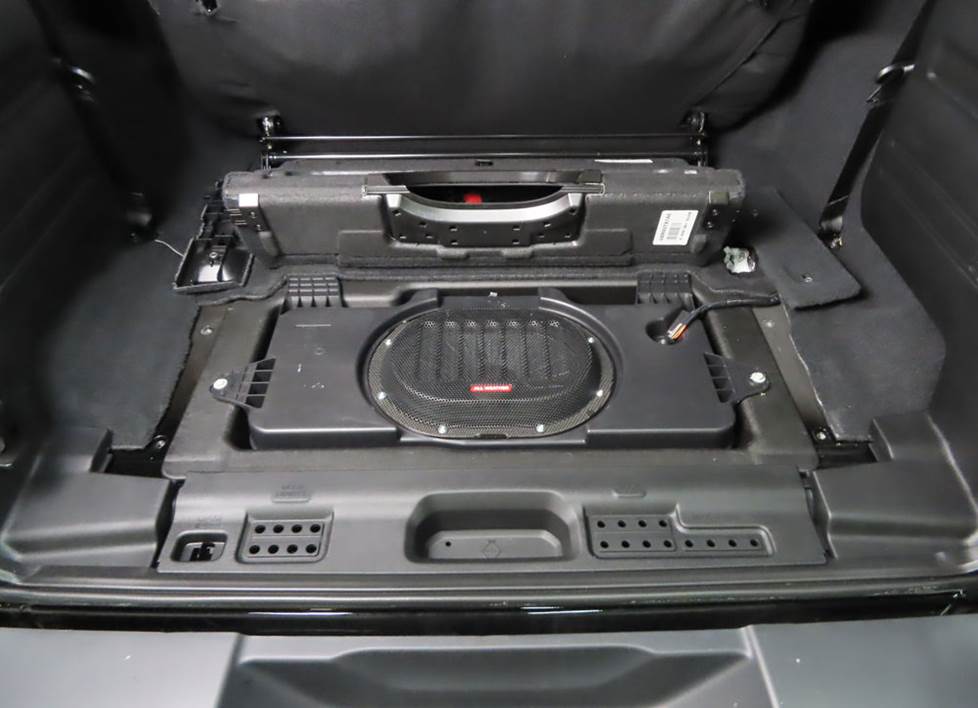 The 2-door Wrangler's cargo floor sub is pretty easy to reach and replace (Crutchfield Research Photo)
Bass in your Wrangler or Gladiator
In Alpine-equipped Wranglers and Gladiators, you'll find an 8" subwoofer in the….well, it depends on the vehicle, as does the degree of difficulty involved in removal and replacement. Removal instructions for each can be found in your Crutchfield ResearchNotes. Just enter your vehicle info to see the subs (and everything else) that will fit your Jeep.
Wrangler 2-door: The Wrangler's 8", quad-voice coil (2 ohms per voice coil) sub is located under the cargo area floor. It's pretty easy to get to, but you'll need to fabricate a bracket to install an aftermarket sub. We recommend adding an amplifier with a low-pass crossover to power your new subwoofer.
Tools needed: Panel tool, Torx T-25 & T-40 drivers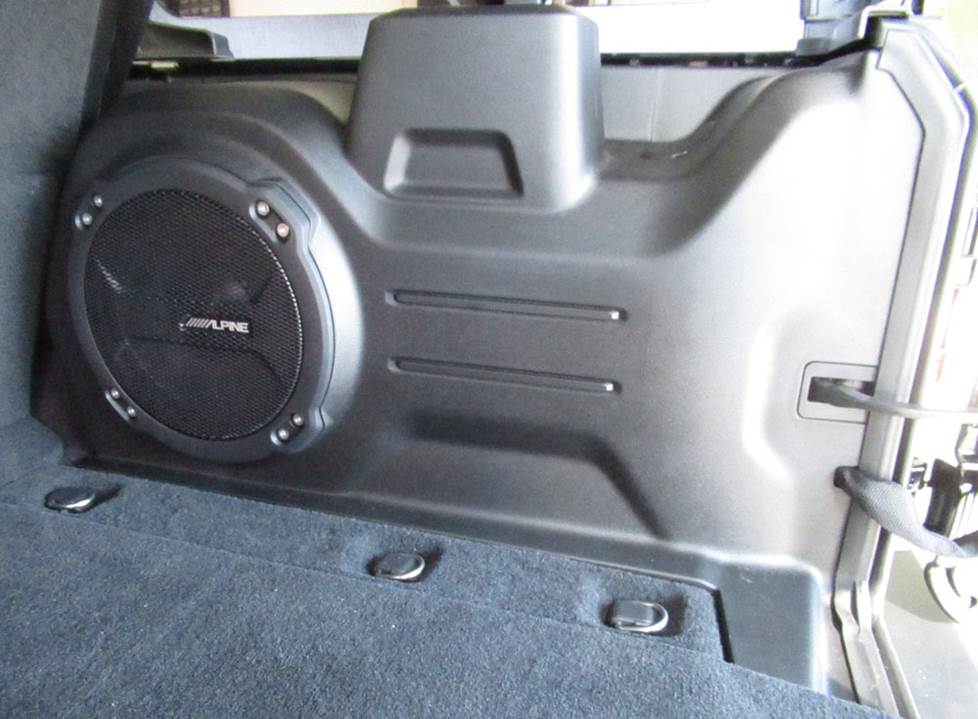 The 4-door sports a subwoofer on the side of the cargo area (Crutchfield Research Photo)
Wrangler 4-door: In the 4-door model, formerly and still kind of known as the Unlimited, the sub is located in the passenger's side rear cargo panel. You'll need to remove the entire sire panel to get the stock sub out of the enclosure, and while this isn't a hard job, you'll want to stay patient and work carefully. You'll need to fabricate a bracket for the new sub, and you'll also need to add an amplifier to power it.
Tools Required: Panel tool, 5mm hex driver, Torx T-20, T-25 and T-40 drivers
Gladiator: For those of you scoring at home, the Gladiator is the most challenging of the three when it comes to subwoofer replacement. You'll need to remove the right rear seat assembly and the rear wall trim panel to get to the speaker, and while it's not rocket science, it does involve a bit of work. Be patient, stay organized, and have a helper around if you can.
You'll need to fabricate a mounting bracket to install an 8" subwoofer in this location. Depth is an issue here, so definitely look for a shallow-mount sub. There's no wiring harness available, so you'll need a set of Posi-Products speaker connectors to connect to the factory wiring. Splicing or soldering will work, too.
Tools needed: Panel tool, small flat blade screwdriver, Torx T-25 driver, 10mm & 7/16" sockets, ratchet and extension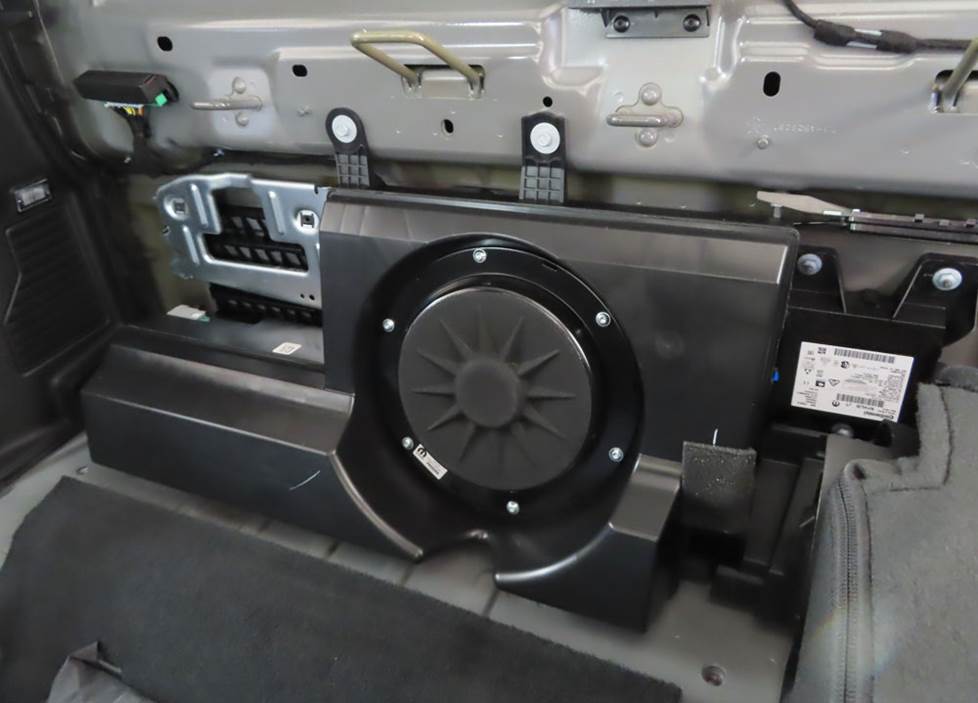 The Gladiator's factory subwoofer is a bit challenging to work with, but it can be replaced with a shallow-mount aftermarket sub (Crutchfield Research Photo)
Adding bass to your Wrangler or Gladiator
Adding a sub box is theoretically possible in the Wranglers, but whether it's wise or not depends on how you use your Jeep.
If you're going to use that area for outdoor activities that require a lot of gear, you might want to go small, maybe choose a compact powered subwoofer. Whatever you decide to do, the 2-door Wrangler offers a 36" W x 14" H x 14"/11" D space, while its 4-door big brother has a 36" W x 21" H x 27"/21" D space.
In the Gladiator, the under-seat storage boxes mean there's simply no room for a sub box.
Learn more about building a bass system in our Car Subwoofer Buying Guide.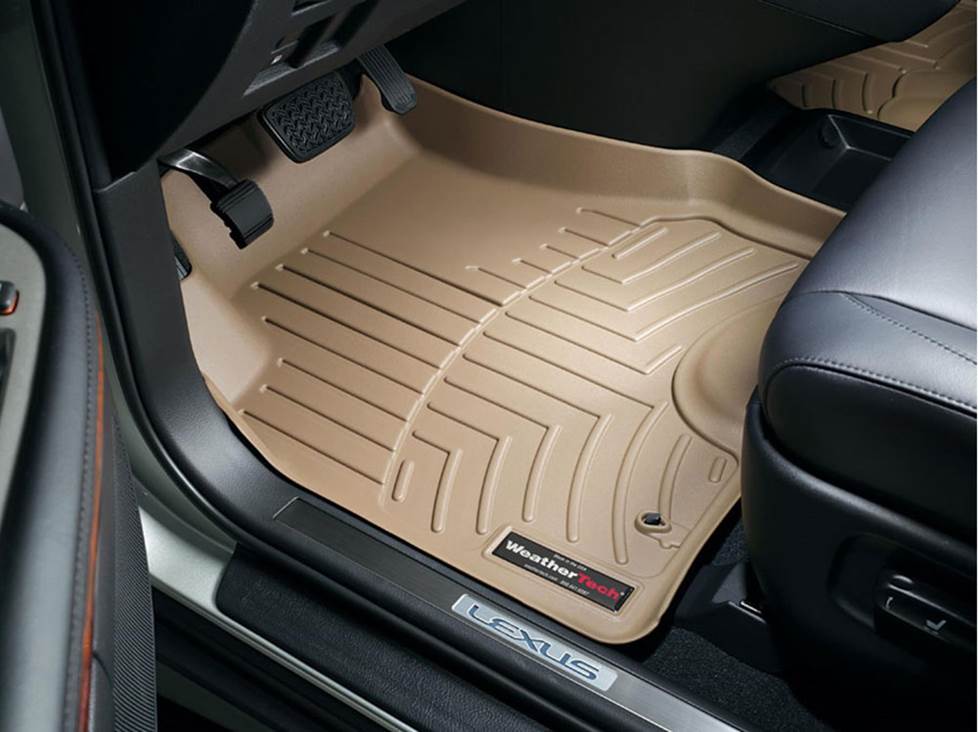 Your WeatherTech floor liners will look as good in your Jeep as these do in the Lexus used for the photo shoot.
Other upgrade options for your Wrangler or Gladiator
Here are some suggestions on how to make your Wrangler or Gladiator even better.
Add an amplifier
In a boxy (and occasionally open) vehicle like the Wrangler or Gladiator, you need clean power (and lots of it) for your speakers and sub. A new amplifier will give you the oomph you need to get the sound you want on the highway or in the hills. Learn more about adding amps to your system in our Car Amplifier Buying Guide.
Protect your Jeep's interior with floor liners
If you're using your Wrangler or Gladiator as intended, it's probably going to get dirty every now and then. Keeping it in great shape really helps retain resale value, so protect your carpets (and your investment) with a set of custom-fit WeatherTech floor liners.
Remote start and security systems
Adding remote start capability to your vehicle lets you warm it up in the winter or cool it down in the summer. The iDatastart system is incredibly convenient and makes it easier than ever to install a remote start system, so we highly recommend it. The module requires a vehicle-specific T-harness (sold separately) to connect with your vehicle's computer, security, and ignition systems, so we ask that you call to order so that we can make sure you get the right harness for your ride.
You can also talk to your Crutchfield Advisor about a security system. They're not as easy to install (we usually suggest letting a professional do the job), but we can help you choose a system that'll work in your vehicle.
Let's get started!
Ready to shop? Use our vehicle selector to find the gear that will fit your car or truck. If you have questions of your own, give us a shout via phone, chat, or email