Bluetooth® wireless technology is a natural for the car. Most people know that by "pairing" (connecting wirelessly, in other words) their Bluetooth phones with their car stereo receiver, they'll be able to engage in hands-free calling. But Bluetooth also has other functionality, like wireless streaming of music from smartphones and other Bluetooth devices to your car stereo.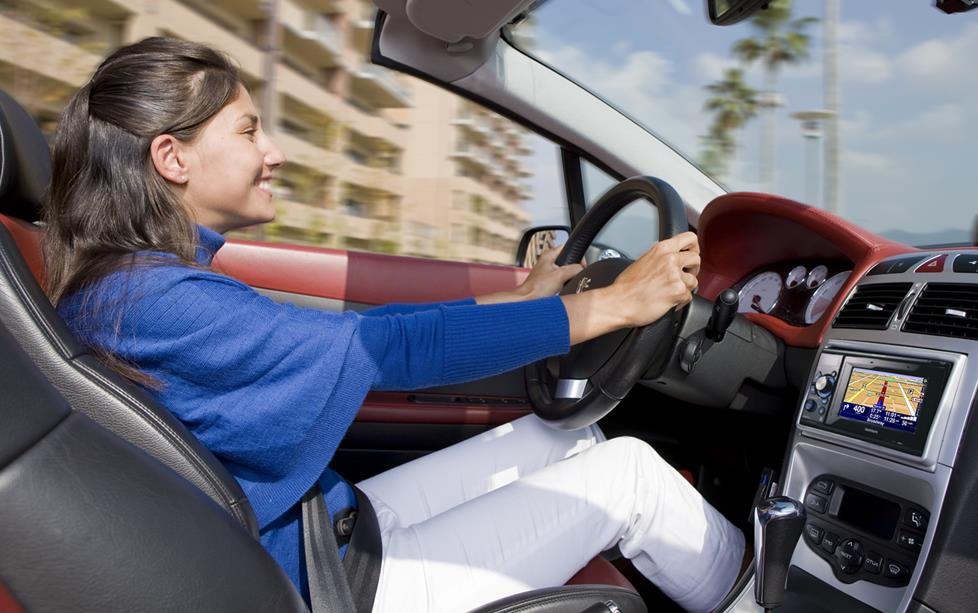 It does all this by opening up a 2-way line of com­munication between your smartphone and your stereo, letting them have a conversation. You just need to make sure they can speak the same languages.
The easiest way to make sure your phone and stereo do the things you want — like playing music, answering calls, and supporting voice control — is to see if each one is compatible with certain specific Bluetooth protocols. And the easiest way to do that is to check your phone and stereo for the abbreviations we'll discuss below.
Add Bluetooth to your car with a new stereo
Whenever you're shopping for a Bluetooth stereo on our site, you'll find compatible protocols listed on the stereo's "Details" tab, under "Product Research". And remember: for a particular feature to work, both your phone and your stereo need to be compatible with the necessary protocol. So read up, decide what you want, and then get shopping for the car stereo that's right for you.
[Shop for car stereos with Bluetooth connectivity]

Most Common Bluetooth Protocols
Protocol
Abbreviation
Benefit
Advanced Audio Distribution Protocol
A2DP
Audio streaming
Audio/Video Remote Control Protocol
AVRCP
Control over music playback directly from the stereo
Hands-free Profile
HFP
Hands-free calling through the stereo
Object Push Profile
OPP
Uploading of contact info to the stereo
Phone Book Access Profile
PBAP
Access to contact list from the stereo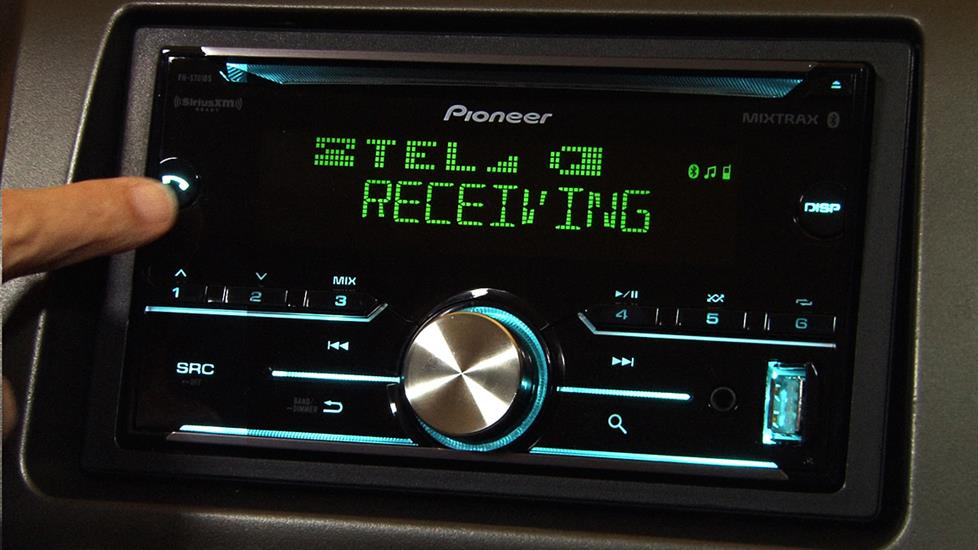 The Bluetooth Hands-free Profile means you can take a call without fumbling with your phone while you drive.
Get hands-free calling
Protocol: Hands-free Profile
Abbreviation: HFP
Most people get Bluetooth in the car for the Hands-Free Profile (HFP), which lets you make and take calls without having to touch your phone. HFP is the same protocol used by Bluetooth headsets for hands-free calling.
The advantage of having a car stereo that works with the hands-free profile is that incoming numbers show up on the stereo's display, and you hear your callers over your car's speakers.
When HFP is in action, Bluetooth designates your phone as a "gateway" and your stereo as a "hands-free unit". Your caller's voice passes through the phone and gets sent to your stereo, while your voice passes from an external microphone to your stereo, then to your phone, and on to your caller. Some Bluetooth stereos feature built-in microphones; others come with external microphones that you mount somewhere close to you, like on the sun visor or steering column, then plug into the back of the stereo.
Get access to your phone's contact list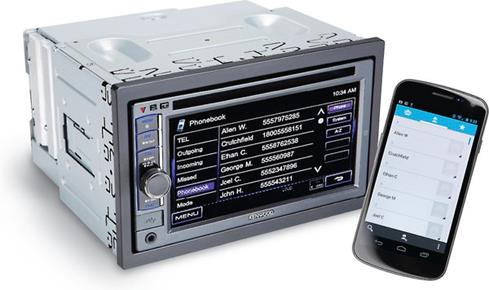 Having your stereo access your contacts with the Phone Book Access Protocol makes it easier to place calls in the car.
Protocol: Object Push Profile or Phone Book Access Profile
Abbreviation: OPP, PBAP
Hands-free calling wouldn't be quite as convenient if you had to use your phone to pull up your contacts. Fortunately, Bluetooth can help in two ways.
The first, and most basic, is with Object Push Profile (OPP). This protocol lets you upload your contacts from your phone to your stereo. How the process works varies by stereo and phone, but basically, you set up a push/pull relationship between your phone and your stereo; you ask your stereo to "pull" the contacts from the phone, while telling your phone to "push" the info to your stereo. Your stereo will also have a limit on the number of contacts you can upload.
The more advanced Phone Book Access Profile (PBAP) lets your stereo tap into your phone's contacts instead of uploading them. The process typcially intiates itself automatically, and usually goes like this: once your stereo and phone are paired, your stereo will ask your phone, "hey, may I take a peek at your contacts?" Your phone will reply, "I'm not sure, let me check." You'll then get a message from your phone telling you that your stereo is asking to connect with its contact list. All you have to do is approve, and your contacts will show up on your receiver's screen. This makes placing calls much easier.
Many receivers will allow you to engage in voice dialing, but usually only if your phone allows voice dialing. There are a few receivers that will allow voice dialing just by being able to access your phone's contacts.
Enjoy wireless audio streaming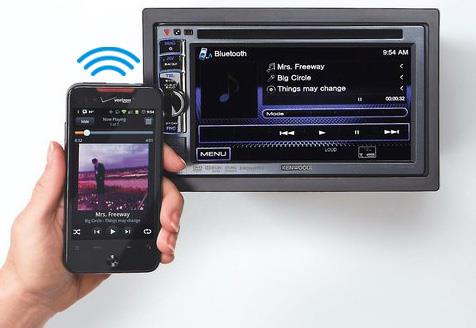 The Advanced Audio Distribution Profile lets you stream suprisingly good-sounding audio to your compatible stereo.
Protocol: Advanced Audio Distribution Profile
Abbreviation: A2DP
Want to enjoy music from your phone with a pesky tangle of wires? Bluetooth audio streaming makes it happen. As long as your receiver and your phone "speak" Advanced Audio Distribution Profile (A2DP), they'll make beautiful music together. It's sure nice to play whatever you have stored on your device without actually having to plug it in. You'll also be able to hear the audio from most of your smartphone's music apps. And your backseat passengers can have some fun playing DJ by pairing their devices, too.
So why do they call this profile "Advanced"? It has to do with audio quality: A2DP plays higher-quality mono or stereo audio from formats like MP3 and AAC than standard, narrower Bluetooth audio.
Essentially, A2DP creates a "Source/Sink" relationship between your phone and your stereo, in which your phone, the source, sends signal to your stereo, the sink. A2DP is also used in products such as wireless headphones and wireless speaker systems.
[Shop for car stereos with Bluetooth connectivity]
Get control over music playback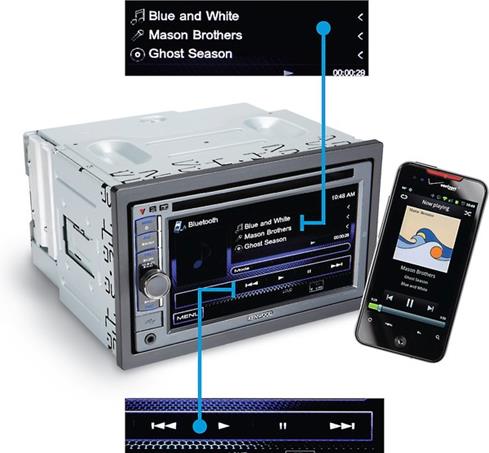 With AVRCP, you get some control over wireless music playback (bottom). With version 1.3 of AVRCP, you get to see artist, album, and song info, too (top).
Protocol: Audio/Video Remote Control Profile
Abbreviation: AVRCP
The Audio/Video Remote Control Profile (AVRCP) allows control from your stereo over the music you're playing from your phone or device, including songs from apps like Pandora® and Spotify. Bascially, AVRCP turns your stereo into a controller and your phone into a target. Much like a TV remote control, when you push a button on the stereo, AVRCP translates this action into a signal that it then sends to your phone. The end result: the ability to use your stereo's buttons or touchscreen to play, pause, and skip back and forth between tracks.
See song and artist info, too
Protocol: Audio/Video Remote Control Profile
Abbreviation: AVRCP
One of the neat things about connecting your iPod® or iPhone® to your stereo is that it'll send "metadata" — song, artist, and album title info — to the display. In 2007, version 1.3 of AVRCP was launched, letting Bluetooth do it, too. So now, not only do you get control over your music, you get to see what's playing at all times, even when you're playing music from many popular apps. Newer versions of AVRCP even allow for browsing and manipulation of multiple players.
When it comes to audio playback, AVRCP epitomizes the 2-way communication Bluetooth establishes. Your phone, or other device, sends sound and info to the stereo, while the stereo sends commands to the phone. Sounds like a pretty harmonious relationship to us.
Sound clear?
We hope this article has given you a better understanding of how Bluetooth works. Knowing what to look for in phones and receivers will help you shop with confidence.
If you have any questions or just need a little help choosing the stereo that's right for you, contact one of our advisors.