Bluetooth home stereo
What you need to know to get high-quality sound
Bluetooth is a simple, wireless way to send music from your phone, laptop, or high-res music player to your home stereo. But what about the sound quality?
Well, that depends. There are three main factors that come into play:
The quality of your home stereo gear
The quality of the music stream or music files you're playing
The way the music is encoded for the wireless transmission and decoded by the playback device
Why use Bluetooth for home stereo?
Do you use your phone to get music from Spotify or some other subscription service? Do you use Bluetooth earbuds or headphones to listen while you're traveling or working out?
If so, you've developed a powerful music consumption habit. It makes sense to carry that habit over to your home stereo. Right?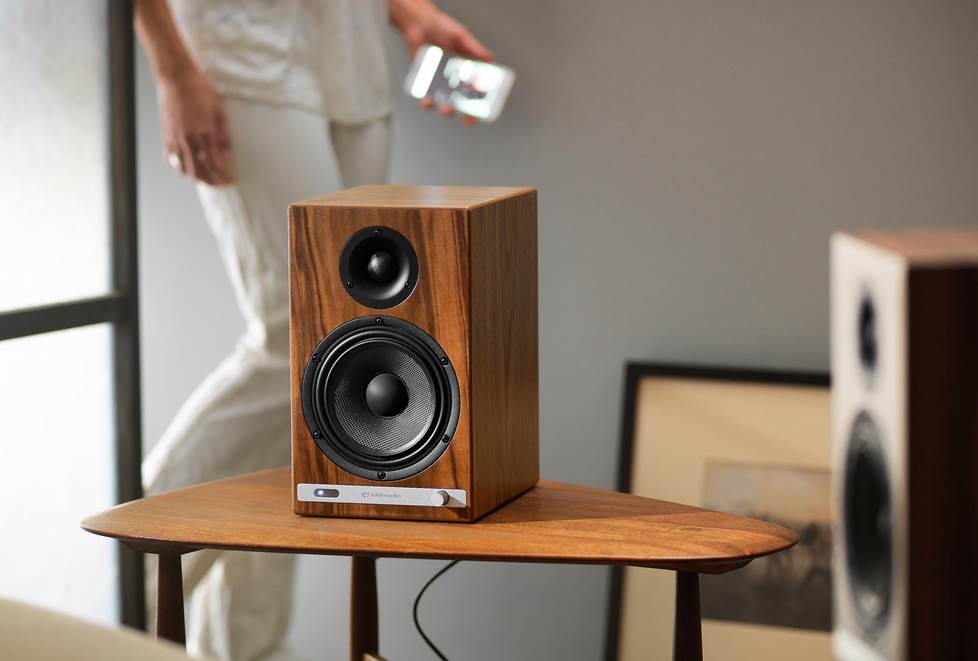 Do you get most of your music from your phone? Then you need a good Bluetooth home stereo.
Many of today's stereo receivers and AV receivers have Bluetooth built-in. So do some integrated amplifiers, powered stereo speakers, and network music players. If none of your stereo components have built-in Bluetooth, you can add a Bluetooth adapter.
Many of those same home stereo components have built-in Wi-Fi, too. So which wireless technology should you use?
With Bluetooth, you don't need a Wi-Fi password or a special app. Your guests can easily play their music through your speakers.
Do you have some music files or playlists saved on your phone? Then with Bluetooth, you don't even need an internet connection. You won't be competing for Wi-Fi bandwidth with all of the other networked devices in your household.
With Wi-Fi, it's the stereo's job to grab the music streams from the internet. Most stereo components with Wi-Fi can function as part of a robust multi-room sound system. And while you might use your phone as the remote control, your music stream won't be cut off by a phone call.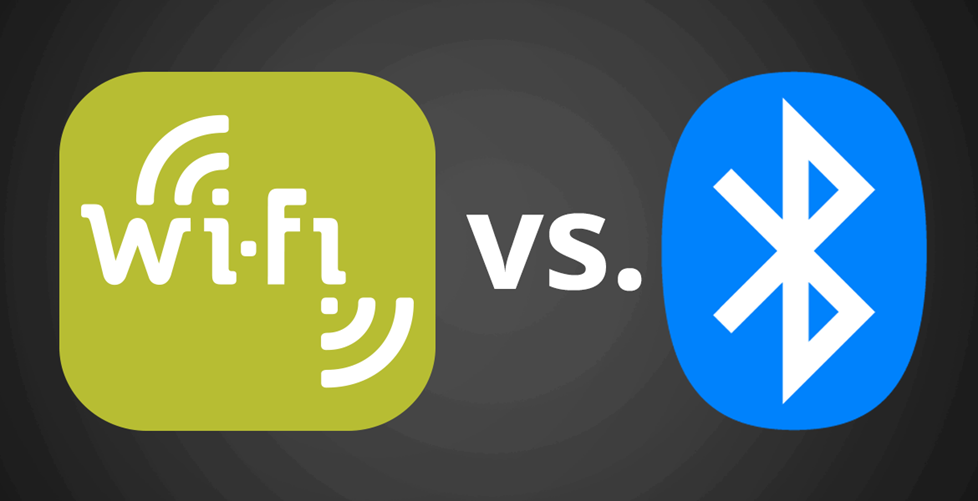 Which sounds best? Bluetooth or Wi-Fi?
With non-high-res streams, any of the latest Bluetooth components can sound pretty terrific. Spotify does not do high-res yet, but we do recommend stepping up to the premium stream (320 kbps). It will sound better than the standard stream, no matter which Bluetooth codec you use.
Do you subscribe to a high-res music service like Tidal, Qobuz, or Amazon Music HD? Then you're probably better off with Wi-Fi. You want those better-than-CD streams to be decoded straight away by the digital-to-analog converter in your stereo system.
Bluetooth adds its own layer of compression and decompression to facilitate the wireless transmission. And that's likely to take a bit of the sheen off of a high-res stream. That said, some Bluetooth gear can give you high-res sound (or get very close).
Bluetooth codecs
There are several different compression/decompression schemes (codecs) that may be used by Bluetooth components.
SBC – SBC is the default Bluetooth codec, the lowest common denominator. Its maximum bit rate is 345 kilobits per second (kbps), which is far from CD quality, but not bad. The biggest downside to SBC is its relatively high latency. If you're using SBC for TV, YouTube videos, or gaming, you may encounter some annoying audio delays.
aptX – An optional codec that promises slightly better sound quality and lower latency than SBC. Its bit rate is 384 kpbs. It's not supported by iPhones.
aptX HD – aptX HD increases the bit rate to 576 kbps, without adding latency. That gets you closer to CD quality.
AAC – Even though its bit rate maxes out around 250 kbps, AAC can give you better sound than SBC, especially when used with Apple devices. This is because AAC employs a technique called psychoacoustic modeling. That means the compression algorithm is designed to compress the parts that don't matter as much to our perception of sound quality.
LDAC – LDAC, a Sony technology, has the greatest hi-fi potential. It gives you bit-rate options of 330, 660, and 990 kbps.
For better sound, choose 660 or 990. You can use 330 kbps (which is often the default LDAC setting on Android phones) if you need a more reliable connection. But you may find that aptX or SBC sounds a bit better than LDAC at 330 kbps.
Bluetooth codecs vs CD and hi-res

| | |
| --- | --- |
| SBC | 345 kbps max |
| AAC | 250 kpbs |
| aptX | 384 kbps |
| aptX HD | 576 kbps |
| aptX Adaptive | variable 279-420 kbps |
| LDAC (connection) | 330 kbps |
| LDAC (normal) | 660 kbps |
| LDAC (quality) | 990 kbps |
| CD | 1,411 kbps |
| Hi-res 24/96 | 4,608 kbps |
Do higher bit rates always yield higher sound quality?
Not necessarily, but they're a decent yardstick. Is it worth it to seek out gear with aptX HD or LDAC? If you listen with a critical ear, probably so.
Here's what Jeff Miller, Crutchfield's headphone guy, had to say about his experience with LDAC in his review of the Sony WH-1000XM4 headphones:
"… the bass seemed better contained, though just as potent. It sounded more like a sub reacting to the walls in a room, with more realistic reverb and less muddiness. There was extra space around the vocals and the entire track felt more alive."
Will you hear a difference? To find out, try Brent Butterworth's Bluetooth blind test.
How to select the best Bluetooth codec
If you care about good sound, make sure one of the better codecs is present on both sides of the connection. For example, if you have a phone that can transmit Bluetooth with aptX HD, look for a stereo component that can decode aptX HD.
How do you select which codec is used? For the most part, you don't. Codec selection happens automatically when you pair your phone with a stereo component that receives the Bluetooth signal. Usually, the two devices agree to use the best codec that both support.
Most Android phones let you manually select a codec. You have to dig into the developer settings to do this. To my knowledge, most other transmitting devices do not offer manual codec selection.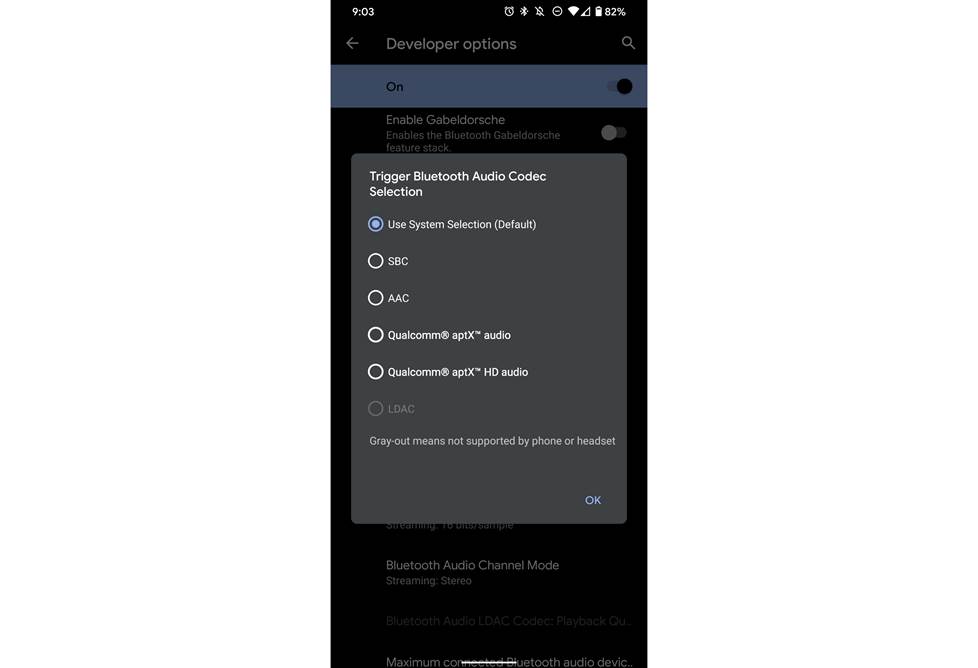 If you dig into the developer options on your Android phone, you can manually select any of the codecs that are supported by your phone and your Bluetooth headphones or stereo gear.
Bluetooth versions
There have been a lot of Bluetooth versions over the years. The most common ones found in today's home stereo gear are 4.x and 5.x.
The newer versions give you a greater wireless range and faster data transfer rates. The "bigger pipe" provided by 5.x may help to prevent signal dropouts.
However, a newer Bluetooth version probably won't give you better sound quality. The only exception might be if you're using a codec with a variable bit rate, like AptX adaptive, which isn't widely deployed in home stereo devices.
To take advantage of Bluetooth 5.0, both your sending and receiving devices must have 5.0 or higher. If that's not the case, don't worry, the 5.x and 4.x versions found in most home stereo gear are backward-compatible.
Bluetooth home stereo gear
Powered stereo speakers with Bluetooth are great for people who get most of their music from their phone or computer. The Audioengine HD6 and HD3, which can decode aptX HD, are good examples. Here are links to models that support aptX and models that support aptX HD.
For a more traditional hi-fi system with Bluetooth, consider integrated amps or stereo receivers with Bluetooth built-in. There are a few integrated amps that decode aptX HD. The NAD C 700 receives and transmits Bluetooth.
You'll find a lot of AV receivers with built-in Bluetooth. Arcam's AVR10 can decode aptX HD. Some Sony receivers decode LDAC.
Want to add Bluetooth to an existing home stereo system?
There are plenty of Bluetooth adapters for home stereo. To learn more, read our article about how to add Bluetooth to your home stereo system.
Looking for an add-on solution that provides excellent sound quality? You have a few notable hi-fi options. First, a couple of Bluetooth adapters.
The iFi Audio ZEN Blue V2 supports aptX HD, aptX Adaptive, AAC, LDAC. The color of the iFi logo changes to indicate which Bluetooth codec is being received. The Zen Blue V2's built-in ESS Sabre Hyperstream digital-to-analog converter chip reduces jitter, a form of distortion introduced by the wireless signal.
The Audioengine B1 decodes aptX HD and AAC. It also decodes aptX Low Latency, and that can help sync audio and video on compatible devices. Like the iFi ZEN Blue V2, the B1 has an audiophile-grade DAC. It up-samples incoming signals to 24 bits to achieve a higher signal-to-noise ratio.
Another great Bluetooth add-on option is a network music player like the popular Bluesound NODE. It supports aptX HD, and it can transmit Bluetooth to your wireless headphones. It also has Wi-Fi, which can connect your existing stereo system to a Bluesound multi-room audio system.
High-res music players and wireless headphones
Some portable hi-res music players like the Astell&Kern KANN MAX can transmit Bluetooth using hi-fi codecs like aptX HD or LDAC. That makes them great source components for a home stereo with high-quality Bluetooth.
When it's time for some private listening, it's nice to have wireless headphones that support high-quality Blutetooth connections. Take a look at the B&W PX S2. They are compatible with better Bluetooth codecs like aptX HD.
Questions?
If you need help deciding which Bluetooth home stereo solution is best for you, just call us! You can reach our Advisors at 1-888-955-6000.