ntonio Meze doesn't want to sell you on his headphones. Don't get me wrong, he hopes you'll buy Meze headphones. And he really wants you to enjoy them, to cherish them.
But in my nearly two-hour conversation with the founder and lead designer of Meze Audio, I could tell he was uncomfortable — almost embarrassed — with the promotion and hype side of running a business.
Even the word itself — "sell" — hung on his lips with a hint of disdain. It was as if he feels that if he has to sell you on his boutique line of wired headphones, it means he's failed his mission.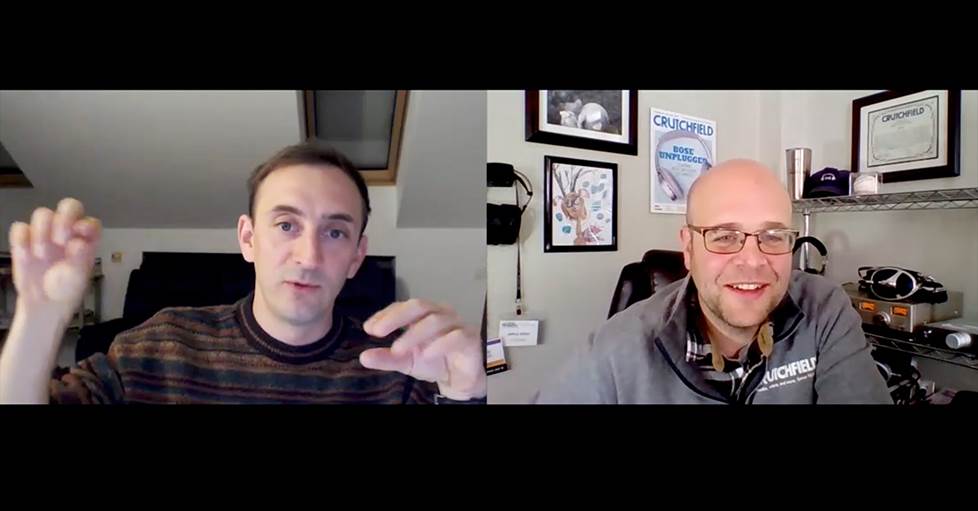 Antonio (left) spoke to me from his home office in Romania. Our conversation covered his design philosophy, personal history, company growth, and more.
"We're not selling a gadget, or series of specs," he told me via Zoom, from his home office in Baia Mare, Romania. "I'm not selling the latest buzzword technology; I don't want to sell a catchy product. I'm trying to build products that feel precious and [offer you] value on different levels."
Fortunately for Antonio, Meze Audio headphones have taken off in popularity since their debut in 2014 — both through their own merit and strong word-of-mouth. They've received prestigious design awards for their striking industrial looks. Their sound has won over major audio publications and high-end headphone aficionados alike.
And here at Crutchfield, we named the Meze 99 Classics wooden-cupped closed-backs our "most comfortable headphones" after extensive in-house testing.
The test of time
I caught Antonio at an interesting point for him and the company. Meze Audio had recently released two new headphones that were instantly well-received — the top-of-the-line Elite open-back flagship and the premium closed-back LIRIC headphones. Plus, business in general had really picked up (due in part to a wider trend of people rediscovering wired headphones). And Antonio had just gotten back to Romania after a weeks-long family vacation to Thailand, visiting in-laws.
Even over a screen, he exuded calmness. He spoke in measured tones with a confident matter-of-factness, and he came off completely earnest. He lit up at times when discussing the design process — or his only recent "splurge": a modest-size camper trailer for overnight family trips. Meanwhile his expression and mannerisms read proud and passionate, yet never pretentious or boastful.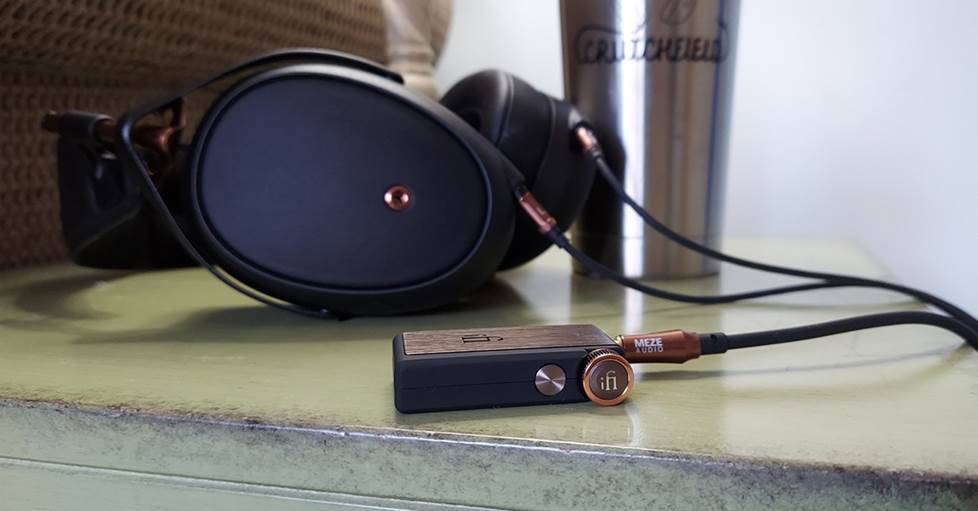 The gorgeous LIRIC closed-back headphones deliver spacious, textured sound with authoritative bass (driven by the super-compact iFi Go Blu amp/DAC, sold separately).
"Our company's growth kind of exploded last year," he said. "We've come a long way from when we started, but we've managed to keep this spirit of a start-up company. It still feels more like a small team — a team of friends."
It's easy to see why their current crew of about 40 employees feels sizable compared to the early days. Back then, Meze says it was just he and his top collaborator Paul Stet designing the overall structure, with acoustic engineer Mircea Fanatan conceiving the sound tuning.
"Initially, it was four or five people in a small space, discussing intensively and very passionately about how we could do things," Mircea told me. "Now we have more than 40 colleagues working on 3 continents."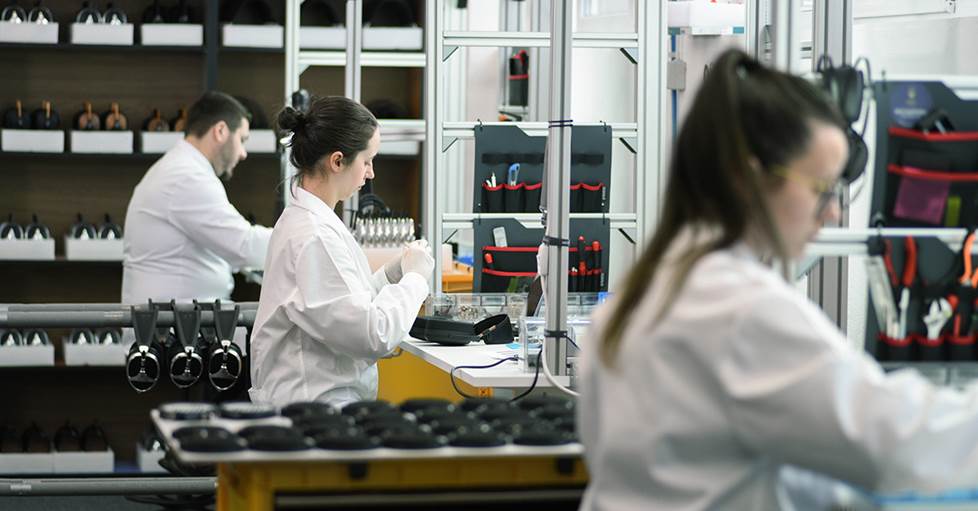 Meze completely remodeled an old furniture factory and brought in new, state-of-the-art machinery. Going forward, they plan to make all of their newer headphones there.
"In the beginning we all did everything — including packaging," Raluca Vontea, brand manager then and now, told me. She said that while their roles are more distinct now, and less intertwined, the team still approaches their work with the same unique rhythm. "Plus," she quipped with a smile, "I can always prepare a shipment by myself."
Now that Meze headphones are in higher demand than ever, there is even more room to grow. And Antonio has a lucent plan for expansion, that includes bringing even more high-skilled people into the mix.
With that in mind, Meze has taken great measures to preserve their high standard of craftsmanship, comradery, and quality control. Last year, in the throes of the pandemic, they bought and refurbished an old furniture factory near their headquarters — where they now build their newer headphone models.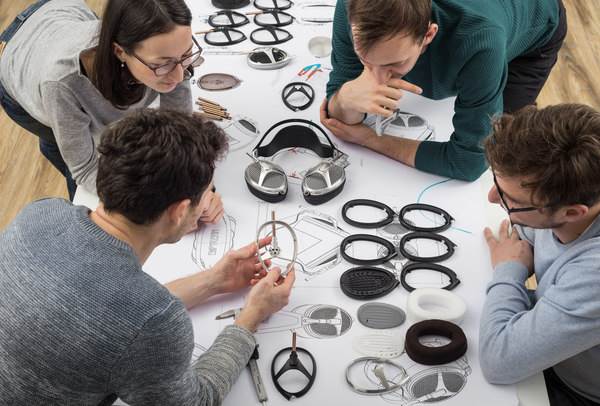 Meze works hard to preserve the comradery and quality control of the early days — when the team was smaller and everyone took on many different roles.
"My product development team and I are now located very close to the manufacturing team," said Antonio. "And we visit each other every few days. There's an advantage to having the people who design the headphones in the same place with the people who actually put them together. It is really precious — and priceless."
"No corners cut" design
Most of the headphone creators I've spoken to in the past have been sound engineers, closely involved with the acoustic tuning or driver make-up. Antonio is one of the first who comes from a product design background — and it shows. Meze makes gorgeous looking headphones out of premium parts, with a tactile appeal that pops out of photographs and impresses even more when you unbox them.
Meze's top-of-the-line Elite open-back headphones feature a robust machined aluminum frame that's symmetrical, serpentine, and charmingly smooth to the touch.
But it's not all about looks. Meze headphones are an arresting fusion of form and function, working together to serve the greater good. Every design choice is mindful of how the headphones feel, and — ultimately most importantly — how they sound.
Take the flagship Elite headphones (and their predecessor, the Empyreans). At first glance, you might think that they have a closed-back design. But closer examination reveals an intricately etched pattern in the ear cup. It's not only an interesting flourish, but also allows for better airflow and helps strengthen the bass response.
This keepsake quality takes time to perfect. A Meze team member chisels out the small, symmetrical openings using a CNC machine. For each Elite headphone frame, the meticulous CNC milling process alone (shown in the video below) takes 20 hours:
It's something that can't be rushed — both in terms of the manufacturing process, and the original design. Which is why Antonio says that several of his products were released a full year later than expected — including the 99 Classics, their most popular.
"Yes, in a way it's a setback. You risk a lot," said Antonio. "Because that means you already put up a lot of money and you're still not making any money. You've invested in development, tooling, testing…then you're waiting two years or more. It's a very long time to wait for a product launch."
Of course, the flipside is the staying power of their best-selling headphones. Countless headphones from other companies — and even entire headphone companies — have come and gone since the 99 Classics launched. And 2021 sales of these headphones tripled what they sold in 2016, with 2022 on pace to be their strongest yet. That will earn you some extra patience.
"Doing whatever it takes to 'get it right' is always a position I support," said Rick Tydings, Meze's U.S. Mid-Atlantic distributer who's helped build high-end audio brands for decades. "Meze, in particular, has a clear path to their future and I trust them completely... Their returns are lower, and their customer satisfaction is higher than most."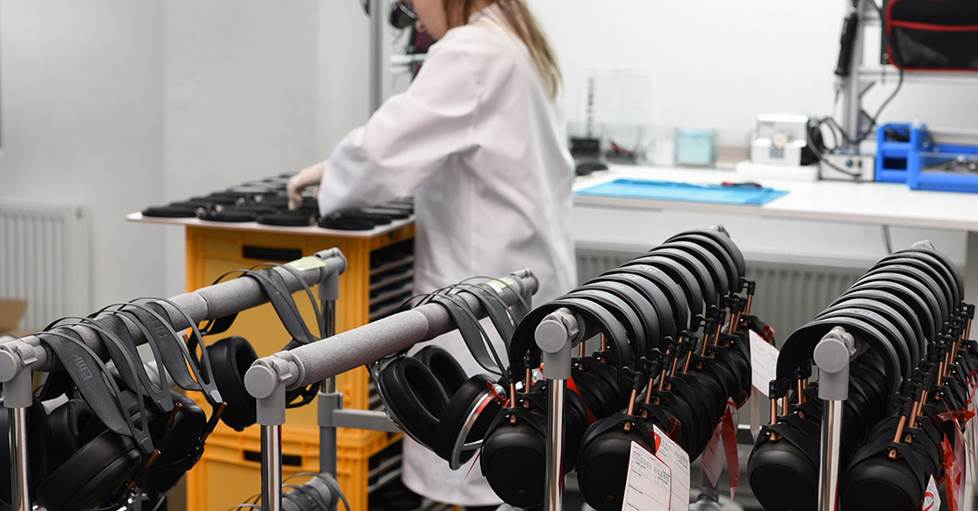 Meze's higher-end headphones are each individually built, assembled, and tested by hand in their Baia Mare headquarters.
Antonio was quick to point out that this strategy might not work for every company, but it's been crucial for Meze Audio's success. He also shied away from saying the extra year makes his headphones "better" than his faster-moving competitors. "That wouldn't be fair," he said, since people make and need headphones for different reasons.
But his products must deliver a different vibe. A vibe that takes time to perfect — and is hard to articulate.
"We aim to make something nice and fulfilling, that won't bore you over time, or become one of those invisible objects in your house," he said, leaning in. "It's not something technical, but rather something that you can observe in time. A 'timelessness' — that's not really a feature but is very important. Because if a customer keeps a product for five years rather than two years, that saves so much of the world's energy, materials — even their own time."
A past full of design inspiration
Antonio's journey to running his own headphone company wended its way through top industrial design agencies all over the world — including stops in Prague, New York City, Amsterdam, and Bangkok. But that journey began in the same land where it has ended up: the sprawling mountains and valleys of Romania's Maramures region.
Antonio grew up in this same northern province of Romania where you'll find the Meze Audio headquarters. The same rich, rugged terrain where he now mountain bikes and camps with his wife and two young children.
Maramures is home to some of the largest old-growth forests in the planet. And the region is known for its traditional woodworking — from centuries-old wooden churches and gates to sculptures and handheld objects crafted through old-world carpentry methods.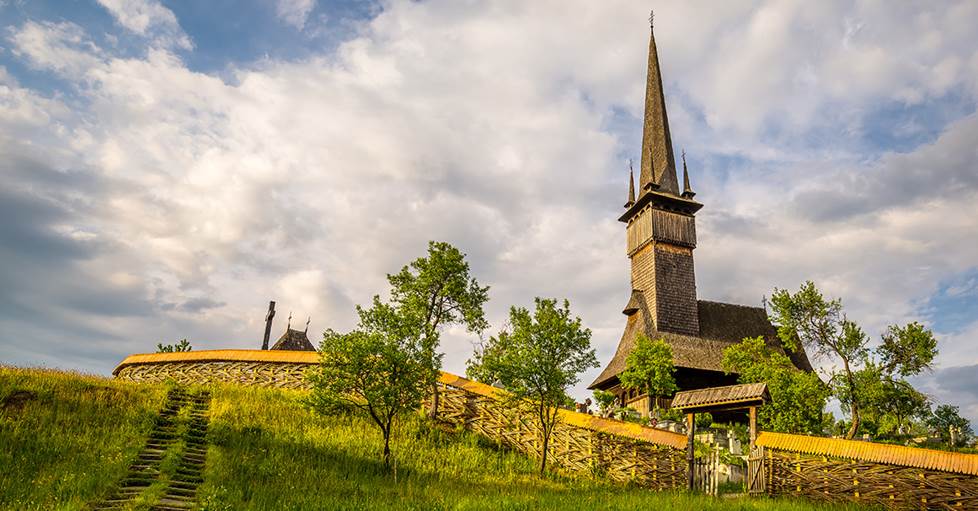 Church of the Archangels Michael and Gabriel, Plopi, built in 1798. One of many landmark traditional wooden churches in Maramures, Romania (Getty images).
As a child, Antonio would see and soak in these lived-in, vintage objects — dotted around his grandmother's home. A ZDNet article credited these sculptures for informing his headphone designs. He told me Meze Audio headphones draw more from Gothic and Art Noveau, so it wasn't a direct aesthetic inspiration, but rather he grew up with an innate appreciation of that elusive notion of "timelessness."
"When I step back and think about the process and attention to detail, [my sensibility] very much comes from there," he said. "All my life, I've learned about architecture and craftsmanship that last."
Antonio expands on his experience in this video clip:
His creative ability shined early on, so he was placed in art school from fifth grade through high school. There, he studied art history along with drawing, painting, and sculpting — learning the process and stories behind these long-lasting wooden objects, churches, and gates.
"These structures have always been present in my mind, as something to admire," he said. "Some of them might be in a museum, but many of them are the museum itself…You see a roof with these tiles that are perfectly even, and almost woven over each other."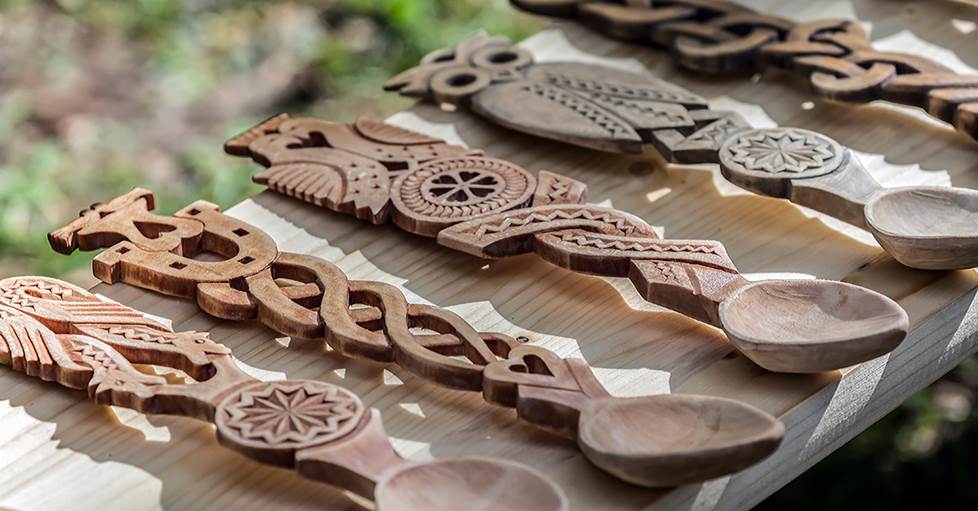 Intricately designed wooden spoons, sculpted with a hammer and chisel in traditional Romanian fashion (Getty images).
In college, Antonio got into industrial design and soon after graduation, he started working with firms who designed all types of different products. He learned a lot but often felt removed from the final product. After he provided sketches, renderings, or 3-D models to a client, they would take the operations from there. It's a far cry from today, where he is intimately involved in the manufacturing process and gets direct feedback from the end customer.
He told me it pains him to see an early product design concept online that will never look the same on the shelves, or out in the real world. Or conversely, a final product on the shelf, where he can tell concessions were made in manufacturing.
"The best instance of our headphones can never be the photo or design rendering," said Antonio, "When you receive the final product, I don't want you to think 'It's nice, but it was nicer in the picture.'"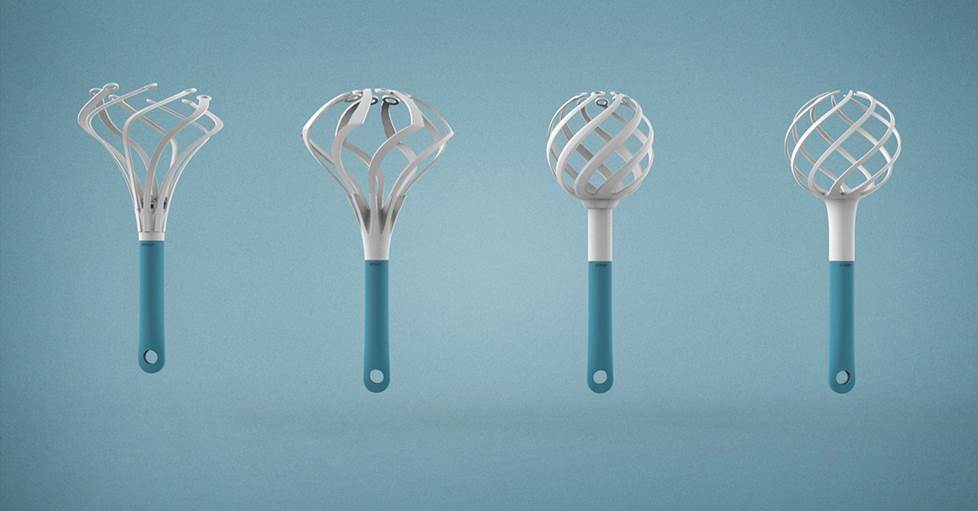 Antonio created this "EggBeater with vertical action" concept while working for And-Design London in 2010.
Working for agencies, he grew more and more detached from his creations. But he was grateful for the work, enjoyed the collaboration, and gained a lot from the experience. It taught him to tackle designs from a new angle, and how to breathe fresh air into a ubiquitous product. (Just check out his early concept for an eggbeater.)
This perspective and approach would serve him well as Meze Audio broke into the world of headphones.
Classic comfort and build
In 2019, our staff tested over 50 headphones for comfort, and the Meze 99 Classics headphones ranked #1 by a long shot. These real-walnut 'phones scored big for their lightweight build, relaxed fit, and butter-soft ear pads. And they managed to fit securely and remain stable for participants with different head sizes and shapes.
This distinction as "Crutchfield's most comfortable over-ear headphones" has helped grow their popularity. Between that and more people working from home and choosing wired headphones, these headphones have had a strong second act. But you don't make headphones that fit and feel this good by accident — and Antonio bet on comfort from the start.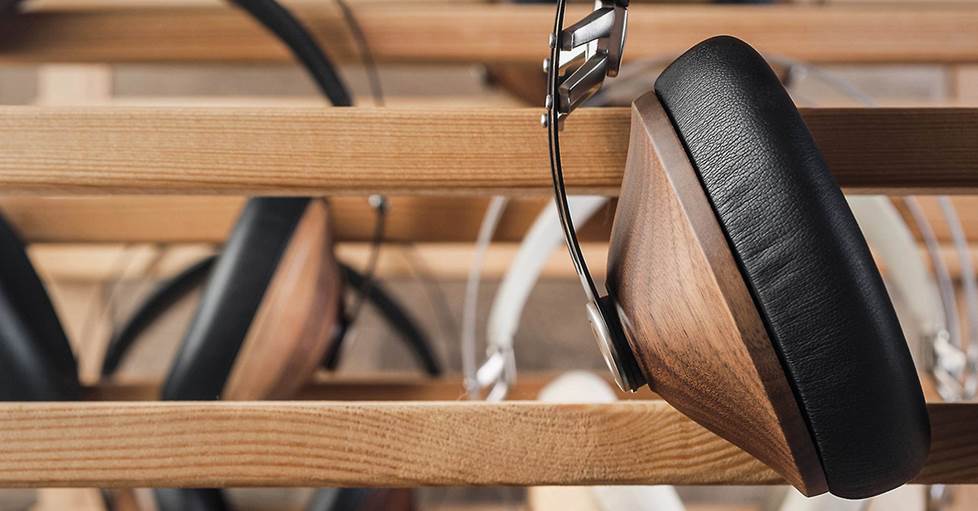 The 99 Classics were named our most comfortable headphones based on how well they fit Crutchfield staffers of all different head sizes.
"We always saw ergonomics as absolutely fundamental," he said. "Not just another box to check off."
Antonio wanted to offer something new that people weren't getting from existing headphones. So before creating his own headphones, he analyzed the design of other models for over a year and a half. And he told me he was baffled. "It seemed like nobody cared as much [about comfort] as other aspects," he said. "So, I thought, OK, this is something I can bring to the table."
He learned fit and comfort take time to develop and require a lot of trial and error. There are no shortcuts. It comes down to how much of the headband touches your head, and how well it distributes the weight of the earcups. If the ratio is even slightly off, it will either feel like the headphones are hanging or drooping from your head — or they will clamp too tightly.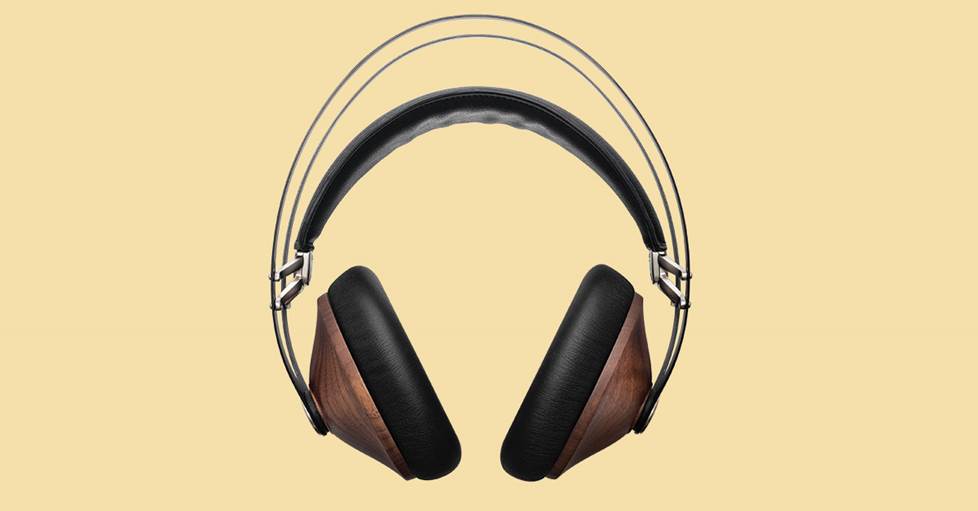 The Meze 99 Classics uses a spring-suspension system that seems to "pop" into place, without a lot of moving around or adjusting. It's often one and done.
"It's like sitting on a road bicycle," he said. "If you're leaning too far forward, your weight is too much in your arms and they get tired. But if you're leaning too far back, then you're putting too much pressure on the seat, and your lower back will hurt after a long ride."
So Meze and team had to carefully fine-tune the amount of clamping force as well as how much surface the headband covers on the head. They came up with a heavy-duty steel headband and spring suspension system. It uses a long spring that's about five times the size of an average headphone spring.
Most headphones only have two small springs on either side of the headband. The 99 Classics have a spring that stretches over and cradles the crown of the head. Antonio said that the larger spring ensures the pressure remains even, regardless of head size.
Building a reputation
When Antonio Meze entered the crowded headphone scene, he knew he had to carve out his own lane.
"In the consumer [headphone] market you get the big volume, and the numbers are big and move fast, and then models change over quicker," said Antonio. "But if you come in as a small brand and use that as a reference point, you will be misled. You can't beat the big guys at their game."
He explains his approach and desire to build a product that lasts here:
So, Antonio studied the field. He said it didn't take long to come across the audiophile headphone enthusiast community, to this day best represented online at Head-Fi.org. Head-Fi founder Jude Mansilla, one of the world's leading headphone experts, has created and helped organize a series of high-end personal audio shows called "CanJam Global."
Here, personal audio creators, reviewers, and aficionados congregate to audition, learn about, and generally just talk everything headphones. This tight-knit community brings a deep appreciation for craftsmanship and attention to detail. Mansilla has called the Empyreans and Elites, "the two best built and most finely crafted headphones I've ever used."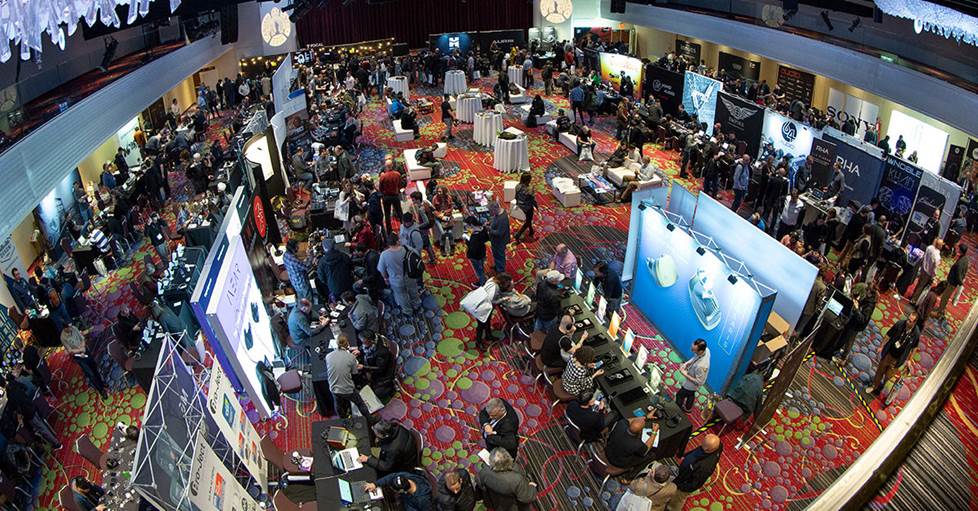 Headphone enthusiasts roam the Time Square Marriot Marquis to check out the personal audio goodies at CanJam NYC.
But for headphone customers — specifically this crowd — sound is still the name of the game. So when Meze first showed their wares at CanJam in 2015, they knew they had to bring something special in terms of sound.
With the 99 Classics, they approached the sound with the same market-correction mentality they did with comfort. It was calculated, for sure, but from a genuine place of: where is the customer underserved?
"We were aiming for the sweet spot for sound — an engaging, natural timbre that was easy to enjoy," said Mircea, their sound designer. "the 'bell shape' earcup design helped minimize reflected sound waves, which are usually very problematic in a closed-back headphone design. This improved the speed of the drivers, too."
The 99 Classics headphones quickly won over this hard-to-please audience, and started gaining buzz on review websites and audio magazines. "When I first saw the 99 Classics, with the premium packaging and carry case," said Rick Tydings, their distributor, "I estimated that it cost twice as much as it did."
Meze found a home within the audiophile headphone community. Here, members still tend to covet "the next big thing" — but if a headphone catches on, it can be a cottage industry unto itself. And the 99 Classics have become a hit.
"This [headphone community] is a small community. it's not a consumer market we're in," said Antonio. "This is more like a specialty, enthusiast market. And that makes it nice. It's small enough that it feels a little bit like family. I'm really glad we're in this."
Much like legendary headphone models from the likes of Sennheiser, Audeze, Audio-Technica, and Focal, the 99 Classics are so beloved, that other companies have custom-built accessories for them. And in 2022, iFi Audio designed a headphone amp tailored to these sonic strengths of these headphones — seven years after their initial release!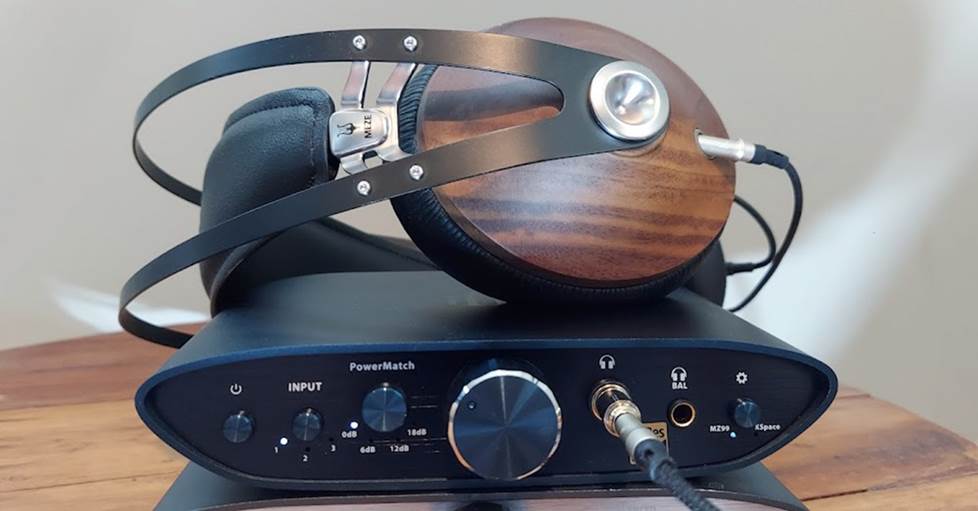 iFi Audio designed their ZEN CAN Signature MZ99 headphone amp specifically to optimize the sound of the 99 Classics.
Diving into the audiophile deep-end
Fresh off the initial buzz from the 99 Classics, Antonio and team set their sights on a whole new class of headphones. A super-premium statement piece, where it's all about delivering the ultimate experience and performance. So Antonio started emailing sketches and computer renderings back and forth to his design partner, Paul Stet.
He described the first night of designing the Empyrean headphones as almost a fever dream. "Yes, it was something like 10PM to two in the morning here in my home office," he said. "One evening, just putting down the proportions and the shape. We had a rough idea of the size and how we wanted it to sit on the head."
Looking back, Antonio says he's surprised at how that initial concept closely matches the geometry and broad-strokes outline of the final Empyreans. "But it took a lot of time to refine the details and the different parts so that it resembles [what you see today]," he said. "My colleague Paul would do versions and the revisions and send the file to me, and we just kind of ping-ponged back and forth."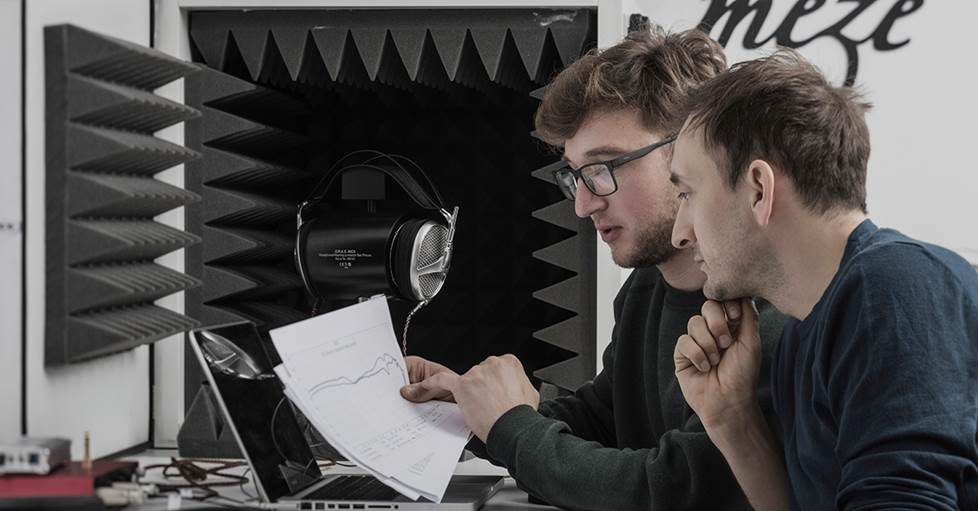 Antonio Meze pores over sound measurements with Managing Director Mircea Fanatan: "We aim for an engaging, natural timbre that's easy to enjoy."
He estimated that projects of this magnitude go through about 60-70 versions. Some are sketches, some 3D computer renderings, and some get as far as models or working prototypes. On his computer, he pulled up 57 computer renderings of his latest release, the LIRIC – then noted there were several earlier versions saved in another file.
And the high-end headphone community itself has become part of Meze's creative process. I first saw the Empyreans at CanJam NYC 2018, a year before their release. Meze let personal audio fans, competitors, reviewers — even me — try early prototypes to collect feedback. But it also created a sense of ownership for those of us who got an early sneak peek.
Meze has been eager to get this in-person feedback on newer models. But it simply wasn't possible with audio shows canceled for the last couple years. So when Mircea showed up at CanJam NYC 2022 in late February with a prototype of their new open-back Pro 109 headphones, it was a nice surprise for attendees.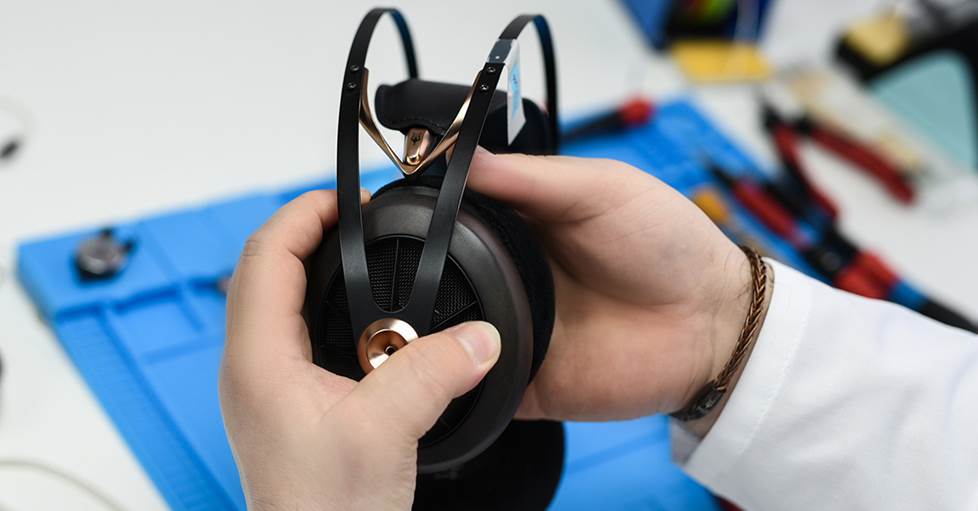 This early concept model of the PRO 109 shows it has a similar vibe to the 99 Classics, with an open-back design and upgraded beryllium drivers.
Further refinement through collaboration
The Empyreans were Meze Audio's first collaboration with Rinaro, a Ukranian research team who had developed a special type of driver for planar magnetic headphones. By separating the voice coil on the transducer, Rinaro had figured out a way to deliver the spacious, evenhanded planar sound — with Meze's authoritative bass.
"When we met with Rinaro, we instantly felt we found a perfect partner and we were very eager to show them the concepts," said Mircea Fanatan. "We discussed and agreed with the team from Rinaro about the tuning of the Empyrean, so it wasn't really a matter of imposing one's ideas on the other party."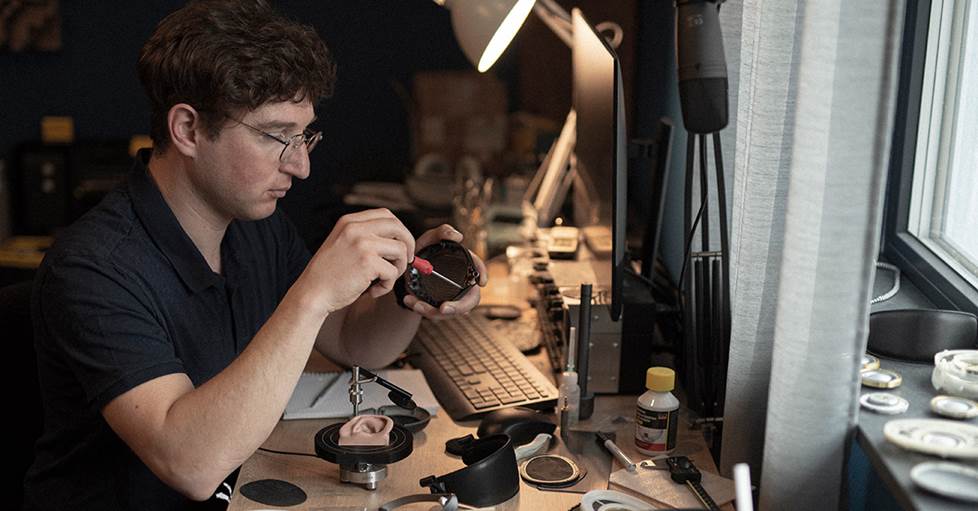 Mircea measures the tuning of the specially designed drivers before placing them into the earcups.
They've continued working with Rinaro to refine the drivers for the closed-back LIRIC chamber and their newest flagship, the Elite. Each delivers a multi-sensory experience that is as thrilling the 100th time you use them as the first.
"I often compare headphones of this caliber to a specialty coffee or fine wine," said Raluca, Meze's head of sales. "Once you've tasted it and have educated your senses, you can't go back to what you drank before."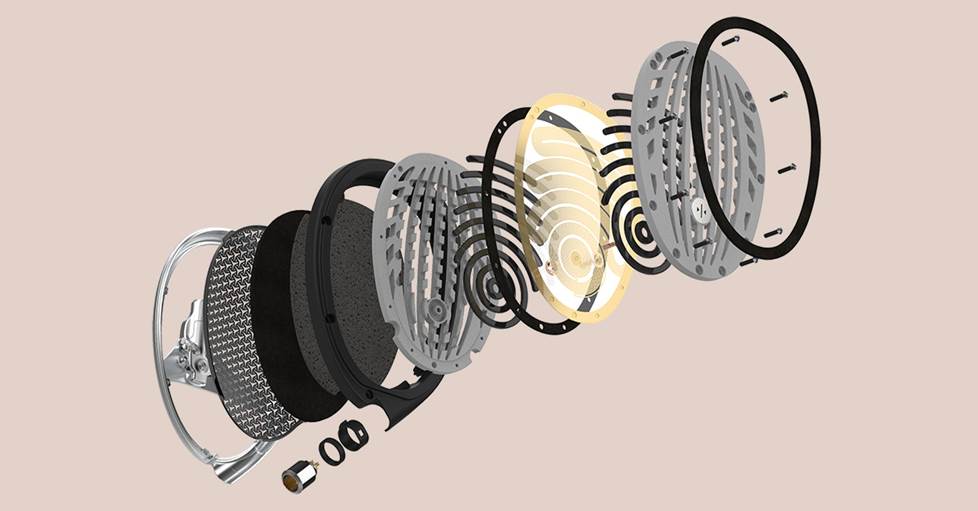 Meze co-developed a hybrid planar magnetic driver with Rinaro for the Elite (and a tweaked version for their closed-back LIRIC).
Antonio has often used another analogy — his prized Fender Stratocaster guitar. Specifically the feeling he gets everytime he picks it up. When he first holds it.
"The overall design of an electric guitar has gone largely unchanged for 50 or 60 years, and the most coveted guitars are from back then," he said. "It speaks a lot to what we all actually want deep down inside. It's something that lasts, something that has been passed down to us that we can pass on later."
From there, he became visibly bummed out about how disposable some products are these days — and how their design language lacks the human touch. You simply don't feel the effort. There's nothing there to latch on to, nowhere to connect.
"I think at a deeper level, that's what people really search for: connection to others, but also connection to your past and even to your objects," he said. "It might sound superficial, but I don't think it is. Because I think it's important to be able to understand the value of an object...That so much energy went into creating and crafting it."
Are Meze headphones the right choice for you?
I've mentioned all the awards, rising sales, and glowing professional and customer reviews. It would be nice to tie this up with tight, little bow and say Meze headphones have universal approval. But Antonio brings an artistic, human approach to all his creations — and art just isn't that simple. Humans aren't that simple.
And certainly, products like this come with their detractors. One high-profile reviewer harped negatively on the bass response of Meze's entire headphone catalog — precisely the distinct sonic attribute that I find endearing. I figured this must drive Antonio crazy, especially since I see how sincere he is about designing headphones for people to cherish over the long haul.
But instead, he spoke philosophically and remained undeterred, resigned to the fact that he will never please everyone. He can live with that, as long as his own intentions are pure — and he knows that he's done everything in his power to deliver long-lasting value.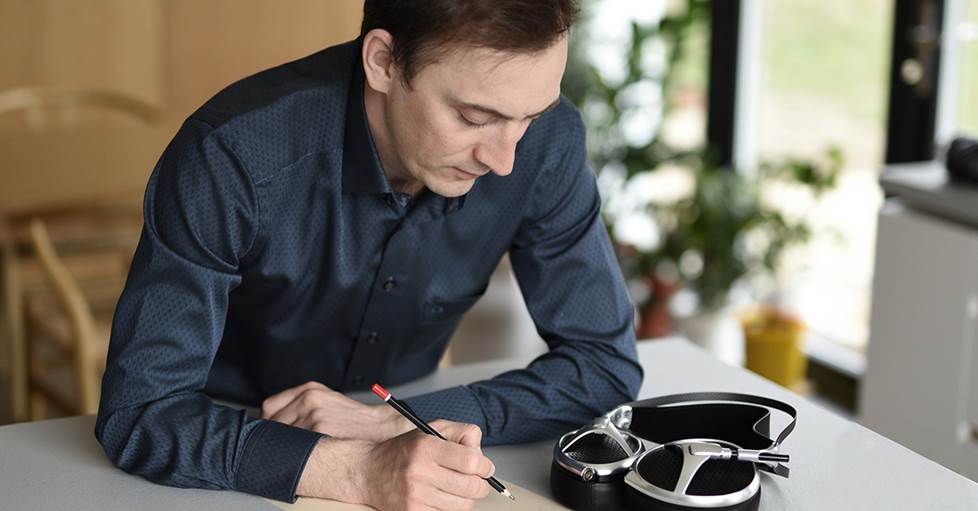 "We're not selling a gadget...I'm trying to build products that feel precious and [offer] value on different levels." — Antonio Meze
For him it's about doing right by the customer, but also the planet. He said analysts have asked him for years to identify his ideal customer. For a long time he struggled to answer — he didn't understand the need to single out a certain age, income, gender, or demographic. Then it hit him.
"I'm designing and making stuff for people who are discerning and aware," he said. He described that as someone who is aware enough to realize that any purchase will have some effect on the environment. But discerning enough to choose something they will keep.
That may seem like a lot of responsibility on the customer. But as Antonio paused, I could tell this was coming from a place of deep trust, appreciation, and admiration. Then he punctuated the point.
"I think if you want to talk about people as a customer, I think you have to really respect them," he said. "You can't look at them as numbers and stats. [You must] look at them as somebody to bow to. And we have to bring them value and we have to really make their life better. I don't think you should see all people as customers. And you shouldn't think of customers simply as people that you can make money off. That's not right."
At Crutchfield, we have long-held basic beliefs that boil down to this: treating people right and respecting their intelligence is all part of running a business, not at odds with it. Antonio and the Meze Audio team are proving that notion is as true today as ever.
I guess you could say it's timeless.
Need help? Contact us.
Have questions about how Meze headphones compare to others? Contact us today.
Our expert Advisors know headphones inside and out. And free lifetime tech support is included with your Crutchfield purchase.