In this article, we will:
Introduce you to the Audeze Mobius — a revolutionary set of headphones that uses head-tracking technology to give you a unique, three-dimensional sound experience.
Tell you how the headphones work and take you through their development.
Give our expert impressions for movies, music, and video games.
Every once in a while, I'm asked to review a product that makes me scratch my head and say, "Where do I start?"
That's what happened when I got my hands on Audeze's new Mobius headphones.
"We had the same question," said Audeze's Evan Grimm. "Should we tout the Mobius as a gaming headphone? A headphone for the audiophile crowd? A killer Bluetooth headphone? It is really all these things and more."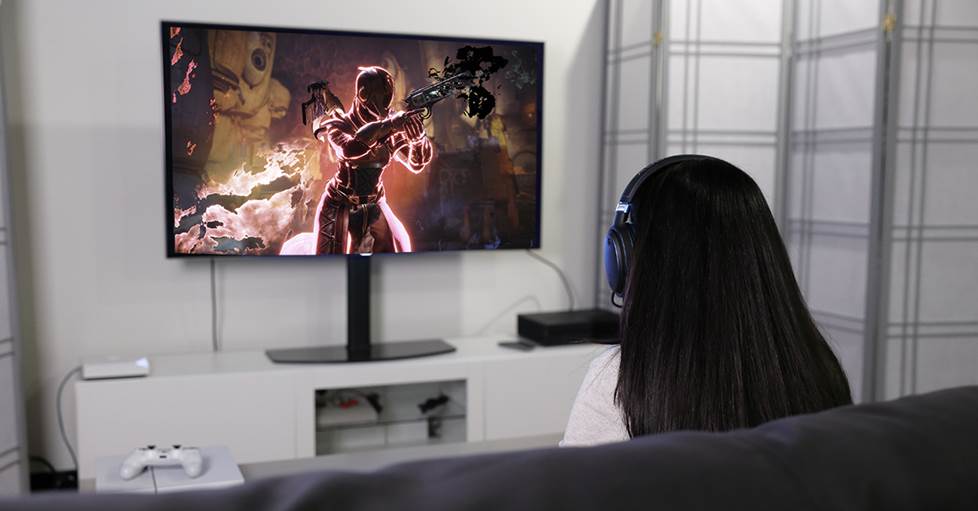 Jenny, Crutchfield IT specialist, says the Audeze Mobius headphones give her an extra sense of place and realism when playing Destiny 2: Forsaken in our gaming lounge.
What makes these headphones so special?
Audeze makes some of the best headphones I've heard, but they hadn't made a gaming headphone before.
"We wanted to come out of left field with something that gamers weren't getting — but would help them as they played," Evan said.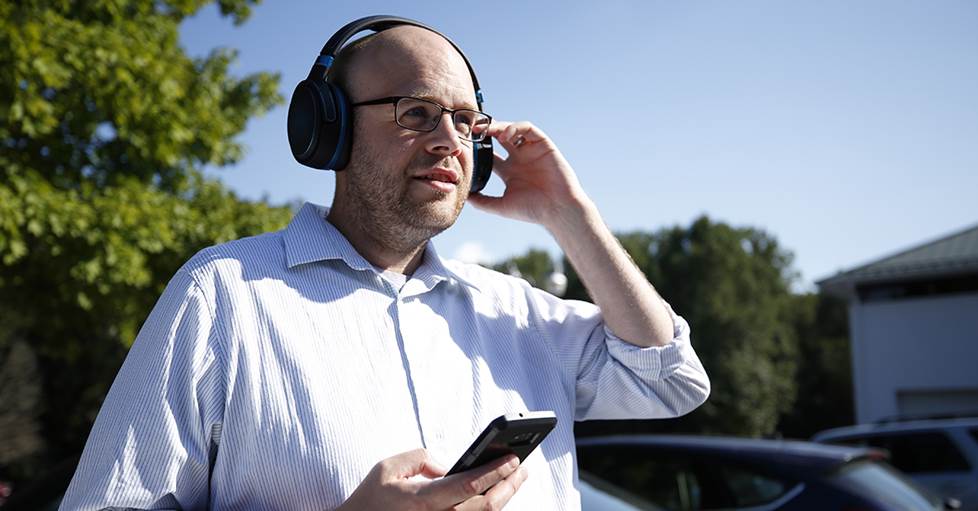 These are Audeze's first wireless planar magnetic headphones — big news for headphone fanatics like me.
If Audeze had simply released the first gaming headphones to include their stellar planar magnetic drivers, it would've been a big deal. Well, they did that. Then they added new layers of technology.
Head-tracking
Inside the Mobius headphones, there's an eight-core processor driving a six-way gyroscope and accelerometer. This technology tracks the position of your head up to 1,000 times per second. As your head moves or turns, the sound field stays where it started.
This head-tracking tech was originally developed by Waves Audio for recording engineers. They wanted the feel of listening to their monitor speakers when they were actually listening through headphones.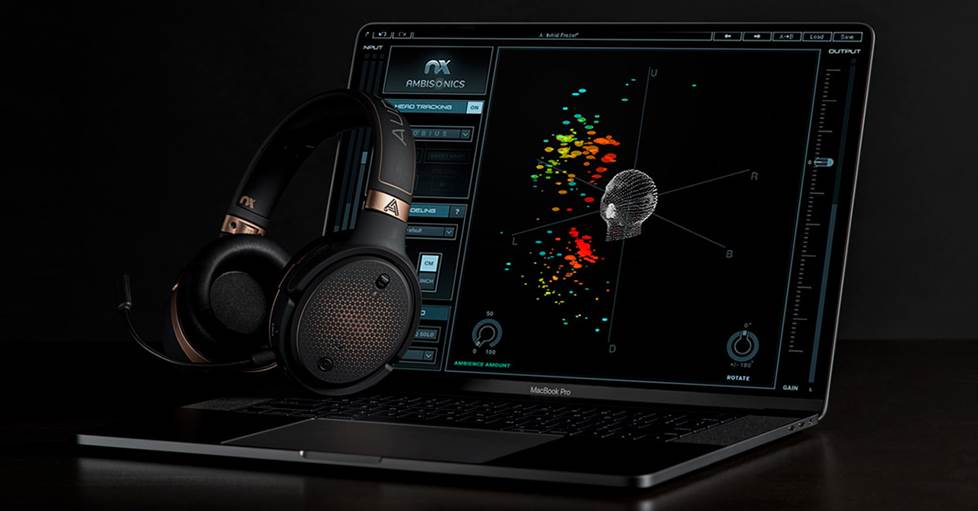 Audeze uses a sophisticated head-tracking technology to keep the sound fixed and centered.
3D Audio
Mobius also incorporates surround sound processing. Engage the 3D Audio feature by pressing a button on the left earcup. You get the audio equivalent of a Virtual Reality visual experience. You feel like you are in the scene unfolding on your screen or monitor.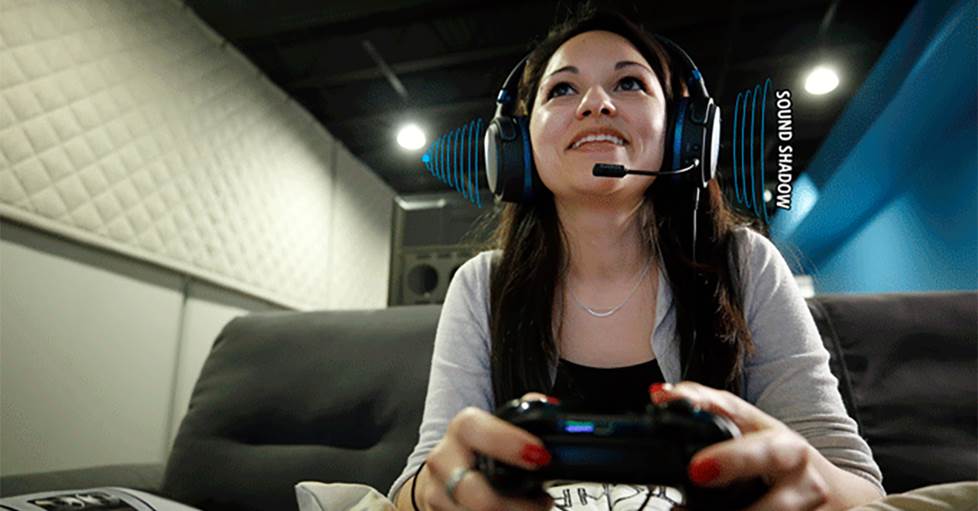 Real-time sound localization lets you hear spatial and directional cues — a real competitive advantage in some games.
Hear footsteps behind you or voices off to the side? They stay put when you turn your head. You move around within this fixed sound field rather than the sound field moving with you.
The backstory
Audeze had a hunch that gamers would be intrigued by the head-tracking technology. Could the directional and spatial awareness it provides give gamers a competitive advantage? They turned to crowd-funding to help with the costs of research and development, and earned a whopping 2,132% of their original goal.
Audeze also wanted to broaden their appeal by offering their first wireless Bluetooth headphones. Easier said than done.
Top-shelf Audeze headphones can go for thousands of dollars, and often require powering from a separate headphone amp. Could they produce a wireless headphone that delivers a taste of their signature sound quality at a mainstream price?
I couldn't wait to try the Mobius headphones — and to get them into the hands of a few experienced gamers working here at Crutchfield.
Look and feel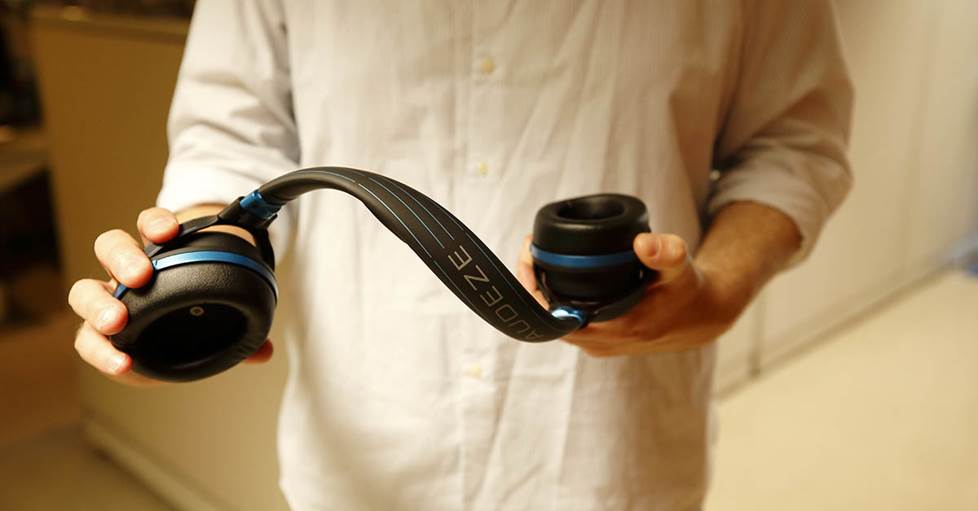 The Mobius headphones sport rubberized earcups and a strong frame. I could actually twist the headband — but it still felt heavy-duty rather than flimsy.
Audeze headphones tend to be rather large. That's because their planar magnetic drivers and magnet structures are larger than the parts used in traditional headphones.
Audeze's recent design breakthroughs enabled them to make lighter, more efficient drivers for the Mobius. They repurposed a thin, lightweight material that was originally developed by NASA. The result is a diaphragm that is thinner than human hair: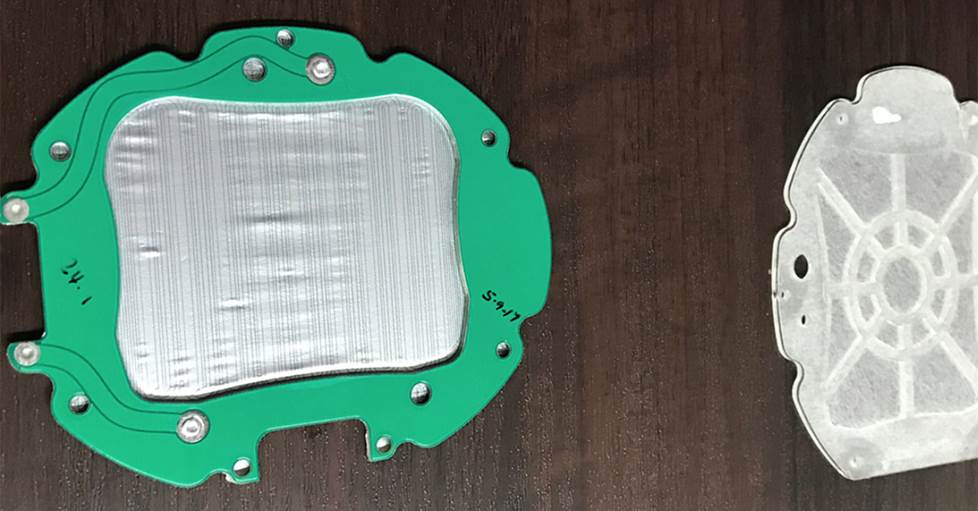 Audeze's super-thin, super-light diaphgrams move back and forth quickly to create sound.
Traditionally, planar drivers needed a magnet array on both side of the diaphragm to get it to move. But Audeze developed a patented Fluxor magnet array that is so powerful that it's only needed on one side.
Evan from Audeze stopped by our video studio to show how it works:
The upshot is that the Mobius are much smaller and lighter than the company's typical over-ears. Still, some of our gamers found them heavier than other gaming headsets they'd used. But most felt that the weight was evenly distributed, and the earpads were well-cushioned. They found them reasonably comfortable for long gameplay or listening sessions.
We all agreed they were extra durable, which was by design.
"We've not been in the gaming space before," said Evan, "but we know when people get heated, they can throw their controller and headset down!"
3 ways to connect
Audeze gives you three different ways to play audio. Which you choose depends on your source and task:
Bluetooth: This is the most convenient, but you are limited to two-channel audio. The good news is you can still apply the 3D Audio effect.
3.5mm stereo mini cable: Connecting via the old-fashioned headphone jack gives you two-channel audio. This is the only way you can connect to an Xbox One controller.
USB-A or USB-C connection: For PC gaming or watching and listening on your laptop, a digital USB connection opens up the option of simulated 5.1 or 7.1 surround sound.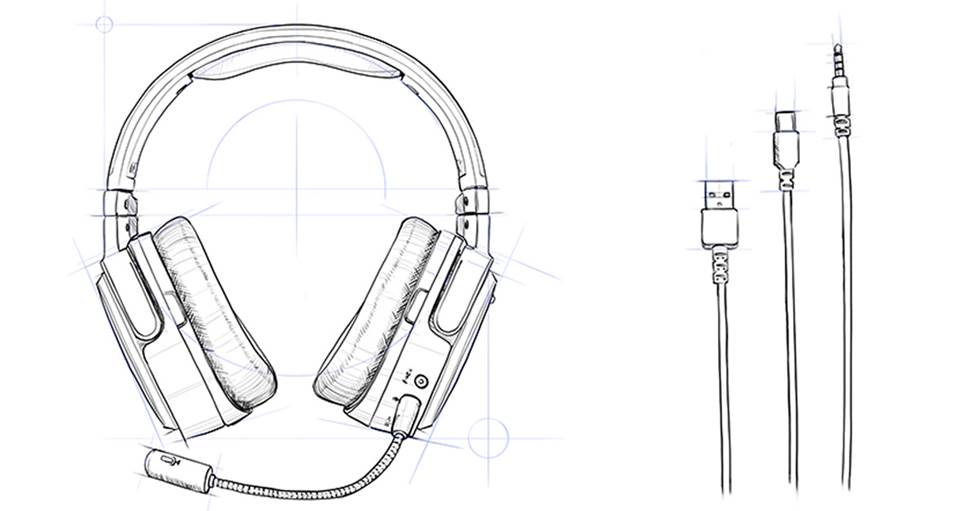 The Audeze Mobius headphones include three listening cables and a detachable boom mic.
The headphones have a built-in amplifier that's well-matched to the planar drivers. That's great for sound quality, but there's no passive mode. You are always using battery power.
You get about 10 hours of listening on a full charge. If you are connected to your PC via USB, you can charge the headphones as you listen.
Presets and controls
Audeze has sculpted seven distinct EQ settings like "Footsteps," "Ballistics, "Music," "RPG," and "Racing."
Scrolling through these all settings can seem daunting at first. It takes a combination of clicking and spinning the two volume wheels. There's a bit of a learning curve.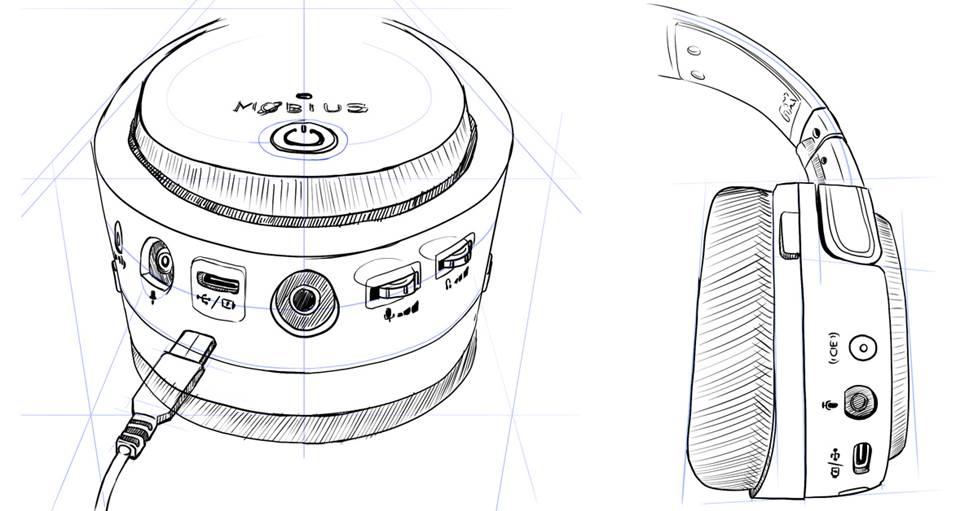 You'll find a plethora of controls right on the earcups
Of course, those who are used to memorizing button combos — and can pull off a dance move in Fortnite — should have no trouble picking it up.
"The control wheel was easy to use once I got used to pressing it in like a button," said Rex, a Crutchfield supervisor and avid gamer.
First impressions with the 3D Audio
Word had spread through Crutchfield about the new Audeze headphones with the head-tracking feature. So when the sample arrived, I set up an informal demo at my desk.
I played YouTube videos on my computer, plugged in the headphones, and invited my co-workers over.
We pulled up clip of the martial arts classic House of Flying Daggers. Everyone enjoyed the sound of bamboo spears flying from all directions. And when the characters started speaking, I told everyone to move their head, so they could see that the dialogue was still coming from the "front."
Some sample reactions: "Wow." "Oh man." "That really works!"
"The first listen with a correct 'head-position calibration' was so much fun it was comical," said Francis, a Crutchfield Advisor (and one of our PC gaming experts). "But it wasn't exactly what I expected — when I listened to music, it was like there was a soundstage five feet in front of me that never moved. I had a blast!"
Watching videos
Audeze nailed the initial "Wow" factor. It took a while for me to get past spinning around my chair to try out the effect (and to try to trick it).
Once I settled down and watched a whole TV show, I found the 3D audio setting even more beneficial. I watched Hard Knocks on HBO, a documentary-style look at an NFL training camp. If my head dipped or turned slightly while watching on my laptop, the audio stayed in place. It eventually felt really natural.
During practice drills, I got a better sense of how hard these guys were hitting. Even at half speed it felt brutal. Then a "jug" machine rifled footballs to a receiver at 30 MPH. The mix of the audio and video it felt like they were zipping right toward me. I actually turned my head out of pure reflex when the ball hit his hand with a loud smack.
Music
I turned off all the 3D processing and listened to my music in stereo. The Mobius sounded as detailed and musical as I expected from a pair of audiophile-level Audeze headphones.
How did the 3D Audio feature work with music? Well it depends on the recording.
It can sound too "echo-y" and grow tiresome for some studio albums. But it never got old for me through D'angelo's entire Live at the Jazz Café, London (1995) album.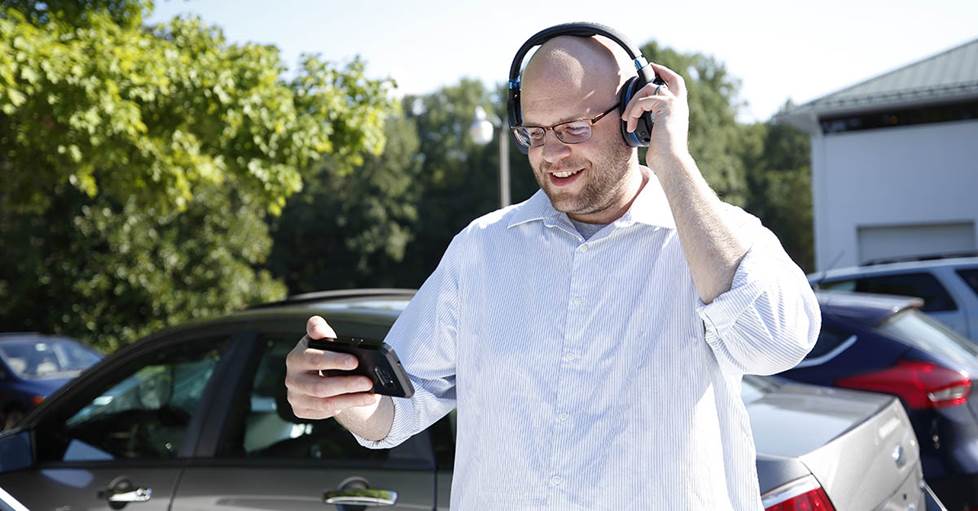 I toggled the 3D Audio on and off, depending on the recording.
Before the announcer introduced the band, I could feel the atmosphere and the energy swelling from the crowd. Catcalls, cheers, yells, whistles and whoops, came from all around me.
The percussion stayed front and center, keeping the music grounded and focused as the instruments and vocals emanated from all directions. The trumpets actually sounded like they were above me, off to the right. The guitar sang off to the left.
I could even picture where D'angelo's female backup singers were in relation to him. And as I moved my head, the musicians didn't move from their "spot" on the stage.
The sophisticated sound gamers deserve
Gaming is now one of our most popular forms of entertainment. Some video games are considered works of art — or at least an innovative, interactive way to tell a story.
With all the time and effort spent to make these games sound as good as possible, there should be headphones that can do them justice.
While I'm always up for a game of Madden, I didn't feel like I was quite the expert for this. A few of Crutchfield's more serious gamers took the Mobius home for a week. Let's meet them.
Our resident gamers
Jenny – Crutchfield IT, Client Systems Engineer
Gear: Mainly Xbox One, and sometimes my Nintendo Switch. 60-inch 4K TV.
Do you use typically use headphones? I tend to use headphones due to my close proximity to neighbors. That's condo life!
Francis – Crutchfield, Product Advisor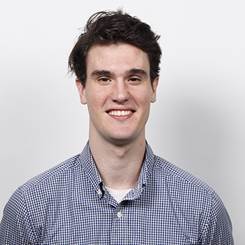 Gear: Tower PC with processor, mouse, and keyboard.
Do you use typically use headphones? Yes, mainly the Astro A40 gaming headphones, but I'll actually use my Audeze LCD-X headphones to hear fine detail in RPG games.
Rex – Crutchfield Product Advisor, Supervisor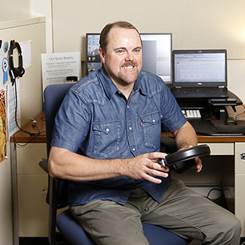 Gear: Xbox One, Samsung 55-inch LCD TV, Klipsch "The Sixes" speakers and a Polk Audio PSW125 powered subwoofer.
Do you use typically use headphones? My speaker system sounds incredible for gaming, so I like to use that when I can. But every once in a while it's more convenient to grab my gaming headphones — the XO Three by Turtle Beach.
The gaming experience with the Mobius
Before our experts mentioned anything about the 3D processing, all of them raved about the sound.
"Planar magnetic headphones always have an even, controlled sound," said Rex, "that's a huge advantage for gaming. I never got listening fatigue."
"Compared to my Astro A40s, these headphones feel MUCH more alive," said Francis. "I had them connected to my PC via USB, and they sounded extremely lifelike and detailed."
Francis also really liked the detachable mic.
"I was surprised," he said, "most extension boom mics are pretty worthless. This one sounded incredibly clear."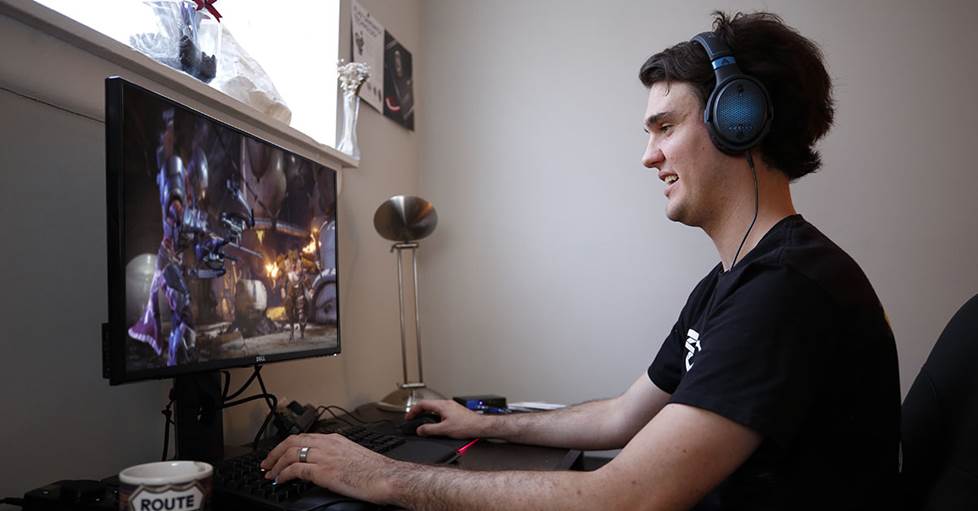 Francis connected the Mobius headphones to his PC rig via USB — for full 7.1 surround sound decoding.
Our gamers were intrigued by the head-tracking technology. But their results varied, depending on the user and game.
"It was interesting," said Rex, "but I could never get used to it while playing Battlefield 1, a game with very refined sound design. In fact, spatial sound identification, like an enemy sneaking up behind me, was actually better to me without the 3D Audio."
Still, when it worked, it really worked.
"I've always been impressed by the soundscape of Destiny 2," Jenny said. "There are all of these little nuances and subtleties that drop you into the world. The sound can be as enchanting as the graphics and the gameplay. Then, of course, some explosion or surprise attack jumps out and brings on that ping of anxiety in my chest."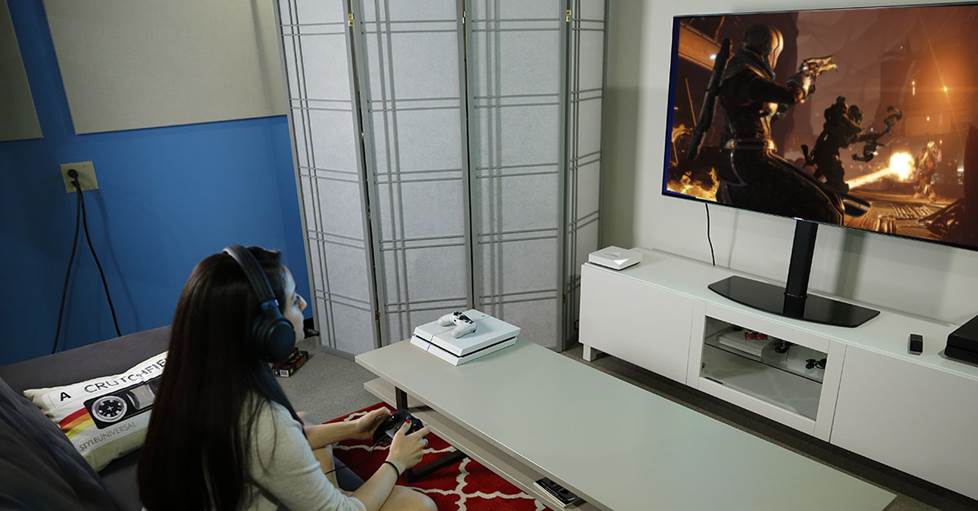 "The sound [for the game Destiny 2: Forsaken] was as enchanting as the graphics and the gameplay," said Jenny. "I felt like I was in the middle of the game."
She told me that the 3D Audio setting gave her an even better sense of place in those down times.
"I felt like I was in the middle of the game," she said, "then I was sent into panic mode when things got extra hectic — all in a good way!"
Conclusion
So are these headphones worth it? For me, it's a resounding yes. And that's whether you're using them for gaming or you've never picked up a controller in your life. These are durable, comfortable headphones that sound great.
They are not perfect. You have to ensure they are charged before you use them, and the preset buttons are a little tough to negotiate. With that said, the idea that you get stellar Audeze sound, and can listen wirelessly, at this price? I'm impressed.
The 3D Audio feature will not be everyone's cup of tea. I loved it for some situations, and didn't think it worked in others.
Audeze swung for the fences here. And the Mobius headphones deliver a multi-dimensional sound that I've never experienced before.