In this article: I'll provide shopping tips to help you find the best portable Bluetooth speaker for your needs. I'll also share my impressions of six top portable Bluetooth speakers, and what they're suited for.
've been writing about portable Bluetooth speakers for Crutchfield for over a decade now. Each year I see more features added as manufacturers respond to customers' needs. As a result, over time product lines began to specialize.
You no longer have to settle for one size fits all. It's possible to find a portable Bluetooth speaker that ideally matches your needs.
How to choose the best portable Bluetooth speaker
The first step is to define the features that the speaker you're looking for absolutely must have. That will help narrow the field. Here are some questions to ask.
Where will I be using this speaker?
Do you want to primarily enjoy your tunes out on the beach, on your patio, or inside your home?
Most portable Bluetooth speakers now offer some degree of moisture resistance. But if you're out in the sand and surf you'll need a speaker with more robust protection. A speaker's IP rating is a good indicator of how element-proof it is.
This is a two-digit rating. The first digit is resistance to solids (like sand), and the second indicates resistance to moisture. The higher these numbers, the more places you should be able to take your portable speaker. Our article on IP waterproof ratings has more details about this rating system.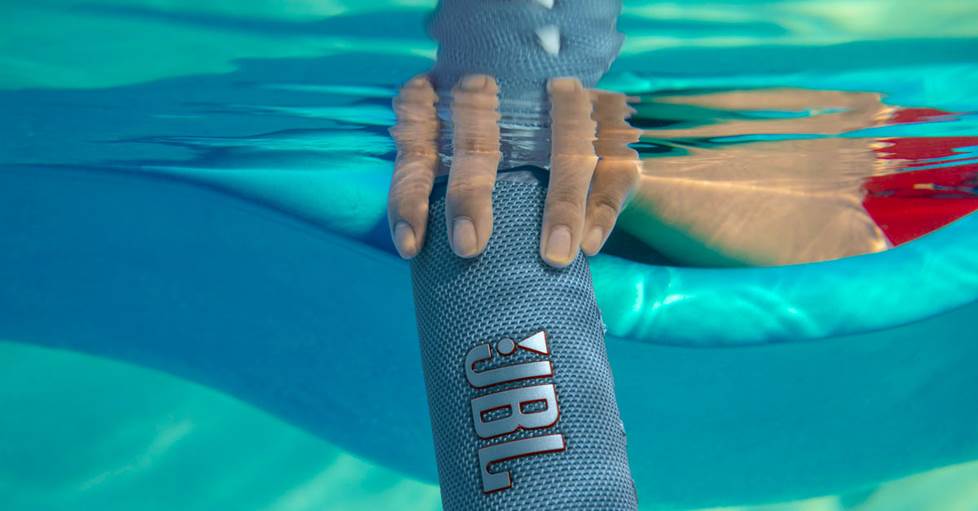 This speaker is rated IP67. The 6 means it's totally dustproof, and the 7 means it can be submerged down to 1 meter for up to 30 minutes without leaking.
How portable does this speaker need to be?
How will you be carrying your portable Bluetooth speaker? Do you want something you can slip in your pocket or clip to a carabiner? Or something with a built-in handle so you can carry the speaker in one hand?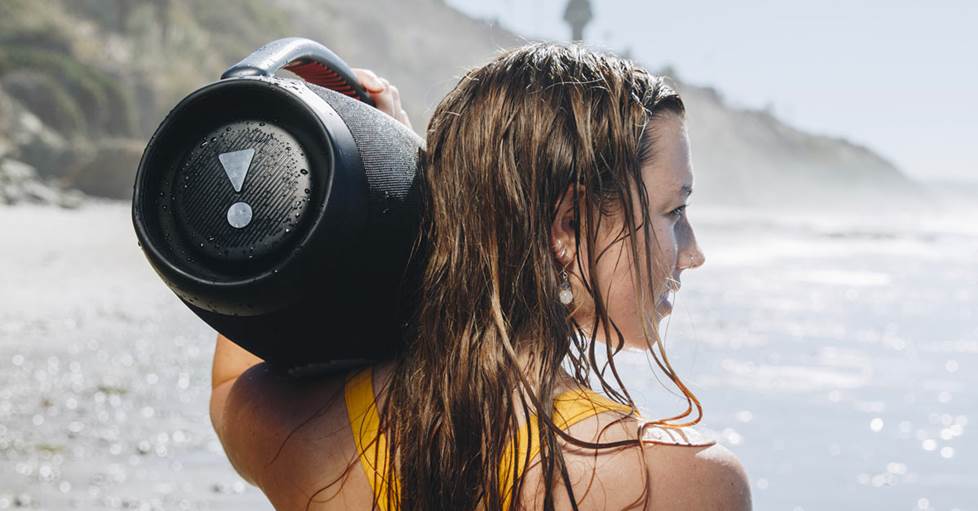 The JBL Boombox 3 delivers big sound, and its built-in rechargeable battery gives you up to 24 hours of portable operation. But it's over 19 inches long and weighs nearly 15 pounds — which is why it has an integrated handle.
Looking for a portable Bluetooth speaker to take on a camping trip? Then size and weight will be important. Remember, whatever you carry in, you have to carry out.
On the other hand, a portable Bluetooth speaker you occasionally shift from the den to the garage doesn't necessarily have to be the smallest and the lightest. Carrying a good-sized speaker from one room to the other isn't that difficult.
What about sound quality?
In my experience, super-cheap portable Bluetooth speakers have a remarkably consistent sound — muddy and tinny. And they tend to distort the sound at higher volumes.
The speakers below all deliver good sound quality. For this grouping, the limitations of sound quality are size and power.
Smaller speakers will have a little less definition compared to the larger ones. But the trade-off is portability. Larger speakers can have more robust and more detailed sound. But they're also a little heavier.
All these speakers sound good, but how and where you intend to use them makes a difference. The largest, most powerful speaker may not automatically be the best for every situation.
And the type of music you prefer makes a difference, too. Are you into a bass-heavy genre, like rap or metal? Then you'll want a speaker that can deliver strong, solid bass.
Is your music more acoustical in nature, like classical or bluegrass? Big bass might not be an asset for those genres. But a balanced speaker array may be just the thing.
What about battery life?
Longer battery life means longer uninterrupted playing time. It's convenient, but not always necessary. For the portable Bluetooth speaker you take on a hike, long battery life is critical. For a Bluetooth speaker in your office, not so much. After all, you could just leave the speaker plugged into a wall adapter (that's what I do).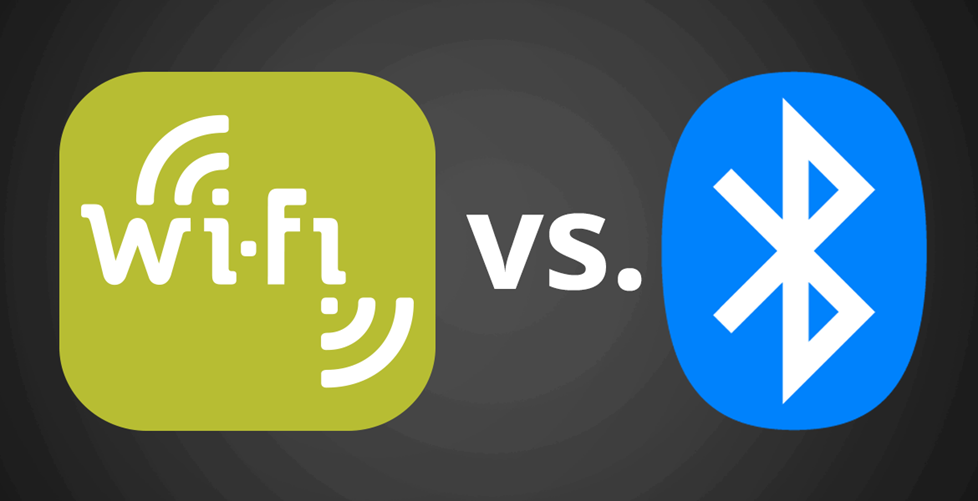 Bluetooth vs Wi-Fi®
The speakers we're concentrating on are primarily Bluetooth speakers. Bluetooth is a wireless protocol common to smartphones. Simply pair the Bluetooth speaker to your iPhone® or Android™ smartphone, and the setup is done. Whether you're at home or out in the park, you can wirelessly stream music from your phone to play through the speaker.
Your home Wi-Fi network has greater bandwidth available than Bluetooth. So it's possible to wirelessly stream music — and especially high-res music — from a music subscription service, your computer, or your digital music library to the speaker.
Most devices that stream via Wi-Fi (your network router, computer, external hard drive) aren't portable. And your speaker must be in range of your Wi-Fi network to connect to it. That limits the portability of your speaker (while using Wi-Fi).
You can probably enjoy music streamed from your home network to your speaker out on your front porch or backyard deck. But not out on a hike, or in the park.
Our top picks
I've researched and written about all the portable Bluetooth speakers listed below. And many, many more. Here are my recommendations.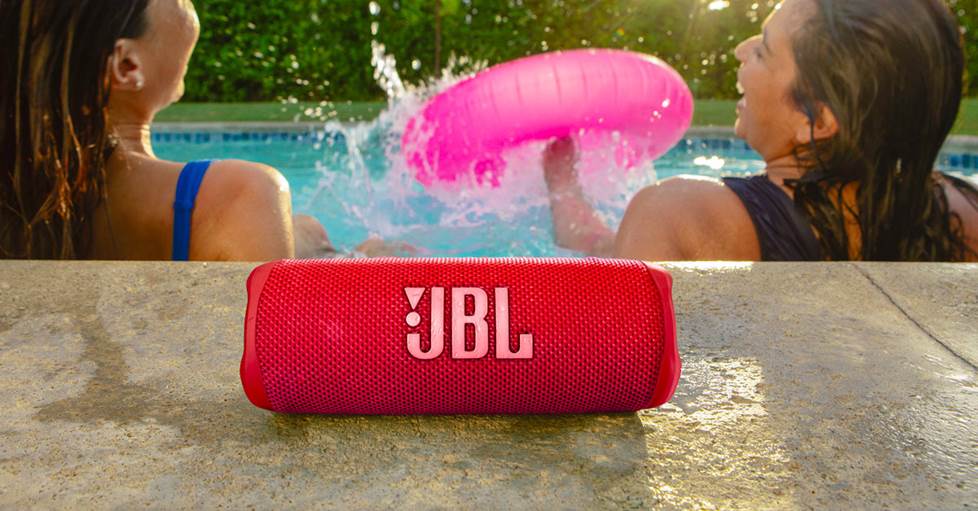 Best all-around portable Bluetooth speaker — JBL Flip 6
The JBL Flip 6 just about ticks all the boxes. It's easy to carry in one hand, so it's not too big. And the speaker is IP67-rated waterproof and dustproof. So the Flip 6 is great poolside or at the beach.
The speaker delivers a clear, strong sound with solid lows. That's thanks to its two side-firing passive bass radiators. And the Flip 6's built-in battery can support up to 12 hours of continuous operation.
Details:
1-3/4" x 3" transducer and 5/8" tweeter with dual passive bass radiators
30 watts RMS (20W woofer + 10W tweeter)
IP67-rated waterproof and dustproof fabric covering and rubber housing
weight: 1.21 lbs.
built-in rechargeable battery lasts up to 12 hours
available in five color options
Best compact/travel portable Bluetooth speaker — Bose Soundlink Flex
This compact speaker was made to travel. It features a durable steel grille, with a silicone body to seal moisture out. The Soundlink Flex is IP67-rated waterproof and dustproof.
The speaker has Bose PositionalQ™ technology built in. This optimizes the sound based on speaker position. So whether the Soundlink Flex is laying horizontally in the sand, or perched vertically on a hotel nightstand, you'll enjoy the best sound the speaker has to offer.
Details
built-in microphone for hands-free calling
IP67-rated waterproof and dust-proof
built-in rechargeable battery lasts up to 12 hours
remembers up to 8 of the most recently paired devices
built-in rechargeable battery lasts up to 12 hours
Best Bluetooth party speaker — JBL PartyBox 310
When it comes to party speakers, the field's wide open. And it's a field JBL has effectively covered. Their line of PartyBox speakers ranges from an 87-pound, 1,100-watt RMS monster to a 16-pound, 100-watt RMS compact portable.
The JBL PartyBox 310 lands in the middle, and makes a great party speaker for most situations. It weighs 38 pounds and packs a 240-watt RMS wallop. Built-in wheels make the 310 easy to set up. And it's ready to entertain. Stream music via Bluetooth, plug in a mix on a flash drive, or connect a portable through the stereo minijack.
The free JBL PartyBox app lets you kick things into high gear. You can adjust the EQ of the speaker. You can also select the patterns and colors for the built-in LEDs to display, and even throw in some DJ sound effects.
The PartyBox 310 also lets you connect two wired mics or JBL's Dual Wireless Microphone System for karaoke. You can even plug a guitar into one of the two 1/4" jacks for some singer/songwriter busking.
built-in LEDs with selectable light show patterns and colors
two 6-1/2" woofers and two 2-1/2" tweeters
240 watts RMS of built-in amplification
stereo minijack and USB inputs
two 1/4" input jack inputs for microphone and guitar, with independent volume controls
IPX4-rated splashproof
built-in rechargeable battery lasts up to 18 hours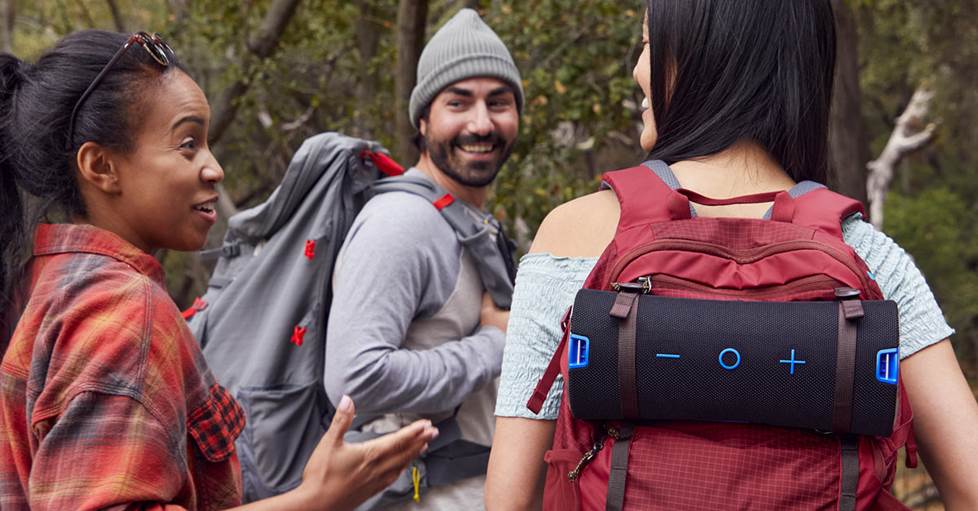 Best portable Bluetooth speaker for outdoor use — Alpine Turn1
When we say "outdoors," we don't just mean a quiet afternoon in the backyard. A true outdoor portable Bluetooth speaker has to take a lot of rough and tumble. The Alpine Turn1 can — and more. Alpine even offers a version with a universal roll bar mounting bracket. Any speaker that can perform while bouncing around strapped to an ATV can certainly handle whatever adventure you take it on.
The Turn1 is IP67 waterproof and dustproof, of course. And it also has a built-in mic for hands-free calls with a paired smartphone. Side-firing bass radiators kick out plenty of sound.
The Turn1 comes with a detachable carry strap for travel.
Details
two midrange drivers and two tweeters
dual side-firing passive bass radiators
3.5mm stereo minijack input for portable players
built-in mic for hands-free calling with a paired smartphone
IP67-rated waterproof
built-in rechargeable battery lasts up to 12 hours
Best portable Bluetooth speaker for use with smartphones — JBL Charge 5
The JBL Charge 5 has many of the same features as the Flip 6. It features side-firing passive bass radiators and pumps out big, brawny sound with strong low frequencies. It's IP67 waterproof and dustproof, so you can take it anywhere.
But the key difference is right there in the name — Charge. This speaker has a charging port for your iPhone or Android smartphone. The Charge 5's built-in battery can last up to 20 hours. And while recharging your phone will take away some of that power, there should still be more than enough left to party to play for at least 12 hours or more.
Details
2" x 3-1/2" long-excursion woofer, 3/4" tweeter, and two side-firing passive bass radiators
IP67-rated waterproof and dustproof
USB-A power output for charging mobile devices
7500mAh built-in rechargeable battery lasts up to 20 hours
available in six color options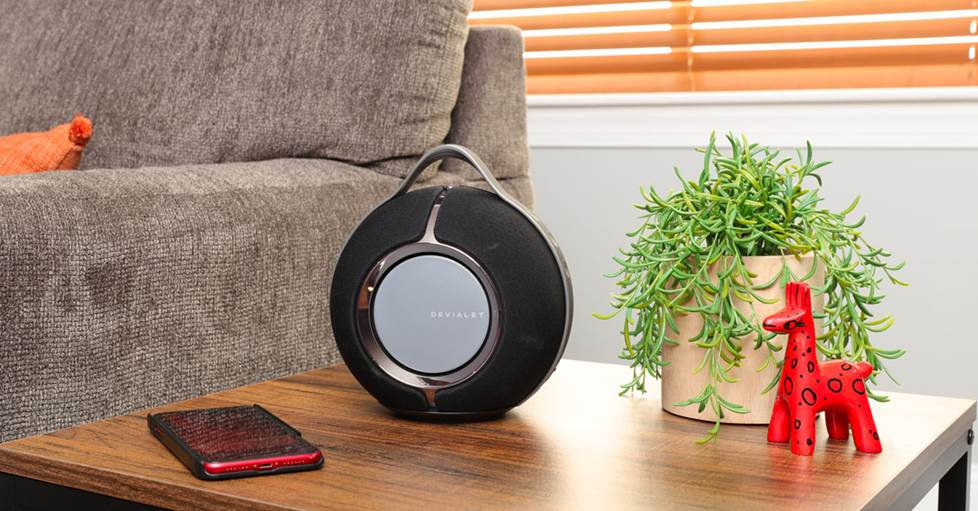 Best-sounding portable Bluetooth speaker — Devialet Mania
Weighing in at 5 pounds, the Devialet Mania is the heaviest speaker in our lineup. But it's also the heaviest hitter. The Mania's large, side-firing bass woofers move in sync. This cancels out unwanted vibrations for incredibly clear, full bass. The upward-facing speaker array has four full-range drivers. These deliver rich, finely-detailed sound, especially from high-res music sources.
This speaker array also ensures true stereo sound in a wide 360-degree soundfield. And with 176 watts total amplification, that soundfield can fill a pretty big room!
The Mania isn't the speaker to take to the beach (it's only IPX4-rated splashproof). But it's great for your home or office. And it's easy to carry from one room to another. You can wirelessly connect the Mania to your home Wi-Fi network for high-res streaming. And you can control it with voice commands from Amazon Alexa or Siri.
Need more help choosing? Contact us!
If you've narrowed down your options, but need some help picking a winner, we're here to help. Contact us today.
Our expert Advisors know Bluetooth speakers inside and out. Your Advisor can send specific Crutchfield pages to your screen, saving you a lot of browsing time. You'll get a shopping cart loaded up with everything you need.
Free lifetime tech support is included with your Crutchfield purchase.
Popular questions customers ask
First, make sure Bluetooth is turned on in your device's settings menu. Press the Bluetooth pairing button on the speaker. Then select the Bluetooth speaker you want to pair from the list of available Bluetooth connections on your device.
A lot of the Bluetooth speakers we carry are water-resistant. Some models are more watertight and can be submerged for a few minutes, making them great for listening in wet environments. The IP rating is the spec to pay attention to when trying to determine how water-resistant a speaker is.
We offer some models that have a built-in microphone. The mic can be used for hands-free calling.
If your device supports dual Bluetooth output, you can send to two Bluetooth speakers simultaneously. If not, some Bluetooth speakers have a "link" feature that lets you link multiple speakers together, so they play the same music.
You can pair your Bluetooth speaker with virtually any device that can transmit a signal via Bluetooth. This includes TVs, smartphones, tablets, computers, laptops, stereo and home theater receivers, and more.