Bose L1 Model II PA system review
A singer-songwriter tries out this popular portable PA
eing a solo musician isn't easy. You've got to do everything yourself, from booking gigs to writing songs to hauling and setting up your equipment. And you need to find gear that's going to help you sound your best.
One of our go-to recommendations for solo performers is the Bose L1 powered PA system. The L1 has been a pro audio mainstay for many years, but we wanted to hear the latest version in action and get a pro's opinion.
We reached out to Erin Lunsford, a singer-songwriter who until recently lived here in Charlottesville, VA. Now in Richmond, Erin plays lots of gigs across Virginia, both as a solo artist and as the leader of her band, Erin & The Wildfire.
Erin was thrilled to try out the L1, and Bose generously provided it to her for a gig at Glass House Winery near our headquarters.
Richmond-area singer-songwriter Erin Lunsford's beautiful voice showed off the rich sound quality of the Bose L1 Model II PA system.
System setup
The heart of the L1 system is the tall, thin 24-speaker line array. It offers clear sound and even coverage across a 180-degree sound field.
As Erin was running through her sound check, Brian, our pro audio buyer and sound man for the night, moved about the room. He confirmed that the system sounded great everywhere in the room.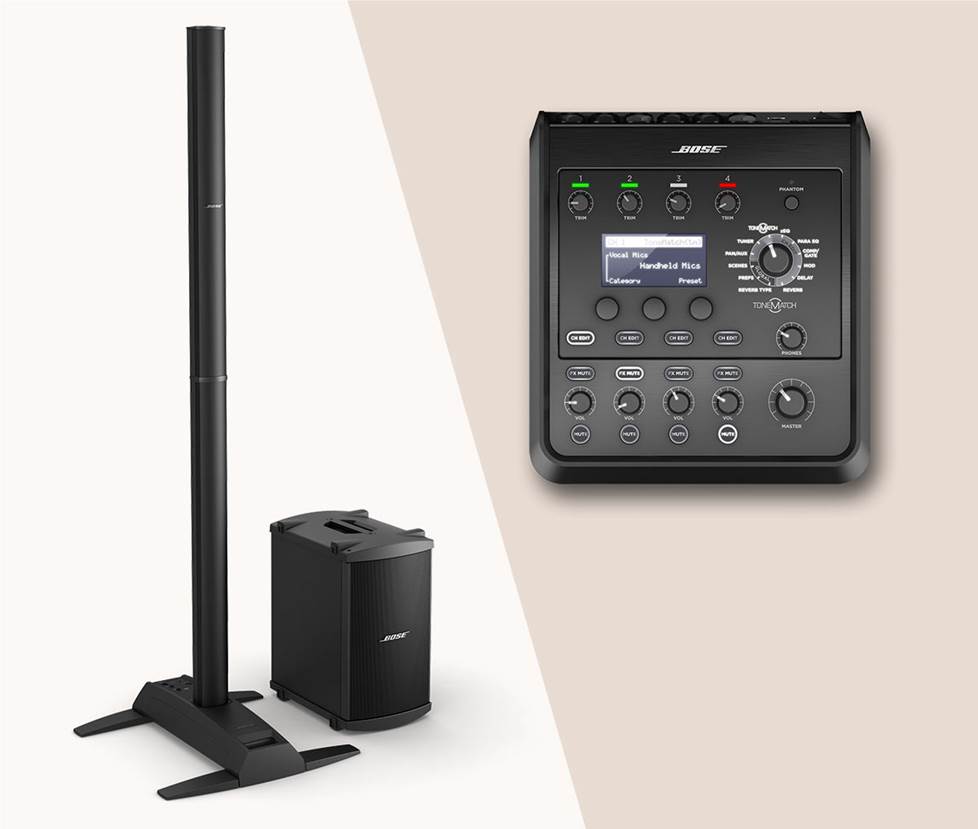 The L1 Model II system includes a tall, thin speaker array, the B2 bass module, and the powered stand. We also added the mixer for more EQ and effects options.
The L1 system Erin used also includes the Bose B2 bass module for added low-frequency output. Like the line array, the bass module is powered by an amp cleverly built into the stand which holds both units.
The L1 has a single TRS input for a mic or a guitar. Since Erin needed inputs for both, we brought along the Bose T4S ToneMatch Mixer, which was designed for this system.
The mixer adds four input channels, along with lots of effects like EQ, compression, reverb, and delays.
"I've never had as much control over my sound as with all these settings," Erin told me.
Gorgeous sound out of the box
The moment she plugged in and started playing, Erin said everything sounded crystal clear. Once Brian helped her dial in the sound with a few quick adjustments to the mixer, Erin said, "That's much better already."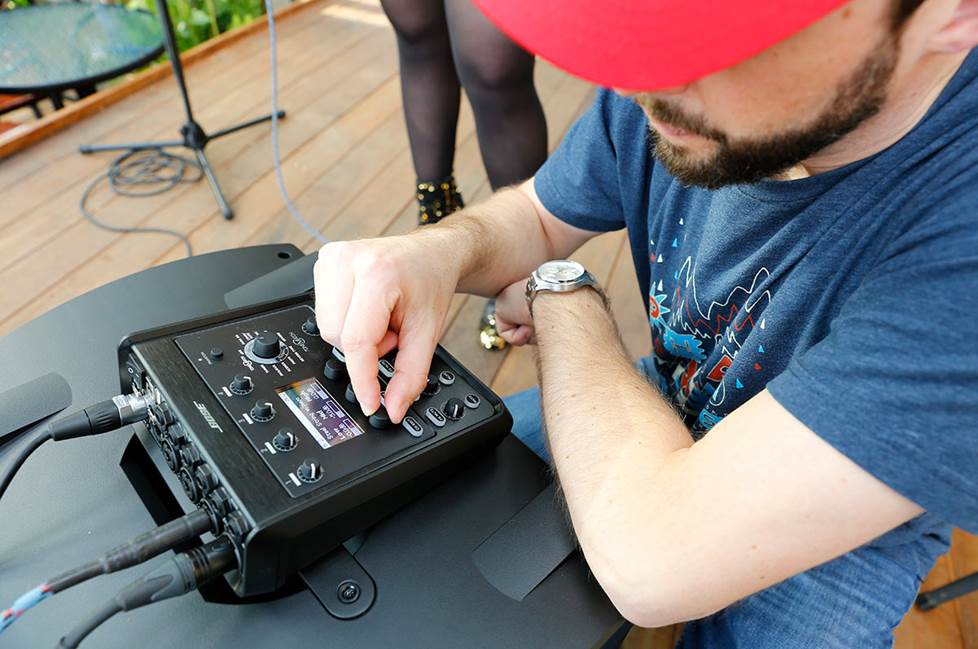 Brian, our pro audio buyer, dialed in the sound with the Bose T4S ToneMatch mixer.
After a great-sounding show's worth of use, it was obvious Erin was impressed with the clarity of the Bose L1.
"It allowed me to hear parts of my voice that I don't ever hear," she told me. "It never sounded overloaded on the high notes or when I sang louder, which allowed me to sing more dynamically." She also loved how the bass module brought fullness to her guitar without sounding bloated.
Erin also noted that this system doesn't require a separate monitor — that means one less piece of bulky gear to lug around. "I can set up my mic right in front and not worry about feedback," something that's not possible with a conventional PA system.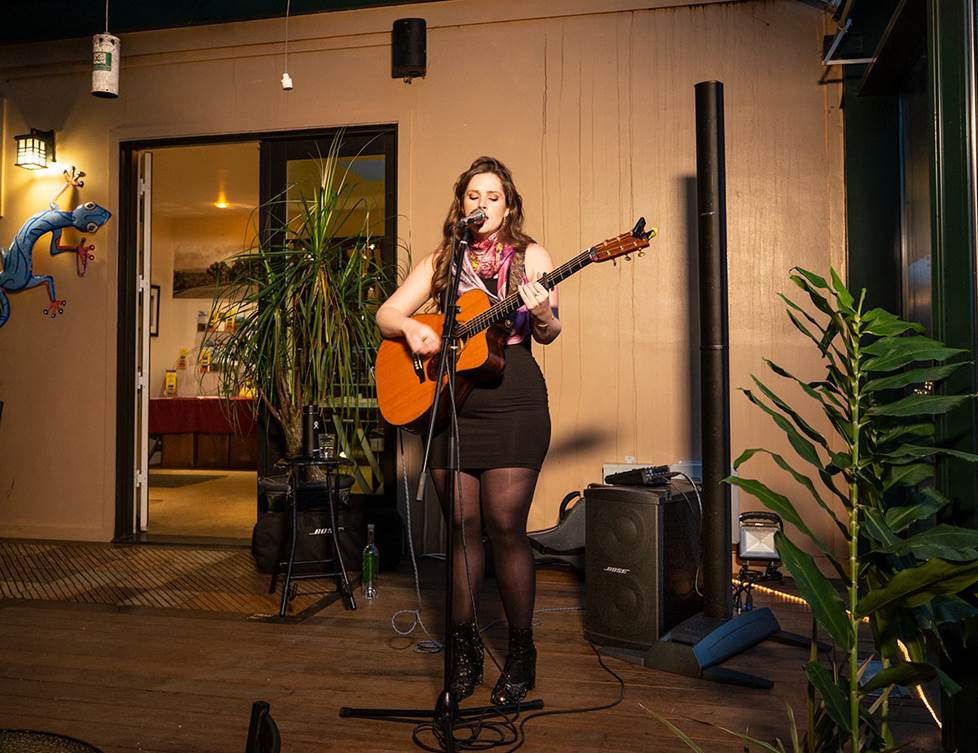 Erin's vocals and guitar sounded clear throughout the large performance space at the winery, thanks to this Bose PA system.
Overall, Erin was thrilled with the L1 and what it did for her performance.
"It was like the system was pulling my voice out of my body," she said, "so I felt like I didn't have to work as hard."
She also said it made her want to go home and practice because of all the new detail she was hearing in her voice. Based on how great she sounded, she's obviously already put in LOTS of hours.
We're here to help
Want friendly, one-on-one help choosing your PA system? Our expert Advisors can help. Call or chat with us today.
Free lifetime tech support is included with every Crutchfield purchase.